Snow White with the Red Hair Volumes 16 and 17 Review
Demelza
•
Volume 15 of Snow White with the Red Hair saw Shirayuki and her team begin to figure out the secrets of making the Orimmally flowers bloom without the poison they usually have. As we reunite with the cast for a further two instalments, let's find out how things are developing!
In Volume 16 we find Shirayuki's group as winter sets in after a one-year time skip since the ending of Volume 15. The Orimmally project has finally come to an end, with nothing left to do but wait for the flowers to bloom. However, before our cast gets a chance to recover from all their hard work, Lilias enters into the annual flu season! Treating so many patients turns out to be valuable training for Shirayuki and Ryu, even if it proves exhausting.
After a couple of chapters with Shirayuki, the focus switches to Zen who is sent off to Sereg by Prince Izana. There he meets new recruits, Tariga and Tsuruba Bergat, who could be wrapped up in a dangerous plot that Zen needs to get to unravel!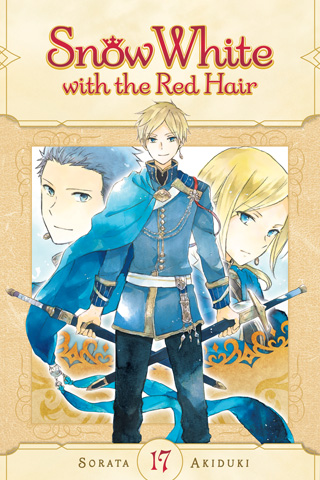 This storyline continues into Volume 17, where we learn that someone is targeting the sons of nobles. To make matters worse, those being attacked are all potential suitors for Kiki, which puts Mitsuhide in the spotlight as a prime suspect! Naturally Zen defends Mitsuhide, declaring he would never attack these men but all the same, his trusted attendant is put under arrest until they can get to the bottom of the case. Zen begins to suspect the Bergat twins are somehow involved, but to prove it he'll need not only the help of Kiki but also Obi, who returns briefly from working with Shirayuki in Lilias. 
What's perhaps most interesting about these two books is that we see very little of Shirayuki, despite her being the main character The majority of our time across these books is spent with Zen, which is certainly not a bad thing. 
Usually, if a storyline involves Zen then we see Shirayuki join up with him sooner than later, but in this case, there are no signs of that. I'm honestly happy about this turn of events, since it's nice to see Zen standing on his own two feet without her support. It's not that he's incapable of solving his own problems, but his relationship with Shirayuki does tend to muddle his storylines. 
Because this storyline involves potential suitors for Kiki, it also sees her getting plenty of time in the spotlight. I'm hoping this will end with her being set up with Mitsuhide officially, but that may still be a little further off  than where we are – at least until the tension calms down and Mitsuhide is well and truly cleared of the suspicion. Either way, this storyline looks set to continue into Volume 18, so we're far from finished with it yet! 
Ultimately these books capitalise on what I think the series does best, which is developing the world with intricate details, as well as having a strong cast of characters. In any other series not seeing our protagonist for a book and a half would be something that I, as a reader, would be complaining about, but for this series, it's not at all a problem, which is a testament to the strength of its writing overall. 
Snow White with the Red Hair Volumes 16 and 17 come to the West thanks to VIZ Media and continue to be translated by Caleb Cook. The translations read well with no issues of note. Volume 18 is scheduled for a release in April. 
Overall, these two entries in Snow White with the Red Hair begin an interesting new arc and prove that even without Shiryauki in the lead role, this series can stand on its own just fine on the strength of the rest of the cast.