Nichijou: My Ordinary Life – The Complete Series Review
Onosume
•
Adapted from the gag manga by Keiichi Arawi, Nichijou: My Ordinary Life is a surreal slapstick comedy that makes it its mission to make you laugh, and blimey, it does a brilliant job doing so.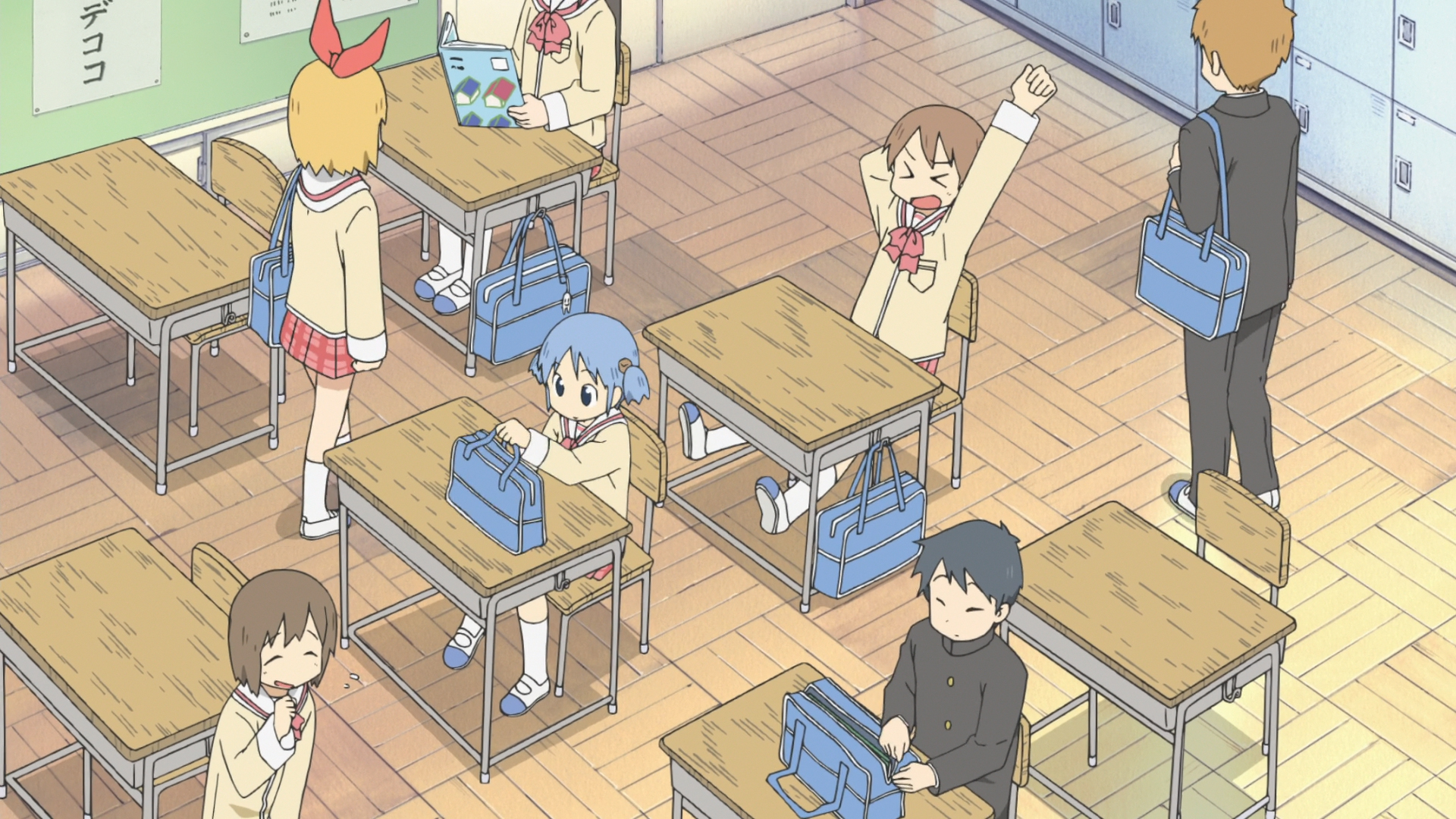 This 26-episode series tells of the daily lives of the eccentric residents of the town of Tokisadame, and although it has a large ensemble cast, it's largely split into two halves between two sets of point-of-view characters, although both are quite prominently featured throughout. The first half is seen more through the eyes of the troublemaking trio of Yuuko Aioi, Mio Naganohara and Mai Minakami, three close friends and classmates who are forever taking jabs at each other, while the second is more from Nano Shinonome's perspective, a robot girl with a giant key on her back who lives with her creator, an eight-year-old girl simply known as "Hakase" ("Professor" in English), and their talking cat Sakamoto-san. Each episode showcases both the antics of the main characters and the goings-on of their friends, family, and other residents of the town through a series of segmented sketches taken from the original Nichijou manga as well as some of Keiichi Arawi's other related work such as Helvetica Standard.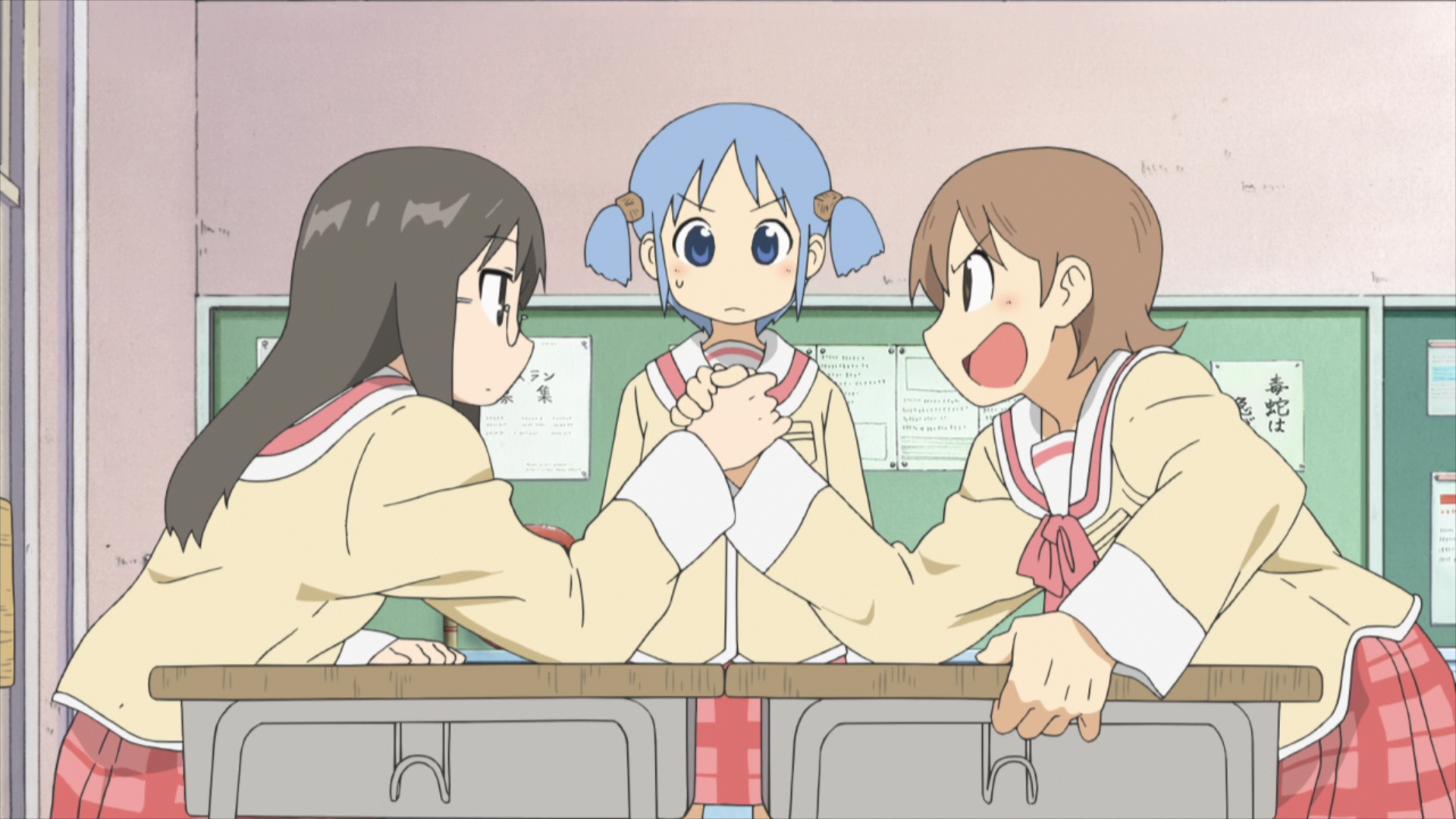 What immediately stands out about this show is its incredible writing, with it offering a whole host of brilliantly funny jokes that not only had me laughing hysterically, but often flow into each other, presenting a through-line in a single episode to tell a more elaborate story. I loved how some of them were presented as an off-hand mention at the beginning but ended up as a punchline at the end, and I think comedically it makes the show very cohesive. It tries to do something different in every episode as well, which ensures that it is well-paced and always has something new to offer, although there are a few jokes that are repeated throughout the series. Some of these become in-jokes in ways, but others do get a little boring, particularly when you get to the second half, although it does at least try to present them in a different context.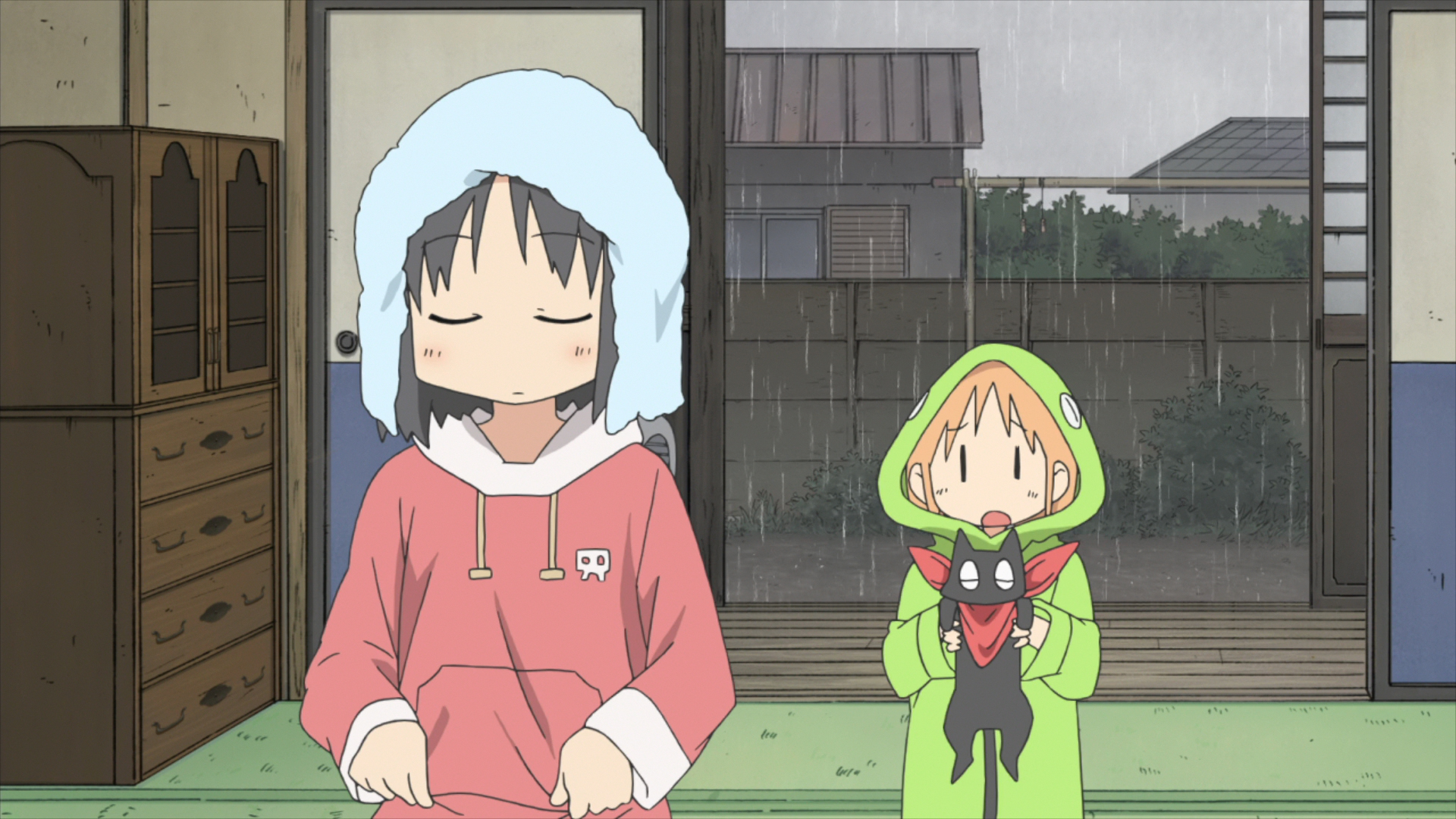 While both halves are just as good as each other in terms of delivery, they do differ slightly in approach, as the first half is more like a sketch show and is focused on just the jokes, while the second half has more of a slice-of-life angle to it. As a result, you might end up preferring one or the other, depending on what you want to get out of the show, and I personally found myself preferring the first half, mainly because that's where a lot of the gags feel freshest, and it allows Yuuko, Mio and Mai to really excel as a more traditional comedic trio. Nano, the Professor and Sakamoto-san can work in a similar sort of way, but with the Professor being so young, I found her more annoying than funny, as she's very much a spoiled and needy eight-year-old with a head for mean tricks. That said, seeing Nano's side of the story and her journey from just looking after the Professor to heading off to school and becoming friends with the other three girls is incredibly sweet and heart-warming, and would work really well just on its own.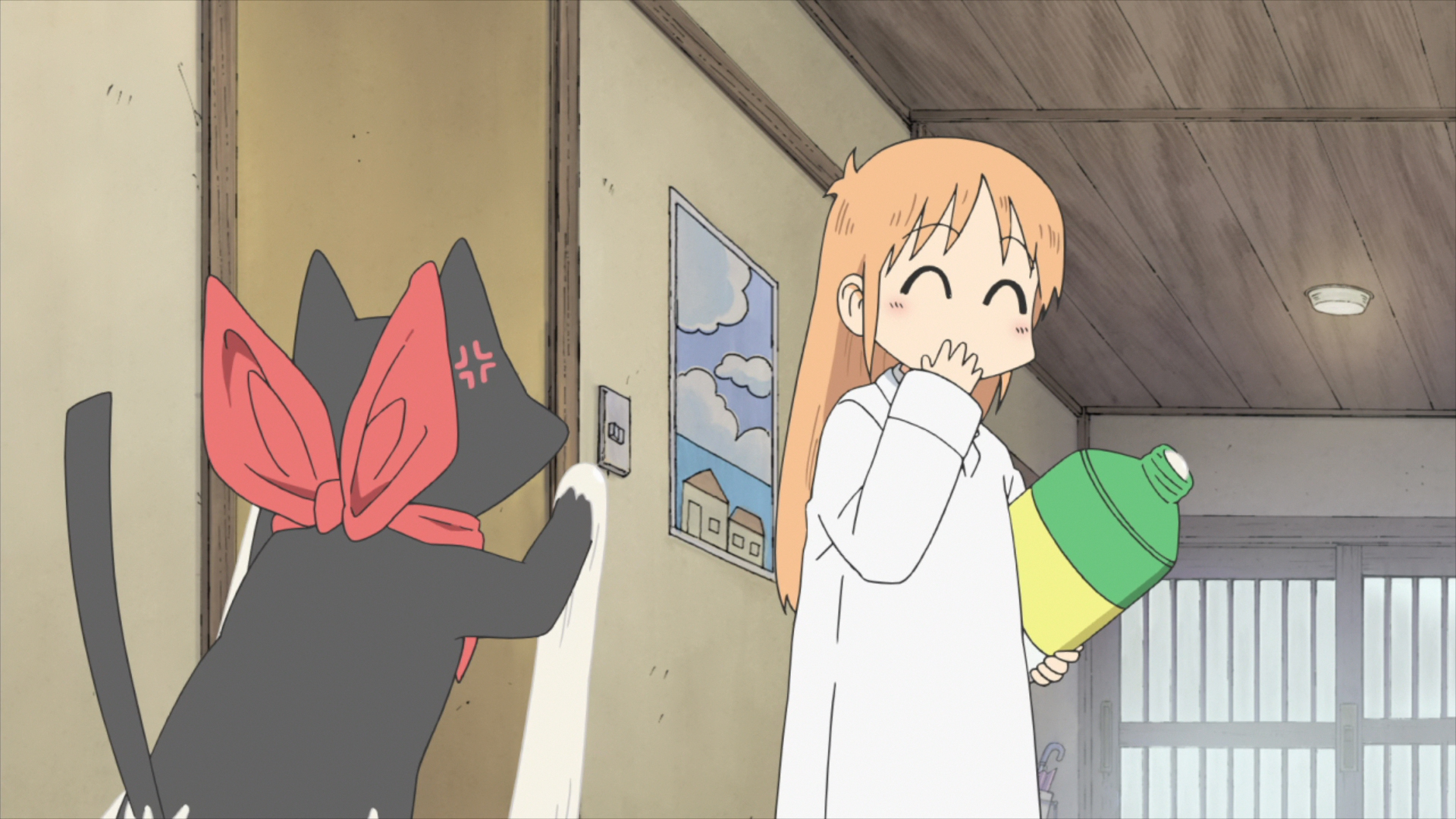 What makes this work is the incredible depth the characters have to them, and, surprisingly for a show that is a gag comedy, it pours a lot into character development across its ensemble cast. Everyone gets at least one ongoing joke, and I really liked how it uses these across the series to tell a story about them. My personal favourite is the ongoing love triangle between Kojiro Sasahara (who pretends to be posh even though he isn't, and can often be seeing riding his pet goat to school), his childhood friend Misato Tachibana (who is so tsundere she fires guns and missiles every time she feels embarrassed) and Mio. But then you've also got ongoing storylines like the plight of the go-soccer club, which turns out to be a more competitive combination of sports than you'd first think, and the ongoing saga of science teacher Kana Nakamura and her attempts to capture Nano to figure out how she works, which are both hilarious to follow. With such an excellent ensemble cast it's very easy to find someone you like, and the jokes around them differ wildly so it's highly likely that there'll be something in here for you to laugh at even if you don't get on with the main characters.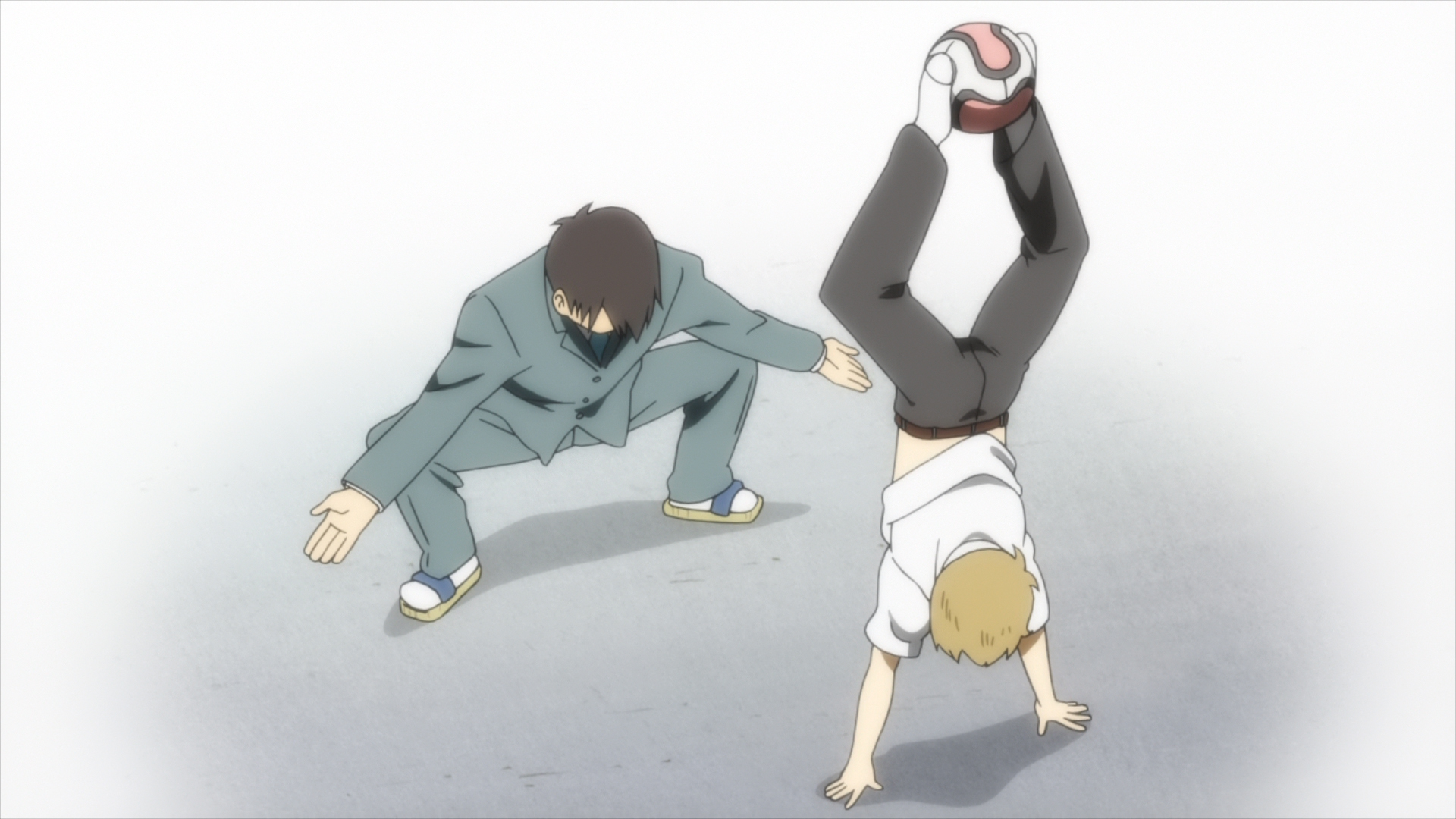 The series is animated by Kyoto Animation and directed by Tatsuya Ishihara, and is one of the studio's shows which I think has been underappreciated when compared to a lot of their other anime, as it perfects their work in comedy shows that started with Lucky Star, which has a very similar template but is a lot harder to get into than this, due to its referential humour and large focus on an otaku audience. In comparison, Nichijou is far more approachable and can be enjoyed by a far wider audience, thanks to its more relatable gags and stronger, more varied characters.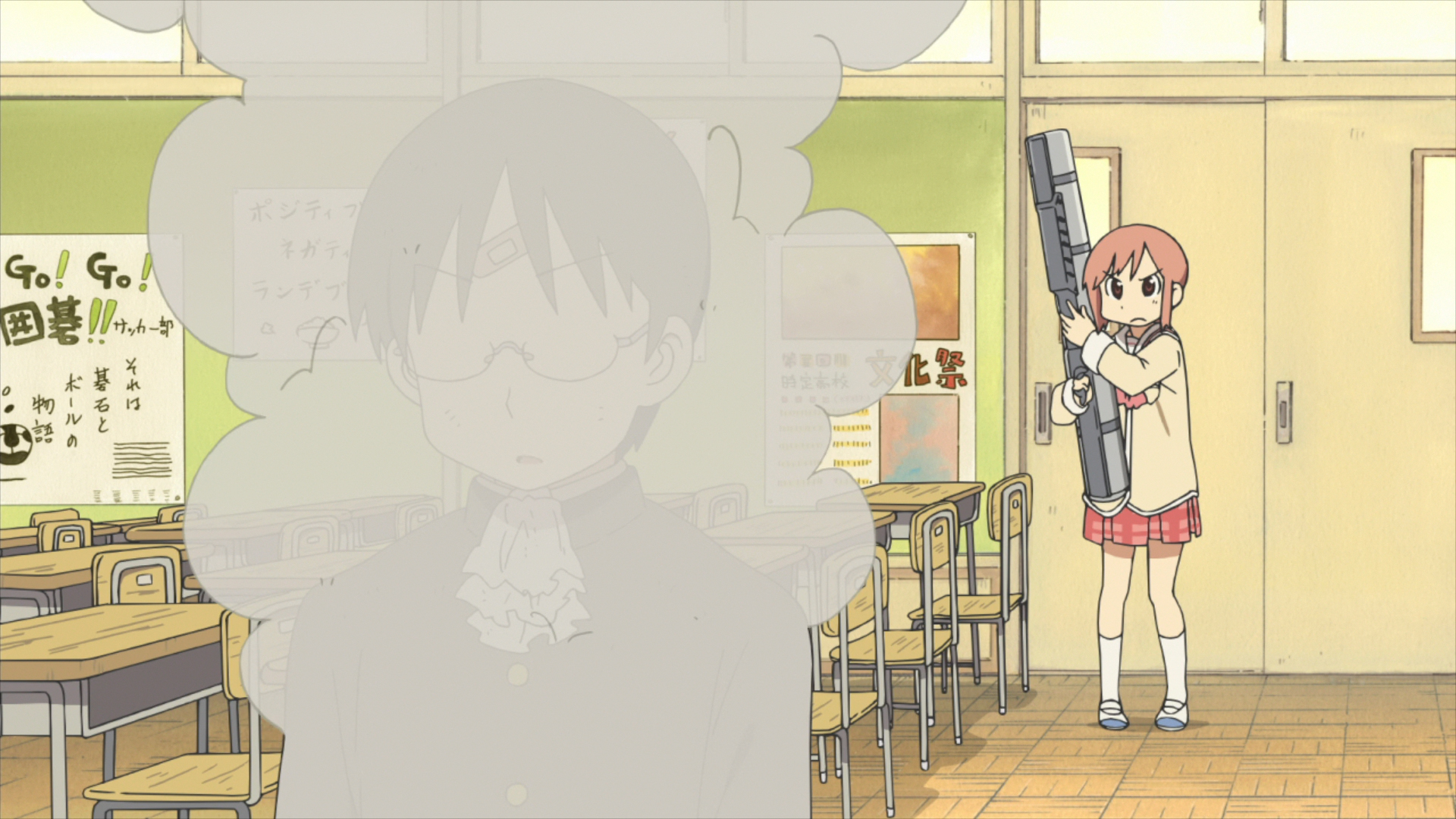 In terms of visuals, the show looks utterly fantastic, with it lifting the manga's very cartoony art style straight from the page and giving it so much life and colour. There's a strong emphasis in showing emotion in the characters' faces which helps to emphasise the jokes, particularly with all the character reactions being utterly on-point. There's an incredible level of depth in here too, with a lot of hidden details in the background that are relatively easy to miss at first glance but make re-watches very rewarding as you notice little things like a character from a previous episode walking by and doing something dumb.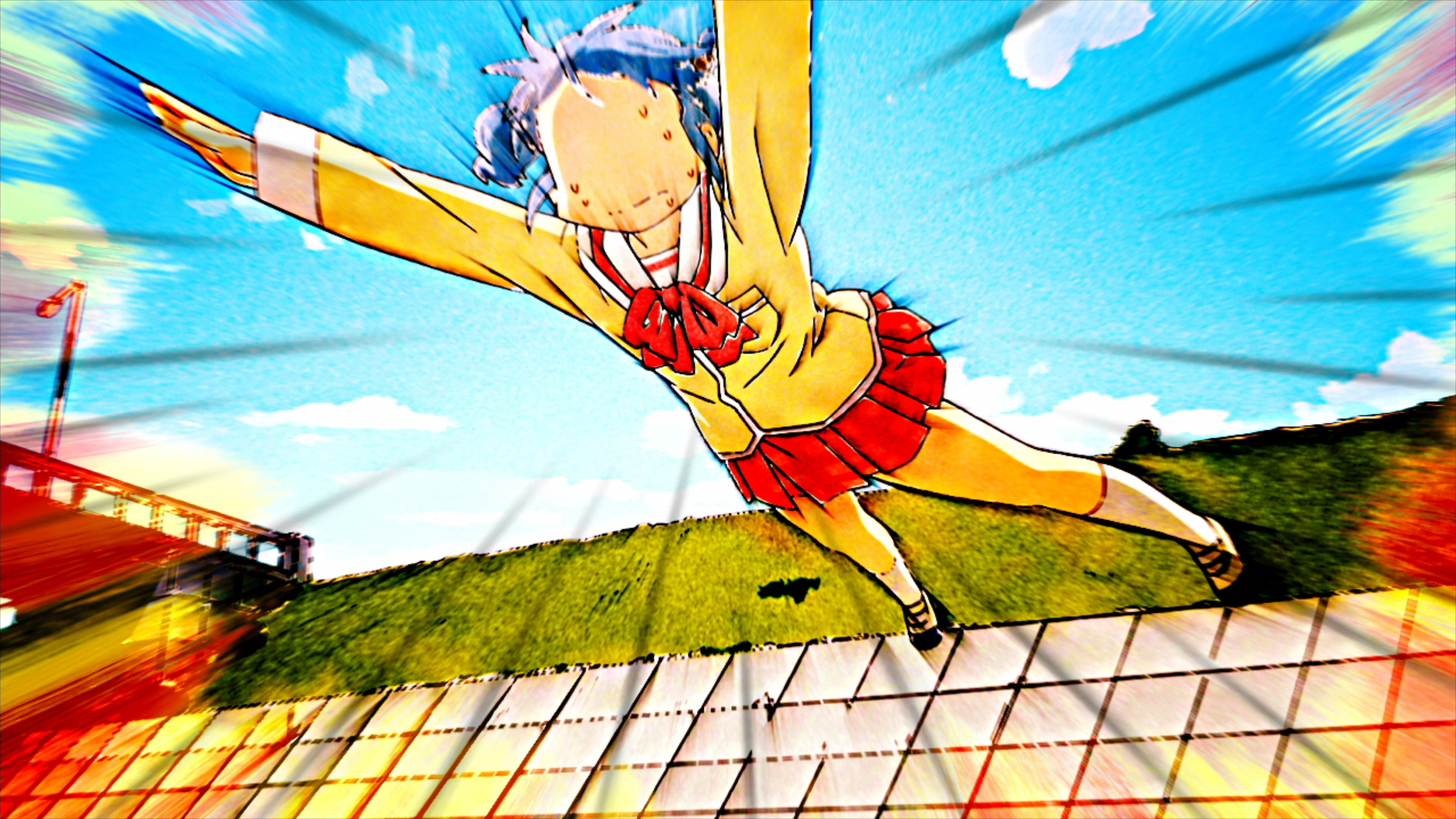 It sounds great too, with some great sound effects work and the excellent soundtrack composed by Yuuji Nomi which punctuate the jokes perfectly. The opening themes to the series are provided by Hyadain (real name Kenichi Maeyamada) and are suitably wacky with fun and well produced opening animations to match. The ending theme for the first 13 episodes is "Zzz" by Sayaka Sasaki, while the second half of the series uses a variety of different songs by both Sasaki and the Japanese voice cast, which all take a slower approach which give you a good moment to calm down a little before the next episode.
Regarding the voice acting, I was surprised at how good it sounds in English as these types of shows don't tend to translate very well when it comes to jokes, but because Nichijou's are often so random anyway that it still works, the English voice cast just go for it. Morgan Lauré is brilliant and provides her own spin on Yuuko that works well when paired with Leah Clark, who voices Mio. Meanwhile, Brittany Lauda does a good job in matching the deadpan voice Misuzu Togashi provides for Mai. If you prefer to go subbed then that's excellent too, and honestly some of the Japanese cast can't be beat when it comes to their reactions. Mariko Honda is utterly fantastic as Yuuko and brilliantly delivers the jokes, while we see some impressive moments from Mai Aizawa as Mio, particularly when the character becomes more animated and goes off into a rant about something Yuuko has done. Fans of Kyoto Animation may recognise some cross-over from Lucky Star, with Shiraishi Minoru (who became notorious for playing himself and singing song covers) giving his voice to Sakamoto-san, Kaoru Mizuhara (who voiced Ayano Minegishi) voicing science teacher Kana Nakamura, and even Aya Hirano (who voiced Konata Izumi) makes a cameo as the narrator for Episode 9.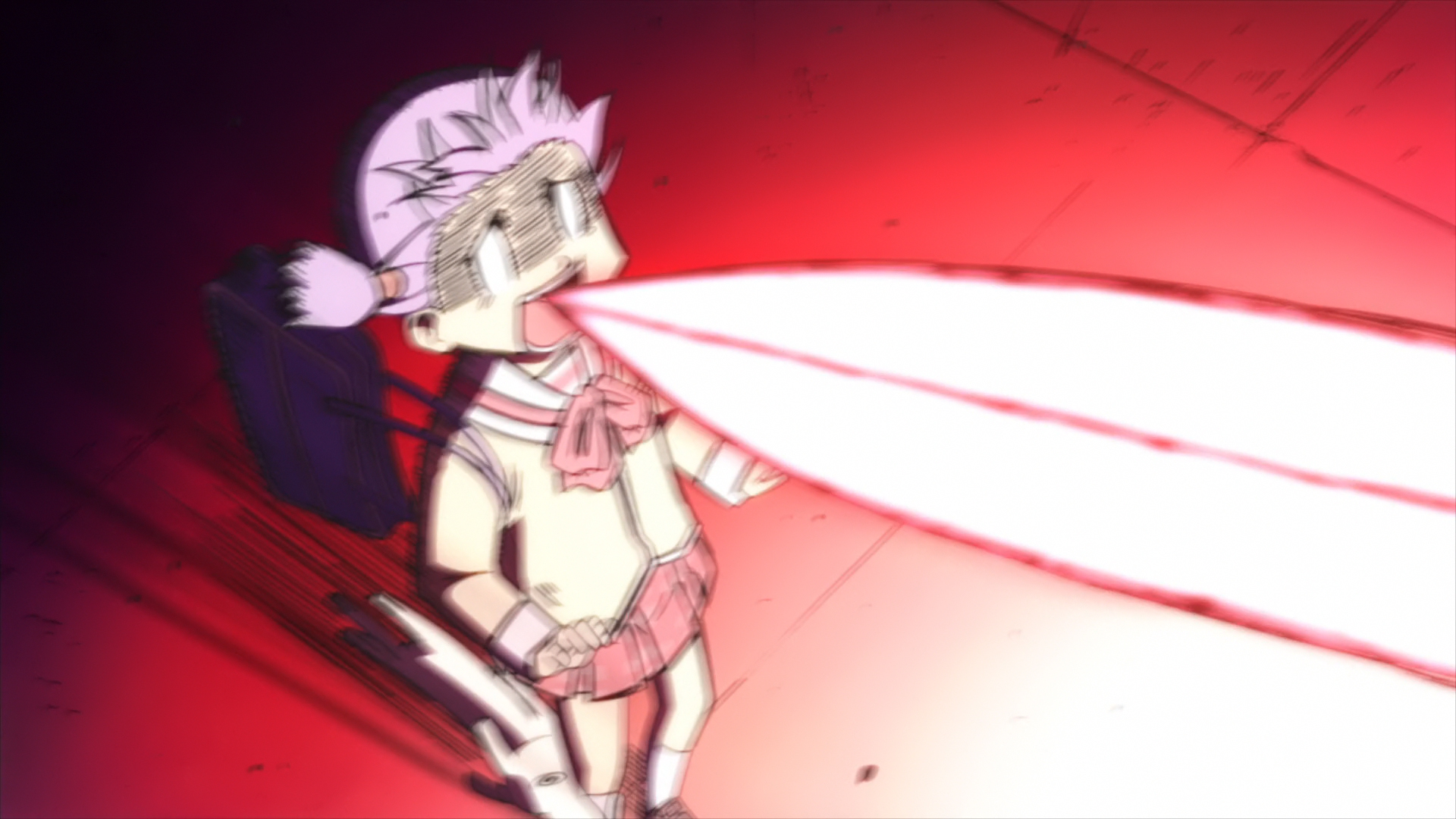 Nichijou: My Ordinary Life comes to the UK via Funimation, available in both standard edition and limited-edition Blu-ray sets featuring all 26 episodes of the series subbed and dubbed across 4 discs. On-disc extras include the "Episode 0" OVA originally bundled with Volume 6 of the manga, along with textless opening and ending themes. The limited edition bundles everything in a really good-looking art box with a 36-page art book and a set of art cards.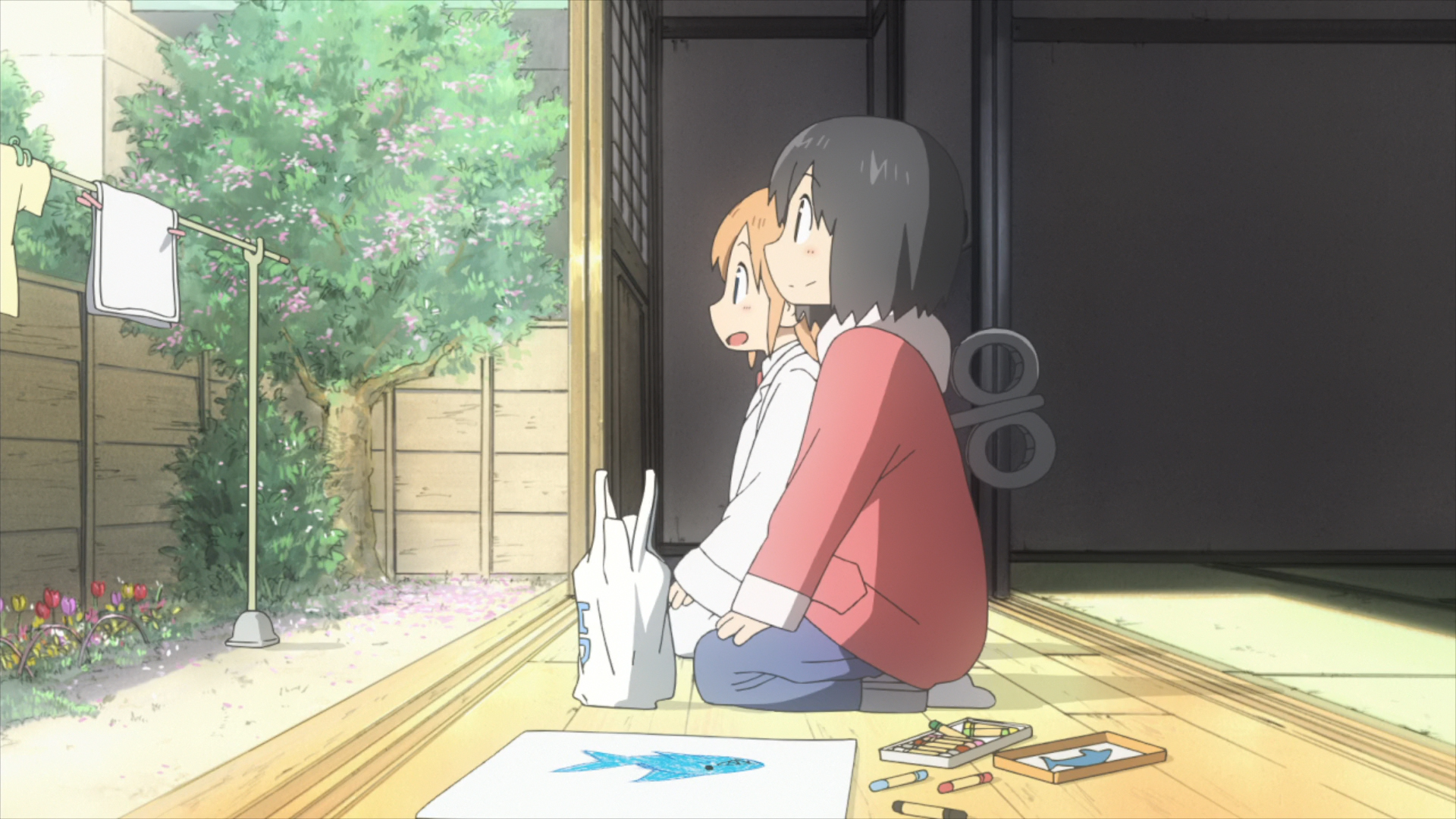 Overall, Nichijou: My Ordinary Life is a beautifully animated, laugh-out-loud comedy series that is arguably one of Kyoto Animation's best. The series offers some brilliant writing and a wonderful, heart-warming cast that, bar the odd repetitive joke and one annoying character, will not only have you laughing throughout, but will leave you with a big smile on your face by the end. Often criminally underrated and passed up on in favour of Kyoto Animation's more popular work, this is one not to miss if you are a fan of comedy, slice-of-life, or Kyoto Animation in general.