Rent-A-Girlfriend Volumes 13 and 14 Review
Demelza
•
At the end of Volume 12 of Rent-A-Girlfriend, protagonist Kazuya appeared in front of Mizuhara, declaring that he would make her dreams of becoming an actress come true. The goal is to crowdfund a film project that Kazuya will run and all Mizuhara has to worry about is playing the lead role. 
To begin with, Mizuhara is reluctant to buy into Kazuya's idea, worrying that he hasn't thought it through and that she'll only be disappointed in the end. However, Kazuya is studying business in college (a fact many of us had long forgotten I'm sure) and he's not pursuing this as a simply spur-of-the-moment idea – he truly believes he can make it work. 
As part of his research Kazuya even arranges a meeting with the crowdfunding platform, which gives him some useful advice and tips on how to launch the project and the best way to attract supporters. Together with Mizuhara he then talks through his goals, the budget he's created and how he came to the total amount they hope to raise to make the film. 
Among all this planning Kazuya and Mizuhara also meet Mini, a new neighbour living next door to Kazuya. At first, she complains about Kazuya and Mizuhara holding meetings on their balconies but in true Rent-A-Girlfriend fashion, it's not long before Mini ends up involved in Kazuya's world. She very quickly finds out that Mizuhara is a rental girlfriend after Ruka has a public argument with Kazuya over the amount of time he's been spending with his neighbour instead of her.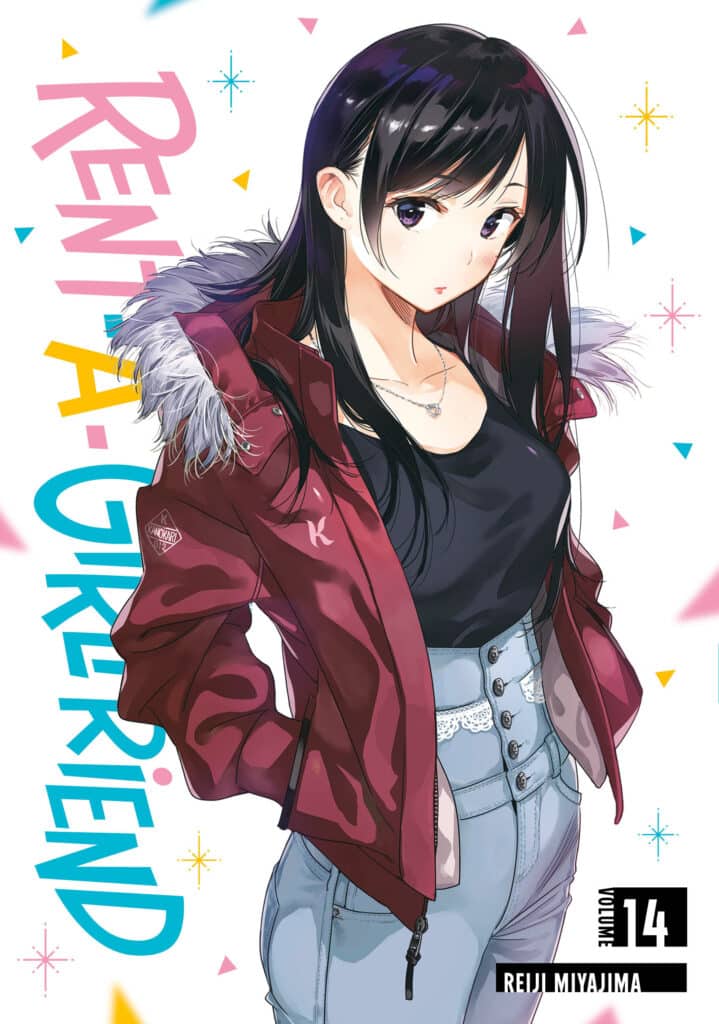 This leads us to Volume 14, which opens with Mini dragging Kazuya into her apartment, demanding to know what the deal is with him and Mizuhara. Sensing he can't lie his way out of it, he comes clean and tells Mini everything. Including the fact the two are in a fake relationship because of keeping up appearances for their grandparents and that Kazuya does love Mizuhara but hasn't been able to make a move. 
Mini promises to keep Kazuya's secret and on top of that, she's decided to root for his relationship with Mizuhara. She's a massive otaku with no interest in love herself, but she loves gossip and stories like Kazuya's set her heart ablaze to the point where she can't help but want to involve herself. As it turns out, she may even be useful to Kazuya because she's a professional cosplayer and YouTuber, meaning she has experience in things like marketing and crowdfunding. 
If nothing else it's very refreshing to have a new female character enter the mix who doesn't harbour feelings for Kazuya. Between Mizuhara, Sumi, Mami and Ruka there are certainly more than enough love interests as it stands. Mini is just genuinely a good character with an interesting background. Unlike some of the other characters whose lives revolve around Kazuya's story, it's obvious that Mini has ambitions and things important to her that don't connect back to her neighbour. I think that given enough time and good development, Mini could easily become one of my favourite members of the cast. 
The other nice thing about these two books is that the focus has shifted from the romance between Kazuya and Mizuhara to the film project, which is an engaging storyline. Sure, the romantic elements are still simmering away in the background, but for now, the manga is willing to take itself seriously and give this tale the seriousness it deserves. 
Rent-A-Girlfriend Volumes 13 and 14 come to the West thanks to Kodansha and continue to be translated by Kevin Gifford with lettering by Paige Pumphrey. Both books read well with no complaints to note. Volumes 15 and 16 of the series are already available with the next upcoming release being #17 in February. 
Overall, Rent-A-Girlfriend Volumes 13 and 14 kick off a new arc and introduce a new character while treating us to the usual drama we've come to expect from Kazuya's life. Both the new storyline and member of the cast keep things entertaining in a series where you're never really sure what's going to happen next.