WANDANCE Volume 3 Review

Sarah
•
Inspired by his classmate Hikari Wanda, Kabo (Kaboku) has discovered he has a talent for dance and has joined the Ichirin High School dance club. And now the club is about to compete in a dance contest and Kabo's suddenly feeling the pressure! Coached by their captain, third-year On-chan, they're well prepared – but seeing so many other clubs performing is an eye-opening experience for Kabo. After the judging, Wanda is approached by one of the judges, Assay, who tells her how impressed he was with her performance and gives her his card. "When I saw you dancing up there today… I thought, 'There's someone who will be dancing for the rest of her life.'" Potent praise for a young performer to hear. Kabo plucks up his courage (not easy to do for someone with a stutter) and asks Assay what he thought of his performance, only to be told bluntly, "You tend to flail a bit." Assay then goes on to explain what he means – it's not necessarily a bad thing, it seems, but Kabo must try to protect his neck and knees and use other parts of his body. Kabo is a little crushed, although he's happy for Wanda – but then Iori, the only other male member of the dance club but who doesn't attend rehearsals, comes up to him. Iori's been watching with some of the first years. It turns out that On-chan asked him to prepare the sound source – an essential element in a big hall where even the briefest delay can throw the dancers or make it appear that they're falling behind the beat.
Iori tells Kabo that he thinks he looks like the type who'd do well in a dance battle – Iori's preferred dance form of self-expression – and, sure enough, soon afterward, On-chan and Iori take part in a dance battle. No one is sure why they've decided to do it, but plenty of students turn up to watch and to cheer them on; the dancer with the most applause will be the winner. Kabo, mesmerized, wonders if he could – as Iori has predicted – take part too…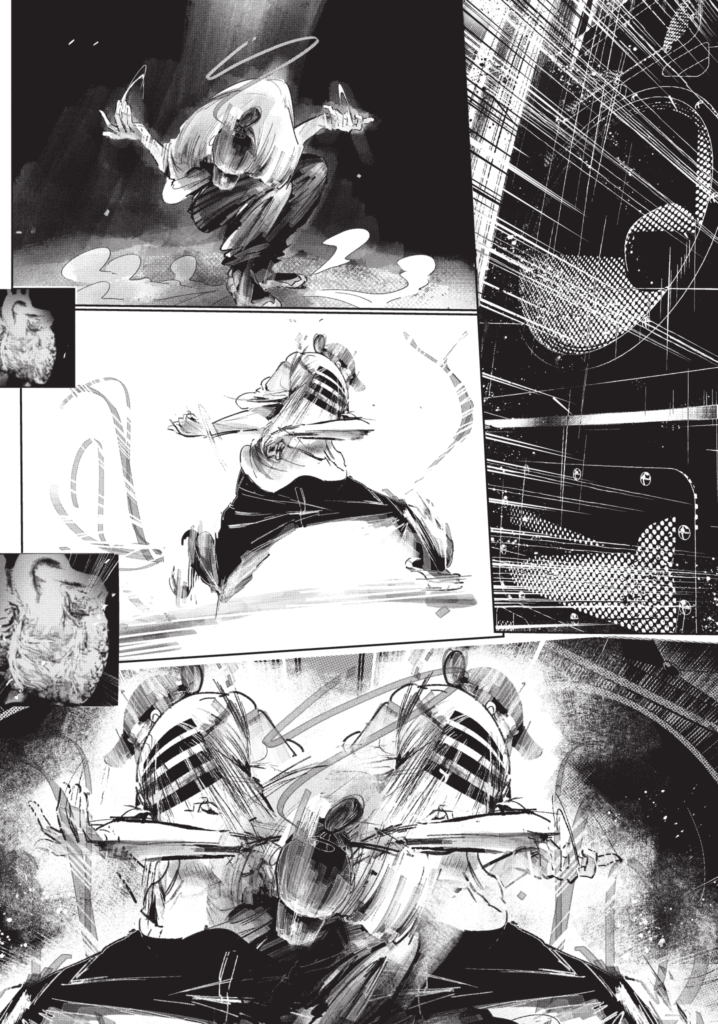 © 2022 KODANSHA USA PUBLISHING. ALL RIGHTS RESERVED.
Volume 3 introduces many more dance terms during the course of the narrative, so you'll find helpful definitions such as 'Waacking – a dance style characterized by whipping the torso around, thrusting or twisting the chest back and forth and flinging the arms' and 'Hit – when you instantaneously relax tensed muscles, making it looks as if tiny explosions are going off in your body' alongside the eclectic variety of tracks and artists that the dancers are performing to, ranging from Billie Eilish to Queen.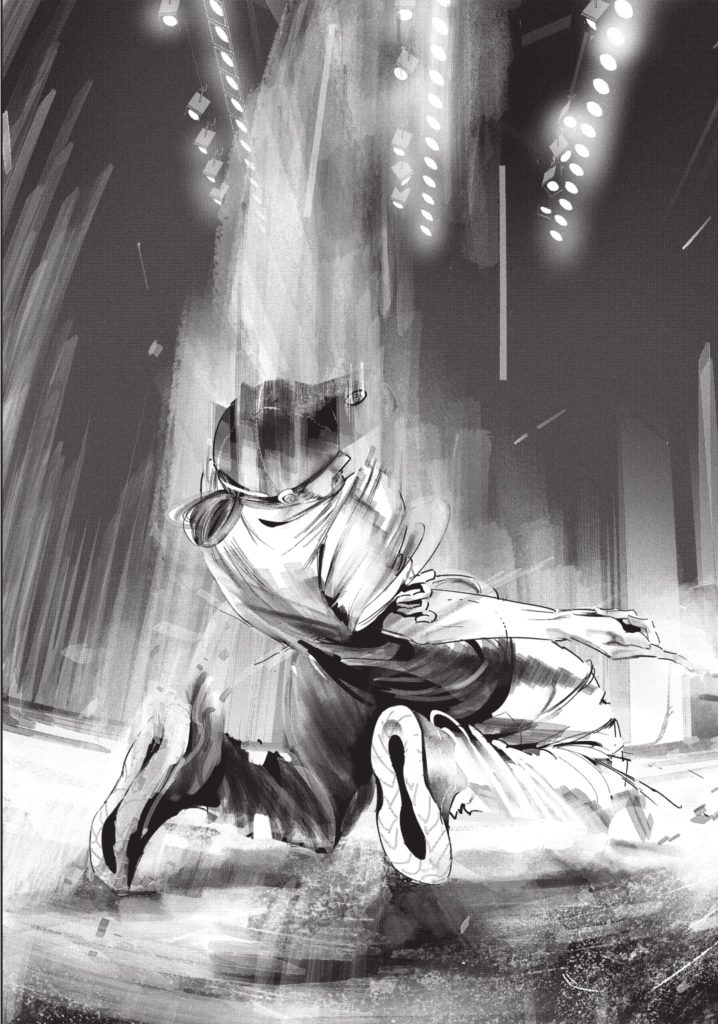 © 2022 KODANSHA USA PUBLISHING. ALL RIGHTS RESERVED.
Mangaka Coffee pulls out all the stops in the depiction of first the dance contest and then the dance battle in Volume 3 of Wandance, producing sequences of dazzling and dynamic drawings that really bring the dancers to life in 2D. In some ways, it's as much an art book as a manga – or comparable in some ways with the pages of panels portraying magic battles in Kousuke Satake's The Witch and the Beast; Kodansha's trade paperbacks are a great way to showcase the art. However, it's not just sequences of dance performances; the characterization and plot are not forgotten and it's significant that the only double-spread image in the third volume – in impactful close-up – is of Wanda hugging Kabo in the heat of the moment, after the dance contest.
Kevin Steinbach continues to translate and offers an appropriately street-cred reading of the dialogue and all the dance terminology; his work is ably supported by Nicole Roderick's lettering. There are two pages of useful translation notes at the end; the one about business cards is especially detailed but for a good reason and explains about the essential etiquette of giving and receiving them. Volume 4 is available now with Volume 5 due in May 2023.
The star of the show is definitely Coffee's striking dance art which goes from strength to strength and will appeal to anyone who's a dance fan – but Kabo is a sympathetic and relatable protagonist (just as Yatora is in Blue Period) and much of the appeal of the story is watching him grow in self-confidence through expressing himself through dance.