CRUNCHYROLL AND DUOLINGO PARTNER TO IMMERSE FANS AND LEARNERS IN THE WORLD OF ANIME 

Sarah
•
Global Popularity of Anime Drives Rising Interest in Japanese Learning
Believe it! Crunchyroll, the international brand serving the ultimate anime experience, and Duolingo, the world's leading language learning platform, are teaming up to celebrate anime and the sixth anniversary of Duolingo's Japanese language course. Starting today, Duolingo's Japanese course will feature "OVER 9000!"…  ahem, nearly 50 phrases inspired by fan-favourite, popular anime series.
As part of the partnership, premium Crunchyroll subscribers will be eligible for a two-month trial of Super Duolingo, the premium, ad-free tier of the language learning app. Free Crunchyroll users will be eligible for a one-month trial of Super Duolingo. Duolingo learners studying Japanese may be eligible for one free month of Crunchyroll Mega Fan premium access, which provides ad-free viewing of the world's largest anime library of more than 44,000 episodes and 18,000 hours of series and films.
To encourage language learners looking to dive into the world of anime, Crunchyroll is also making a roundup of series with easy to understand, everyday vocabulary available on AVOD for a limited time, including: "Bananya", which features an adorable kitty who lives in a banana, "Free! – Iwatobi Swim Club", a sports anime following a high school swim club, "Laid-Back Camp", the beloved slice of life series, and "Nichijou – My Ordinary Life", a surreal comedy following three ordinary girls.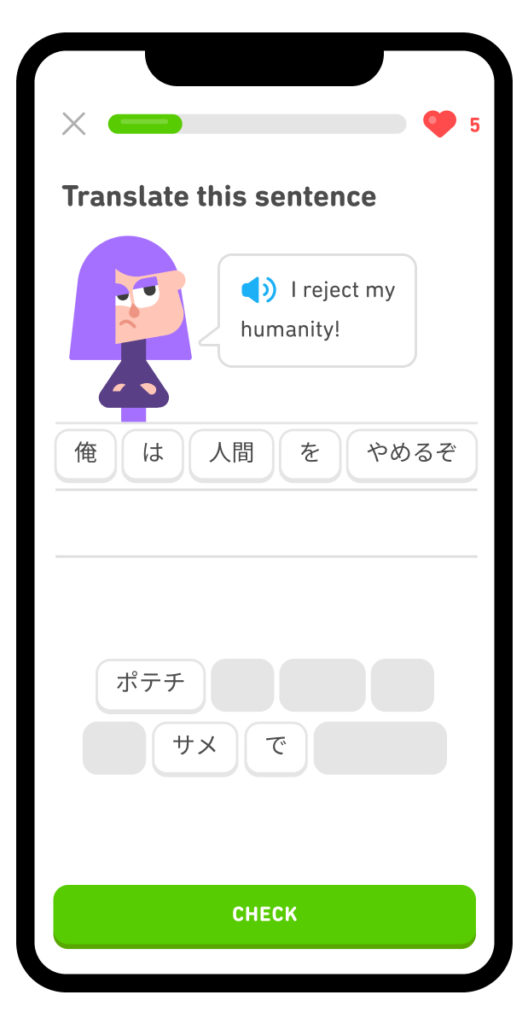 "Anime is a dynamic medium and we know viewers have a curiosity for learning. Now on Duolingo, fans worldwide can celebrate anime through learning iconic phrases from their favourite series," said Terry Li, Senior Vice President of Emerging Business, Crunchyroll. "We also hope anime-curious learners will be intrigued by their Japanese lessons on Duolingo and will explore all that anime has to offer on Crunchyroll."
Global interest in language learning is heavily influenced by major pop culture and social events. Since anime is one of the fastest growing entertainment categories in the world, it's no surprise that Japanese is growing in popularity. Nearly a third (26%) of Duolingo Japanese learners cite fun, like watching their favourite anime shows, as their top motivation for learning. Japanese is the third most popular language for English speakers to learn on Duolingo.
"We chose to partner with the leader in anime entertainment, Crunchyroll, to advance our Japanese course because we know watching TV shows and films in the language you're studying is a great way to learn and we wanted to offer our learners a way to further immerse themselves in the Japanese language through anime," said George Audi, Senior Director of Business Development. "We hope this partnership will be as delightful to anime fans as it was for our Learning, Design and Marketing teams to work on!"
About Crunchyroll
Crunchyroll connects anime and manga fans across 200+ countries and territories with the content and experiences they love. In addition to free ad-supported and subscription premium content, Crunchyroll serves the anime community across events, theatrical, games, consumer products, collectibles and manga publishing.
Anime fans have access to one of the largest collections of licensed anime through Crunchyroll and translated in multiple languages for viewers worldwide. Viewers can also access simulcasts — top series available immediately after Japanese broadcast.
The Crunchyroll app is available on over 15 platforms, including all gaming consoles.
Crunchyroll, LLC is an independently operated joint venture between US-based Sony Pictures Entertainment, and Japan's Aniplex, a subsidiary of Sony Music
2023 Crunchyroll, LLC. All rights reserved. CRUNCHYROLL, the Hime design, and the Crunchyroll logo are registered trademarks of Crunchyroll, LLC
About Duolingo
Duolingo (www.duolingo.com) is the most popular language-learning platform and the most downloaded education app worldwide. The app makes learning new languages fun with bite-sized lessons that feel like playing a game. The company's mission is to develop the best education in the world and make it universally available. Duolingo offers over 100 total courses across 41 distinct languages, from Spanish, French, German and Japanese to Navajo and Yiddish.