Winter Season 2017 – First Thoughts and Impressions

Cold Cobra
•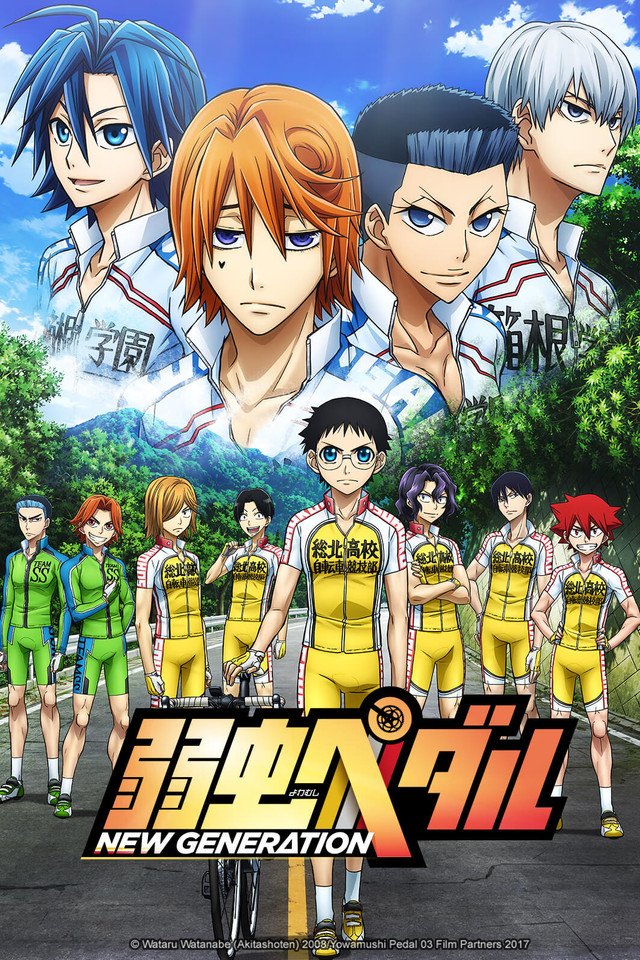 Suddenly it's 2017! As we sweep up the pine needles and polish off the last crumbs of Christmas cake, the first episodes of the new and continuing Winter 2017 series are appearing. Is this going to be as good a season as Autumn 2016? Which series are worth your time? (Especially if you made a New Year's resolution to waste less time watching duds 'in case they get better next episode'. We're all been there!)
So, never fear; our writers at AUKN are here to share their thoughts and make recommendations. Agree? Disagree? We'd love to hear what you think too.
Demelza: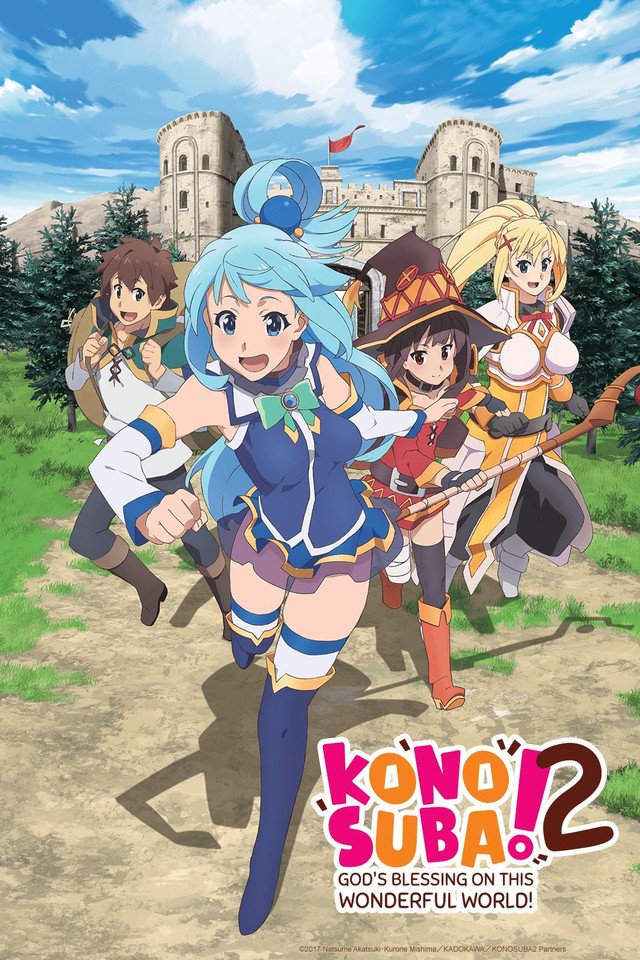 The Winter season always tends to be quite hit and miss for me. I try a bunch of shows, drop the majority, and then gain a few favourites that are no doubt forgotten about by the end of the year. It's a harsh time for new anime to be released, but I think maybe this season is different.
This winter marks the return of one of my favourite shows from last year, KonoSuba. If you read my review when the series finished (if not you can find it here), you'll know that I am a huge fan of the anime and the first episode of Season 2 hasn't let me down so far! Our quirky band of heroes have gotten themselves into trouble yet again and between their over-the-top reactions and the mock Ace Attorney court session, it's clear that this season is going to be just as fun as the last.
Away from KonoSuba I'd have to say my favourite new show is Fuuka. It's a series that tells the story of a young kid, Yu, who spends all his time on Twitter and not really interacting with the world. One day he runs into a girl called Fuuka who changes his life forever! At heart the series sounds like your usual slice of life affair, but I'm a huge fan of the manga and can safely say that it's not as generic as it sounds. The manga eventually evolves into a heavy focus on music (something I'm sure regular readers will know I love), and between that and the very sweet love story it tells I encourage everyone to give it a chance.
While I'm here I'd also like to give a mention to Miss Kobayashi's Dragon Maid which is the latest adaption from studio KyoAni. Despite my love for KonoSuba, I actually don't like comedy all that much and so I was surprised to find that I could stick out a whole episode of this series and like it enough to want to watch more. The animation isn't quite as good as the usual anime put out by the studio, but the story and heartwarming cast certainly more than make up for that. If there was anything that I could recommend to basically anyone, then I think Miss Kobayashi's Dragon Maid is probably it. The series definitely had the best opening episode of the season, besides KonoSuba of course.
Ian Wolf: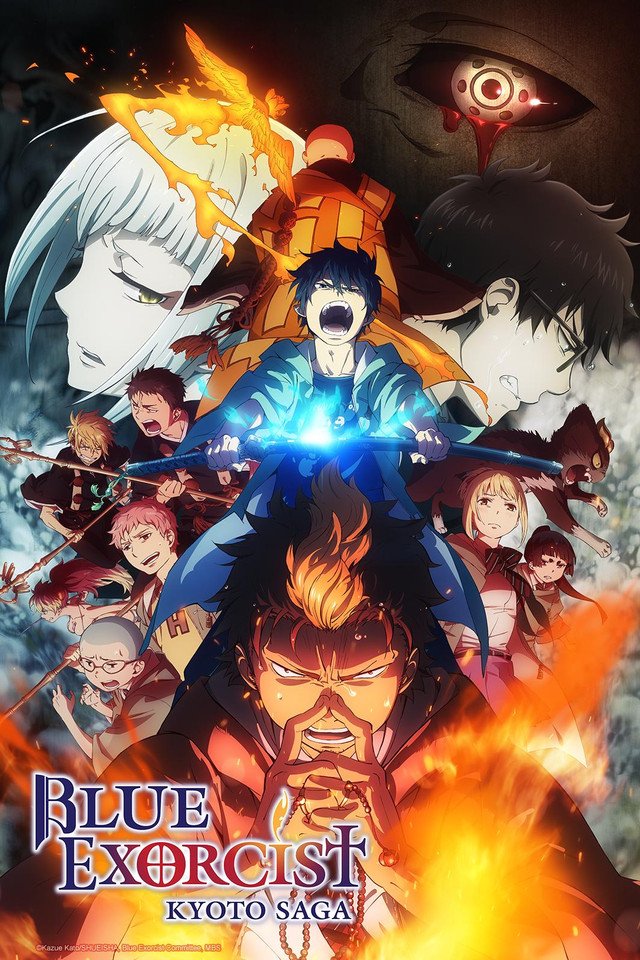 For me, the title to keep an eye on this season is the one that has been the most highly anticipated: the return of Blue Exorcist.
It's been a while; the last outing was the feature film that premiered back in 2012, so it's been five years since we last encountered Rin Okumura, the trainee exorcist who is still hoping to kill his father – who just happens to be Satan.
The last series finished with Rin's family history being exposed to the rest of his classmates at the True Cross Academy, thus meaning that everyone around Rin now distrusts him due to his dad being their sworn enemy. Also, Rin is having trouble keeping his demonic powers under control. In this second series, things are made even worse when one of the members of the Knights of the True Cross turns traitor and steals a valuable artefact that in the wrong hands can spread disease. This means that Rin's class have to travel to Kyoto to stop things getting worse, staying at an inn run by the parents of aggressive classmate Ryuji Suguro.
It is probably worth looking over the first series again as there has been such a gap between the two, but if you enjoyed the first one then the second series should provide you with plenty of action and intrigue.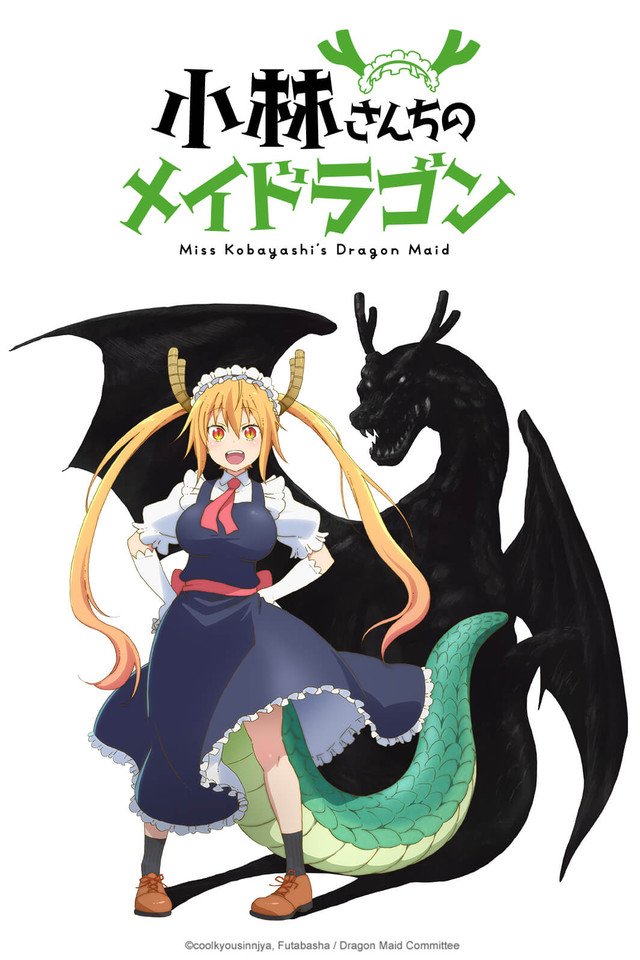 The other series I would recommend, like Demelza before me, is Miss Kobayashi's Dragon Maid. For the uninitiated, the story revolves around Miss Kobayashi, a systems engineer and secret otaku who gets drunk one night and bumps into Tohru, an injured dragon sleeping on a mountain. Kobayashi helps her, and suggests that she should come and stay. To her shock, Tohru appears the next morning, dressed as a maid and in a human body (if you ignore her horns and tail). Now Kobayashi has to try and cope with living with a mythical beast in her flat.
Having previously reviewed the manga I can say that there is plenty going for it in terms of humour. Fans of yuri may like it too, although people might be put off by fan service. For example, the first scene in which Tohru transforms into her human guise features some "boing-boing" sound effects as her boobs move. This might be surprising as the vast majority of the series has little objectionable content. I've enjoyed it so far, and I like the rather pastel-like art style they have used.
IncendiaryLemon: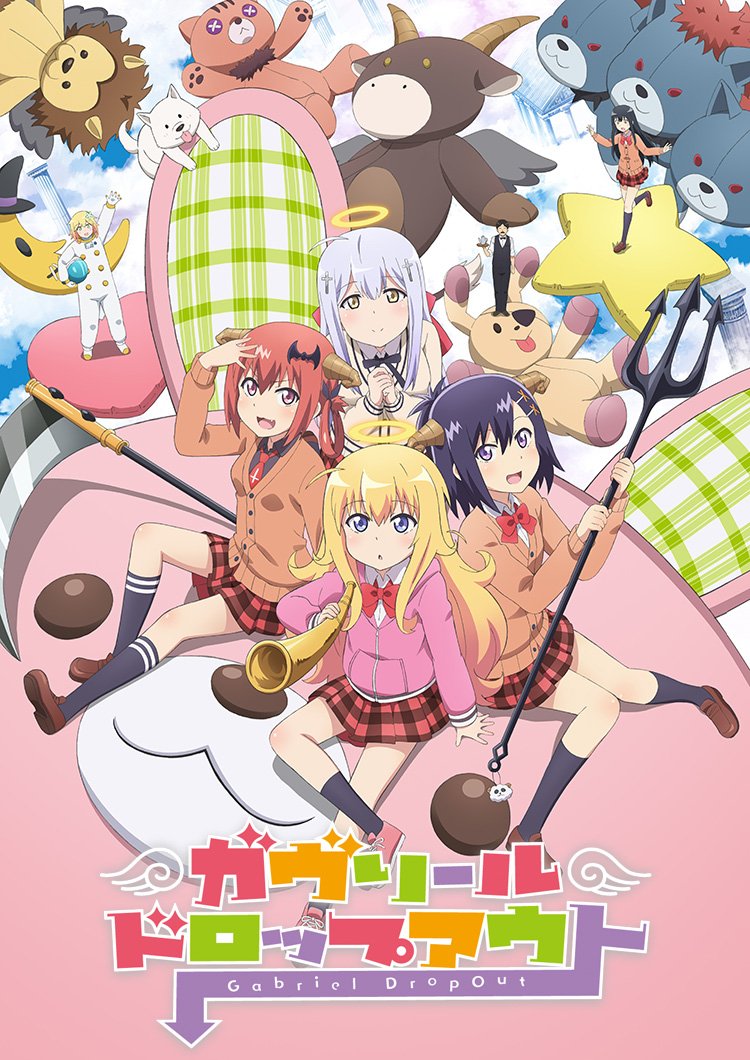 As with the start of the majority of seasons, the Winter 2017 was one in which I was looking forward to very little, by pure virtue of not having heard of any of the upcoming shows before. Despite this, however, the  season is actually looking to be pretty good, at least going off the first few episodes of the series I have picked up thus far.
The only series I was actively anticipating in advance was Gabriel Dropout. I'm a huge sucker for Slice of Life comedies, and as soon as I saw the key art for this show, I knew I had to watch it, and its first episode didn't disappoint. Gabriel Dropout comes courtesy of Doga Kobo, the studio that also produced the excellent New Game! last year, as well as a bunch of other great comedies such as Monthly Girls Nozaki Kun and Himouto Umaru-chan. The premise is a fairly simple one: a bunch of Angels and Demons are sent to a school on Earth in order to learn about human life, and antics ensue. Whilst the school-based SoL comedy isn't exactly untrodden ground, the first episode managed to have me laughing throughout and has some pretty great gags, the funniest of which involves teleportation and which I dare not spoil here. Gabriel Dropout comes highly recommended if you liked any of the shows I listed above from Doga Kobo.
Another season highlight for me is Kyoto Animation's Miss Kobayashi's Dragon Maid. Kyoto Animation is easily one of my favourite studios, with an astonishing track record of outstanding series such as K-On, Free! Iwatobi Swim Club, Nichijou, and my personal favourite show of last year, Sound! Euphonium. Dragon Maid appears to be a bit of a departure for the studio, which tends to focus on high school-based shows, and it's a change of pace that's appreciated. The focus in this show is the titular Miss Kobayashi, an average office worker, who, in a drunken stupor, enlists a dragon to be her personal maid. Much like Gabriel Dropout, this is another comedy that had me laughing along for the entirety of its running time, and the art is brilliant, as you'd probably expect from KyoAni. Add in a smidgen of yuri teasing, and you have an anime that is certainly one of my personal highlights of this season.
Venturing out of the comedy genre, the anime that's piqued my interest the most so far would have to be ACCA 13. Going by Episode 1 alone, it's actually very hard to tell in which direction this show is going, as the majority of the episode was world building; however it appears to be quite unlike anything else airing this season, or at least that I have seen. The show is almost entirely dialogue based, not unlike something such as Monogatari, but yet still remains very engrossing. It also has a unique art style that instantly grabbed my attention, and is animated by another personal favourite studio of mine, Madhouse. It's actually quite hard to talk about, as little has happened just yet, but if you are looking for something that isn't a light comedy series with a bunch of cute girls in it, this is probably one to watch.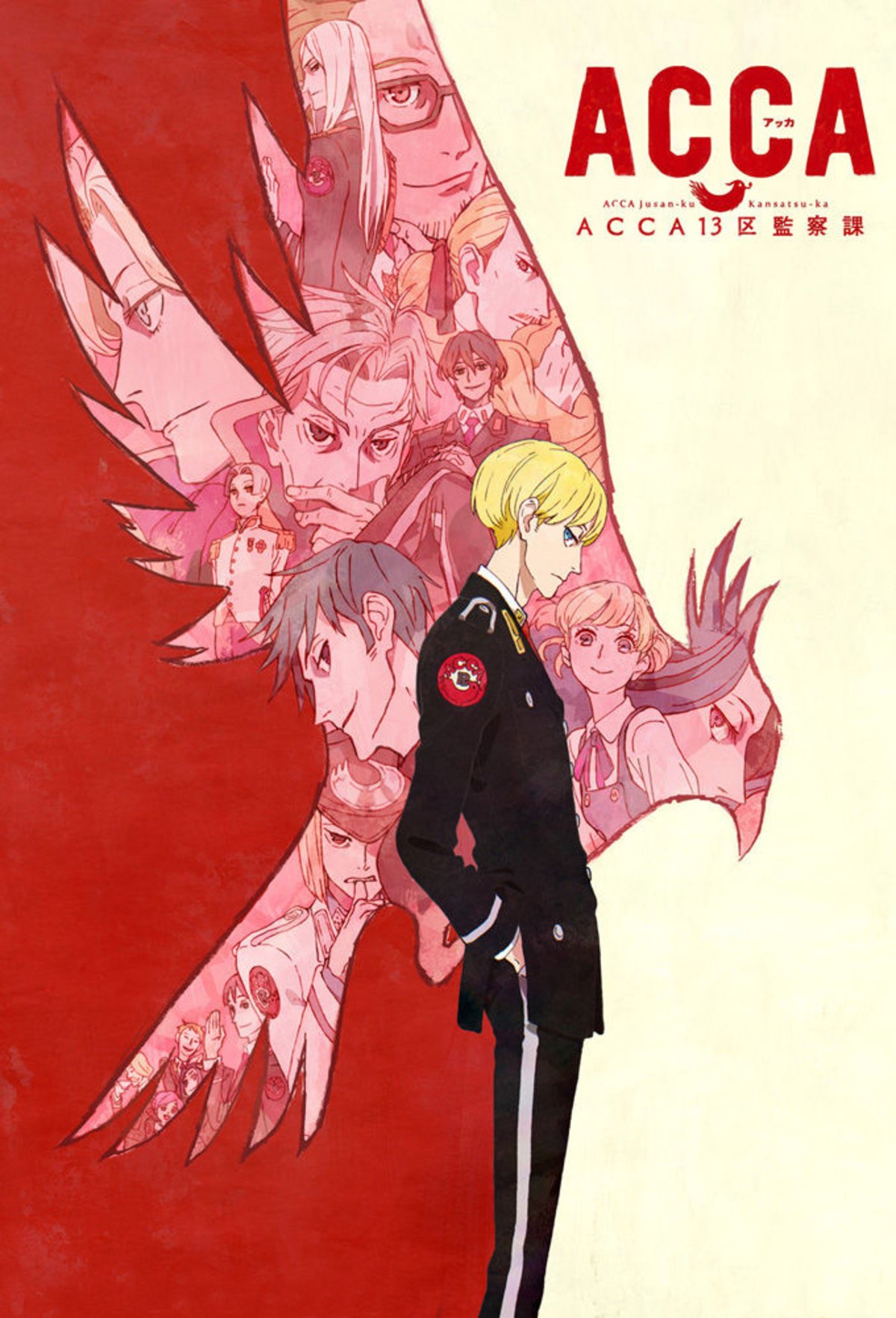 Sarah:
ACCA: 13-Territory Inspection Dept.
If you've read or watched the anime versions of Natsume Ono's distinctive manga (Dead Leaves, Ristorante Paradiso) you'll know that you'll be in for a very different viewing experience in ACCA. Set in Dowa, a Ruritanian-ish European kingdom (check out those moustaches and uniforms!) it introduces us to Jean Otus, the vice-chairman of the inspections department.  Nearly a century ago when a coup d'etat threatened the peace of the thirteen territories, the syndicate was set up to protect the peace. Nowadays, the members of Jean's department are more concerned with the cakes they'll be eating for their morning snack break, so maybe it's not surprising that there's talk of disbanding ACCA. But the king is not getting any younger…is this really the right time? Something sinister is probably underway…but what? Directed by Shingo Natsume (One Punch Man) the series has a distinctive, primary-coloured palette (and is faithful to Natsume Ono's stylish character designs). ACCA is unusual enough to hold the attention – but not, so far, to engage the heart. Jean makes a curiously unengaging central character: enigmatic and cool, smoking expensive cigarettes… However, the next episode promises to introduce another central character, the motorbike-riding reporter Nino, and, as I have faith in Natsume Ono's works, I'm intrigued enough to return to see what happens next. You've gotta love a series where the character profiles tell you each person's favourite snacks! (Jean's are white bread and strawberries, btw.)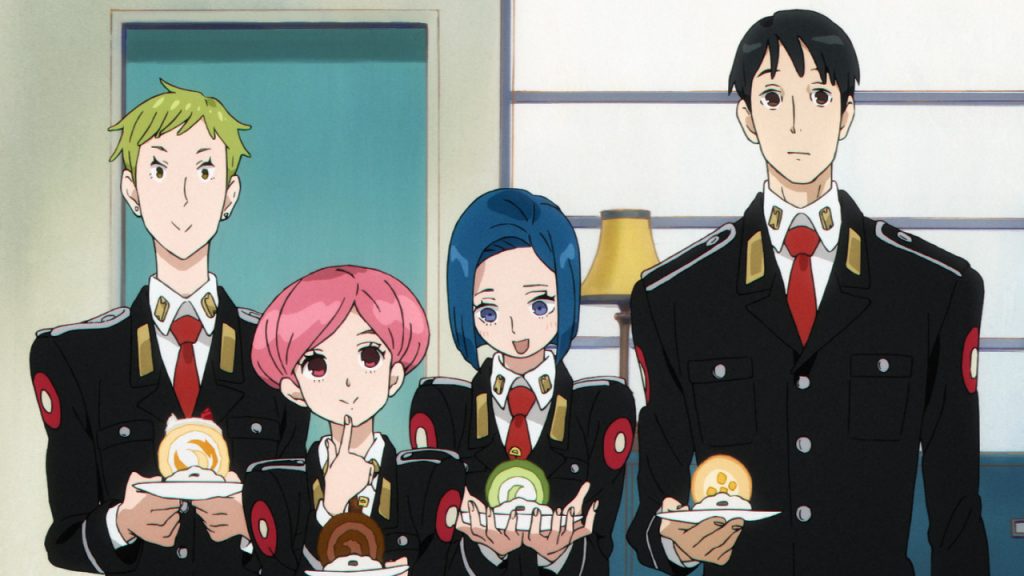 The best anime drama for many viewers last year was the first season of Shouwa Genroku Rakugo Shinjuu and the second season Descending Tales has been hotly anticipated (certainly by me). Based on the prize-winning manga series by Haruko Kumota, this twisted and insightful tale of two proponents of the ancient story-telling performance art of rakugo battling the tide of twentieth century popular culture, was notable for its depth of characterization, voice acting and unique blend of music and visual art. We rejoin the story in the 1980s where Yotaro, the reformed yakuza turned professional storyteller, has taken the stage name of Sukeroku, in homage to his master Yakumo's dead friend and contemporary. He's also married – in name only – Sukeroku's daughter Konatsu to protect her and her illegitimate baby son (father unknown, at least to us at this stage). Debts to the dead and a complicated web of feelings among the living overshadow the lives of the three main protagonists – and the dying art of rakugo underscores everything they do. Should it be allowed to die out as a historical irrelevance? Or can it be made meaningful to a more modern age and revived? The new OP, sexily, slinkily sung by Megumi Hayabashi, offers a striking and chilling foreshadowing of what's to come. Not to be missed!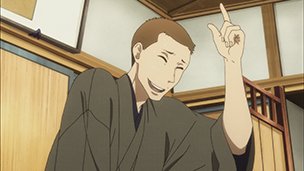 And it would be remiss of me not to mention the arrival of the third season of Yowamushi Pedal  – the first time any episodes of this iconic sports anime series has been made available in the UK (someone will correct me if I'm wrong…) I'm delighted to be able to watch it at last, even if it means coming in late. Perhaps Crunchyroll will bring us the earlier seasons as well now.
Rui:
I was dreading this season at first when Crunchyroll started off by announcing a selection of similar-looking school comedies. However, it's turning out better than I thought. The best news of all is that hardly anything is locked away from the UK this time around, with the big villains of the season being Amazon for locking two interesting titles (Scum's Wish and Onihei) behind their Prime paywall. The possibility that they might soon start charging even more for this service with the rollout of their premium Anime Strike subscription (US-only, for now) is worrying for many of us wanting affordable access to legal simulcasts.
Like the other staff members above, I'm very interested in the continuation of the absolutely sublime Shouwa Genroku Rakugo Shinjuu and also looking forward to seeing where ACCA: 13-Territory Inspection Dept. goes after that very stylish beginning. The biggest surprise of the first episodes I've seen so far has been Miss Kobayashi's Dragon Maid, which was much wittier than I'd expected from the premise and a real gem.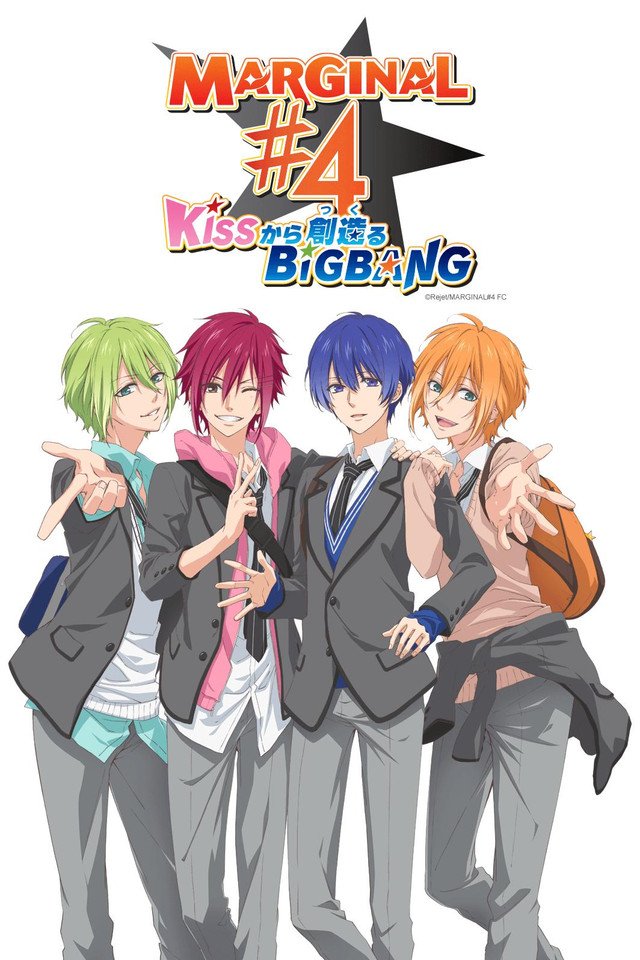 Another surprise for me was how watchable the first episode of this season's idol title MARGINAL #4: Kiss Kara Tsukuru Big Bang ended up being. We had no fewer than three new seasons of big idol-related titles based on games aimed at the female audience last season, and in my personal opinion neither Dream Festival nor Magic-kyun Renaissance really succeeded in offering anything unique enough to dislodge the massive Uta No Prince-sama anime series from its throne. I was expecting MARGINAL #4 to fall by the wayside too – ever since its original debut as an audio series it's been a direct attempt to cash in on a popular genre – but it neatly sidestepped direct comparisons to UtaPri by focusing on the boys' silly school lives and idol careers rather than anything too complicated. It's like an irreverent parody of K-On! blended with the flash of Love Live!, and the humour is so goofy that I think it's going to work.
Like Rejet's previous anime projects (Diabolik Lovers, Dance With Devils), MARGINAL #4 is mostly designed to promote the core series and the constant stream of expensive music/situation CDs which come out month after month, so even if the comedy starts to flag it's a given that the concert scenes will continue to have great music. I'm a sucker for a good concert, and the hope that the (superior) senior idol group might actually be allowed to sing on-screen in a later episode will no doubt keep me pinned to the series all season long.
So my apologies go out to this season's anime selection; I was too quick to judge at the start. My top titles this winter are all very different from one another so I can't wait to see which of them still have my attention in a couple of months from now.
Cold Cobra:
Well, like a lot of people here there isn't a large amount of options screaming at me, at least not at the moment. The series that I'm most interested in is Chaos;Child, mostly because I really enjoyed Steins;Gate and remember liking the possibly overly-gory but nonetheless interesting murder mystery Chaos;HEAd, the series this is a direct sequel to. The first episode was actually a two-parter… sort of as the first half recapped the cases in Chaos;HEAd. The actual first episode is a good start; the unpleasant murders and the mystery surrounding them barely gets going, but in a good way. The lead character, Takuru Miyashiro, and his merry band of high school newspaper club members are a fun bunch, though maybe not anything groundbreaking in terms of character type. So lots of mystery in the air and things to reveal. It could be a great ride, or it could sort of slowly degrade into confusion and end in an unsatisfactory manor, which happens often when an anime is based on a branching paths visual novel. Fingers crossed for the former rather than the latter!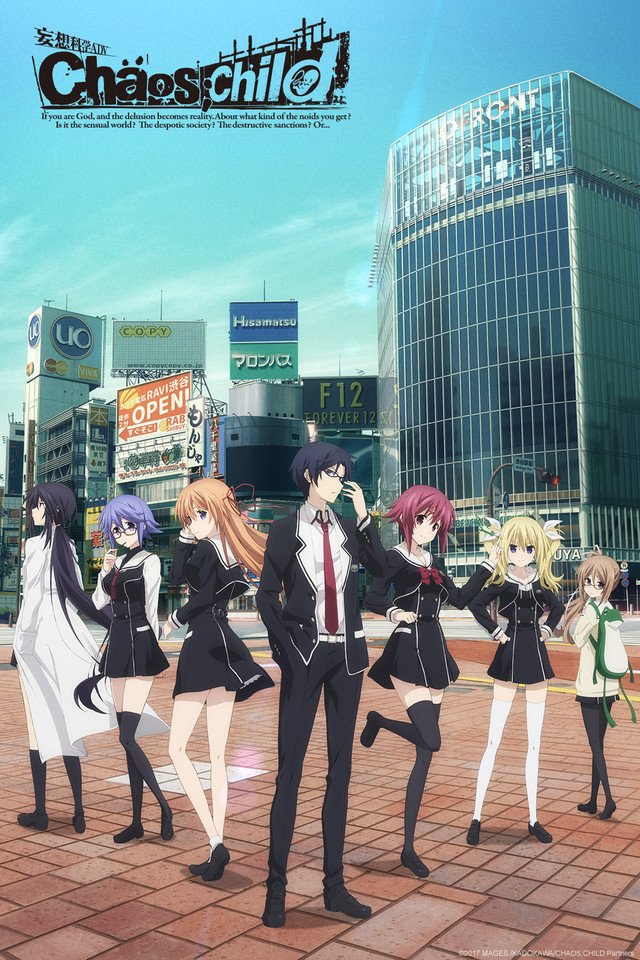 The return of Blue Exorcist and a second helping of Tales of Zestiria the X should provide some entertainment in the coming weeks, the previous parts showing some promise in their genres, but that's it so far this season. Very bare, but that does tend to happen in the Winter season.