The Yakuza's Bias Volume 1 Review

Sarah
•
Ken Kanashiro is second-in-command of the Washio Clan – he's yakuza through and through, from his facial scars to his pencil-thin moustache, every inch the formidable, hard-bitten gangster. One day, Megumi, the daughter of the clan's president, tells him she's won front-row tickets to the upcoming arena concert by MNW, a South Korean male idol group that she's stanning big-time – and she wants him to accompany her. To prepare him, she shows him a documentary about the group and Ken is utterly blown away! So when they attend the concert together, whether it's the music, the hard-working ethos of the charismatic idols, the concert atmosphere or a combination of all three, the end result is the yakuza's life will never be the same. Overnight, he becomes a dedicated follower of Jun – Jun is his 'bias'.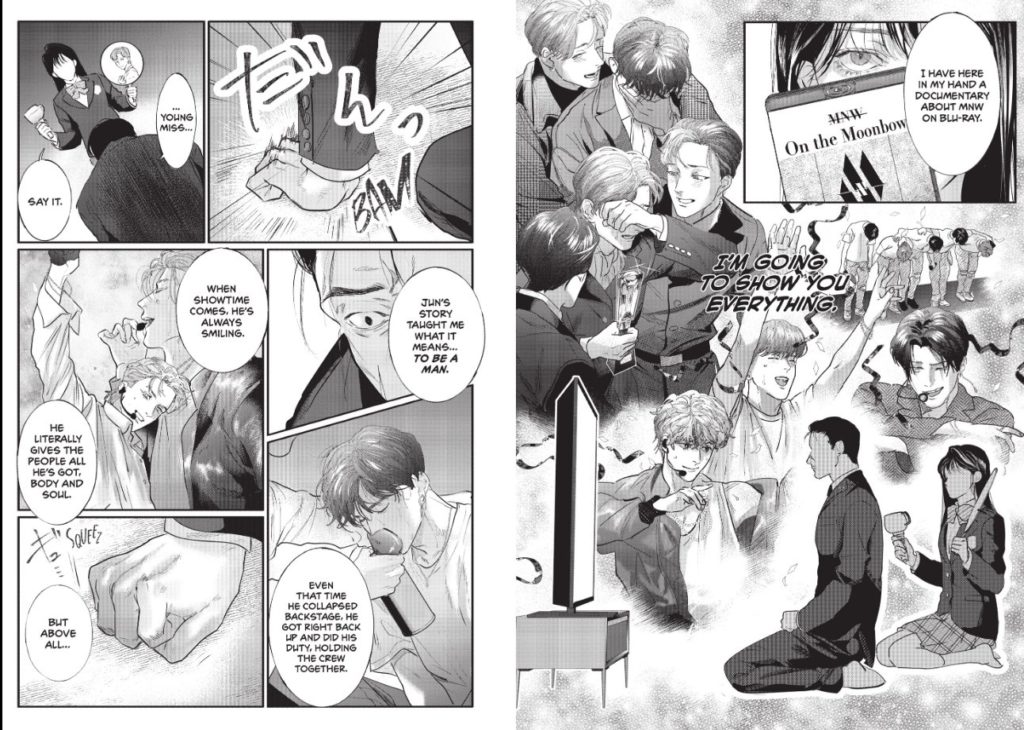 The Yakuza's Bias © Teki Yatsuda/Ichijinsha Inc.
However, his subordinates are deeply confused. They realize that there's something strange about Megumi and Ken spending time together – but misinterpret their secret fannish activities for the plotting of some nefarious criminal activities. Sotaro Kamiki, Ken's faithful lieutenant, is convinced that the two are either arranging drug deals or organ trades. Eavesdropping on the two in the hope of allaying his suspicions, he eventually bursts in on them – only to discover them unboxing a MNW concert Blu-ray. Megumi is not pleased, especially when Kamiki confesses that he doesn't 'get' Jun's star appeal. As the obsession intensifies, Megumi shows Ken how to set up an online account so he can share his feelings with fellow fans and even trade merchandise. "You know," Ken says, inspired, "swapping merch like this… it's a little like… doing a hostage trade."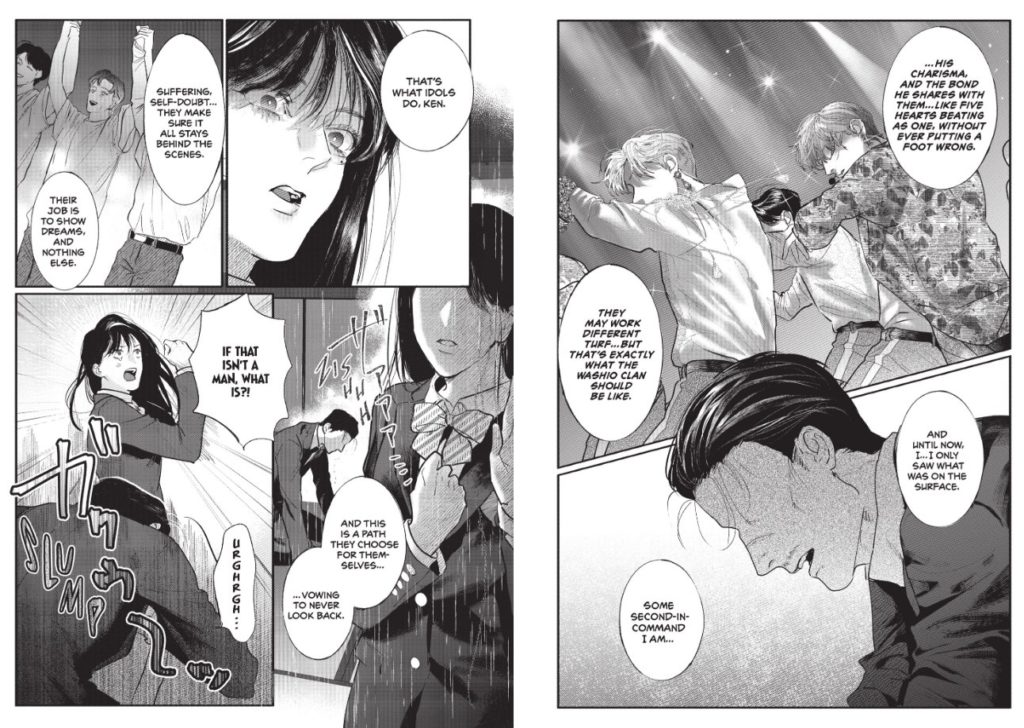 The Yakuza's Bias © Teki Yatsuda/Ichijinsha Inc.
However, when Ken and Megumi set up a trade online, who should take an interest in it but Kinji Mizuhara, an officer of the rival Jashima family. When Kinji swaggers along (with backup) expecting to see some kind of deal going down on the street, he's astonished to see Ken holding an MNW banner – and exchanging it with a young woman. "I think it's time," he vows, "to think of how I'm going to kill him next time… as I go back home!" but once back home, feeding his cute pet cat, he can't stop thinking about the change in Ken. He has to find out about MNW for himself. Could it be that he too will be won over by the charismatic young singers? Will Ken and Kinji carry on their clan rivalry – but over their biases in the idol group? And how do the idols feel about gaining so much attention from such shady older male fans?
This is a genuinely fun – and funny – read! Mangaka Teki Yatsuda is a very accomplished artist and her artwork for The Yakuza's Bias brilliantly reproduces the style of yakuza manga, from character design to the dark-smudged, sinister backgrounds and, best of all, the exaggerated facial reaction sketches. It's also very different in tone and art-style from her moving but tragic Boys' Love A Home Far Away (KUMA) which is a manga road movie, set in the USA. The blurb suggests that it will appeal to readers of Phantom of the Idol and Way of the Househusband which is not so far-fetched a comparison as it might seem at first glance. There's much solid character-building and watching hard men like Ken and Kinji fall under the young singers' spell is rather charming as well as amusing. The idols' reactions to their 'unusual' fans is fascinating too; unexpected yet believable, which makes for an intriguing read. Teki Yatsuda employs a great variety of panels to tell the story – and when genuine danger and violence erupts at the end of the volume, it gives us a salutary reminder of the criminal world in which Ken lives.
The Yakuza's Bias comes to the West in a handsome trade paperback edition from Kodansha with a splendidly embossed, metallic cover. The translation is by Max Greenway and deals expertly with the fan-based terminology and the sinister yakuza exchanges equally well; the four pages of translation notes at the end are especially welcome. Nicole Roderick's lettering covers the many different exchanges seamlessly, from smartphone texts to song lyrics, not to mention the dialogue between different groups (again, yakuza). There's also a nice mangaka's afterword/thank you. Volume 2 is due out in mid-August 2023. For a 'gag' manga that began in a very modest way online, this has grown into a work that is so much more (without losing its sense of affectionate parody).
Our review copy from Kodansha was supplied by Diamond Book Distributors UK.