After We Gazed at the Starry Sky Volume 1 Review

Sarah
•
Subaru Miyazawa is a young designer who loves the night sky astro-photography of famous photographer Tougo Amase. When his friend Akari gives him the chance to design the pamphlet brochure for an upcoming show that she's working on at the planetarium featuring Amase's work, he's thrilled – all the more so as he's wheelchair-bound and can only admire the stars through the photographer's work. Thanks to Akari, he gets to meet his hero at last and when he gets over his star-struck admiration, the two find they have a lot in common. Especially when, at the trial screening, Tougo sweeps him up in his arms and carries him from his chair to the mats already laid out on the planetarium floor so that viewers can look up at 'the sky'.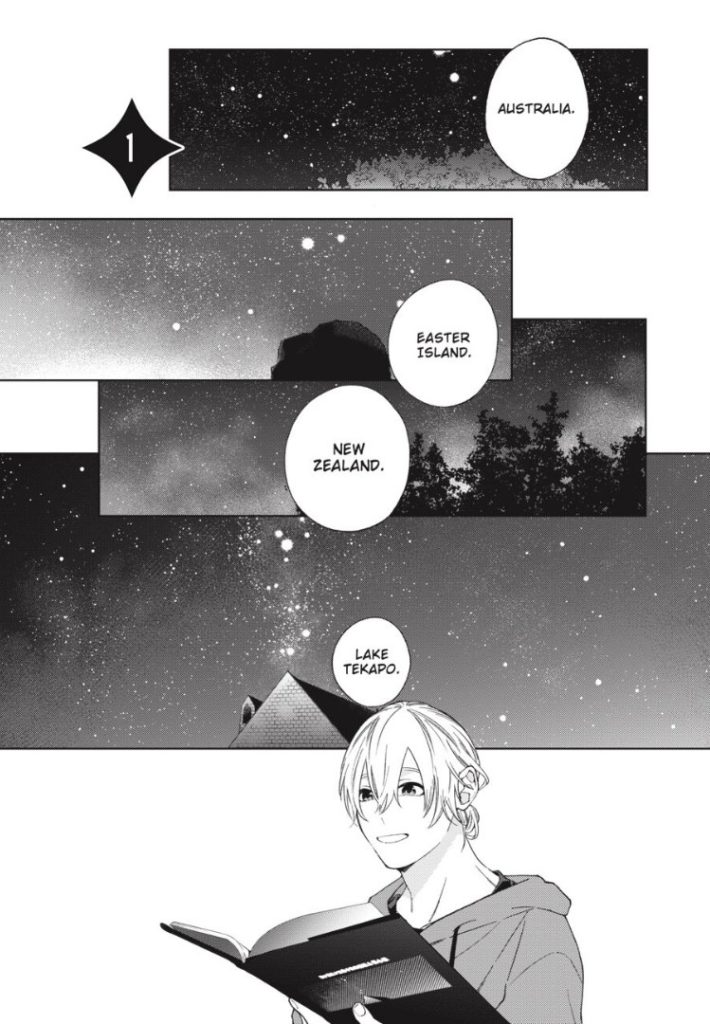 So, when Subaru gets an invitation from Tougo to accompany him to Ishigaki Island to check out a site for a potential shoot, he's very excited to go along – even though it means travelling by plane for the first time in his life. Tougo seems utterly unfazed by Subaru's disability and widens his horizons. But it's not until they're back and Subaru's meeting up with Akari, that his friend can't help observing that he seems to have changed. "I'd say you were head-over-heels." Until now, Subaru hasn't dared to admit to himself that his feelings for Tougo might be far stronger than friendship. But after a very date-like visit to a theme park in Odaiba and a ride on the Ferris wheel, Tougo comes straight out and, to Subaru's dazed amazement, tells Subaru that he likes him. As they get to know more about each other, though, a nagging fear still lurks at the back of Subaru's mind: Tougo-san is a famous photographer while… I'm just a fan who admires his photo collections. Tougo-san is able-bodied while I'm disabled… Right now Tougo-san feels so far away. Subaru, overcome by his own feelings of inadequacy, finds himself pushing Tougo away, preferring to keep his distance rather than risk rejection and the hurt that would bring. Tougo goes away on another photo-shoot and communications between them cease. Is their relationship over?
This is the first of mangaka Bisco Kida's BL manga to make it to print in English translation and the good news is that there's a second volume on the way. Subaru is a very likable, open-hearted protagonist and his lack of self-confidence when it comes to relationships because of his disability is sympathetically and believably portrayed. Tougo-san is able-bodied while I'm disabled… Nevertheless, the manga does tend to gloss over the many impediments that one imagines Subaru must face in his daily life, due to his disability and his reliance on his wheelchair – even if, when he first goes to Tougo's apartment, he explains that he can get around using his hands and arms (he was born with no feeling in his feet and legs below the knees).
Straightforwardly told from Subaru's point of view, the manga is attractively drawn with a relatively simple graphic style, often concentrating on close-ups of the two main characters and their expressions. The night sky images are also of vital importance to the story and the mangaka thanks several people at the end for helping, as well as a planetarium in Sunshine City. Yen Press have published this in their trade paperback format, so the pictures are larger than in the original Japanese tankoubon. Kei Coffman is the translator and the lettering is by Nicole Roderick, resulting in a clear and easy-to-read English version. There's a colour page at the beginning and inside the covers, front and back, there are character profiles of the two main protagonists.
After We Gazed at the Starry Sky delivers a sympathetic story of two very different people brought together by their love of the night sky. However, there's obviously a lot more to their story than these first chapters, so Yen Press will hopefully bring us the sequel in due course.
Our review copy from Yen Press was supplied by Diamond Book Distributors UK.