Autumn Season 2023: Some Anime UK News Picks
For once, the hype was real: Frieren is as good as they'd predicted it would be, perhaps even better. But how many of the other slew of brand-new autumn shows are proving as impressive? And the returning shows… have some outstayed their welcome? There's so much new material this season that even attempting to cover everything is beyond us – so instead, some of our writers are here to offer you their personal picks (so far)! Why not let us know what's caught your eye too?
Demelza
Hotly Anticipated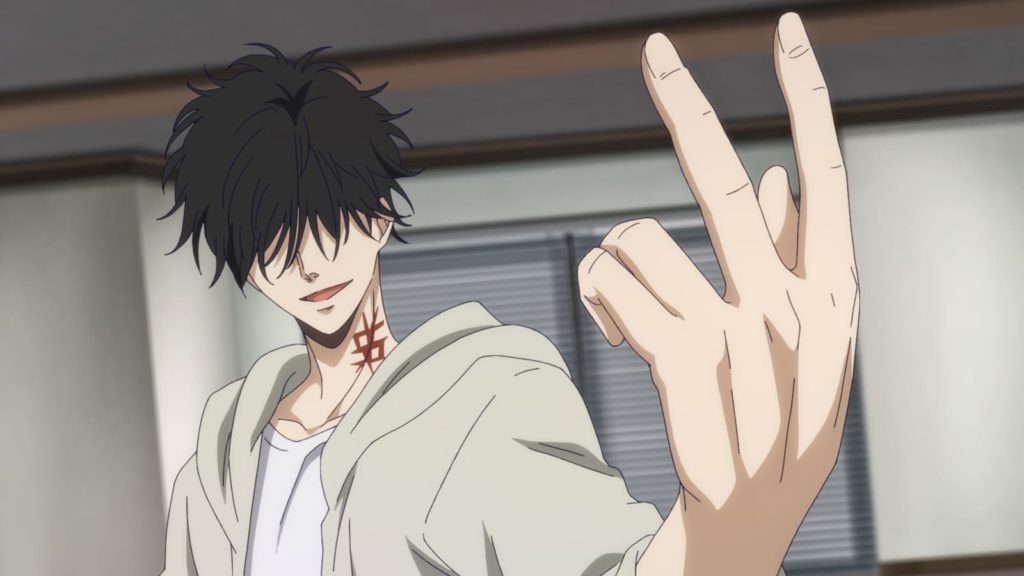 It may surprise many of our regular readers that my hotly anticipated series of choice is neither an isekai nor based on a light novel (shocking, I know). The anime I've chosen is Ron Kamonohashi's Forbidden Deductions (otherwise known as Ron Kamonohashi: Deranged Detective), which is a mystery series following police detective Totomaru Ishiki (Toto, as he's later nicknamed) and private investigator Ron Kamonohashi.
When Toto finds himself completely baffled by a serial murder case, one of his fellow detectives suggests he seek out the help of Ron Kamonohashi. Ron is an incredible detective, able to deduce crimes in a snap with the smallest of clues but he has a dark past that saw him expelled from a well-regarded training academy. Partnering up with Toto gives him the opportunity to get back to doing what he loves, but his partner may be in over his head as he tries to rein in Ron's eccentric behaviours. It's a 'murder of the week' premise, but there's more unfolding in the background particularly surrounding Ron's history.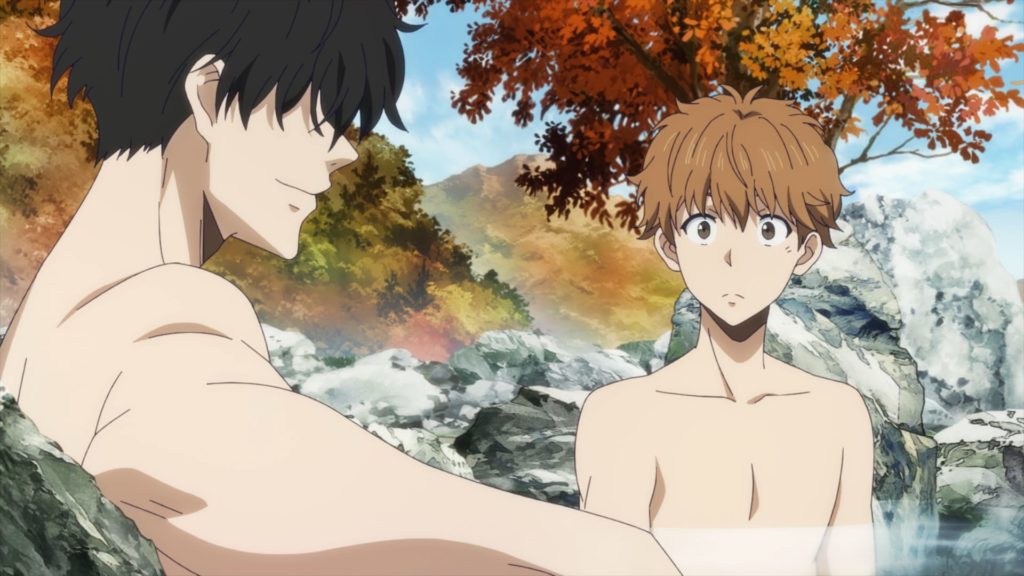 This anime is based on a manga series by Reborn! creator Akira Amano. The series is ongoing with 12 volumes currently, so it's safe to say it has been quite the hit, even here in the West despite only being available in English on Manga Plus. This adaptation has been brought to life by studio Diomedea (who are also working on The Saint's Magic Power is Omnipotent Season 2 this season) and I think they've been doing a good job of it so far. The colour palette is quite bright, but that helps contrast the grim nature of a murder mystery. The Japanese voice cast has also been well chosen with Ron handled by Youhei Azakami (Suehiro in Bungo Stray Dogs, Deathpierce in The Seven Deadly Sins) and Toto played by Junya Enoki (Yuji Itadori in Jujutsu Kaisen, Naoya Mukai in Girlfriend Girlfriend). The two leads play off one another in a way that's essential to get viewers to buy into the close relationship their characters share. After all, this is a buddy cop drama where the two might constantly bicker but underneath it all, they depend on one another.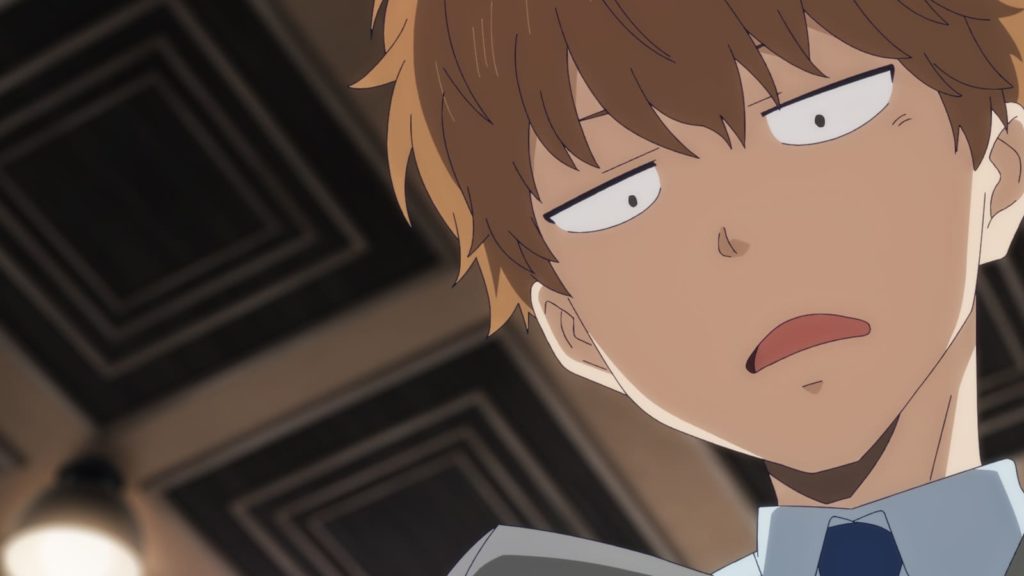 Composition is being handled by Wataru Watari (Parallel World Pharmacy, Magical Revolution of the Reincarnated Princess and the Genius Young Lady) while the project is directed by Shouta Ibata (Domestic Girlfriend, Girlish Number) who both have a string of successes behind them, particularly of series I'm fond of, so I'm confident Ron Kamonohashi will be a delight from start to finish. If nothing else, a good detective series is something we don't see a lot of in the anime space lately, so if that's your thing, I highly recommend giving this a shot.
Returning Champions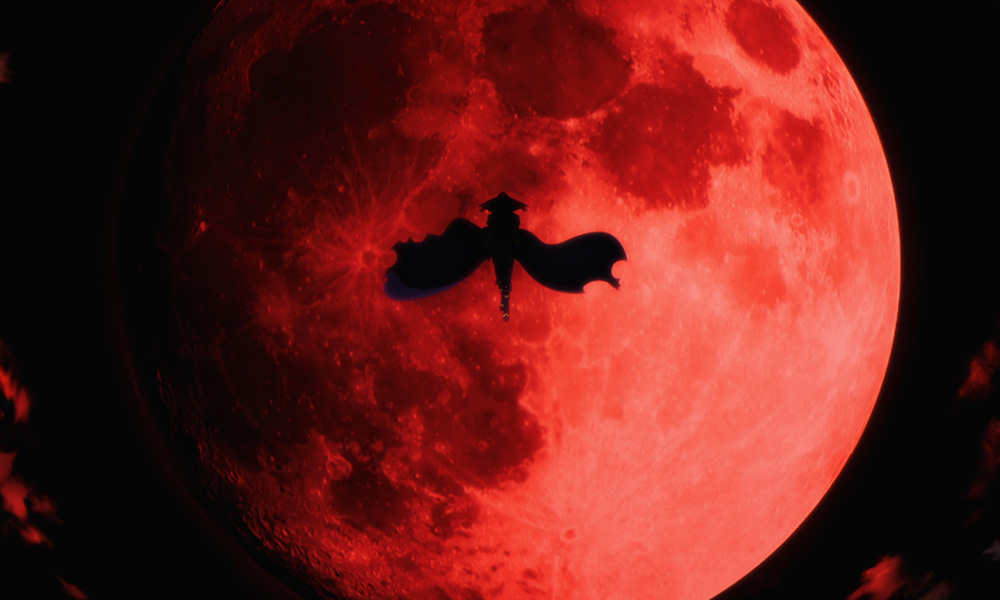 Just like last season, there's quite a selection of anime making their return: Goblin Slayer, Rise of the Shield Hero, Spy x Family… frankly too many to list here! And while I enjoy many of those series, I have to say the one I find myself most eager to watch is The Eminence in Shadow, which is back for Season 2. Honestly, even as I sit here now, I'm not sure what caused me to have such a change of heart about this series, given I originally dropped the light novels after Volume 1 (something I regret and will have to fix!).
Just like Season 1, the story follows Cid, our troubled protagonist who lives a double life as the leader of the Shadow Garden – a mysterious organization that tries to prevent the world from falling into ruin. Cid believes that he's simply found people who are willing to play along with his eccentric make-believe, but unbeknownst to him, whenever he's out there fighting enemies, those aren't actors, they're actual evildoers. This time around, Cid is in Lawless City where the Blood Queen slumbers, waiting to make her return. As her awakening looms closer, the city descends into chaos as different factions start fighting one another, but that's of no concern to Cid who simply wants to fight a vampire!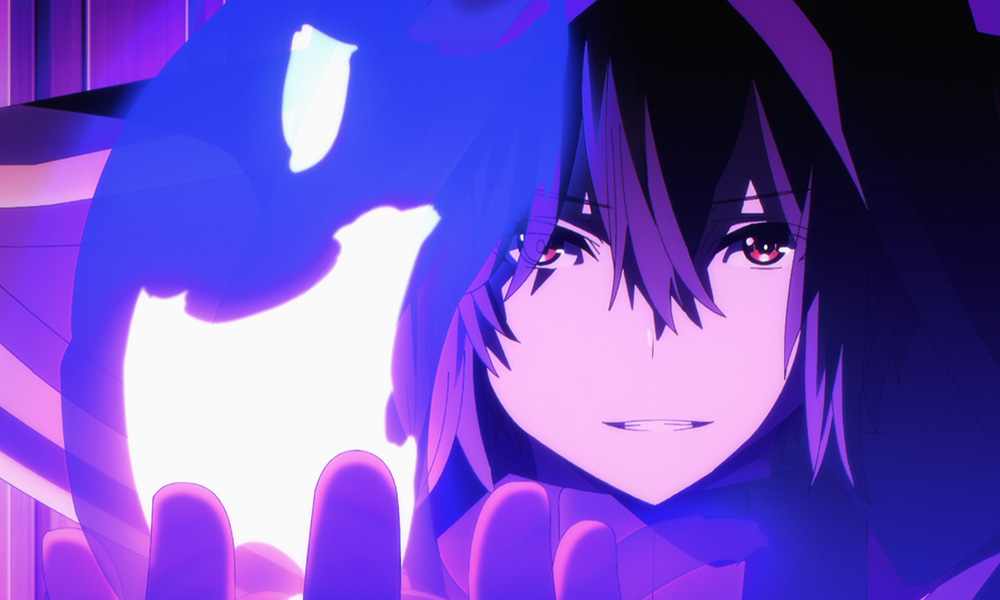 As the series has gone on, the humour continues to get better and better. Yes, it's ridiculous that Cid hasn't realised that this is all real and not a game of pretend after all this time, but he's so eccentric that I can easily believe he wouldn't get it. And more important, watching his antics play out is great fun. The Eminence in Shadow is gory, it's quite dark and grim at times, but it's clear the whole team are enjoying themselves making it and that feeling is contagious. If you enjoyed Season 1, you'll certainly be pleased to see the return of this one either way.
Unexpected Diamond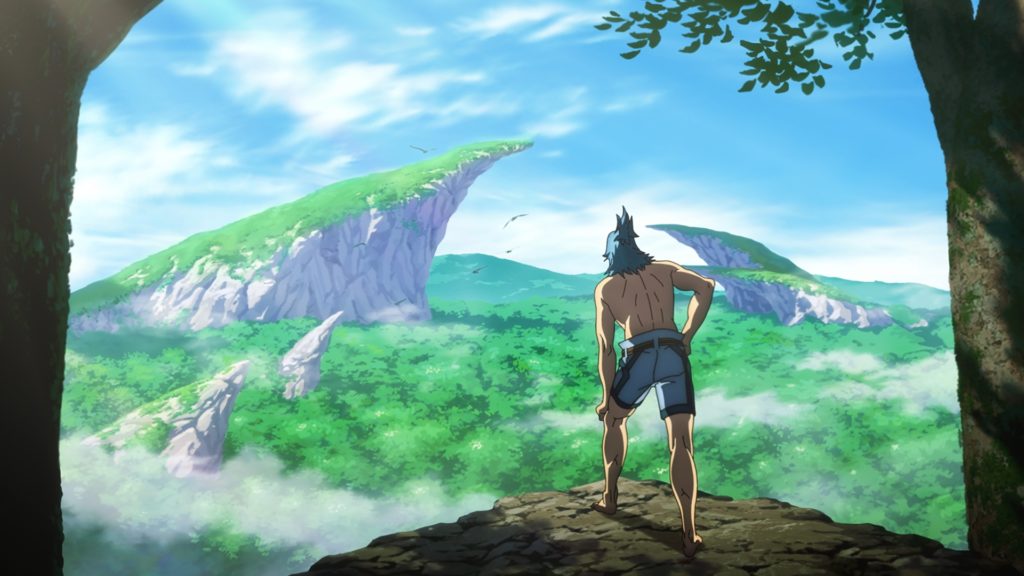 So, let's finish off my section with my lucky find for the season. One of the biggest surprises for me has been Shangri-La Frontier, an adaptation of a popular manga series by mangaka Ryosuke Fuji and original web novel author Katarina. The story follows second-year high school student Rakuro Hizutome, who absolutely loves playing terrible video games! The more bug-filled and ridiculously difficult the better! For a change of pace, he's recommended the new VRMMO game 'Shangri-La Frontier' which is becoming increasingly popular.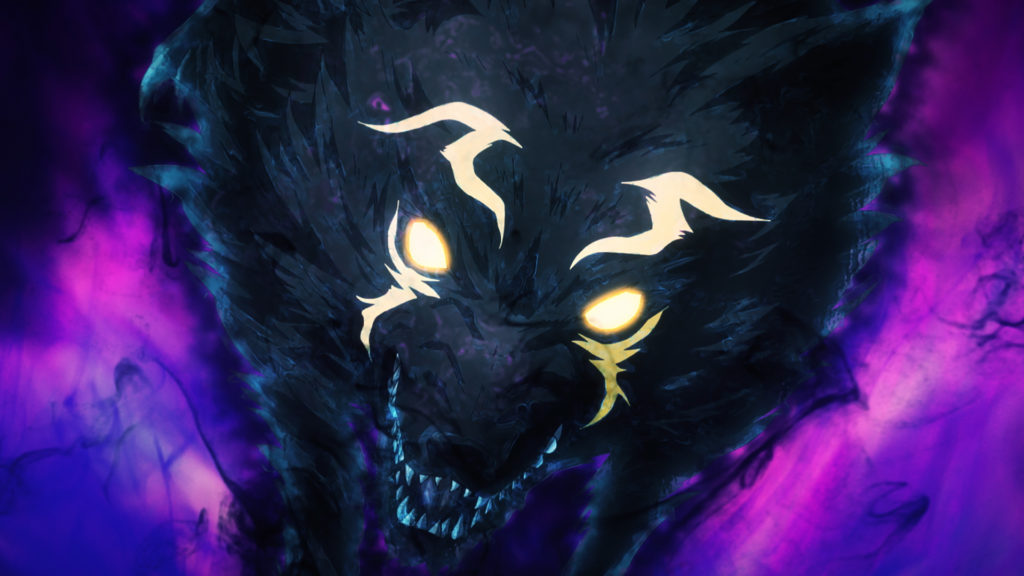 So far so average, I'm hearing you say, and it's true this is a fairly by-the-books VRMMORPG storyline that we've seen hundreds of times before. Where it shines for me is with Rakuro's personality, which is fairly happy-go-lucky but there's a strong self-confidence there which means he's going to chase down the biggest thrills in this game as he looks for a challenge (and boy does he find them). And did I mention he's clad in nothing but shorts and a bird mask? Yeah. This is another kind of eccentric lead that I find myself increasingly fond of as of late. Also, there's an adorable rabbit in the opening theme, so I suspect that will keep me firmly on the hook.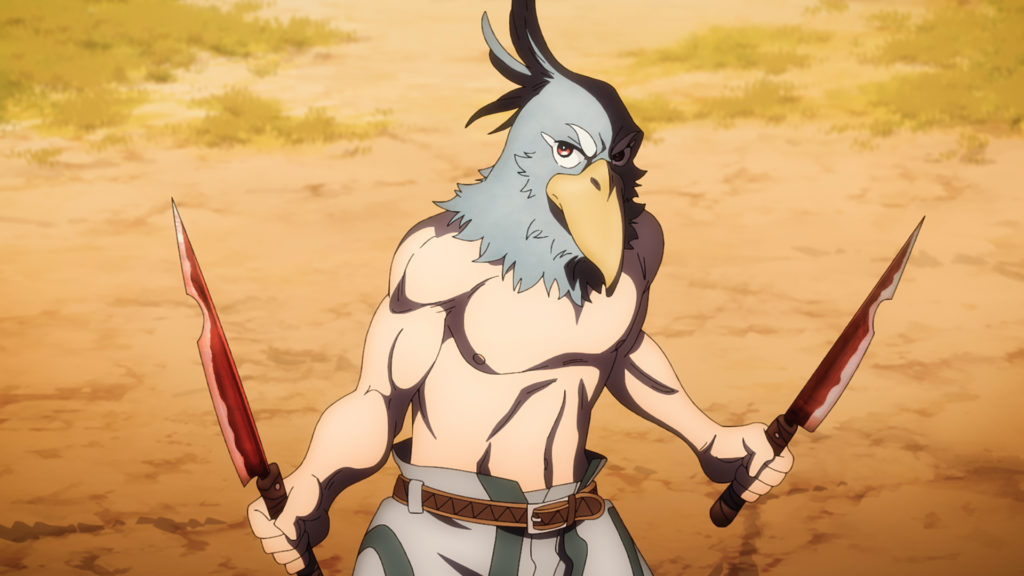 The other positive for this series is that studio C2C (Reincarnated as a Sword, Handyman Saitou in Another World) have put their best foot forward and the whole show looks incredible. Especially the battle scenes which are arguably what matter most in a series where your protagonist is a battle junkie. The fights flow really well and there's some excellent sound direction where you can almost feel every hit Ryosuke makes as he fights these powerful monsters. Watching each hit connect and how the characters move reminds me of some of the best bits of Is It Wrong to Try to Pick Up Girls in a Dungeon? or Sword Art Online. The anime team have nailed the atmosphere of it. I just hope it lasts and doesn't fall apart partway through as Shangri-La Frontier is currently scheduled to run for two-cours, and we've seen how well that has worked for other shows as of late…
Ron Kamonohashi's Forbidden Deductions and Shangri-La Frontier are both available with Crunchyroll while The Eminence in Shadow is on HIDIVE. 
Sarah
Hotly Anticipated (well, by me, at any rate!): My New Boss is Goofy (Crunchyroll)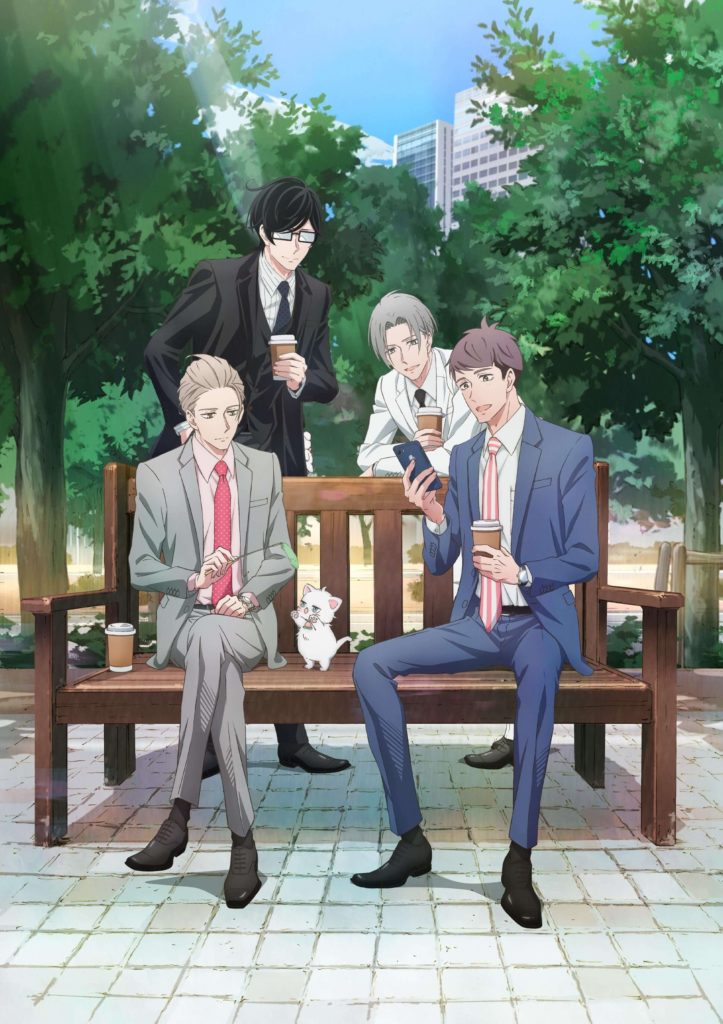 How could you not fall for this kitty?! Even though the tsundere kitten in question doesn't appear until Episode 3, there have been plenty of cute and excruciatingly embarrassing moments so far in the gentle humour of this slice-of-life anime (based on the manga by Dan Ichikawa, not currently available in English) which has some similarities with Play It Cool, Guys but with salarymen. Also, the underlying theme of a salaryman (Momose) being bullied by an abusive boss in the workplace is not in the least amusing – although it's very calming for the soul to see how he expects the worst in his new job and begins to heal and flourish because of the supportive atmosphere. Even if his boss is… well, I'm not fond of the word 'goofy' because Shirosaki is just the sort of boss everyone would love to work for and if he's a little distrait sometimes, that just adds to his charm. When Momose is paralysed with stomach-ache on the way to an important meeting (it's implied he's developed an ulcer due to the stress of his last office) Shirosaki rushes to the pharmacy to buy him some medicine but returns with tablets to relieve menstrual cramps because that's what he used to get his (ex) girlfriend. A real tonic to watch if you're feeling stressed – and if you love cats!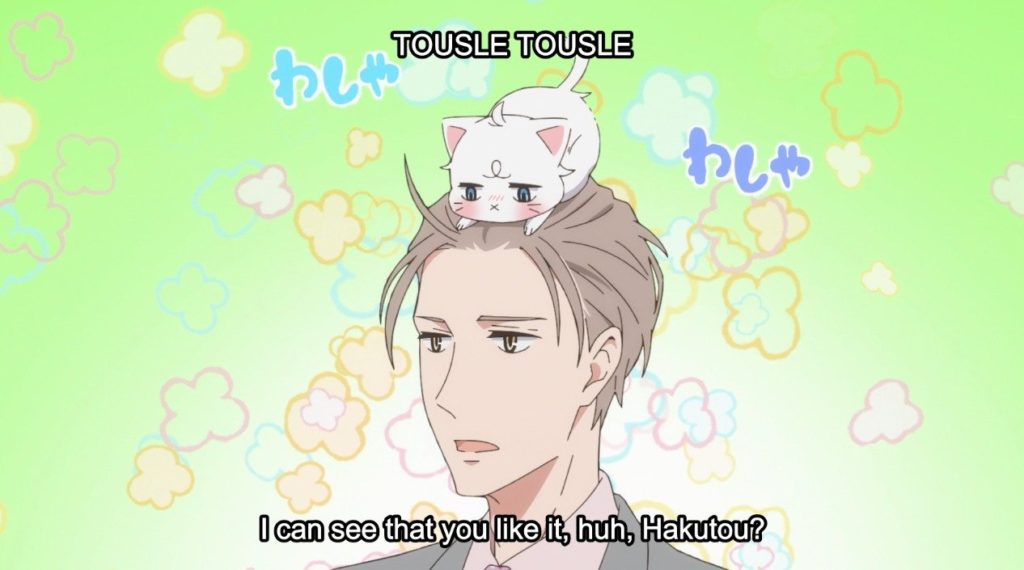 Returning Champion: The Faraway Paladin: Lord of the Rust Mountains (Crunchyroll)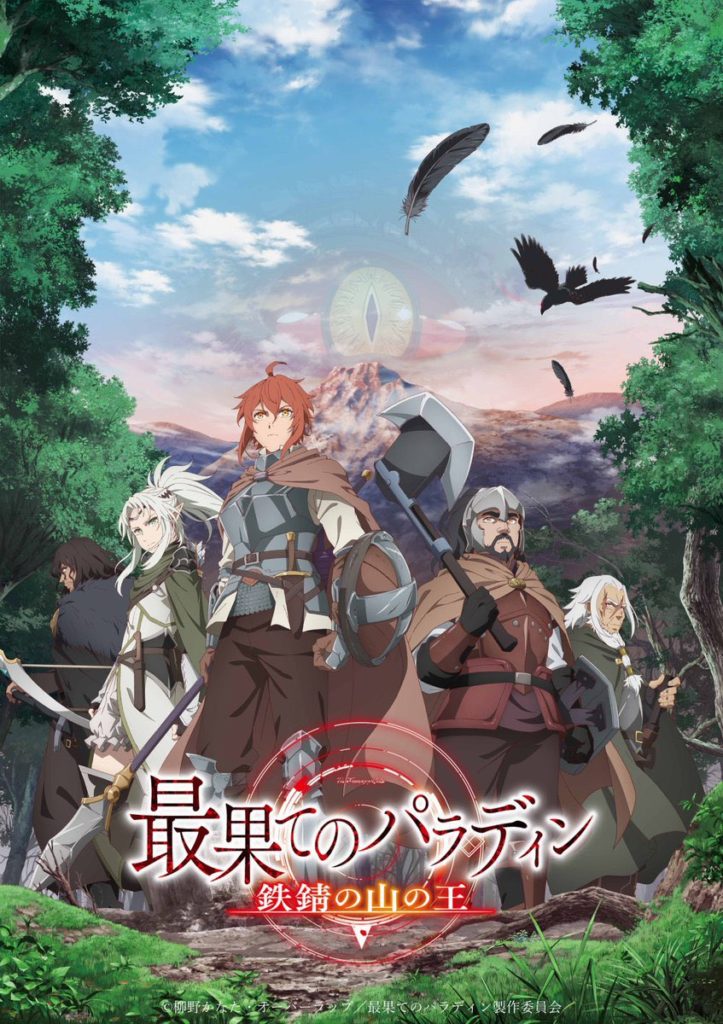 I'm very happy with the return of Spy x Family for Season 2 (especially the Bond-themed episode) but a lot less happy with The Ancient Magus' Bride because I think the 'magic school under the British Library' setting fails on too many accounts and we've really had so many magic schools and academies by now that I'm utterly done with that theme. However, I'm excited to see how Dead Mount Death Play continues with its intricately baroque plotting and shark obsession – but I've chosen The Faraway Paladin: Lord of the Rust Mountains. This is because, to all intents and purposes, it's 'proper' epic fantasy, skewed more in the Tolkien tradition than any of the others (except Frieren) and, thank goodness, our paladin hero William is at last being voiced by a male VA.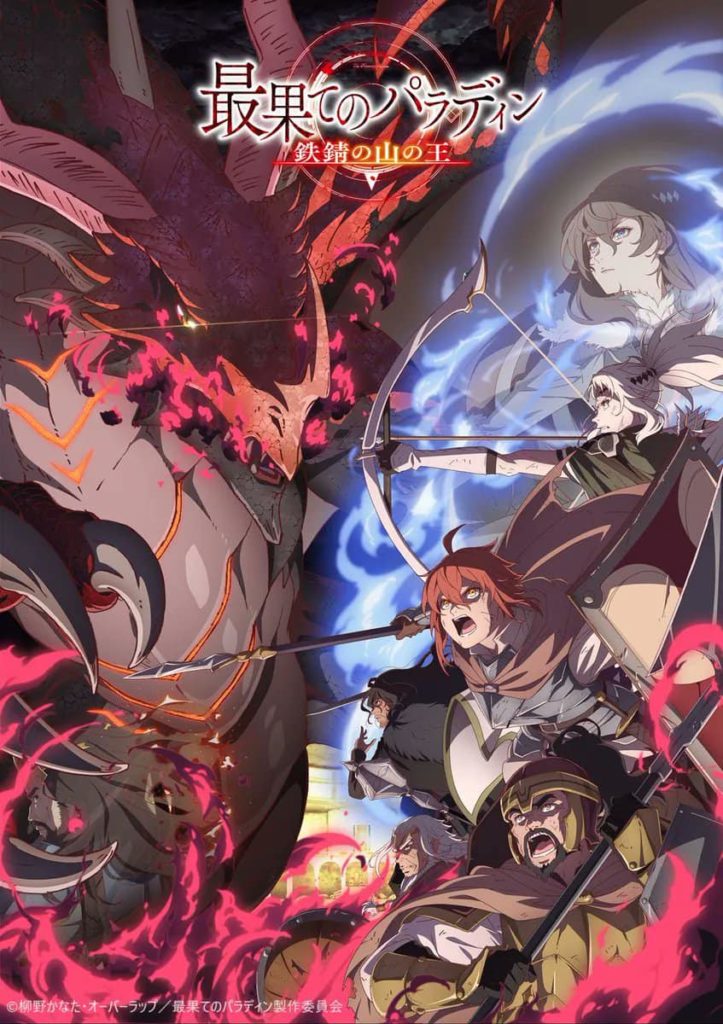 Having been raised by three loving (yet undead) parents in an ancient ruined city, Will becomes the servant of the goddess Gracefeel and goes off to revive her religion. In Season 2 we see him and his half-elf companion Menel in the port town of Whitesails where they're regarded as heroes, having defeated a fearsome wyvern. Having gained other companions in Season 1 (the halfling bard Robina Goodfellow, the warrior/adventurer Reystov etc.) Season 2 promises us dwarves of the Tolkien kind, especially Ru/Vindalfr, the last king to the lost realm of the Rust Mountains (Thorin Oakenshield, anyone?). I'm absolutely on-board for this and as the studio have made the anime look as splendid as Season 1 with very attractive character designs, sweeping landscapes and believable, sympathetic characters in a fantasy context, it's a big recommend for fellow fantasy fans (as is the equally wonderful but very different Frieren). (The light novels by Kanata Yanagino are available to read from J-Novel Club.)
Unexpected Diamond: OVERTAKE! (Crunchyroll) (Saving the best till last?)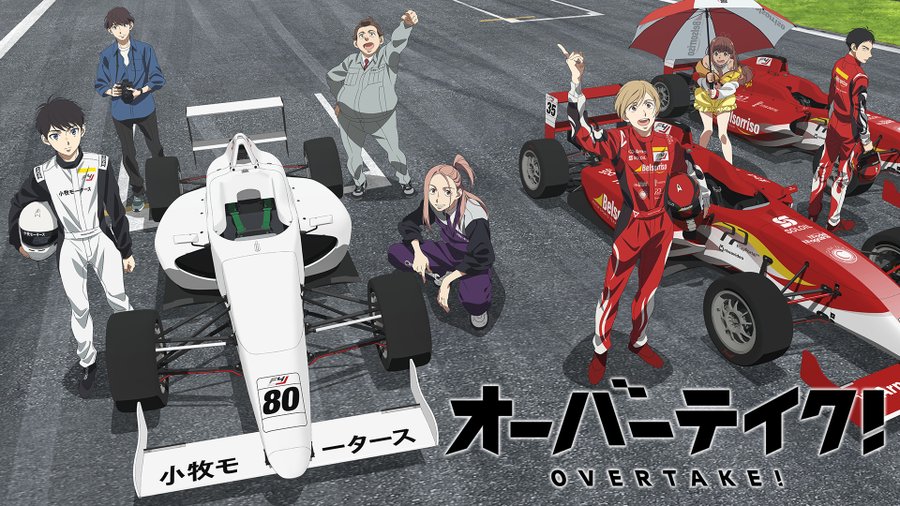 After all my enthusing over fantasy anime, it might seem a little strange for my next choice to be set in the world of F4 motor racing but this collaboration between Kadokawa and TROYCA caught my attention and held me gripped throughout the first episode and beyond. Freelance photographer Kouya Madoka's life and career are going nowhere when he's sent on an assignment to cover a day's racing at Fuji Speedway. When he comes across high school F4 driver Haruka and the small but committed Komaki Motors team (father and son) supporting his dream, his imagination is fired and he captures some telling shots of the young driver during and after the race. Haruka is at a significant disadvantage compared with the other drivers, especially the well-funded Belsorriso team, so if he has any chance of realizing his dream, he needs to get sponsorship. But is the disillusioned Kouya the right person to help him achieve his ambition?
This series looks really good, the CGI used for the cars and the racing is convincing and the original character designs are by mangaka Takako Shimura (Wandering Son, Battery). The storytelling is convincing too and avoiding all the usual plot clichés so far, as are the characters (impossible not to like the father-son team running Komaki Motors) and with Katsuyuki Konishi portraying photographer-in-a-slump Kouya, the voice acting is spot-on.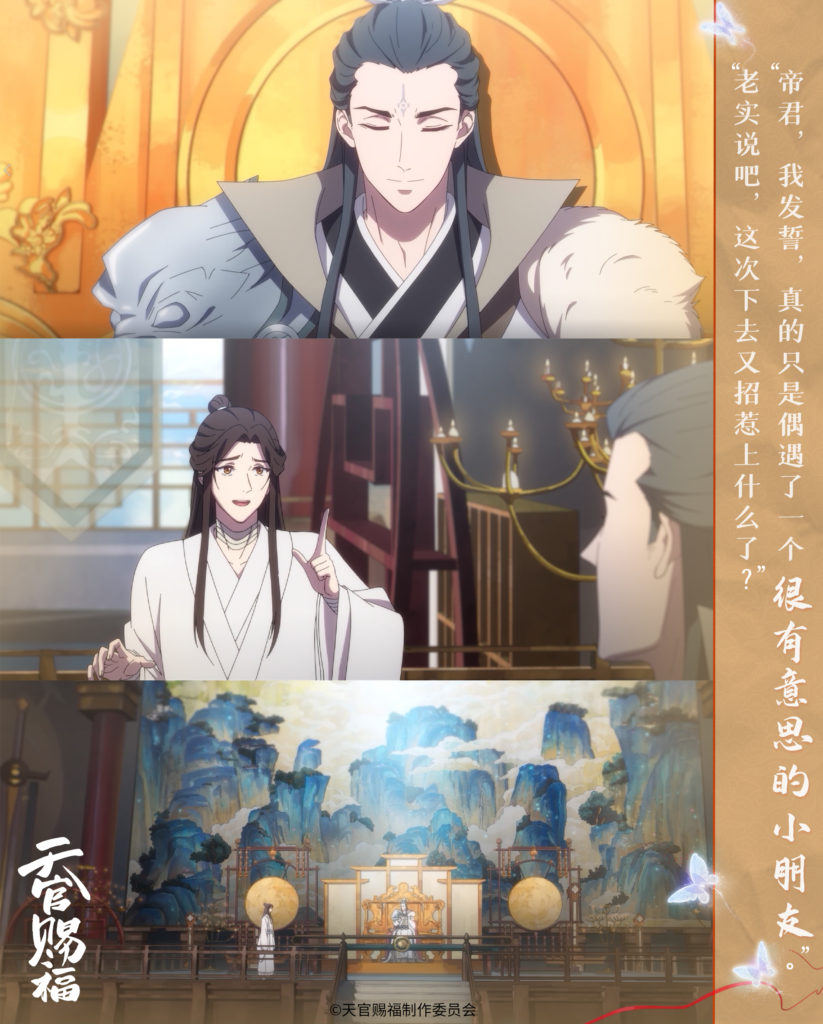 And for fellow donghua enthusiasts, even though – strictly speaking – Season 2 of Heaven Official's Blessing (which has just started on Crunchyroll) doesn't come under our remit, I'm just going to say it looks just as amazing as Season 1 with yet another gorgeously animated OP and after a single episode, I'm hooked once again! The way the animation team have brought Ghost City to life is seriously impressive. And the revelation in the last couple of minutes – !
HWR
Hotly Anticipated/Returning Champion
Dr. Stone: New World got off to a great start when its first half aired in Spring 2023, leaving us on a cliffhanger. So far, it's business as usual as Senkuu (Yuusuke Kobayashi) conjures up more inventions that are familiar to us, but foreign to the world these characters inhabit – in this case we've so far seen Scuba Gear and I'm sure more is just around the corner.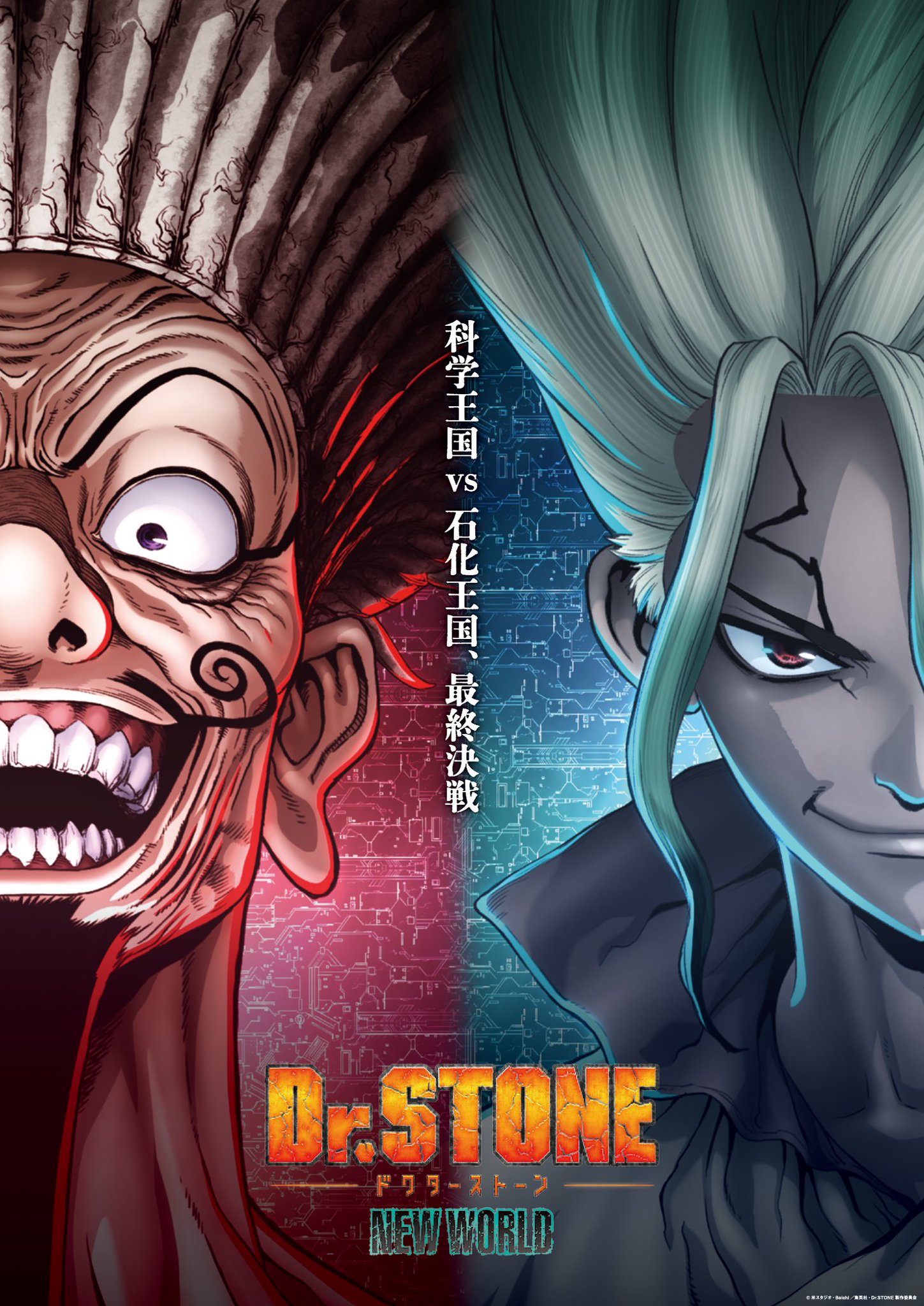 Without any spoilers, Episode 2 already establishes some high stakes, so I can't wait to see where the story goes from here.
Unexpected Diamond
Whilst I wouldn't necessarily consider these as diamonds, getting a duology of racing anime was a nice unexpected but welcome surprise, as they're very rare nowadays.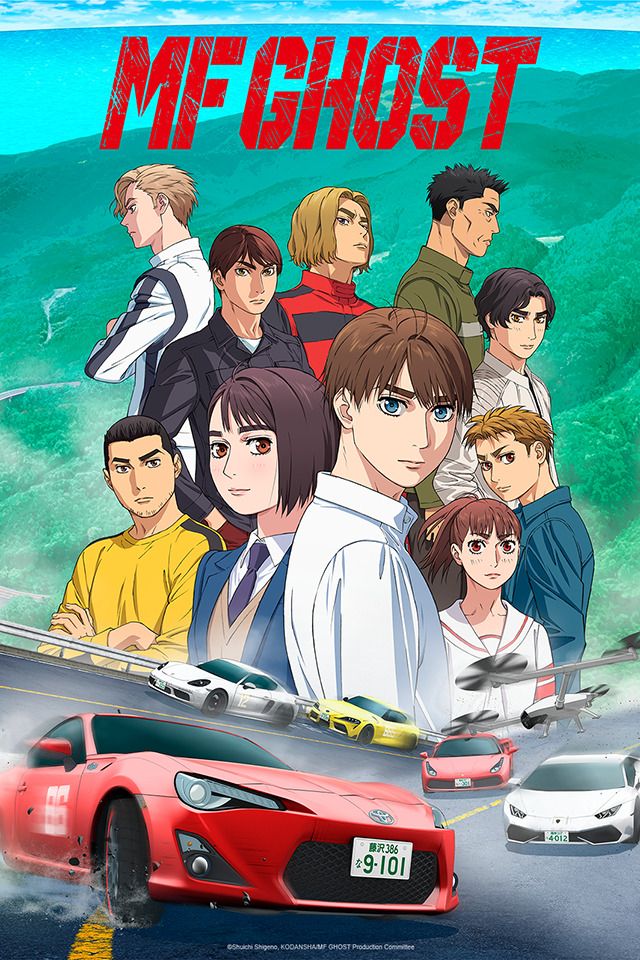 Both MF Ghost and OVERTAKE! have been solid watches so far for different reasons – the former is a spiritual successor to the Initial D series, with racer Kanata Katagiri (Yuuma Uchida) behind the wheel and taking part in a racing circuit known as MFG, retaining the use of more traditional vehicles in a vision of the future wherein self-driving electric vehicles are now the norm.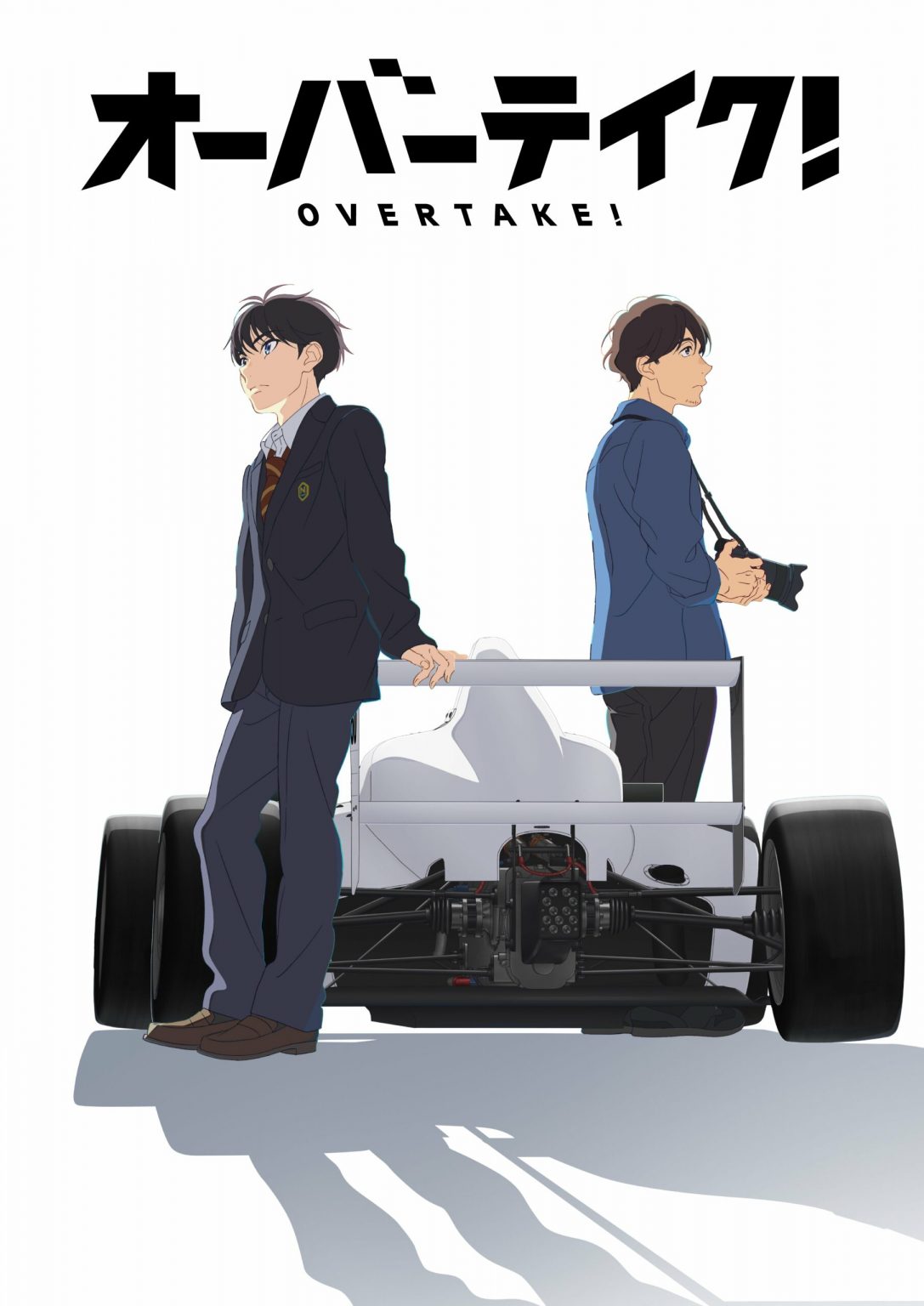 OVERTAKE!, meanwhile, is an original project that takes more of a behind-the-scenes approach to its narrative, following the work of freelance photographer Kouya Madoka (Katsuyuki Konishi) as he becomes enamoured with the world of racing after a gig at the Fuji International Speedway leads him to meet high school F4 racer Haruka Asahina (Anan Furuya), whose goals inspire him to become a part of this journey.
Both have gotten off to sturdy starts for these reasons – as a fan of Initial D I'm interested to see just where MF Ghost will lead, and how it'll hopefully carve out its own identity, whilst with OVERTAKE! I'm interested to see how high the stakes will go, whilst expanding the supporting cast who have popped up so far in this original storyline.
All of the above are streaming on Crunchyroll.
Rui
Hotly Anticipated
It was a late starter but it came out with three episodes all at once, making it easy for me to confirm that The Apothecary Diaries has lived up to my hopes.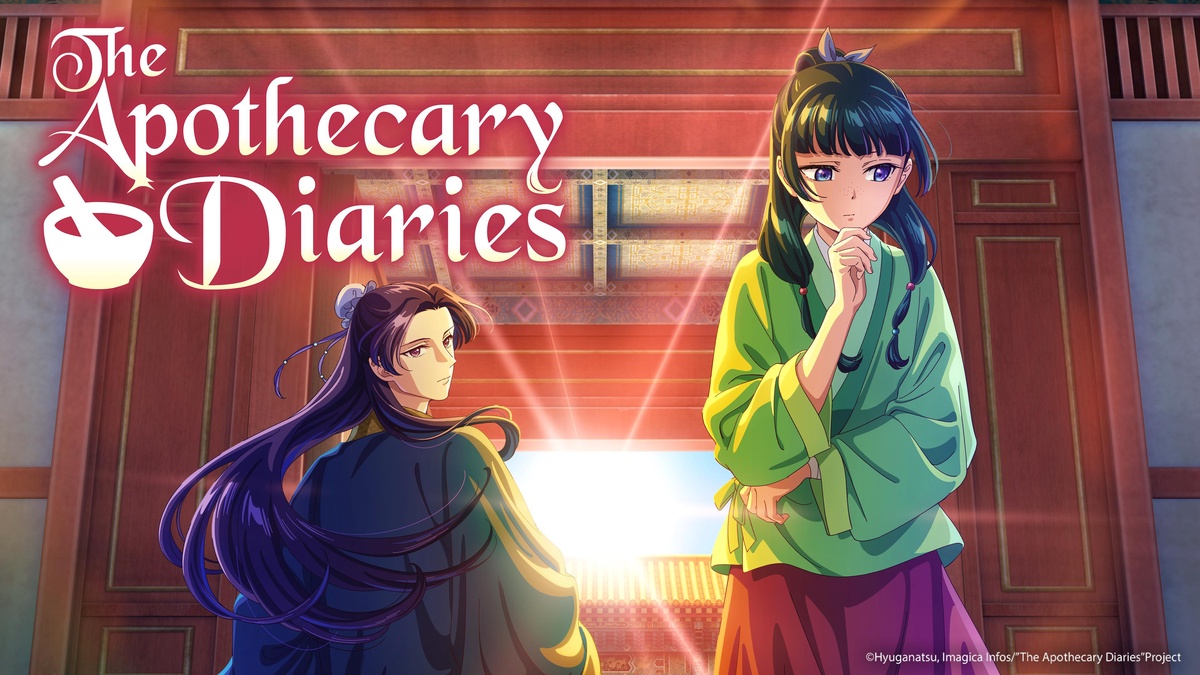 While the obvious comparison would be to the equally-excellent Raven of the Inner Palace from last year, which has a similar setting, The Apothecary Diaries has a very different feel simply by virtue of the lead's different social position and the focus leaning towards mundane – rather than supernatural – solutions to the 'mystery of the week' formula. It turns out that both approaches work well! Our heroine Maomao is a likeable young apothecary who ends up working behind the closed walls of the imperial palace against her will. She's intelligent and not easily swayed, so she ends up trying to keep a low profile until she crosses paths with an unusually beautiful, manipulative and cunning eunuch. Of course, she soon ends up wrapped up in everything she was trying to avoid, thanks to her own sense of right and wrong, and it's impossible not to cheer her on as she navigates the complicated tangle of palace politics as an honest, straightforward thinker.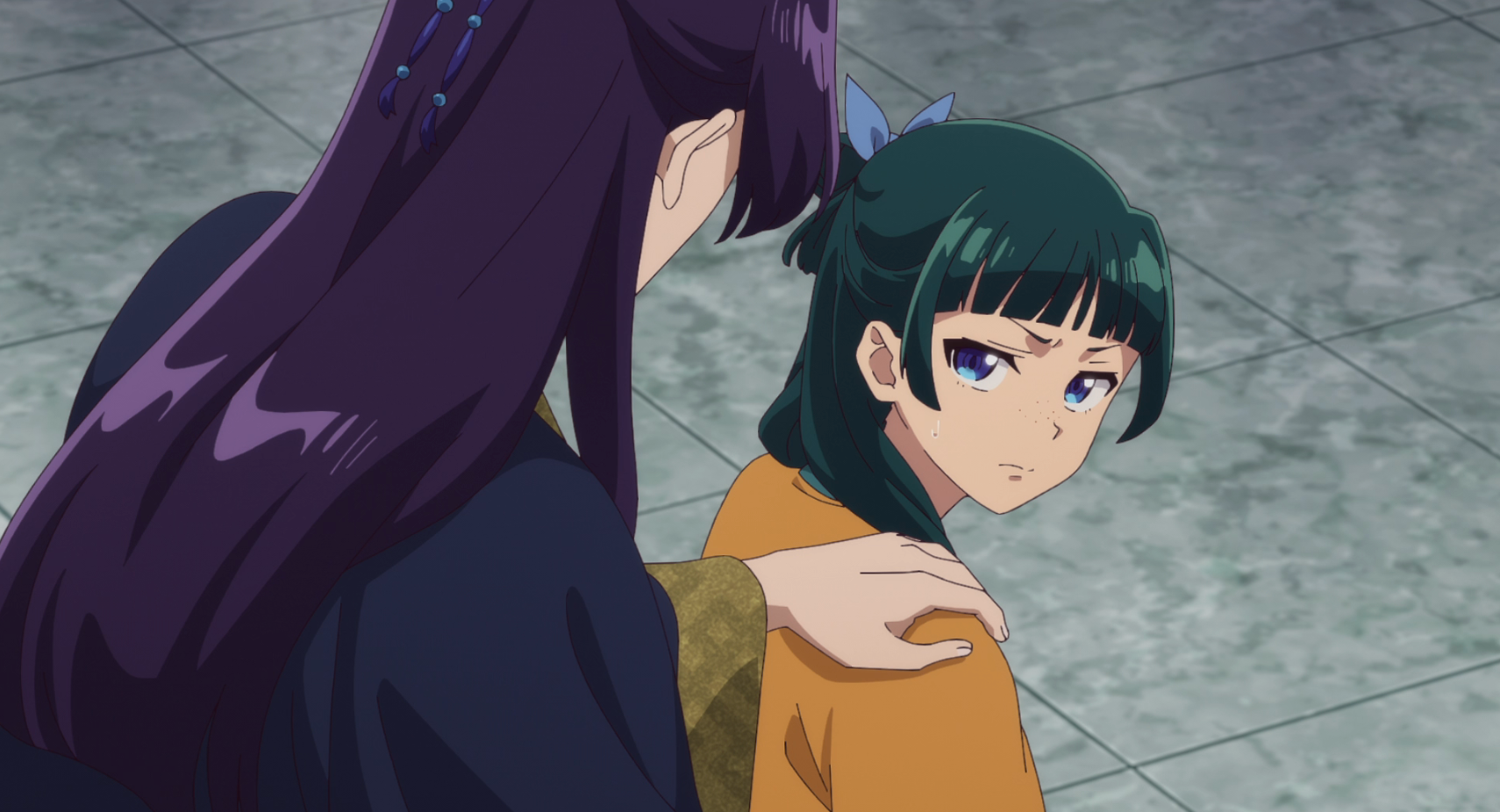 The result is a lively, colourful show which, so far, has kept me engaged from start to finish. There's a refreshing lightness to the way the characters are portrayed (which reminds me of another thematically-similar title which I loved: The Story of Saiunkoku) but that's not to say that The Apothecary Diaries glosses over the serious undercurrents of its setting. The story starts with someone being trafficked and that plot point pops up a few times thereafter, together with the realities of concubinage and sex work, viewed from the perspective of someone who has seen behind the glamour and dealt with the people involved as human beings. It all feels intelligently written by somebody who really understands the many layers people possess. The opening and ending sequences are standouts as well. Suffice it to say that all of my expectations have been surpassed; I'm looking forward to spending a lot more time with Maomao.
Unexpected Diamond
Like the others, I was unexpectedly impressed by this season's motor racing titles; they're objectively formulaic but engaged me right from the outset, and the underdog/dark horse sports formulas are classics for a reason. In terms of actual surprises, the award probably goes to Shangri-La Frontier which is a blend of everything I've hated about a lot of shows over the last decade, together with a goofy-looking main character and barely anything especially original to its name. Yet somehow it works, and the result is a good-looking show which takes the well-worn formula and turns it into something genuinely watchable. Demelza already gave that one a proper introduction, though, so I'm going to feature 16bit Sensation: Another Layer.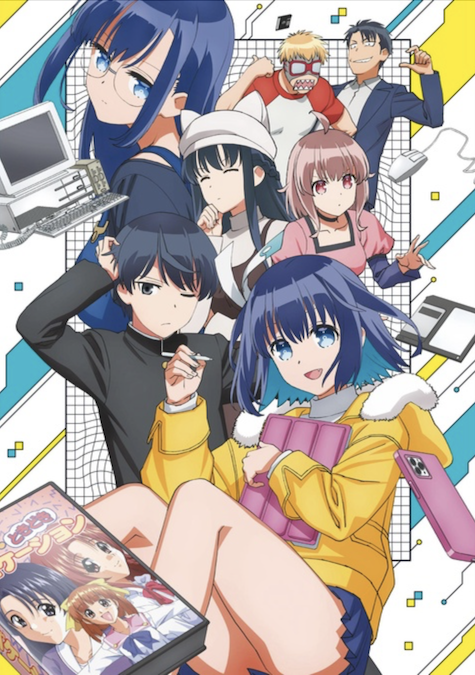 The latest entry in the tradition of 'girl in an otaku-focused industry' workplace titles is this time-travelling adventure about a professional illustrator who loves bishoujo games so much that she ends up going back in time to the era where the genre really rose in prominence, giving her a firsthand taste of the challenges of making games in the past. The initial question is whether she'll have more success getting her character artwork in a proper bishoujo game in the past, where her future knowledge is sometimes as much a curse as it is a blessing, or will her experiences there help her to move forwards in the present? In spite of the fantasy premise, there are elements of Shirobako in the storytelling, in that our heroine's main drive is to share her love of the medium with the audience. The result is a surprisingly accessible series about a cute girl gushing over often-scantily-clad cute girls as a fellow otaku.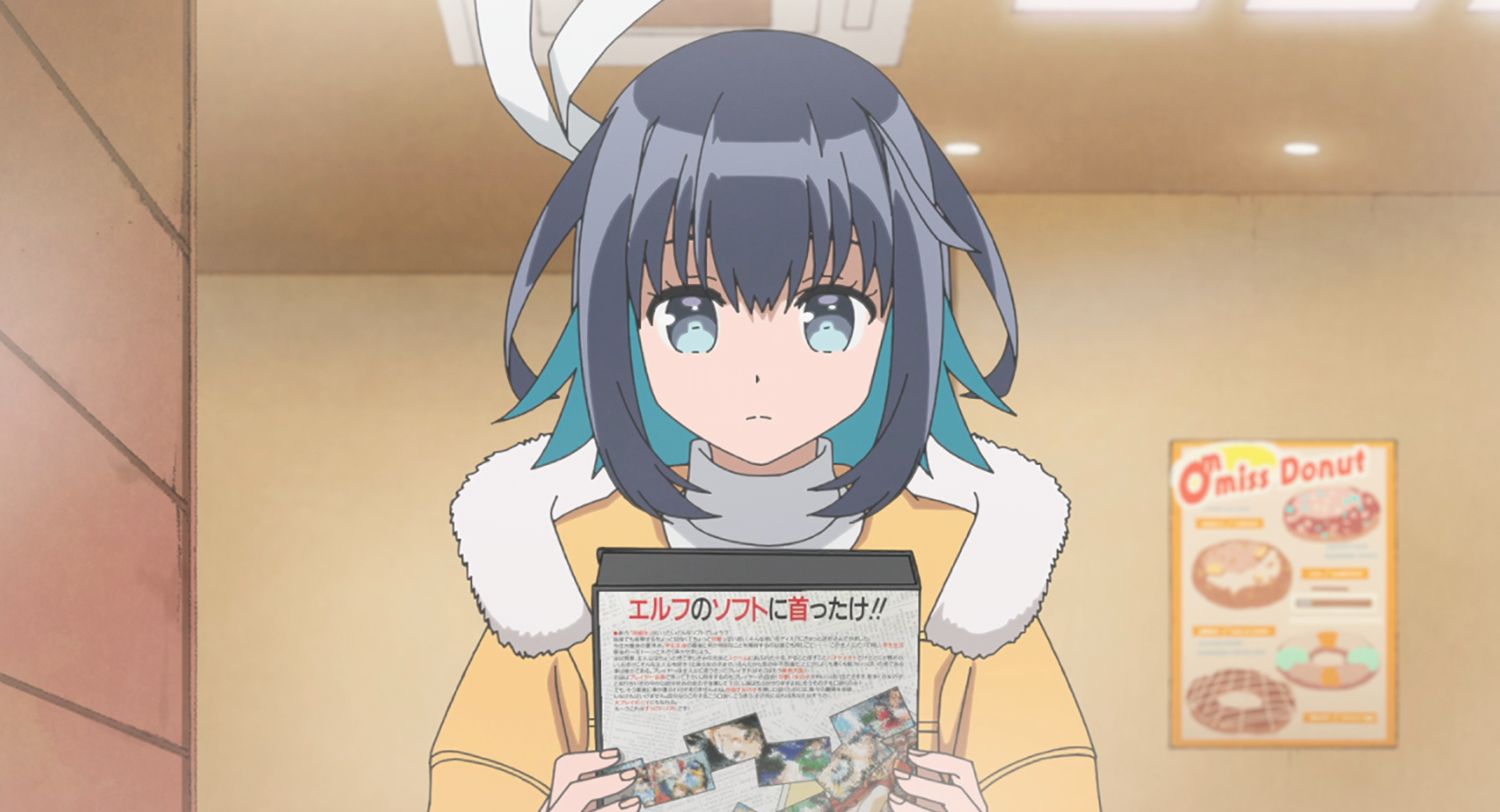 It doesn't ever explicitly try to be a documentary but the painstaking attention to detail, both as part of the script and in casual background art depicting familiar scenes, brands and technology from decades gone by, means that it serves double duty as both an entertaining fantasy story and a time capsule for older fans. While I'm not sure whether 16bit Sensation: Another Layer will continue to keep me hooked throughout its run, so far I'm enjoying it both as a nostalgia trip and a celebration of classic bishoujo games, several of which have been influential either as anime adaptations or as inspirations for the creators who played them in their youth.
Returning Champion
I'm watching quite a few solid sequels this time around, including Spy x Family, The Faraway Paladin and Hypnosis Mic, but the debut which left the strongest impression on me was definitely the start of the second season of Heaven Official's Blessing. While donghua isn't technically anime, we're now at the point where it looks just as good (in some cases, better) and – controversial opinion – since it's being made with its domestic audience in mind first and foremost, I feel that the current crop of titles often captures the unpretentious wonder which first attracted me to anime in the first place – a sense which has been missing from some of the more cynical content we've had from Japan in recent years. Heaven Official's Blessing was always a particularly handsome Chinese animated series and its sequel would be beautiful enough to hold my attention even if the visuals were all there were to it, but the characters and heroic storytelling are nothing short of enchanting. I'm really looking forward to what it has in store in the episodes to come!