Yet again, the end of the Spring Season overlaps the start of the Summer Season. Undaunted, the writers at Anime UK News are back to share their thoughts on the (mostly finished) series that caught their attention – and the odd few that didn't. Some surprises here! And – as we have different tastes and not all of us subscribe to the same streaming platforms – we offer a wide range of recommendations. Do you agree with our picks – or do you have other shows that you were addicted to this spring? Has this season lived up to its initial promise? Or has it been something of a let-down?
Darkstorm
Hotly Anticipated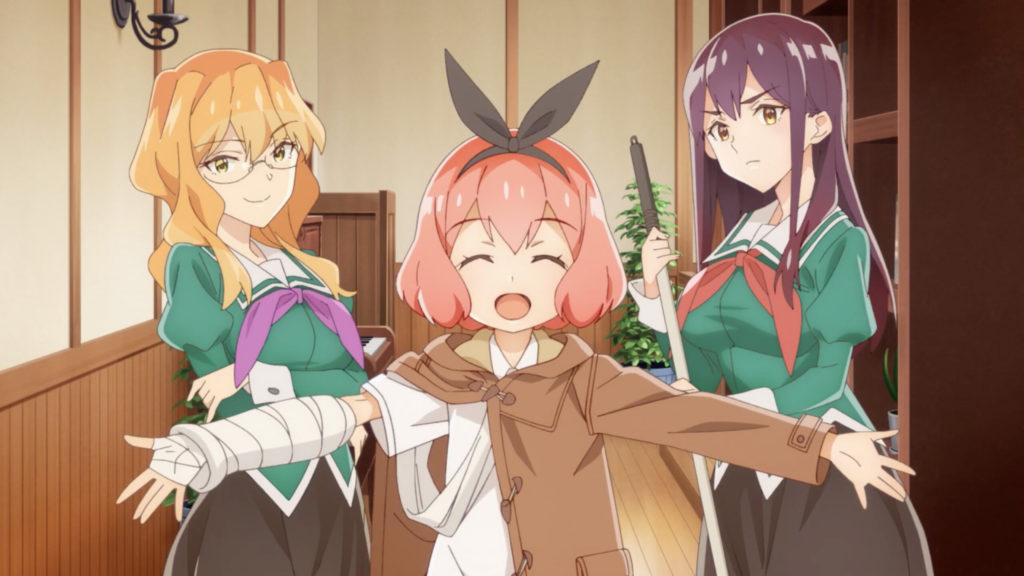 I've been all over Yuri Is My Job! since the anime dropped; watching it weekly, re-reading the volumes of manga I own (at the time of writing, up to Volume 8) and reading people's reactions to it too. The anime was very faithful to the original manga, with only slight changes such as downplaying Hime's lack of work ethic in the first half and adding a scene between the manager and Nene in the latter half too. But the anime also embellished the manga in places I appreciated too; like having scenes where the 'illusion' of the academy overtakes perception in full animation, so the audience really gets a feel for the whole world that the café creates with its theme and characters.
As said in my preview contribution, Hime has a façade that she puts on to, hopefully in the future, bag a rich husband, and throughout the series we see that façade be examined from all angles. In terms of work, she's behaving with her sweet manners to win the customers over, but as shown in the finale, her cute expressions can't hide when she's not doing her job, such as memorising the menu. For her best friend Kanoko, we see that despite 'dropping her façade' around her might make them close friends, but just because she doesn't lie to Kanoko, it doesn't mean that Kanoko can be honest with her, as Kanoko knows that Hime's obliviousness and polite manner not only makes her unobtainable for Kanoko but also a barrier if Kanoko ever chooses to be truthful about her feelings in the future. Then there's Hime's love interest, Mitsuki, who simply cannot read between the lines and therefore finds Hime's lying nature a real barrier to becoming true companions. It's that layering of characters that really make this series a joy to watch unfold in the long term.
The anime, however, ends rather like Bloom Into You, on a rather inconclusive note. The final episode is the fluff between ending one arc before starting the next, with the introduction of the summer uniforms and Hime putting her façade into overdrive when the café has a new tea menu. As a result, the anime ends limply which is a shame as it did a really good job selling what makes the manga so engaging. It's a slow burn, so one season isn't going to truly sell the whole story, but I'm happy with what we did get with the cast being superb and the music really cranking up the emotional scenes up to 11. Season 2 hasn't been confirmed yet, but if you want to continue the story, jump in from Volume 5 (the first story is the back end of the final anime episode; from then it'll be all new material).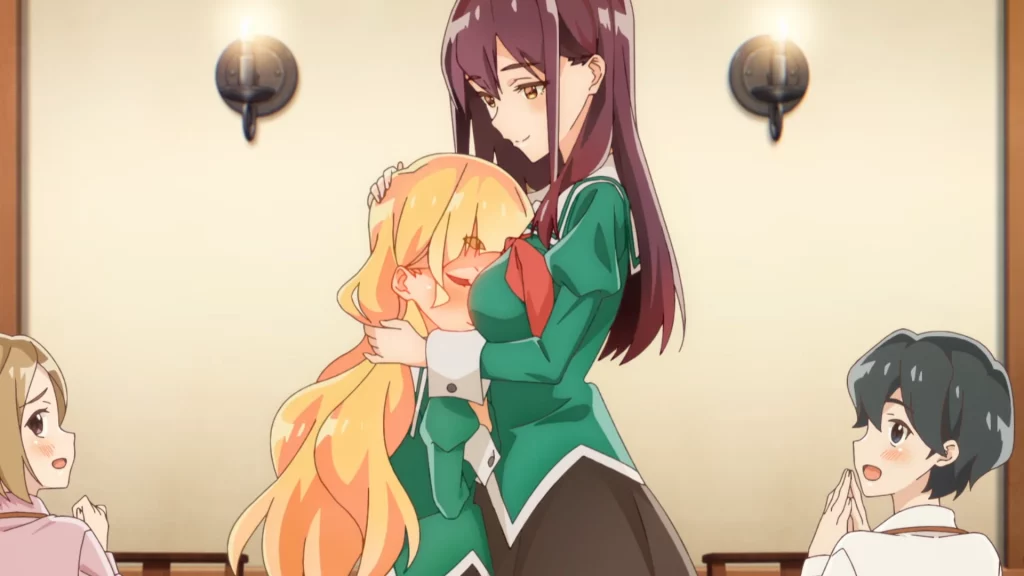 Unexpected Diamond
There was one other series that I ended up devouring this Spring as I've been fascinated by the 'isekai' sub-genre of 'protagonist gets reincarnated into a novel and must survive a terrible fate' for a while now. I finally decided to dip my toe into it with Why Raeliana Ended Up at the Duke's Mansion and I'm glad I started with this series! The anime stars Rinko, from our world, is suddenly murdered but then wakes up as a character in a mystery/romance novel she recently read. The problem, however, is that she's reincarnated as Raeliana, a side character that dies at the very beginning of the story, and it's her death that kick-starts the original book's plot, and brings the REAL protagonist Beatrice, into it. Not willing to go through death again, Rinko/Raeliana tries to get out of her current engagement to avoid her fiancé killing her. When that fails, she decides to blackmail the powerful Duke Noah, with knowledge from the book, to get him to call off her current engagement and save her life, but how long can she keep her original fate from happening?
The series has a central romance, which unfolds well as the pair have great chemistry and excellent dialogue between them, but the story is mostly based around the heroine using her book knowledge and street smarts to work around the politics of the world she's ended up in. Raeliana is a great protagonist: smart, capable, quick-witted and compassionate to those around her too, but she isn't invincible either, as her spats with the duke show the pair have some issues to work out before they can truly be together. Noah also grew on me; it makes sense he's so guarded due to his fiancée blackmailing him and having grown up in a hostile environment (at least it's hinted at) and his entourage of Adam and Keith are fun characters too. The only thing letting this series down is the animation; the character designs are great, backgrounds are lovely as well, but as soon as it starts to move you can see that the team had little-to-no budget. The series mostly revolves around characters talking and/or playing mind games, so you don't notice it at first, but when the anime tries to be more ambitious with action or dancing scenes, it looks very stilted and awkward. Luckily, Keiji Inai's score carries a lot of weight, and the cast is excellent too. If there's a Season 2 (and I hope there is) it'd be nice if they could give it more money to animate the second half of the story to completion.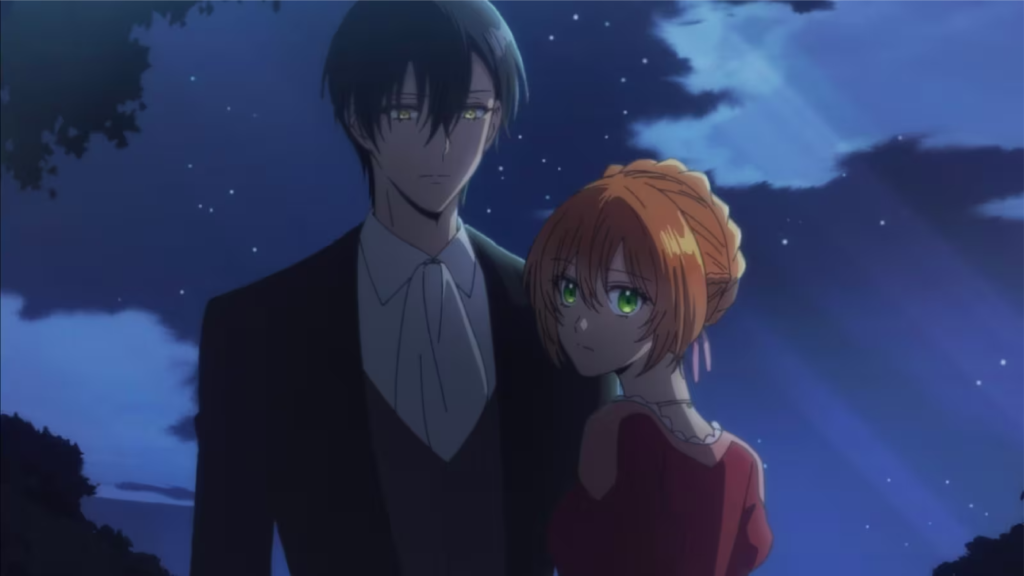 Yuri is My Job! and Why Raeliana Ended Up at the Duke's Mansion are streaming on Crunchyroll.
HWR
Hotly Anticipated
When Birdie Wing: Golf Girls' Story emerged, I was impressed with how the original story stuck to its guns and wasn't afraid to stand out in a quirkier fashion than other sports-based anime.
As the second season began, the initial episodes reassured that the combination of a fairly stilted sport and an absolutely barmy plot, filled with schemes and secret mafias still delivered an entertaining watch.
Having finished the season this has remained true, as Birdie's second outing brings leads Evangeline (Akari Kitou) and Aoi (Asami Seto) to some of their lowest points so far in the story, with doubts about paternity and illness threatening their chances at reaching the top. Side characters like Ichina (Saki Fujita) also got more of an opportunity to shine as well.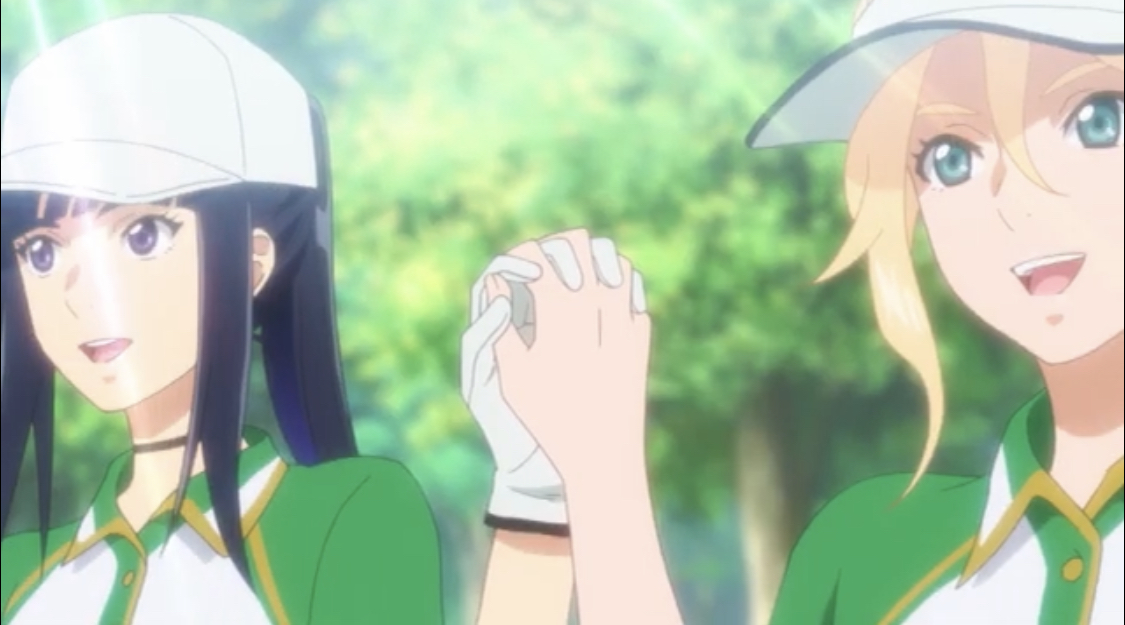 I hope a third season is on the cards for this original series, as it's one of the best original series of recent years and deserves more attention.
Returning Champion
Dr. Stone: New World was a series I was very much looking forward to when it was announced, and I wasn't let down, as New World's story lent to more scientific creations, world-building and some great comedic interactions that further cemented just how well this cast of misfits gel together.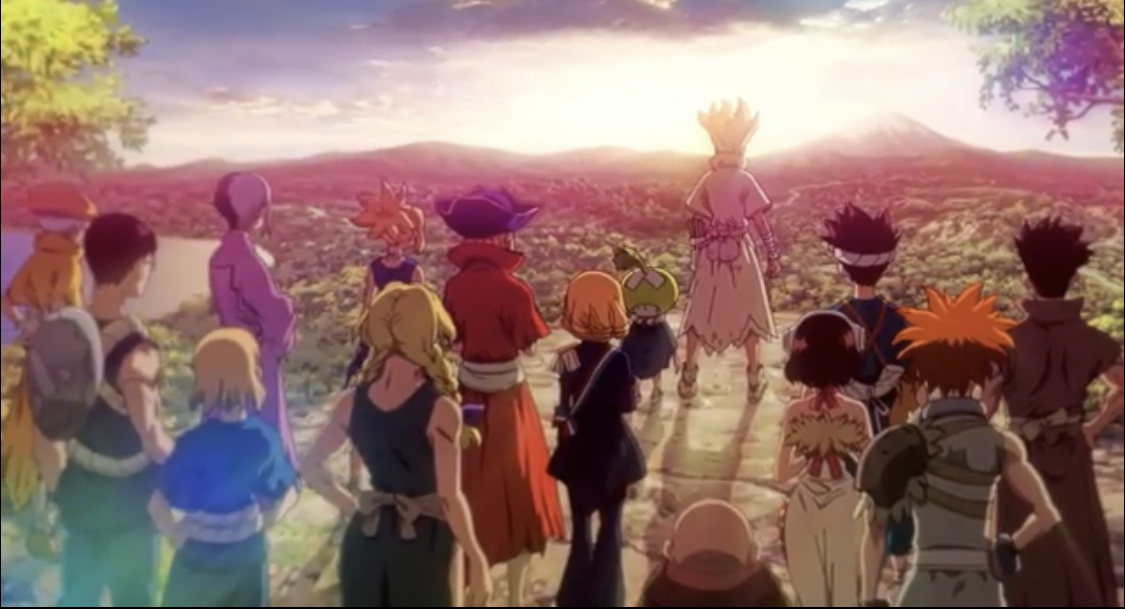 Without spoiling too much, Senkuu (Yuusuke Kobayashi) and company essentially end up needing to pull off a rescue mission to save their friends who become petrified, raising the stakes and infiltrating a vessel belonging to the antagonist rulers of the Petrification Kingdom. It's an arc that had some comedic potential and also gave us supporting characters like Suika (Karin Takahashi).
The good news with this is that the second cour of the season isn't too far off, and come October we'll be reunited with Senkuu and company, which is something for us Dr. Stone fans to look forward to!
Both series are available to stream on Crunchyroll.
Demelza
Hotly Anticipated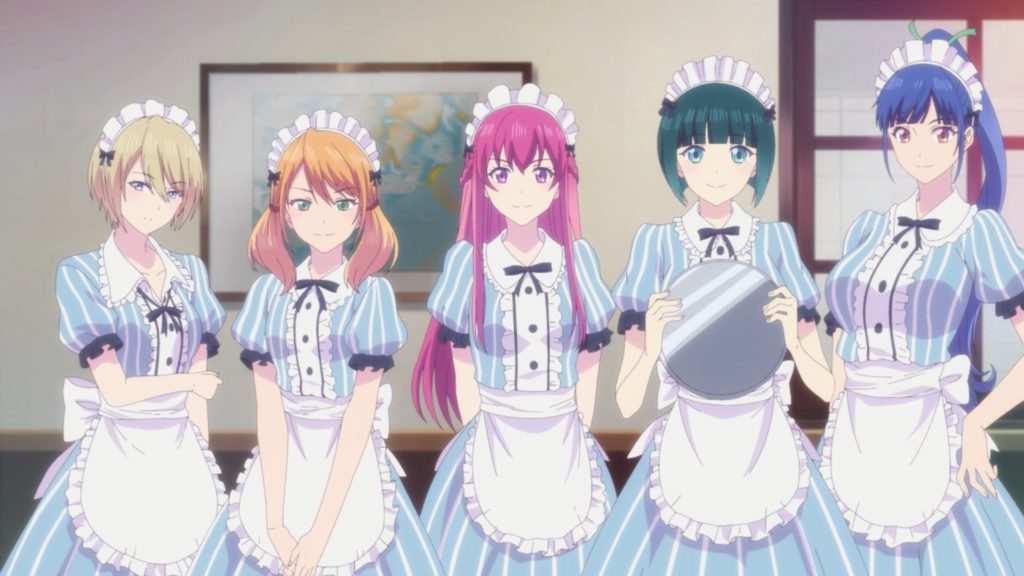 When we put together the Spring Preview at the start of this season I picked A Galaxy Next Door for this category, which is a choice I certainly don't regret as it has been a fantastic adaptation of the manga. However, now I want to talk about a different series – The Café Terrace and Its Goddesses. If you're a fan of mangaka Kouji Seo (Fuuka, Suzuka, A Town Where You Live) you'll probably be familiar with this title already or at least know what to expect from it.
The series follows protagonist Hayato, who inherits his grandmother's failing café. Originally he plans on selling it, but when he goes to visit, he finds that five beautiful women have been staying there, having been accepted as 'family' by his grandmother. With nowhere else to go and knowing how much Hayato's grandmother loved her café, the girls beg Hayato to reopen it and run it himself. In the end, he agrees and so begins his life living with these five strangers.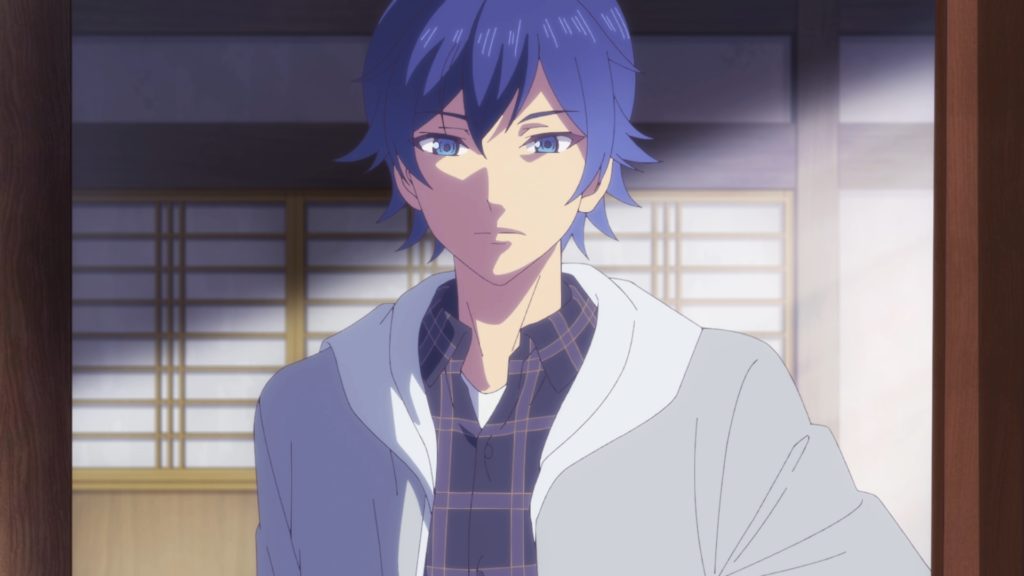 While the series is a comedy filled with some ecchi fan service, it also has a lot of heart. Each of the five girls has a different reason for having come to live at the café and they're all in different stages of their lives. Some are high-school students, others are in college and others still full-fledged working adults. While this 12-episode run wasn't enough for us to get to know every member of the cast, those whose stories we did dive into proved interesting. And I think it did a good job of developing Hayato as our protagonist too. He starts off the series being unlikable, he's grumpy and standoffish but as the anime went on it became clear that he has his own issues to work through just like the girls and maybe reopening the café is just what he needs to figure out who he really is.
And the good news is that if you enjoyed this one it'll be returning for a second season in 2024 and with the manga still ongoing, there's certainly plenty more to adapt.
Unexpected Diamond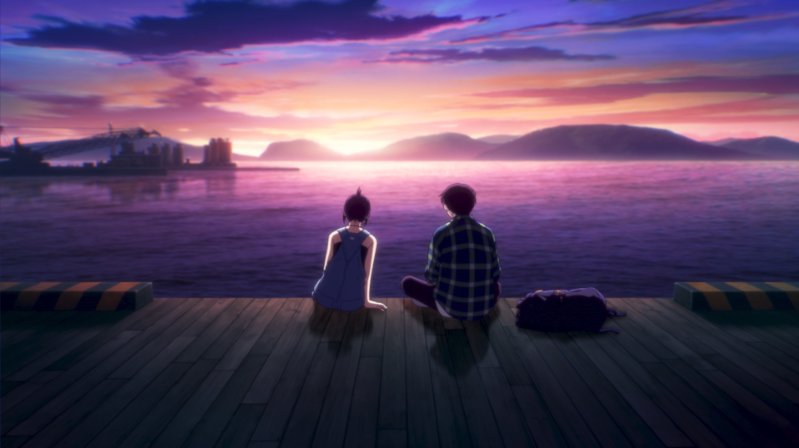 Back when the season first started I chose My Love Story with Yamada-kun at Lv999, a sweet romance series that stole my heart. While this series has remained one of my favourites through to the end of the season, somewhere along the line I found myself more impressed by another romance anime airing currently: Insomniacs After School. This one follows high-school students Ganta and Isaki, who both suffer from insomnia. Ganta meets Isaki one afternoon when he's sent to the school observatory-turned-storage room to collect something and finds her sleeping peacefully there. Isaki swears him to secrecy and the two begin hanging out in this quiet place that's perfect for catching up on some lost sleep.
Of course, their secret time together doesn't last and they are eventually found out by a teacher. If they want to keep using the observatory, they must first reform the astronomy club and show a willingness to engage in club activities. In this case, their teacher asks the two to take a photo of the night sky to enter into a competition just like their upperclassman once did. Reluctantly Ganta agrees, if for no other reason than to protect the precious time he spends with Isaki every day.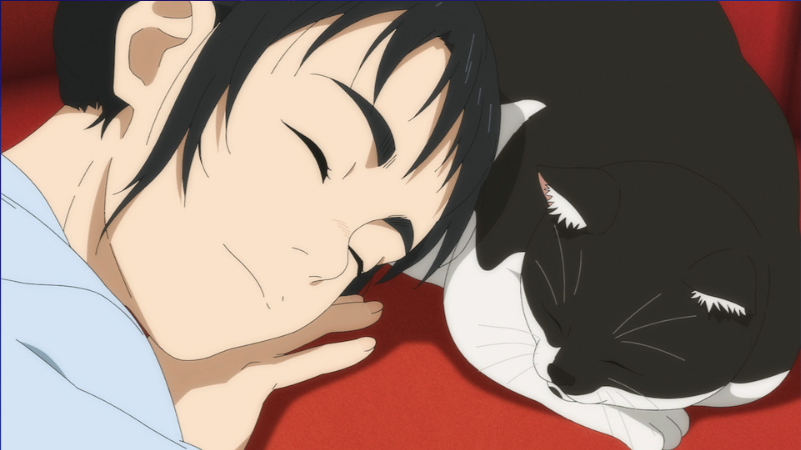 Part school life, drama and romance this one has really surprised me with the time it has spent on slowly developing both the relationship between the two main characters and their reasons for suffering insomnia. Everything is gently laid out for the viewer without being explicitly said, allowing you to connect the dots as you watch over the cast's daily lives. The animation by LIDEN FILMS (Tokyo Revengers, Call of the Night) has been unremarkable most of the time but as the weeks went on there have been a couple of episodes that really delivered on the visual front. Most of these involved night-time scenes, where the two are trying to take photos for the club and these are stunning in a way that's very similar to the style of Call of the Night.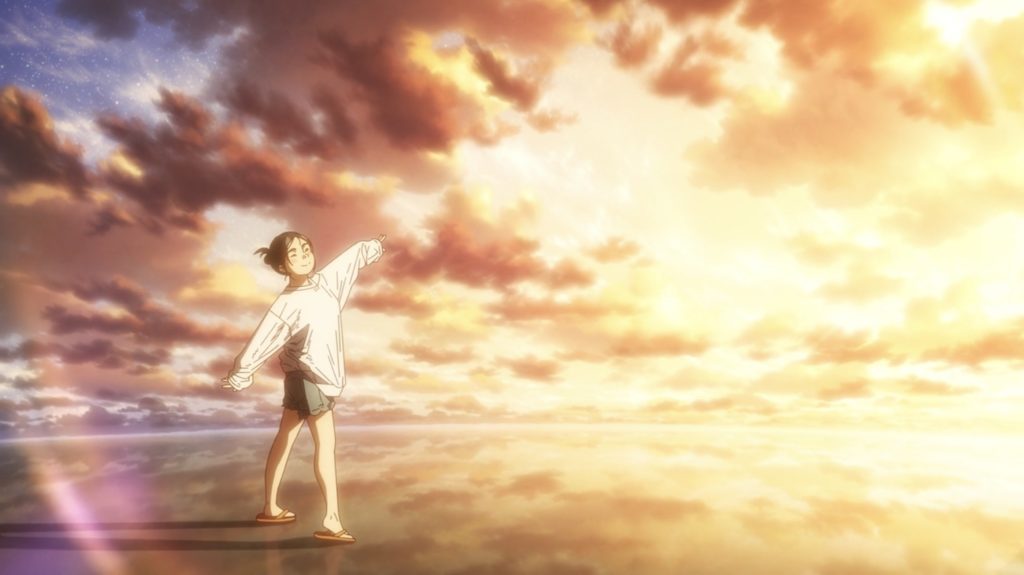 My only concern with this one is that it won't have a satisfying conclusion. The manga is still on-going and with one episode of the anime left to air at the time of writing, there's not much time left to properly wrap up all the relevant storylines. Hopefully, it will be good enough, but I could see it being underwhelming depending on what happens. Still, if you do like romance series then I would highly recommend giving this one a shot. It may seem generic on the surface but it has a lot of heart.
The Café Terrace and Its Goddesses is available on Crunchyroll, while Insomniacs After School is on HIDIVE. 
Sarah
This season has been the first in a long time in which I've dropped nearly all the series I started watching, including the 'favourites' like Demon Slayer, Mashle, Hell's Paradise. Is it me, suffering from anime fatigue – or has it just been a disappointing season, stuffed full of mediocre offerings that don't stir the heart, the brain, or the imagination? As the (very) few series that I've continued to watch prove, there's still something addictive about really well-made anime – but the opposite effect occurs when the viewer is faced with a tediously repetitious and unoriginal offering.
Hotly Anticipated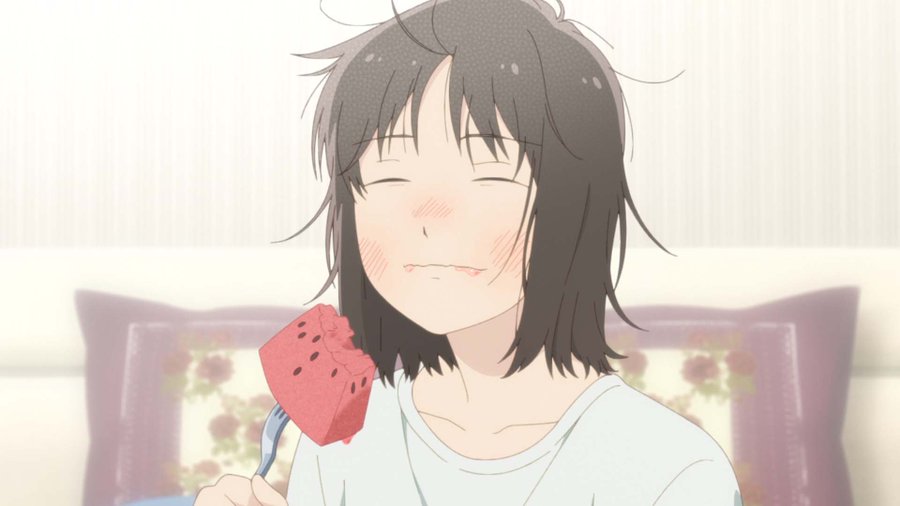 The anime adaptation of Misaki Takamatsu's manga Skip and Loafer has – rightly so – been one of the hits of the season. This delightful slice-of-life series continued to entertain and move to the very end of its twelve-episode run. The voice actors, music and animation brought country mouse Mitsumi and the new friends she makes in Tokyo to life in a way that managed to enhance the excellent original manga. If you loved it, do carry on reading the manga – the anime stops at Chapter 23 (Volume 4).
Unexpected Diamonds (well, maybe just unexpected…)
Sacrificial Princess & the King of Beasts was my very late arrival choice in the Preview. Based on the manga by Yu Tomofuji (Yen Press) it's gone on to establish itself as an alternately charming and chilling fantasy/allegory on the themes of racial discrimination and intolerance. Don't be put off by the character designs, some of which are honestly not great for the citizens of the animal kingdom ruled over by King Leo where Sari, the human heroine, finds herself – first as sacrifice, then as potential queen consort to the king. The story-telling is good and the central characters sympathetic. There's also the diminutive hard-bitten Bennu, Sari's Holy Beast, who's worth every minute of his screen time (he turns into a phoenix). However, as this series is ongoing, I'll return to it at the end of the Summer 2023 Season and introduce Opus.COLORs instead which played to tiny audiences in the West, it seems, and suffered from a weak first episode which meant the ANN critics panned it. Unfairly, I think – although it took quite a while to establish what it was really about. (This is, in my view, a problem with ANN's 'assess every first episode of every new show each season so you readers don't have to' – as, time and again, they mark down shows that take a while to get started, often landing themselves with reviewing shows that soon become repetitive or worse, just don't have legs.)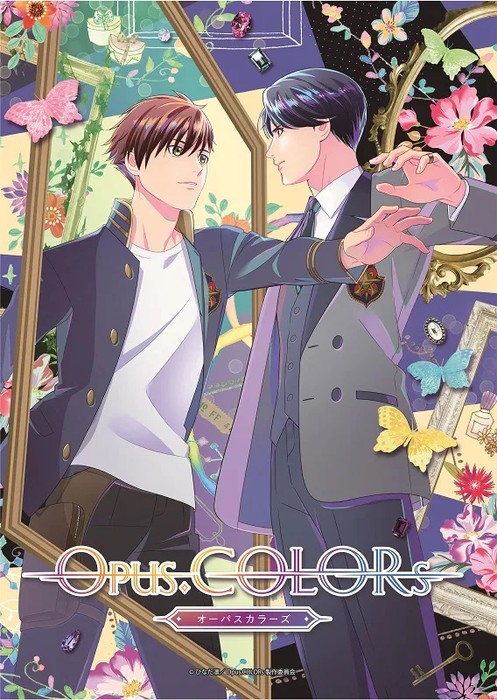 Opus.COLORs is about making art (so similar, in a way, to Blue Period). Kazuya is a student at a select all-boys high school which specializes in 'perception art' an immersive type of digital artwork that affects the viewer's senses. The students at his school are divided into artists and graders who are selected to work in pairs and compete every year to have their work chosen for the staircase exhibition. His parents were pioneers in the technique but, tragically, died in a car accident when Kazuya was young so all he has left of their last experimental composition is a battered memory stick. His onetime best friend Kyo, who was also in the accident, is a grader at the school and Kazuya (who has gained enhanced perception skills after being injured at the time) opts to be an artist – but when the two are chosen to be partners for the competition, Kyo begins to act in a strange and rejecting way. Kazuya can remember nothing of the accident – but it seems Kyo has a guilty conscience. To add to the mysteries, a 'scribble' has been discovered on the school grounds: a wildly experimental and disturbing piece which the seniors ask Kazuya to investigate for them. Who can have created it? And why is a white wolf appearing there – a wolf that Kazuya's parents first created years ago?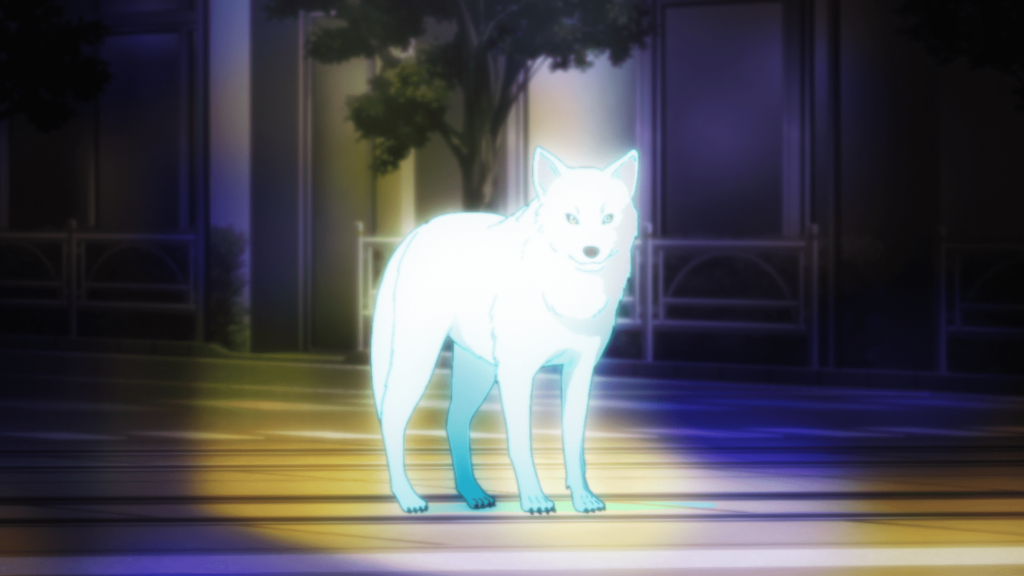 If you don't mind a male-centric cast (with starry voice actors like Katsuyuki Konishi, Daisuke Ono and Jun Fukuyama) and can tolerate a rather muddled couple of early episodes, this series asks some good questions about being an artist. It also, though, plays with a not-too subtle BL subtext about the feelings that the 'partners' have for one another even though absolutely nothing untoward happens! And then there's "New Frame" the strangest ED I've seen/heard in a long time in which the (animated) main characters perform a slow and expressive piece of modern dance, heavy with meaning. But overall, it's worth staying with as the central story about Kazuya's parents and the development of this new immersive artform are genuinely interesting. (It was probably more fun to watch in Japan as there's been a great deal of related material to link to as well as two drama CDs which expand on the central story.)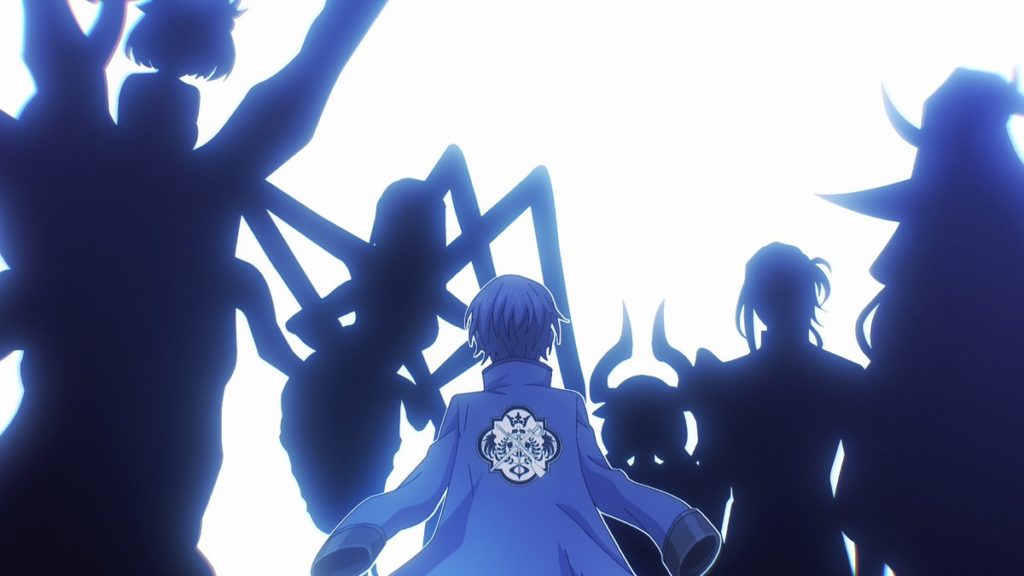 Which brings me to Dead Mount Death Play which I fell for after I'd seen the ED a couple of times and realized how the dancing plushie shark and propelling pencil fit in with the ongoing narrative. I should have known I'd fall for this series, as it's based on a manga written by Ryōgo Narita, author of two of my all-time favourite anime/light novel series: Durarara!! and Baccano! And even though I'm not an isekai fan these days, this just happens to be reverse isekai so that's all right, I guess. It's not perfect – it also suffers from a confusing first episode but once the action switches to present-day Japan from the Other World, Narita's skill with story-weaving begins to kick in. And so we follow the displaced Corpse God, now in Tokyo, inhabiting the body of recently murdered sixteen-year-old Polka Shinoyama – and transferring Polka's soul into the a shark plushie. Why present-day Tokyo? Well…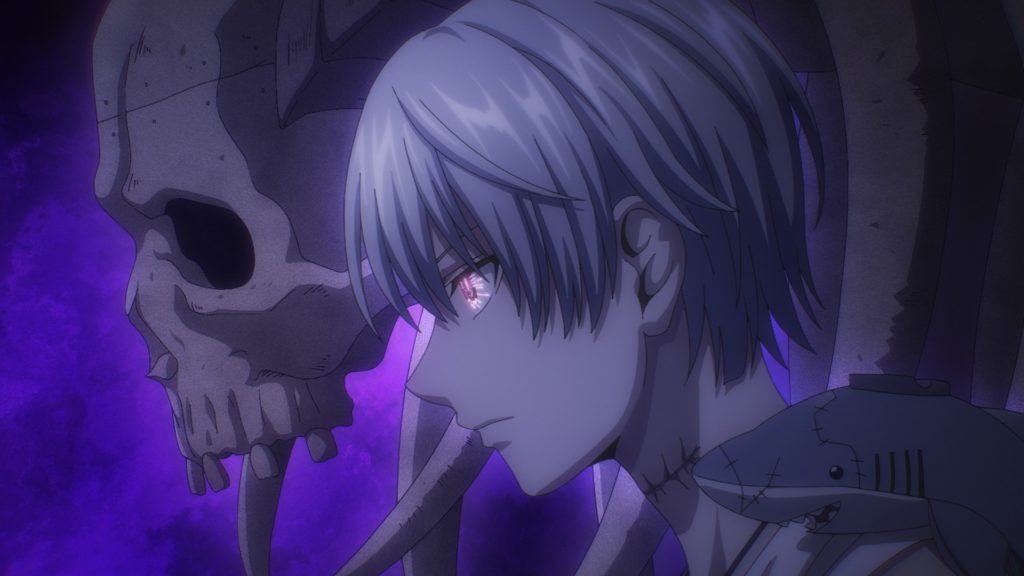 Caught up in the complicated shenanigans are the police (corruption is suspected) Polka's wealthy but very bizarre family, a trickster named Solitaire, the dreaded Lemmings, a sinister fireraiser with a grudge… Twelve episodes were never going to be enough to resolve all the various strands and, thank goodness, it's returning in October! I particularly commend the opening theme song "Nero" by Hiiragi Kirai, sung by Sou with its clever ear-wormy bass riff, and the ending theme song is "Iolite" by Inori Minase which is just a great little song with some snarky animation to make it even better. I didn't detect Narita's distinctive style of writing until several episodes in but it's worth waiting for. This is the novelist who created Celty Sturluson (Durarara!!) and The Flying Pussycat (Baccano!) and he hasn't lost his magical touch.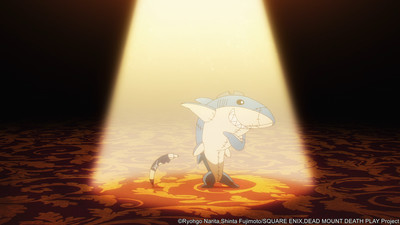 Skip and Loafer, Opus.COLORs and Dead Mount Death Play are all streaming on Crunchyroll.
Onosume
Hotly Anticipated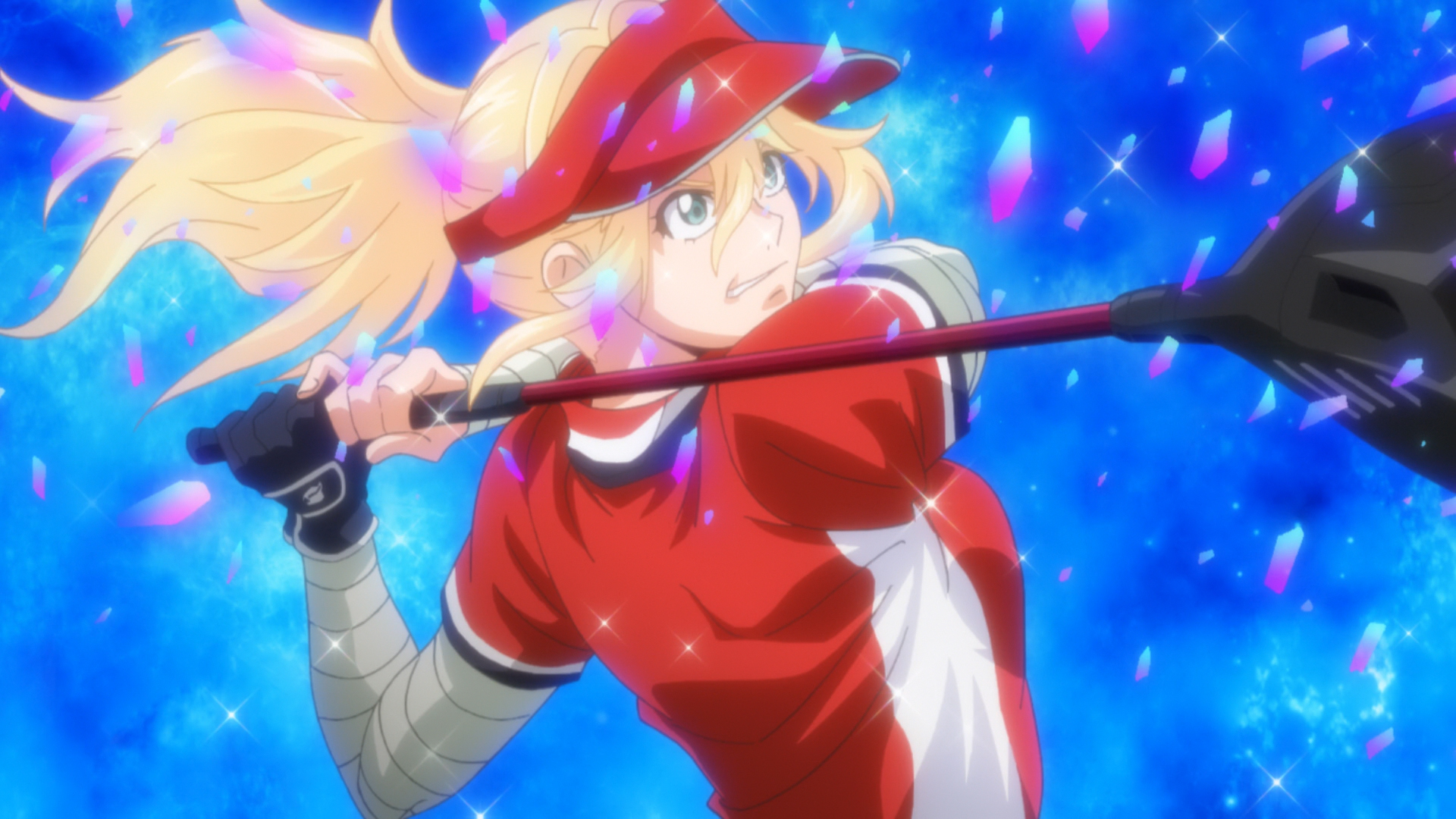 Birdie Wing: Girls' Golf Story was the returning show that I was looking forward to for the Spring Season, and, as I noted in our season preview, it got off to a great start as it began to dive into the dark and mysterious pasts of our leading duo.
This really set the tone for the entire series, as it delves into both Eve and Aoi's parentage and how they had closer connections than they originally thought. The central concept here, passing down your skills to the next generation to hone it into something new, was one I found interesting if predictable, as we'd already had a lot of foreshadowing about who the girls' fathers really were, yet it still was able to pull me in with some cool twists and the idea of this ongoing rivalry between two very different styles of golf.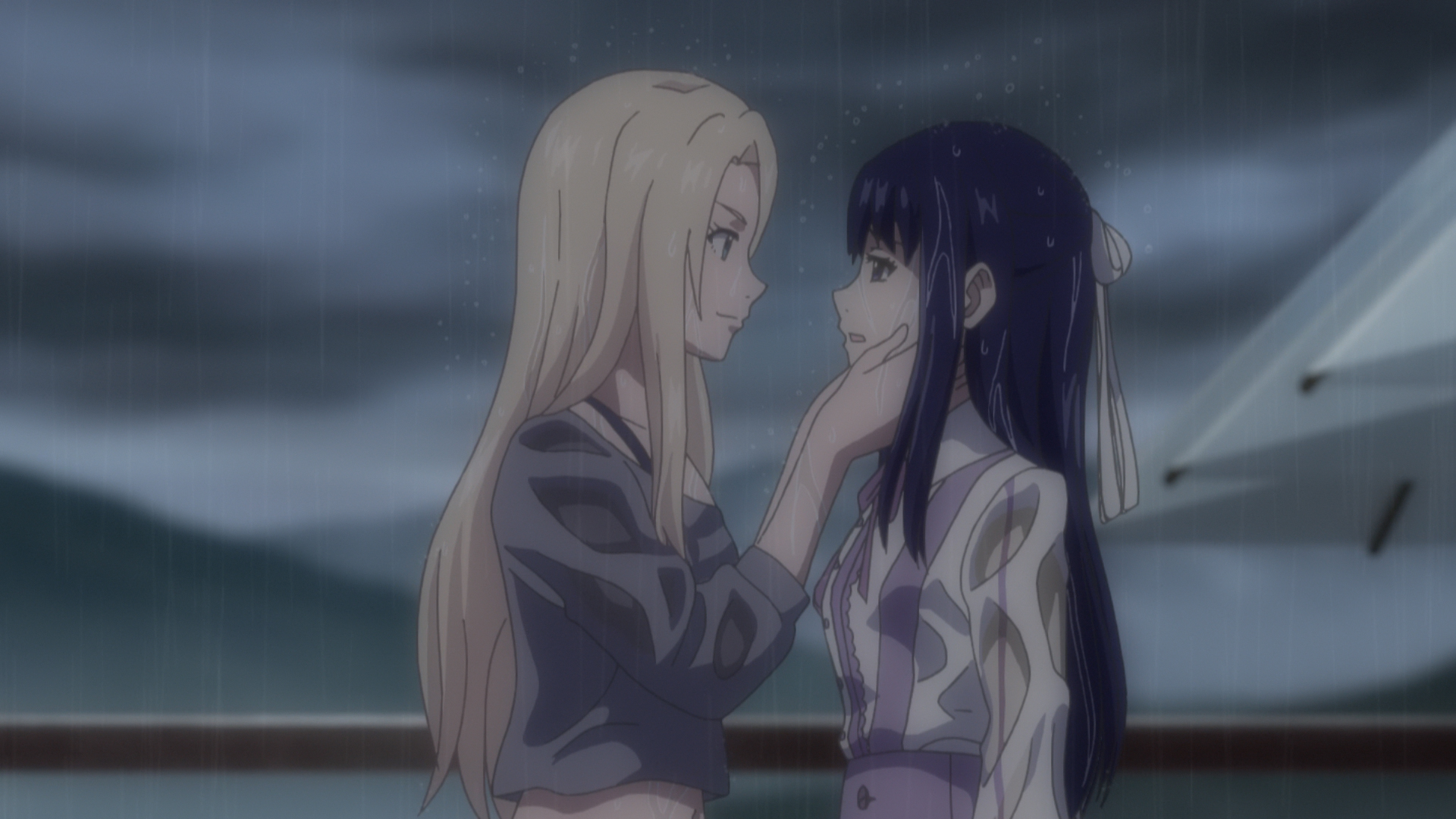 There's a touch of melodrama as the plot deepens, particularly with Aoi's illness, but it never becomes too overbearing as you can empathise that for these girls these are earth-shattering events that threaten to completely crush their dreams. In typical shonen style though, there's the glorious fight back to the top and there's some terrific scenes in here, all the way from Eve's final showdown with the mafia that done her dirty in the first place, to a spectacular showdown at St. Annlie's (which golf fans will recognise as the Old Course at St Andrews).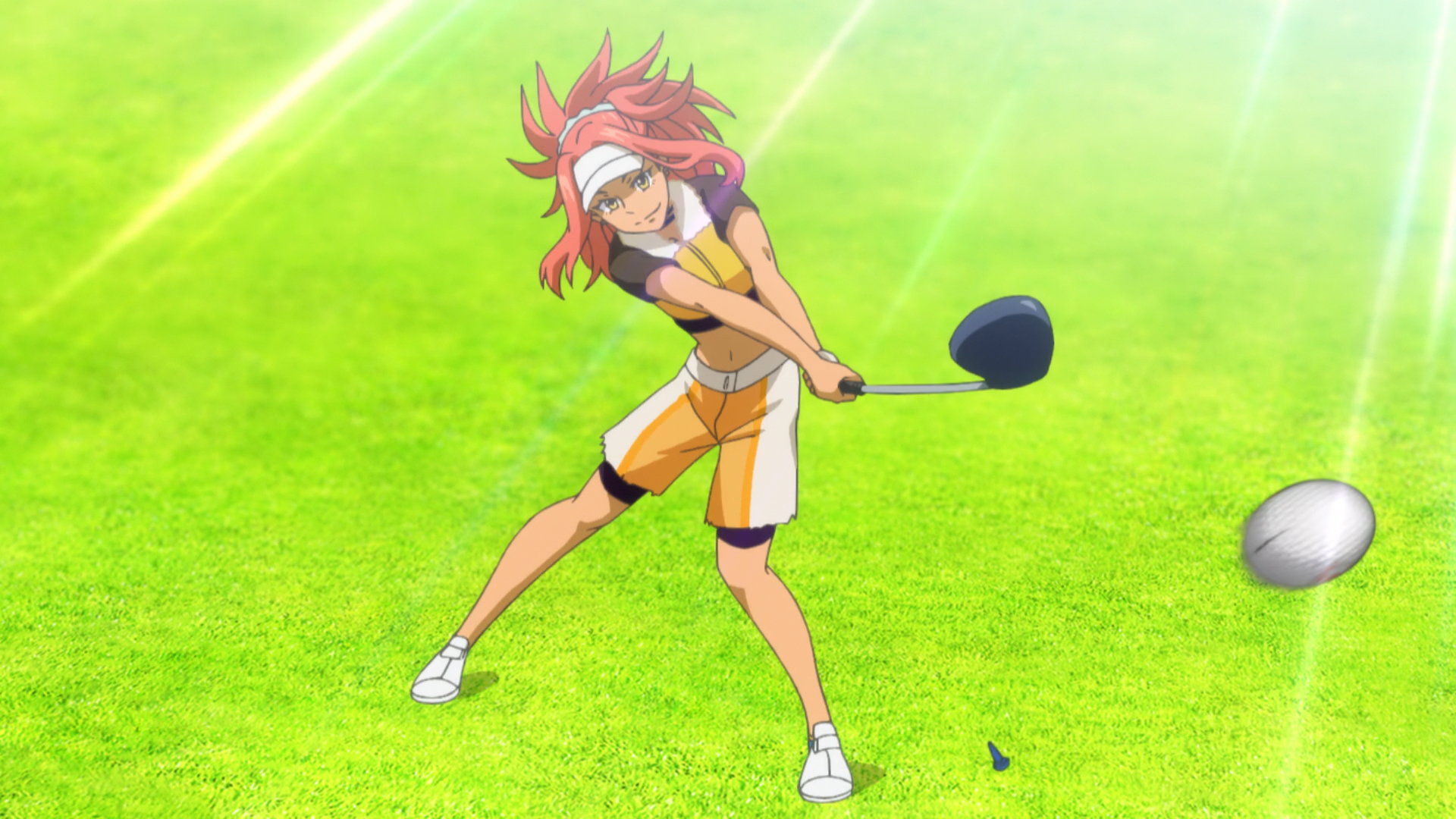 My only real criticisms are that some of the characters are underplayed – Leo's new protégé Aisha is a bit flash in the pan and soon forgotten as she doesn't stand up to Eve as a true rival – while the show's epilogue is a bit of a rushed afterthought. I would have maybe liked an extra episode at the end to pull into the fanservice and give us that final showdown between Eve and Aoi, but a quick glance is all we get.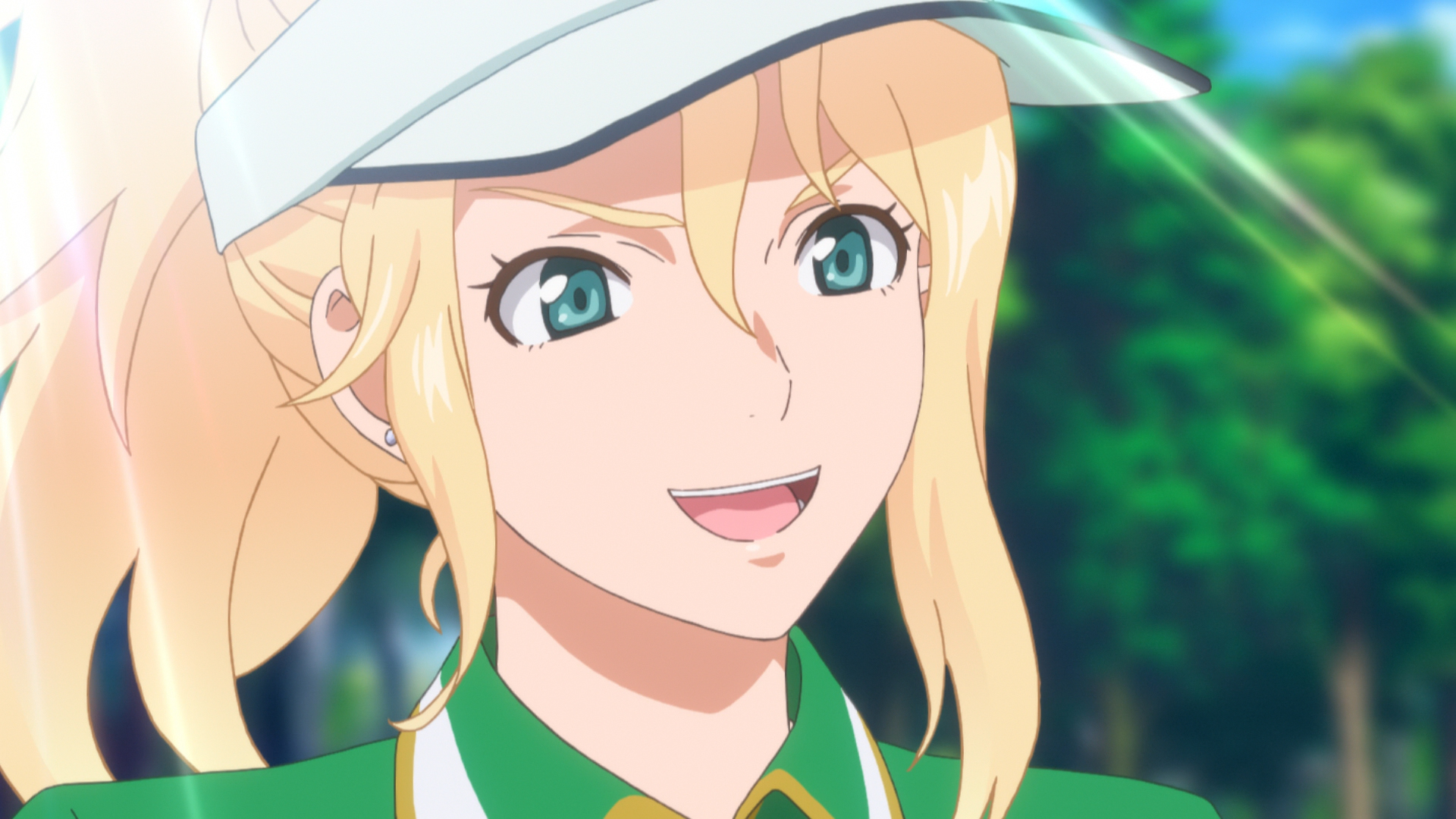 Nevertheless, Birdie Wing has been an absolute blast and is definitely one of the more striking original shows I have seen in the last couple of years, pitching its sport successfully as a hot-headed shonen rivalry with blazing bullet balls mixed with delicate melodrama and plenty of self-insert pop culture references. If you haven't checked this one out yet, now is the time!
Returning Champion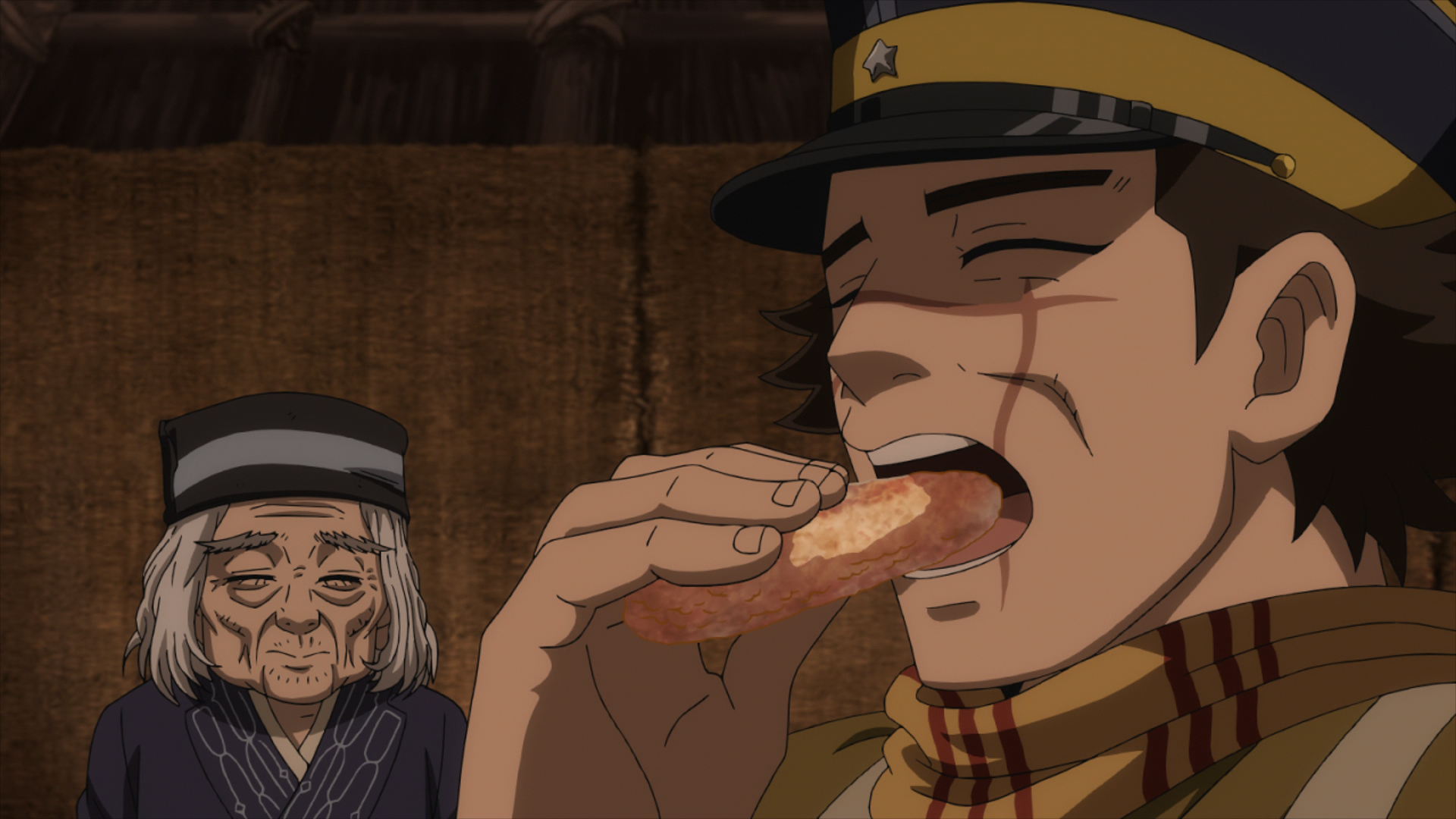 With the manga now complete, Golden Kamuy's anime adaptation is starting to accelerate towards its end (with a final season now confirmed for the future), and while Season 4 has been marred by production delays, I found to be solidly enjoyable but also refreshing in its back-to-basics approach.
There are still tons of things to dig into here, but I'm glad it feels like a bit of a breather or a reset after the climactic events of Season 3, which are probably going to be hard to top until the story's finale. The path to the Ainu gold leads back to Hokkaido, which sees all the cast in a rush to get out of Russia and back to Japan. This gives the show time to explore different parts of its wide variety of characters and moves several forward, with some finally retiring from the fight as they find their place in the world, and others starting to come into their own in lots of weird ways.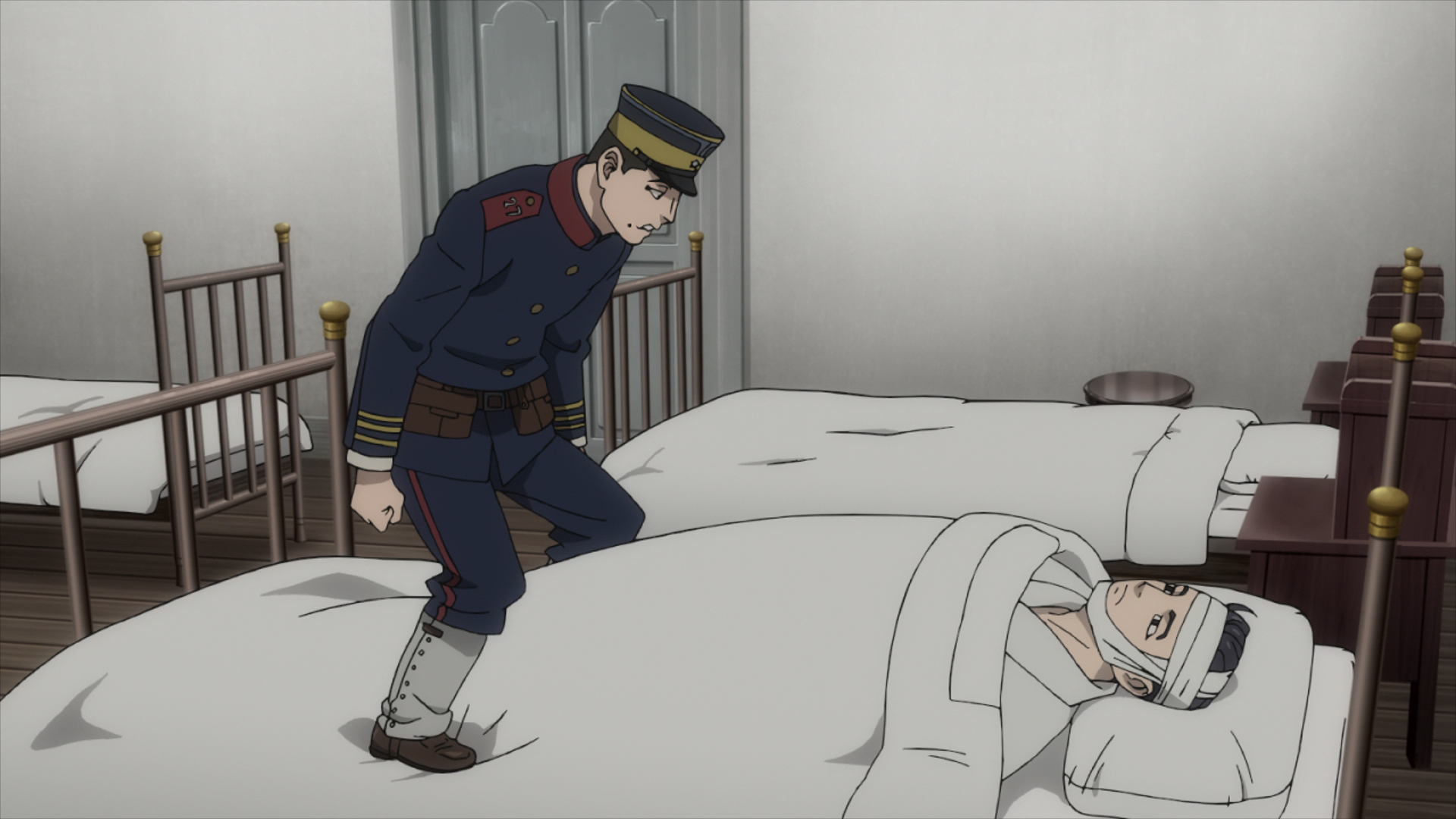 This season echoes Season 1 in a lot of ways, with episodic stories that focus on some of the tattooed prisoners that we haven't met yet, while continuing to explore Sugimoto and Asirpa's partnership and growth. The former really digs into the show's brand of bizarre action comedy, with the prisoner encounters being creepy but hilarious at the same time in the way the characters interact with each other. The latter point meanwhile is really interesting as the character dynamics between our leading duo continue to evolve, with Asirpa emerging as a determined young woman coming to terms with her destiny and being far removed from the young hunter she was at the start of the series. The pair are now inseparable to the point at which there's some framing around them being a couple, although their bond feels stronger than that – a comradeship forged through literal blood, sweat and tears.
Elsewhere there's plenty of getting up to no good from the usual supporting cast, with both Tsurumi's faction and Hijikata Toshizou's faction lurking in the background, new characters to face off with, like Botaro the Pirate, while Shiraishi continues to be hilarious to watch as he feeds into more dumb antics.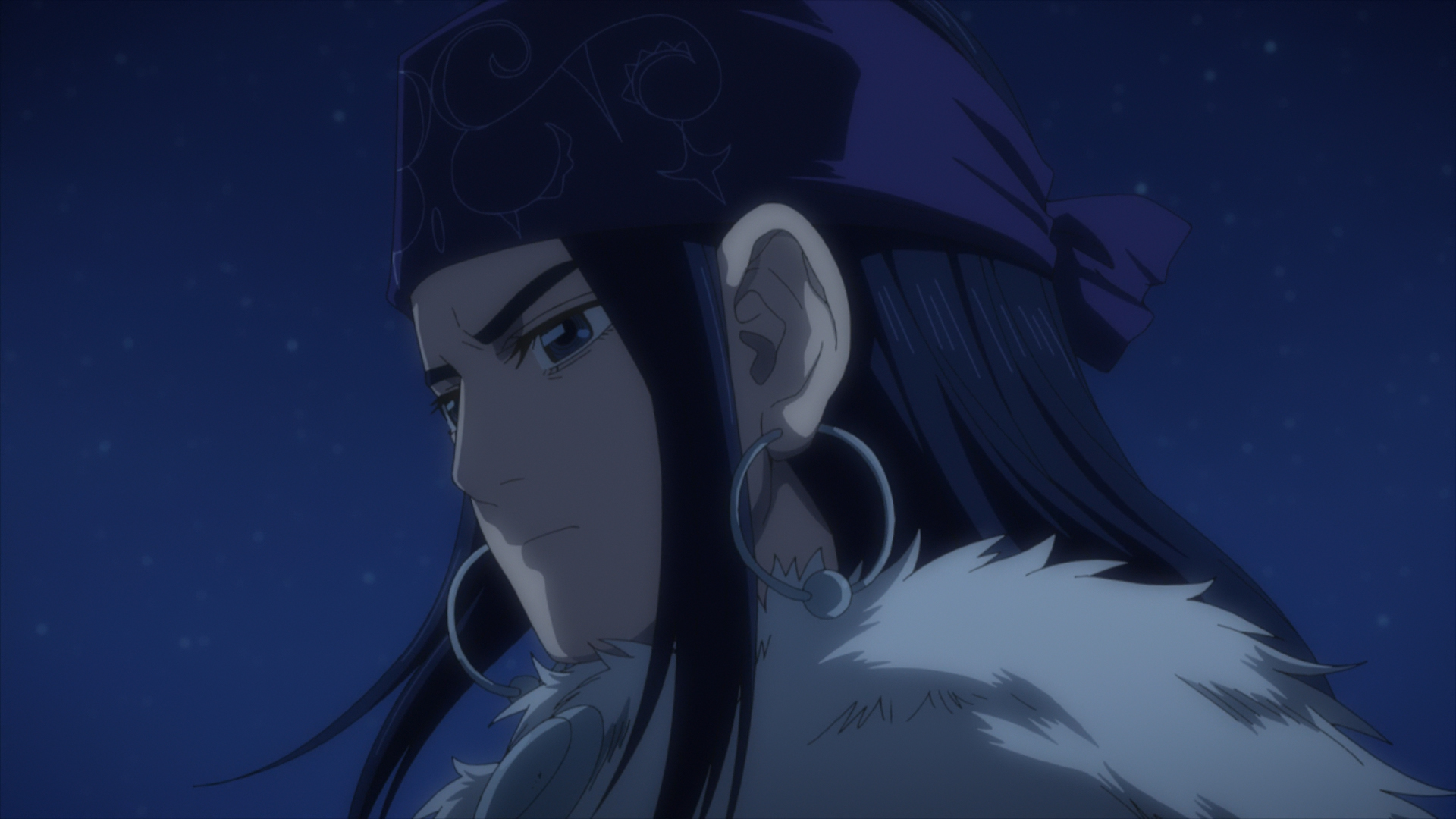 While definitely sitting on a quieter note than its previous season, Golden Kamuy remains one of the silliest but most gripping seinen adventures of my recent memory. If you've been following the show so far then this is still a must-watch, and if you haven't, then I'd highly recommend you catch up!
Unexpected Diamond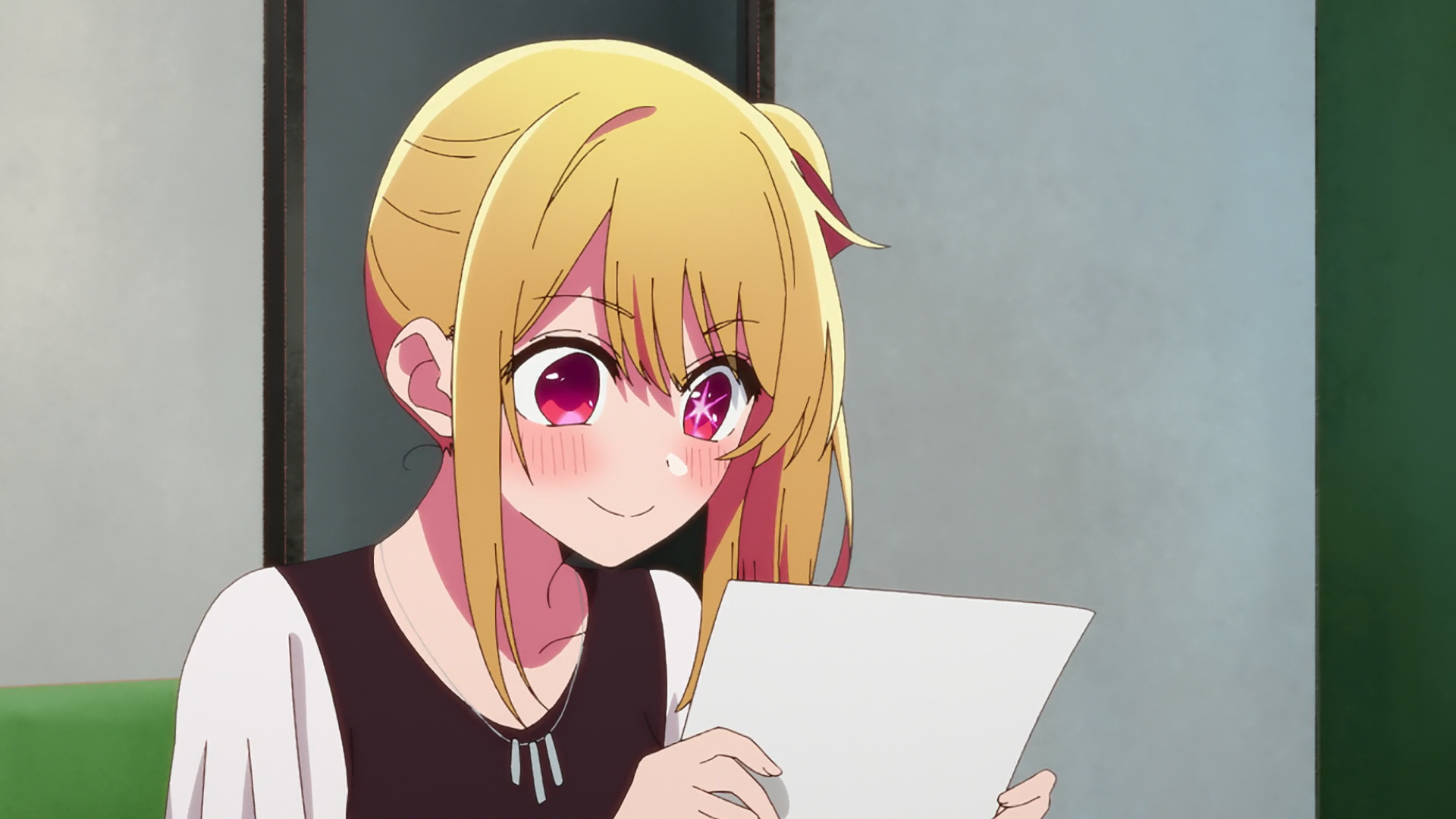 Having been pretty busy lately, I must admit I started [Oshi no Ko] late and had to put it on hold for a while, but I have to say this is probably my favourite show of the year so far. With an absolutely gripping opening episode that did not waste a second of its extended runtime, I knew this was going to be good; and having marathoned a lot of the rest just a few days before writing this I loved how it just pulls you into the twins' differing worldviews. I love Aqua's very dark and cynical take as he strives to use anyone and anything that he can to track down their father, while Ruby's very passionate drive towards fulfilling her dream of becoming an idol is very endearing.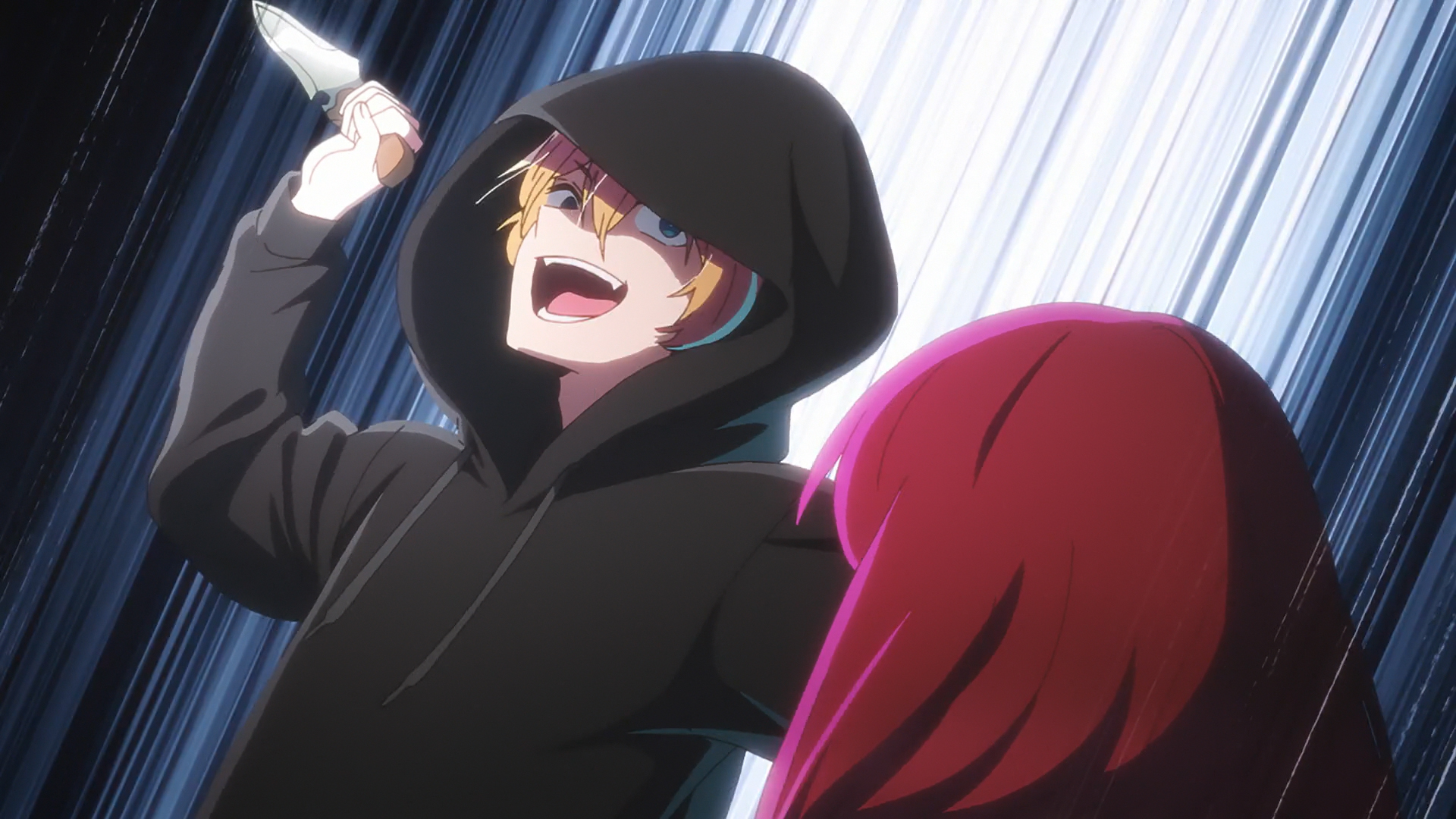 While the opening episode really throws you in the deep end and sets things up for a dark and disturbing mystery, the way the plot progresses isn't quite as dark as I thought it would be. Yes, there is some dark stuff in here that tackles the seedier side of the entertainment industry, echoing in places things like Perfect Blue, but with its very poppy sense of style in its art and characters it does have some light and fluffy edges. It's kind of the light at the end of the tunnel as the key characters that get caught up in these dark moments are pulled towards Ruby as she tries to get a successor group to the titanic B Komachi off the ground, while it's in Aqua's segments where he does the dirty work. I liked this overall approach and I felt it stopped the show from getting too depressing or edgy, keeping the tension up in the right moments but knowing when to have that massive sigh of relief.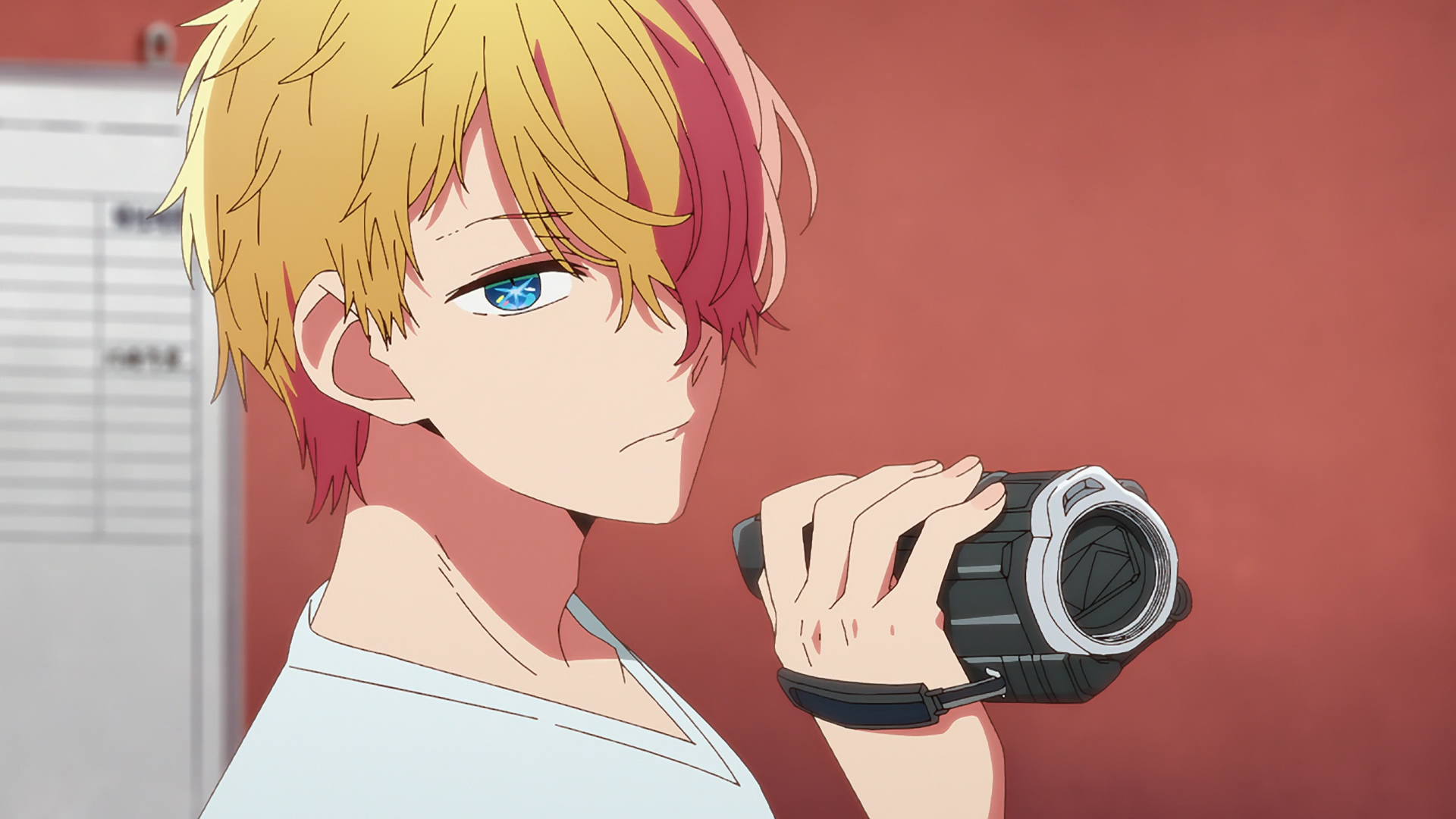 This is helped by the supporting cast just being really fun. Kana often belittles herself as a failure and constantly holds herself back after being upstaged by Aqua when they were young but can really go to town when someone is there to bring out her true talent. YouTuber MEM-cho is an absolute blast with her bubbly and outgoing personality, while more comic relief is added through the masked Pieyon, an incredibly buff YouTuber who does fitness videos, but has an incredibly squeaky voice.
Elsewhere I loved the show's attention to detail as it's evident that the manga's author must have conducted some in-depth research to get everything right in how you do stuff like make a film, or a TV series, or what goes on backstage in Japan's biggest idol festival. While very few would have had such experiences it lays them out in enough detail so you know what they actually feel like.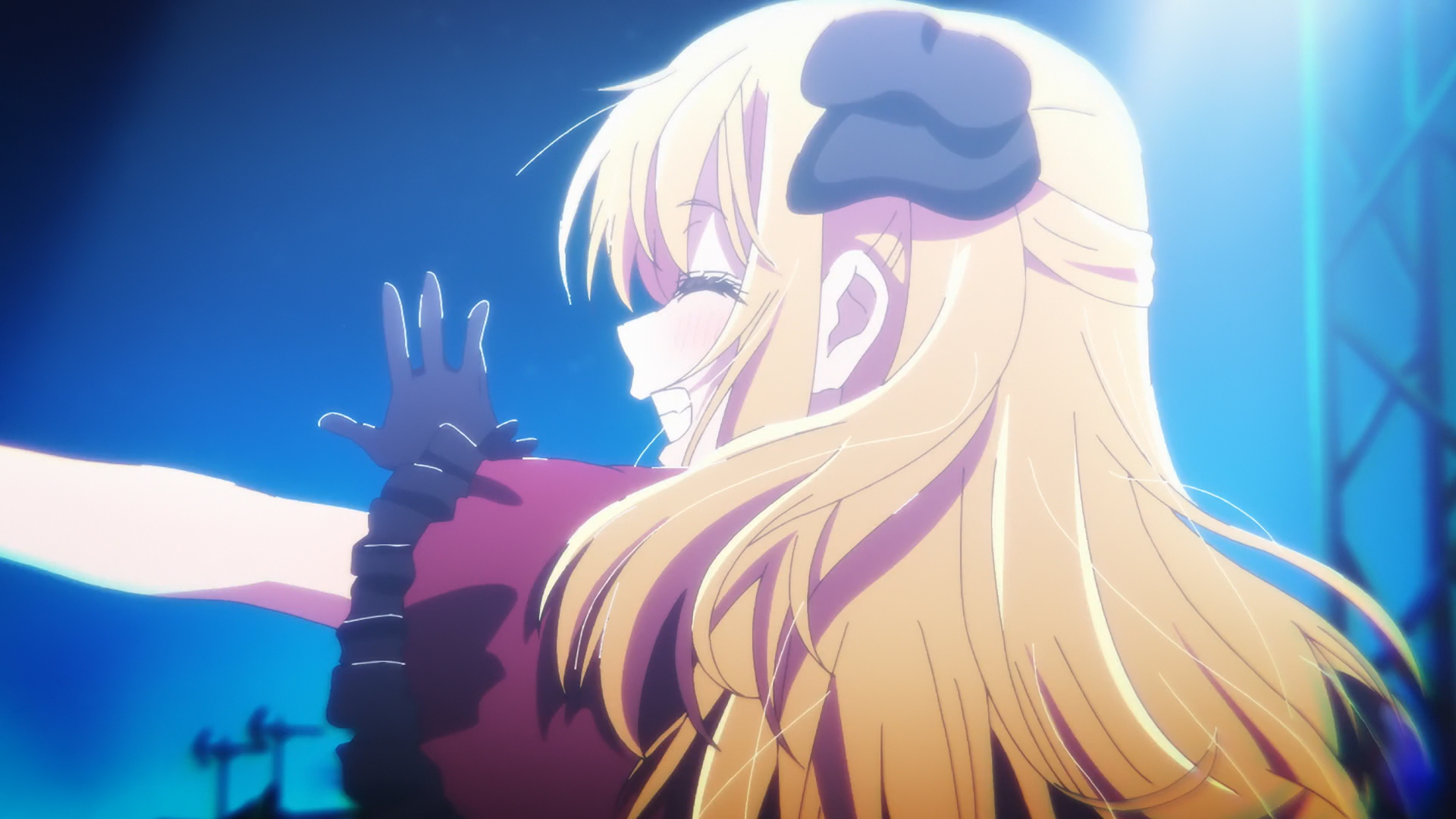 At the end of this first season then it has completely sold me on its concept and I'm now totally in on the ride. While I'll undoubtedly pick up the manga at some point, I'm happy so far with how the anime is going and will stick with it as it continues into a second season in the future.
Cold Cobra
Hotly Anticipated
Hell's Paradise has been an odd mixed bag over its 12 episodes. In the preview I naively assumed it would be "an island-based elimination game cliché with well designed shonen characters", and while early episodes certainly bore this out, it has slowly turned into something else. Admittedly that something else is a shonen cliché of a different order, with the revelation that everyone has an inner power called Tao that needs training to unlock new powerful forms that is akin to a lot of its fellow contemporary stories, but hey-ho…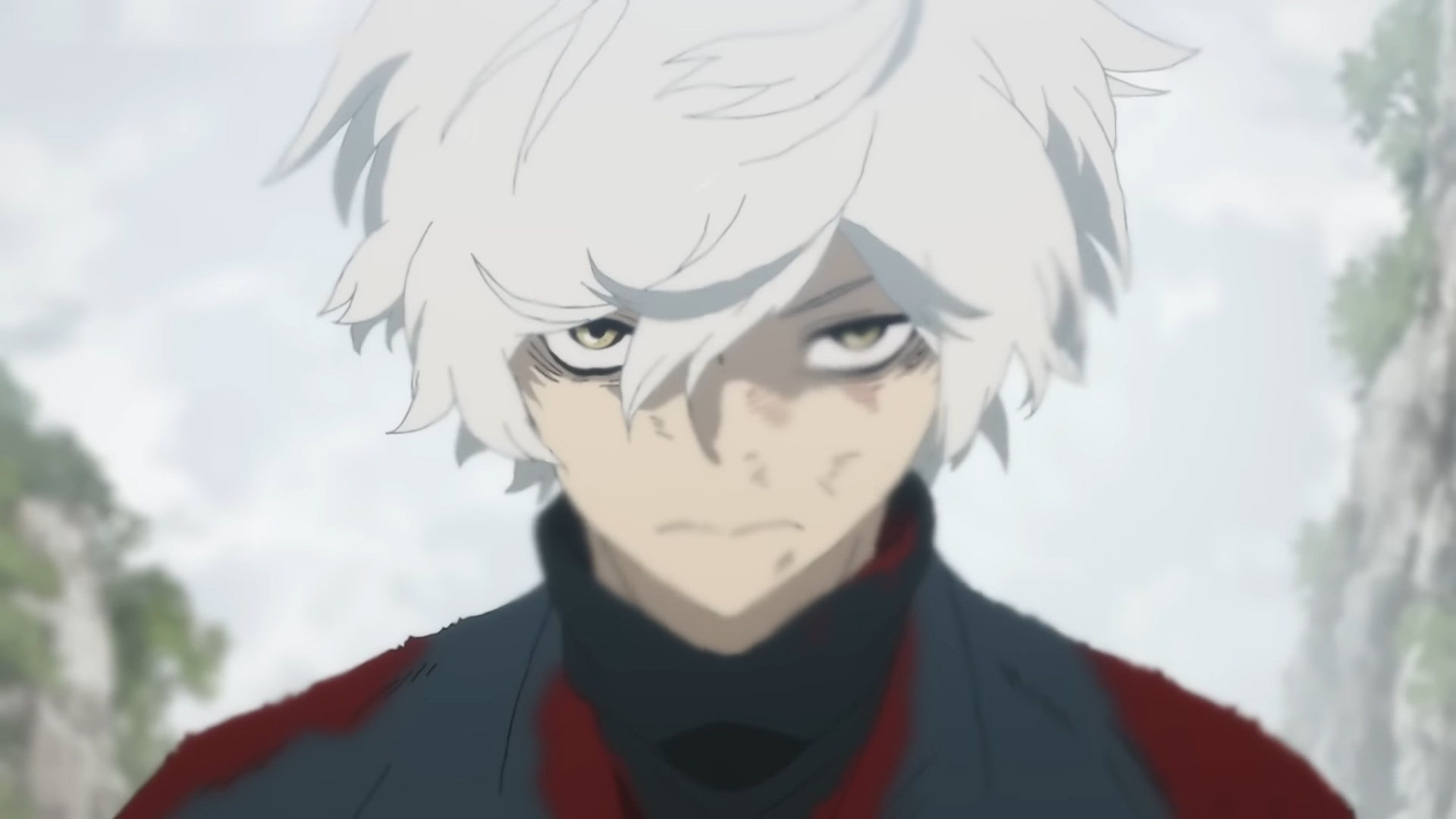 I'll give credit to the show (or the manga it was based on I guess) for not going down the obvious route with the lead protagonists though. Gabimaru is an assassin who was framed by his clan after he declared he wanted out to be with his wife, and instead of a cliché where his wife was killed and he falls for his female companion, his goal is actually to get back to his village and be with his wife. The female companion in question, Yamada Asaemon Sagiri, doesn't pine over him either; instead, she's focused on her career and getting over a mental hump. Okay, the mental hump is "not being able to cleanly behead criminals" so it's not quite as innocent as it sounds, but it is down to a subconscious thing and takes a look at the rights and wrongs of execution and the pitfalls of having low self-confidence. I mean, it will do eventually I'm sure, but there is a rather big issue with Hell's Paradise and that's the plot itself.
The first half of the show has lots of criminals and their Yamada Asaemon guards getting killed left and right by both fellow criminals and the monsters on the island they find themselves on and nobody really has time to connect with the audience. Then in the last few episodes, we're fully introduced to the central threat and suddenly exposition gets dropped all over the place, though not a lot of it is very interesting. I do enjoy the lead villains, the Tensen, mostly because they're fun-if-not-generic all powerful immortal beings but ones who can switch between genders at will and casually talk about having sex with each other using whichever gender they prefer. It's such an odd concept for a group of villains in this sort of show that it gave them a different vibe. They're certainly built up as a near-impossible threat to overcome, so that should be fun, though is a good example of how the show has switched to a very generic shonen story as our leads characters begin to train their Tao to become stronger…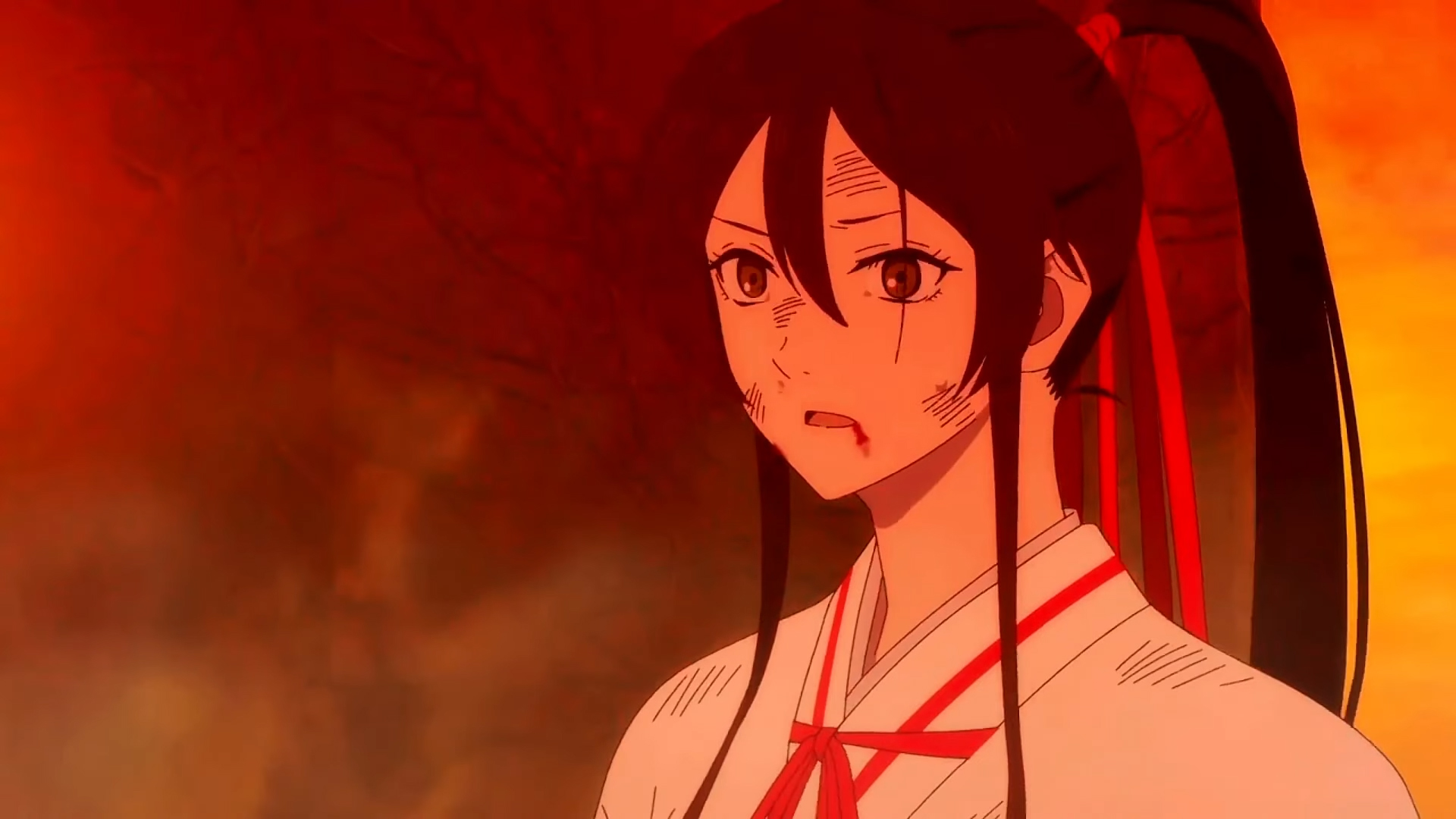 Lastly. I will at least say how the animation is very good, thankfully. If it weren't for some great fights there really wouldn't be much to keep you watching. Overall bit of a disappointment, but at least one that pulled some good will back at the end. I'm sure I'll end up watching Season 2, but I doubt it will be something I hotly anticipate returning.
Returning Champion
Easy victory goes to Mobile Suit Gundam: The Witch From Mercury. I've gone on about how it's an unusual twist on the traditional Gundam formula and yet pulled off a great story in the meta-series nonetheless and its Second Season has not only continued that trend but threw in some classic Gundam imagery and ideas into the mix as well but wove it into the story expertly. We still focus on awkward country girl Suletta as she tries to come to terms with not only school life and love but some real heavy emotional betrayal from her family that even though the major revelation to do with this happened in the second episode of the season, I still don't want to spoil it. It did only get worse for her though, her dedication to her mother clashing with her new friends and especially her love-interest Miorine, and after making a wrong choice, she is left with nothing. It sets up a great hero arc of sinking to the bottom only to rise back up stronger, though in this case it's all emotionally and mentally stronger. It's rare I was so emotionally invested in a character but I really did feel for her at points and was genuinely happy to see her climb out of depression and become stronger.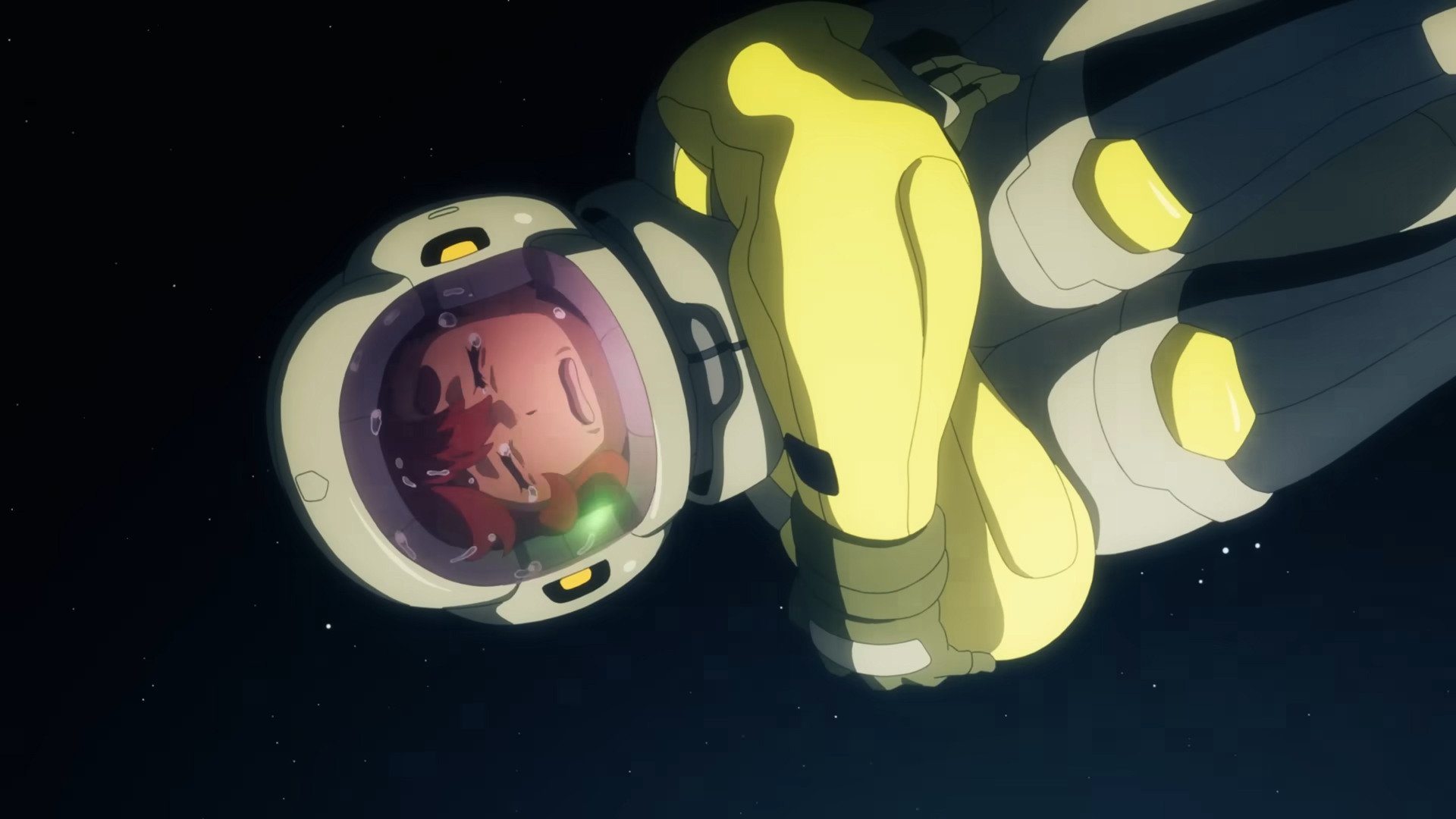 There is quite a bit more focus on world building as well here. While there were hints of tension between "Earthians" and "Spacians", a classic Gundam trope (just with a bit more of an on-the-nose racial description!) we actually get to properly see what a terrible state the Earth is in and how all the rich companies in the space colonies have left it to rot into civil war. We see this through the eyes of Guel Jeturk, former arrogant rich boy who has ended up on Earth as a prisoner of anti-Spacian terrorist cell Dawn of Fold. Guel also gets a satisfying character arc as he finds himself again and wishes to take control of his father's company and set it on a better path. Hell, even Shaddiq, the man who is framed as the central antagonist for a lot of show only wants to cripple the Spacian companies' hold on Earth and spread the wealth. Obviously he goes about it the wrong way, but at least he has layers to his actions. Frankly there is an absurd amount of characters and each have their own baggage that manages to, mostly, get resolved in satisfying ways.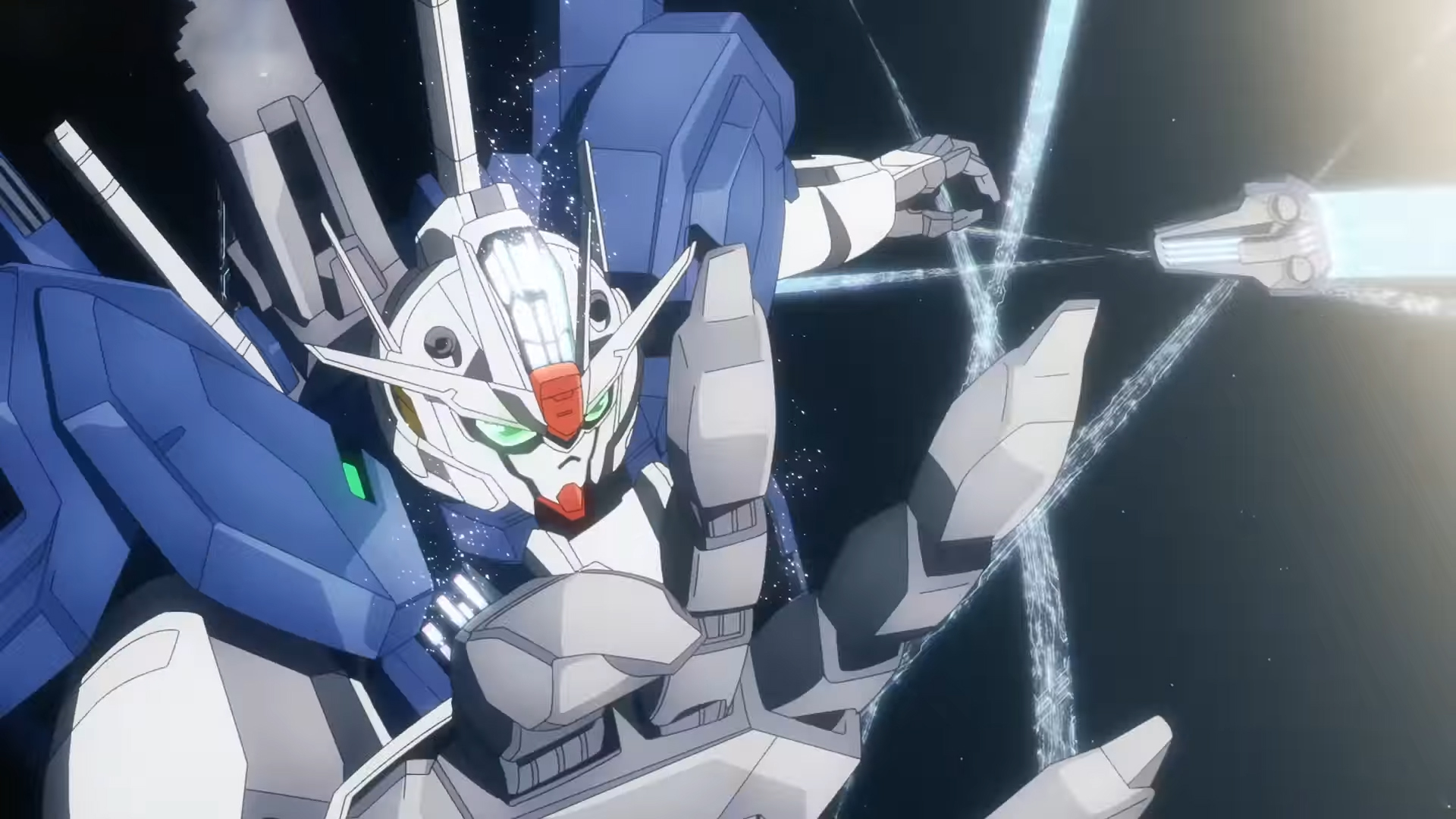 As the season progressed, more and more of these subplots began getting folded into a new central conflict, one that takes the action completely away from the school and into space, where in true Gundam fashion there is a massive space weapon that threatens everyone to deal with, though it's quite unlike any one we've seen before (well, the first one is, anyway…) The animation, voice work and opening and endings are all top notch, and thankfully they nailed the finale. The series went from "that's a risky departure for the series" to "one of the best entries in the series", and I can't praise it enough for that.
Hell's Paradise and Mobile Suit Gundam: The Witch From Mercury are streaming on Crunchyroll.