Following the international acclaim lavished on their pop culture smash hit Attack On Titan, the newly-formed Wit Studio have brought their stylish and slick animation to a brand new fight for humanity's salvation with Seraph Of The End.
When ninety percent of humanity falls victim to a deadly plague, the remainder are herded together by vampires for their "protection" when actually, they're treated as little more than livestock, regularly being milked for their blood like cattle. Yūichirō "Yu" Hyakuya, one of the oldest in a makeshift family of orphans, does little to hide his dissatisfaction with their current situation and often optimistically talks of a day where they will break free of their oppressor. When fellow family member Mikaela obtains a map of the vampire's city, they hatch an escape plan and unwittingly play into the palms of a bored noble, whose performance while murdering the children would put figure-skaters to shame. Reluctantly following the pleas of a dying Mikaela, Yu makes a break for the outside world, swearing revenge on the vampires who tore his family apart.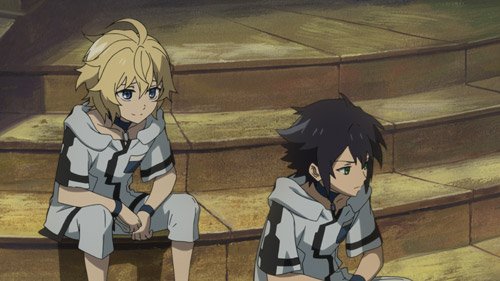 Four years later, Yu is trying to keep his promise as a member of the Japanese Imperial Demon Army's renowned vampire extermination unit, the Moon Demon Company. However, a familiar face is now standing behind enemy lines – Mikaela Hyakuya.
Being an adaptation of a manga serialised in Weekly Shonen Jump's sister magazine Jump SQ, perhaps it comes as no surprise that the story can sometimes leave the viewer with a sense of déjà vu as certain plot threads and relationship dynamics feel oddly familiar to anyone already invested in the medium, with fate pitting childhood friends on opposing sides of a conflict being a common theme seen in the likes of Mobile Suit Gundam SEED, as well as the dynamic between Yu and his superior Lieutenant Colonel Guren being similar to that of Fullmetal Alchemist's Edward Elric and Roy Mustang, with the two superiors curiously even sharing the same military rank.
The few similarities are only a small part of a larger narrative though; one that successfully brings fear back to the vampire race with its positioning of the oppressors. As the vast majority are depicted as adults in comparison to the human children they rule over and terrorise, this adds an additional sting to scenes of their brutality. This comes to a head with the Battle of Shinjuku, the season's dramatic climax, which throws the young heroes head-first into a conflict that perfectly encapsulates the dread, anticipation and futility you might expect from the front lines. My only real complaint with the narrative is that the duality of Yu and Mikaela being on different sides comes across as forced, as I'm not convinced Mikaela would side with the vampires or believe that Yu is the one being misled, as the vampires don't exactly have a solid track record of honesty and he didn't choose to be turned in the first place.
When I think about Seraph Of The End though, the first image that pops into my head isn't one of Yu cutting down a vampire or an emotionally-charged plot twist, but rather, a smug grin plastered across Sergeant Shinoa Hiragi's face. Her snide and sarcastic remarks bounce wonderfully off Yu, a typical hot-headed protagonist, leading to a number of charmingly comedic interactions. This is true with most of the cast, with most of them being set up to cleverly compliment particular aspects of each other, helping to prop up the Moon Demon Company as a shining beacon of the "family" theme at the core of the series. For example, Yu's encouragement of the timid Yoichi serves as an important early sign that there is a caring person behind the reckless bravado, while Shinoa's thorny relationship with Mitsuba helps bring her down to a level-playing field with the rest of her squad.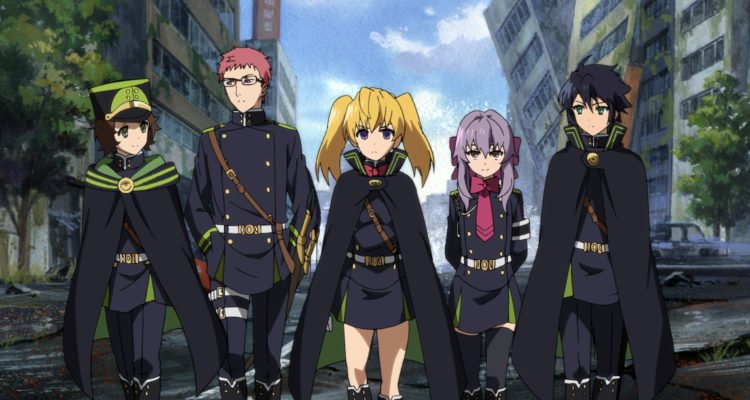 I can't help but admire this series from a design perspective, with the Moon Demon Company's uniform featuring a wonderful mix of green and black that, when combined with hair colours such as Shinoa's purple, creates some beautifully striking imagery. Being from the studio behind Attack On Titan, it should come as a surprise to no one that the series has a high standard of animation, with action sequences being a notable stand-out alongside the incredibly detailed backdrops that breath eerie life into the post-apocalyptic Japan.
While the soundtrack is unremarkable for the most part, praise has to be given to the original Japanese voice cast, with Aoi Yūki's performance of vampire leader Krul Tepes being especially worthy of praise. Hearing a voice more commonly associated with cute and innocent roles taking on a more sinister tone works remarkably well with Krul's slimmer frame, despite vampire rulers having the appearance of prepubescent girls being nothing new in the world of anime (Dance in the Vampire Bund for example). Out of the three other language options in this release (English, French and German), Monica Rial's performance in Funimation's English version comes closest in recreating Krul's cute yet creepy charm. The rest of Funimation's dub falls below expectations however, with frequent awkward pronunciations of Japanese names and many characters coming across as being miscast, with Dave Trosko (Guren) and Ian Sinclair (Kimizaki) being particularly notable examples, as they both sound better suited for the other's roles. In contrast, the two European dubs have firmer handles on the Japanese pronunciation and stronger casting, with the German dub being a particular favourite of mine (although Ferid saying "Ooo-la-la!" in French cannot be missed!). The five subtitle languages using the same tracks regardless of audio option may be irksome to some, but I think we can forgive the lack of 20 different subtitle sets.
The real magic of this release however, lies in its presentation. Being the first anime release from Universal UK, there was a lot of anticipation and apprehension around this title, but I'm happy to confirm that not only is the Collector's Edition set exceptionally high quality, but it currently offers the best value for money in the UK industry. The presentation box is solid, sturdy and to the delight of some – completely free of logos, with the blurb and rating information being kept to an outer paper insert. The soft touch finish on the art book feels wonderful on my fingers; like a smooth rubber despite being paper!
The sheer amount of content within the Visual Guide is astounding: concept art, extensive interviews and character biographies spread across a whopping 129 pages, meaning there's a lot of material to read through! I thought the inclusion of four Top Trumps-style cards was a really cute idea; I hope enough of these are produced to make an entire deck some day! The other physical extras, the poster and art cards, are really well made too.
There have been concerns about the box being top-loading, meaning contents is pulled out from the top of the box as opposed to the side, but I personally have no issue with this – in fact, the landscape orientation of the Visual Guide and the digi-book justifies it in my opinion. I wouldn't mind if the box was a tiny bit taller though, as I do worry about the digi-book's cardboard spine potentially beingcrushed.
Very few distributors within the anime industry have had as good a start as Universal, offering a fun action series in a package rivalling even premium releases for a fraction of the price (£39.99 on Amazon at time of writing). I really hope this series performs well for them, as I definitely would like to see more releases like this in the future!