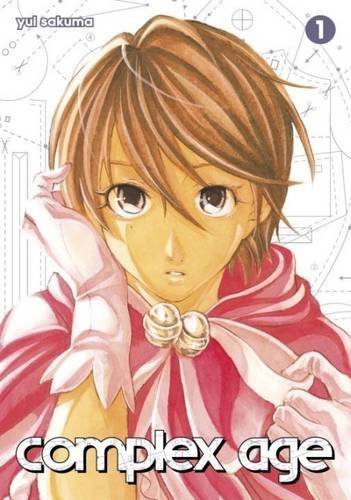 Despite being someone who doesn't cosplay at all, it's a hobby that I have a lot of respect for. All of the time, effort and money that people pour into making these costumes in order to become their favourite characters is certainly interesting to me, but not a lot of media seems to tell stories about cosplayers (that I've personally seen, anyway). So, perhaps to right that problem, we have Complex Age by Yui Sakuma, which gives a realistic and down to earth look at what it means to balance being a cosplayer and an ordinary adult life.
Our story revolves around Nagisa Kataura, a 26 year old office worker who loves cosplaying in her spare time but chooses to keep it secret from her parents and coworkers. The synopsis on the back of the book implies that the story is about Nagisa deciding "what's more important to her, cosplay or being 'normal'?", but that isn't really correct for the first volume. The first five chapters of the volume (there are six chapters in total) focus on Nagisa dealing with her low self-esteem after meeting someone who can cosplay her favourite character far better than she can.

Nagisa loves cosplaying as Ururu from the fictional Magical Riding Hood Ururu anime series, which is supposedly a massive hit with females. She is a bit of a expert when it comes to all things cosplay and can sew up her costumes extremely quickly, never even dreaming of compromising on quality, but unfortunately this leaves her with a somewhat judgemental personality towards the hobby – especially when she sees other fans dressed as Ururu at conventions. When Nagisa makes a snide comment at some fellow Magical Riding Hood Ururu fans about how cosplay isn't just a game and then walks away from a group photo opportunity, Nagisa's friend Kimiko gets frustrated and orders Nagisa to create a costume for someone else as means of forgiveness for her rude behavior. When Nagisa is later properly introduced to the person she's been working on the costume for, Aya, Nagisa begins to understand that cosplaying isn't just about being able to copy the character perfectly.

In the final chapter of the volume Aya, who has become good friends with Nagisa and Kimiko, asks why Nagisa keeps her cosplaying a secret from her family and workmates. It's here that the story feels like it's finally coming into what it should have been from the start, but it's cut short by the end of the volume. Now I feel like I've been left hanging for the next installment. That's not to say the arc we started with was a bad one, because it wasn't and I really enjoyed it, but it's obviously not as important as what's to come next and that's a shame.

Story aside, what's on show in this first volume is well done. Mangaka Yui Sakuma captures the feeling of conventions, cosplayers, and the general mindset of those who like anime and manga very well (with a nice amount of comedy slipped in). Nagisa and her friends are genuinely nice characters and very relatable, especially in one scene where Nagisa is working out if she can afford to attend to an event and is subtracting the costs of the new anime boxset she wants, costume materials, and the general cost of living. This is not a cheap hobby to have and I definitely fall into the pitfall of being distracted by shiny collector's editions like poor Nagisa! I feel that Sakuma has worked hard at the little things to create a series that could be rather special.

This volume of Complex Age opens with some colour pages which quickly warm you to the art. Sakuma has gone for a pastel inspired style that looks really nice in colour, and throughout the book the artwork continues to captivate. The shading has been handled extremely well and adds a lot of detail to every panel. The end of the book is filled with designs and info for characters from Magical Riding Hood Ururu, which brings the series to life and helps connect us with the show that Nagisa loves so deeply.

Publisher Kodansha Comics have done a wonderful job with the release, which is bigger than your average volume of manga in both width and height. The extra space helps to emphasize the artwork. My best comparison for its size, that I own, is Viz Media's release of the Tokyo Ghoul manga, which looks to be the same when I held them together. The Wolf Children manga from Yen Press matches up pretty closely as well. For those of you who may be unfamiliar with cosplay and the many different terms associated with it, Kodansha have put together a "Cospedia" in the back of the book alongside their usual translation notes. Between the Cospedia and the translation notes I never found myself lost with the many new terms, so hats off to Kodansha for a job well done there. This volume of Complex Age also comes with the original one-shot for the series which tells a similar (but very different) story to what we now have, so it's well worth a read.

Overall I've come away from Complex Age rather impressed. The story has been well thought out and approached respectfully, and the artwork is simply wonderful to look over. Cosplay is a subject that generally isn't covered that well, at least not as a main subject matter, so it'll be interesting to see where the story is taken from here. My only issue is that the story we're led to believe we're getting doesn't even begin until the end of the volume. That said, I'm more than happy to stick around for what's to come and I'm willing to bet almost everyone else will be too. Highly recommended!
Score: 8/10
Manga Quick Information:
Title: Complex Age
Original vintage: 2014
Mangaka: Yui Sakuma
Published by: Kodansha Comics
Genre: Drama, Slice of Life, Seinen
Length (page count): 208