Complex Age Volume 4 Review
Demelza
•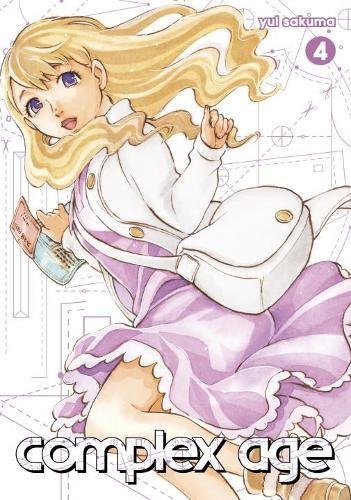 "It's probably not true for everything, but sometimes there are things about your hobby that just aren't as fun." – Shiho, Complex Age volume 4


It has been awhile since I reviewed the first volume of Complex Age. Back then I was really pleased with what the series was trying to portray but I didn't think I'd have enough to say on Complex Age to warrant further reviews. However, volume 4 has left me with the urge to talk about just how special this manga is and why the problems it's dealing with this time around are so important.
This review contains spoilers for Complex Age volumes 1 to 4, so if you hadn't heard of the series before now then check out my first review here.

Volume 4 of Complex Age starts off with Nagisa dealing with struggles within her current relationship (which began in Volume 3). She begins debating if the partnership and cosplay can ever safely coexist after her partner becomes jealous of the pictures of her posted on the internet. However, this isn't where the volume really shines, as the latter half of the book tells a much more interesting tale (for me anyway).

About a quarter of the way through the book, a new character is introduced, known as Riu, who Nagisa previously talked down to at a convention by telling her that she hadn't put enough effort into her cosplay (this happens in Volume 1). It turns out that Riu has been working hard since that conflict to become better at creating her costumes and wishes to be involved with Nagisa and her group of friends. Everything seems fine on the surface and Nagisa invites Riu to a photo shoot with her group, but afterwards one of Nagisa's friends, Aya, runs into some trouble online where photos of her are receiving nasty anonymous comments. When Nagisa and another of her friends, Shiho, get involved they quickly discover that Riu may not be all that she seems…

I picked the opening quote for this article because I truly believe it's true to life. Every hobby has its ups and down, and one negative within the world of cosplay is attracting hate online. Of course hate messages aren't limited to cosplay, and as a writer in this day and age it's easy for people to single you out for no particular reason and have a laugh at your expense or send you hurtful messages (I've certainly been a victim of it). It's a very real and important issue that I'm glad Complex Age dealt with in a realistic way. Not only did the series perfectly convey Aya's thoughts and emotions as the victim, it also provides the perspective of a bully and why they picked out Aya.

Throughout its run Complex Age has never shied away from dealing with hard, genuine issues that young adults deal with and this volume just reinforces that. It's something I really respect mangaka Yui Sakuma for because they've created a series that offers something different in the manga market that nothing else caters to. I also like that many of the issues we deal with, including the bullying in this volume, generally isn't limited strictly to cosplay: much of it reflects anime/manga fans on the whole and can even stretch into other hobbies. This makes Complex Age easier to recommend because, provided you have the slightest interest in cosplay, the characters and story will carry you through the rest of it.

It has to be said that the artwork for Complex Age also remains a strong point with Yui Sakuma and showcases that she has a good grasp of how cosplay is put together and how the clothes should fit on a woman. Panels are well detailed throughout and the soft, rounded faces of the cast are always very welcoming to see as a reader. It's not hard to slip into the series from volume to volume and feel right at home, despite there being months between releases.

Overall this volume of Complex Age is one of the best yet. It's highly emotional but deals with issues that a lot of media shies away from. With a cliffhanger at the end of the book,I find myself hooked yet again and eagerly awaiting Volume 5. I always pegged Complex Age as a strong series, but I think this volume brings the manga to the point of being something truly special that I'd highly recommend to everyone.