Naru Sekiya is a terminally average 14 year old, with average intelligence, athleticism and talents. She had hoped everything would change when she started middle school, and her life would start to reflect the fairy tales she had grown to love, but that couldn't be further from the truth. Her average life suddenly changes, however, when she has a chance encounter with a mysterious blonde girl dancing on top of a shrine gate. Naru assumes this girl is a fairy, but it turns out she is Hana, a regular girl and a transfer student from America, who has fallen in love with Yosakoi, a type of dance, and intends to start her own club!
Adapted from the ongoing manga series by Sou Hamayumiba, HaNaYaMaTa is a Slice of Life anime from Madhouse, the studio behind such mega popular hits as No Game No Life and Death Note. Despite its modest popularity, I'd have to say that this show simply has to be one of the finest examples of a Slice of Life show I've ever seen.
If I had to describe HaNaYaMaTa in a single word, it would definitely be charming. The show just oozes charm from every facet of its production, from the cast of characters to the music, but where you'll notice it almost instantly is in its art style and animation. Madhouse is one of my absolute favourite animation studios, not only due to the consistent quality of their output but because of the sheer variety of genres they tackle. Whether it be a gritty crime thriller like Monster, an over-the-top comedy like One Punch Man, or a long-running shounen like Hunter x Hunter, Madhouse is a studio which absolutely refuses to be pigeonholed, and manages to knock it out of the park no matter what kind of show they're making, a trend which continues with HaNaYaMaTa. From beginning to end, the show looks absolutely gorgeous, and demands to be seen in high definition. I'd also be remiss if I didn't mention the fairly unique but still cute character designs by Atsuko Watanabe, which help HaNaYaMaTa stand out from its peers.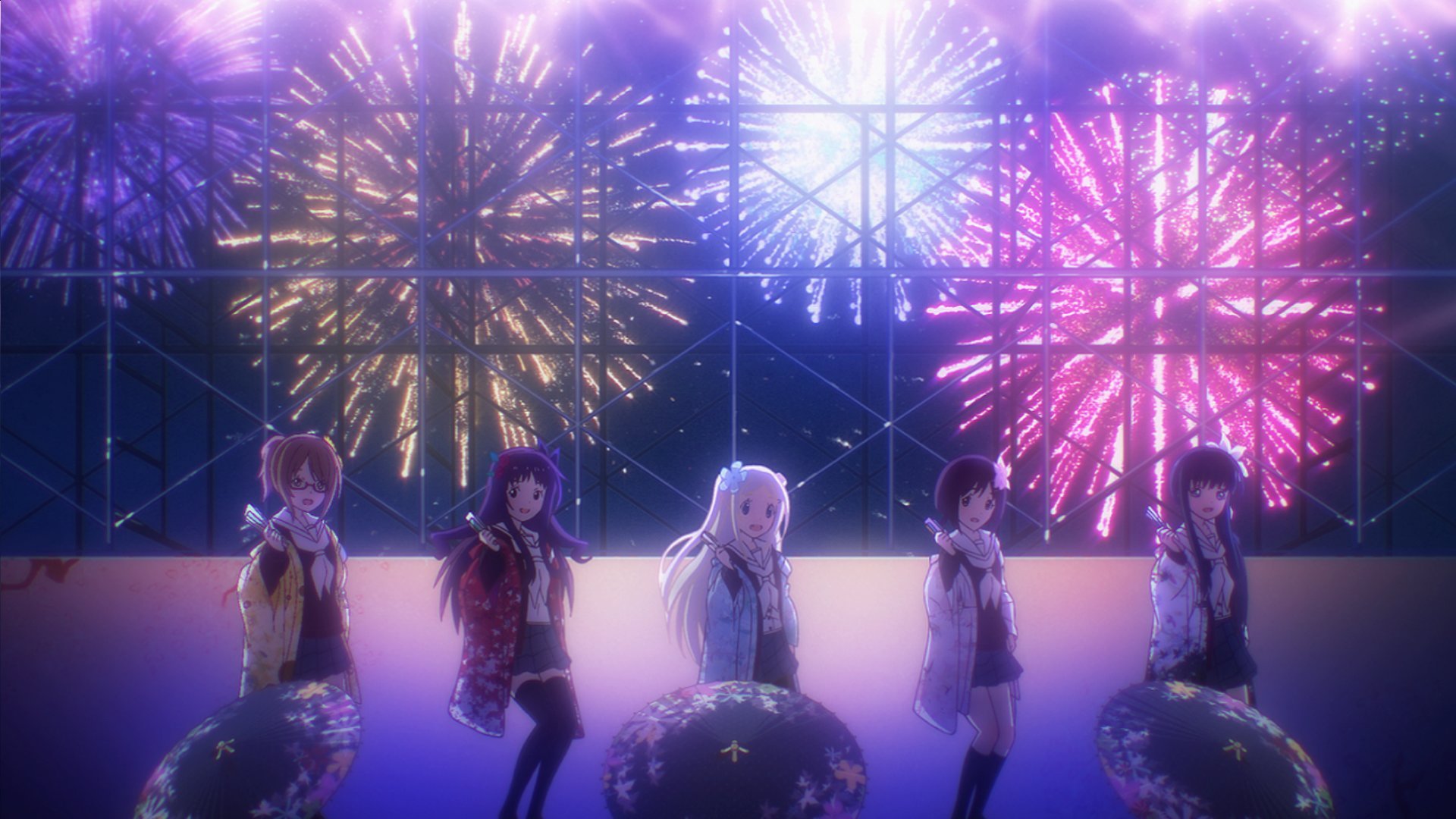 Whilst it looks brilliant, the animation is far from the only fantastic thing about HaNaYaMaTa, with it having one of the best cast of characters I have seen in a Slice of Life show for a very long time. With the majority of school club shows, the characters can come off as rather one-note, and can be lacking the depth found in more plot-driven shows. For the most part, I don't really have a problem with this, seeing as the focus of a lot of these shows is often the comedy and the chemistry of the characters. Despite this, however, writer Reiko Yoshida, the scriptwriter behind several episodes of one of my all-time favourite series, K-On, as well as K-On The Movie, Girls Und Panzer and Non Non Biyori, does away with Slice of Life norms, devoting a hefty chunk of the running time to fleshing out the rather small cast of characters and giving them all personal conflicts that they work through over the course of series. Whilst the central conflict is about Naru trying to find a sense of self-worth, the show devotes episodes to developing the other characters too, and covers a variety of issues such as parental relationship issues and jealousy, and it makes the characters feel so much more real, relatable and ultimately more likable. It's also through these developed characters that the friendship between everyone in the Yosakoi club also feels much more natural, with everyone relying on each other in their times of need. If I did have one complaint, it's that Machi, the last girl to join the club, joins a little bit later than I'd have liked. By the time she appears, there are only a handful of episodes left, and it didn't feel like she spent enough time with the group.
Despite the fact that it does deal with some fairly serious issues with its characters, that doesn't stop HaNaYaMaTa from being an incredibly cheerful and happy show, that never failed to make me smile. Whilst this is due in part to some very well done comedy moments that got a good amount of laughs out of me throughout, mostly because of Hana and her boundless energy, it also has this unfathomable quality to it, that just made me feel overwhelmingly happy. I know it sounds silly, but I couldn't help but sit there with a huge grin on my face throughout the majority of the show, and that's something truly special.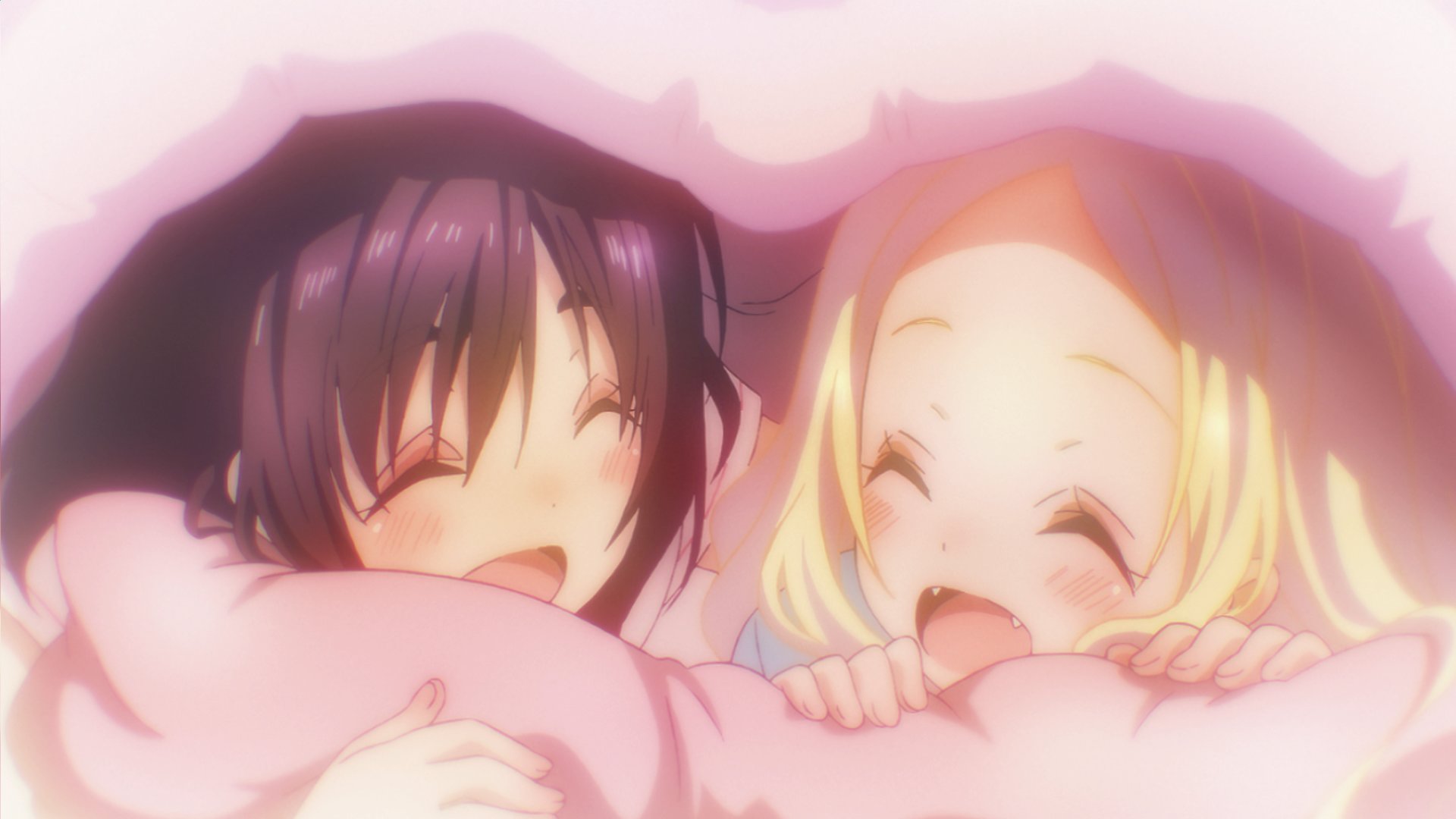 Manga's release of HaNaYaMaTa includes both an English dub as well as the original Japanese audio. Whilst I think the cast do a serviceable job, I found the dub to be a little bit subpar. There are some good performances to be found here such as Luci Christian as Hana (Azumanga Daioh, Is This a Zombie?, Clannad) and Molly Searcy as Sari (Fate/Kaleid liner Prisma Illya, Girls Und Panzer, Brynhildr in the Darkness) but it is let down by some occasionally wooden voice acting. Whilst I don't think it's awful, and should be enough to please people who prefer dubs, I think I'd recommend the Japanese voice track. The original soundtrack is composed by monaca, who has also provided music for shows such as Wake Up Girls and My Teen Romantic Comedy Snafu,  and who has created a superb score that complements the show well. The opening is "Hanaha Odori Reya Iroha ni Ho" by Team HaNaYaMaTa, a group consisting of the seiyuus of the main cast, and is honestly one of the best openings that I've heard in a long time, being relentlessly catchy and will be lodged in my head for weeks to come.
In terms of special features, this release is pretty standard, including a clean OP and ED as well as trailers for other Sentai Filmworks releases.
In Summary
HaNaYaMaTa is wonderful in every meaning of the word, having an excellent cast and beautiful animation, which makes it an absolute must for any Slice of Life fan, and, even if you're not, is still well worth checking out.