Ping Pong: The Animation Review
Ian Wolf
•
"Table tennis is like an atom. To the ignorant it is merely microscopic and insignificant in existence, but to the dedicated, it is intricate in design and the building block to everything we know." – Matt Hetherington
The Rio Olympics is just around the corner, while Tokyo is hosting the games in 2020. Sport is thus on many people's minds so it seems the right time for Anime Limited to release Ping Pong.
Now, as we all know, sports anime these days to tend to attract a certain fan base – namely fujoshi who will try to make the series gay. This is a lot harder to do with Ping Pong, partly because the series has actually been around a lot long than you might expect, way before this fad. Although the anime came out in 2014, the original manga was released in the mid-1990s and there was a live action film released in 2002. Thus, it came out before the "fujoshi sports" series we now know were created. However, even with the challenging artwork, as you watch there is the odd moment where things do turn in that direction.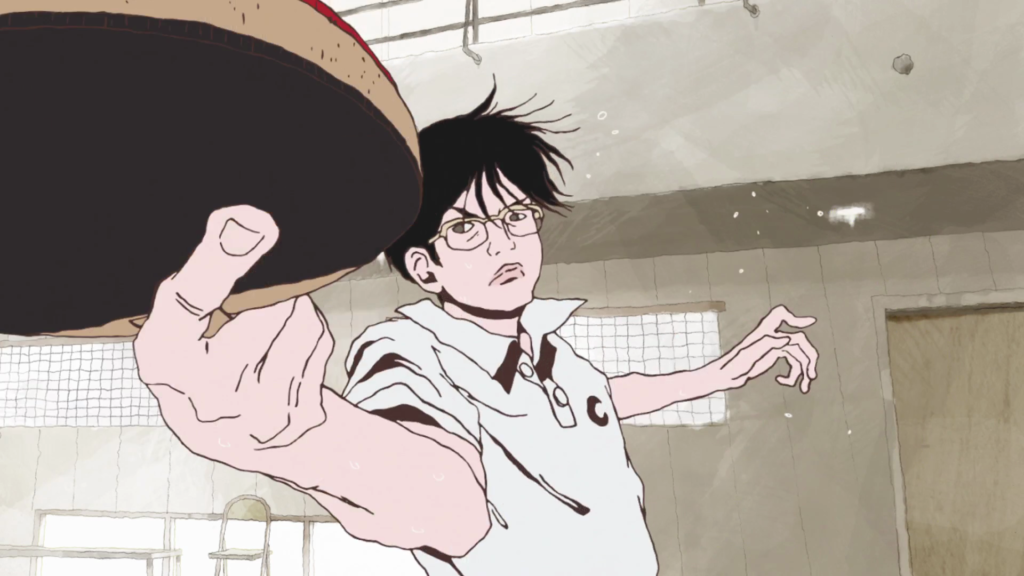 Ping Pong follows two students who became childhood friends after bonding over table tennis, but both have distinctive personalities. One is Makoto Tsukimoto, who is ironically nicknamed Smile because he seems emotionless. As a child he was often bullied and called a robot because of this. His friend is Yutaka Hoshino, nicknamed Peco, who is loud, joyful and something of a glutton. Together they play for the same school club.
The boys then learn that a nearby school has brought in a Chinese player named Kong Wenge, a transfer student booted from the national team and desperate to return. Smile and Peco visit his school and meet him, where Kong plays and thrashes Peco to love, giving Peco's confidence a knock. Meanwhile back at the club, the coach Jo Koizumi sees that Smile has great talent but lacks the drive to win. Thus Koizumi begins to train Smile personally.
They then take part in a major tournament, alongside Wong and the members of the elite Kaio school. These include Ryuichi "Dragon" Kazama, the greatest player around, and Manabu "Demon" Akuma, a childhood rival of Peco's. In the tournament things begin to flesh out: Smile loses to Wong, but Smile's potential as a robotic, ping pong winning machine is visible to Koizumi. Peco's defeat to Akuma is so shocking to him that he loses interest in the sport and starts to slack off.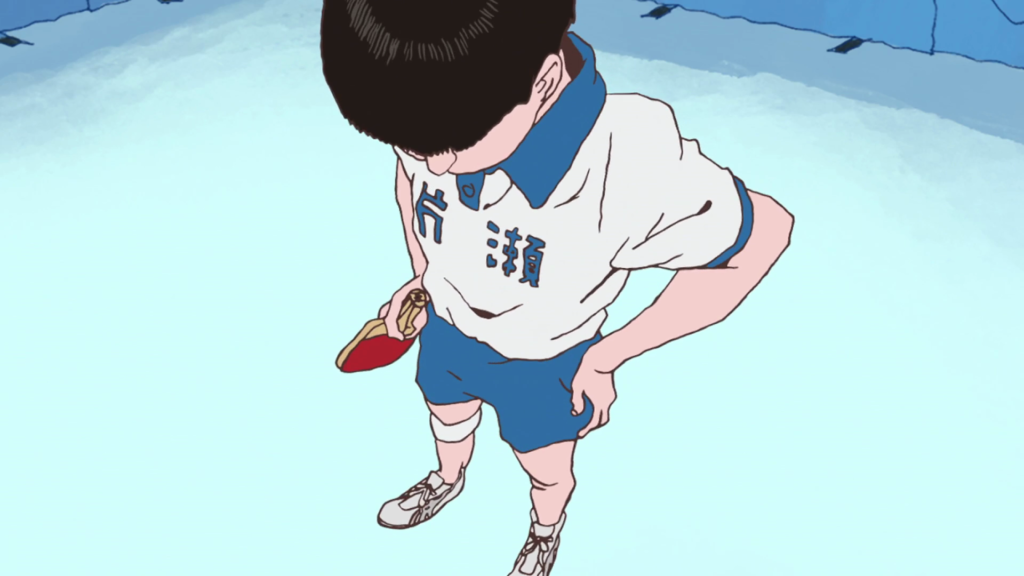 As the story continues, we witness Smile's training becoming more intense, slowly becoming seemingly unstoppable to those around him. Meanwhile Peco undergoes a great decline, one that almost kills him, before trying to redeem himself by attempting to train again at the possible cost of his health.
Let's start by looking at the most obvious way this show stands out from the crowd: the artwork. If you are coming into this series expecting to see the usual pretty bishonen boys, you can forget it. Ping Pong's animation is a lot rougher, harsher, manlier and aggressive. There are no cute curves, but instead it features sketchy lines. The ping pong balls are not drawn as perfect circles, but are either rather roughly drawn, bit-by-bit, or are computer-animated as perfect spheres. When you compare it to not just other sports anime but anime in general, it stands out. The animation looks a lot more expressive. It looks as if it has been done by someone who is saying to themselves: "It doesn't need to look pretty – you just need passion." We all like animation that looks neat, but something different is needed to stir things up a bit.
There is also evidence of this in the opening and closing sequences. The opening titles, which feature the loud, rocky "Tada Hitori" by Bakudan Johnny, features a range of animation styles in it. Some look relatively normal, but others look like they have been done in pencil. The end sequence, featuring the calmer music of Merengue's "Bokura ni Tsuite", features more pastel colours.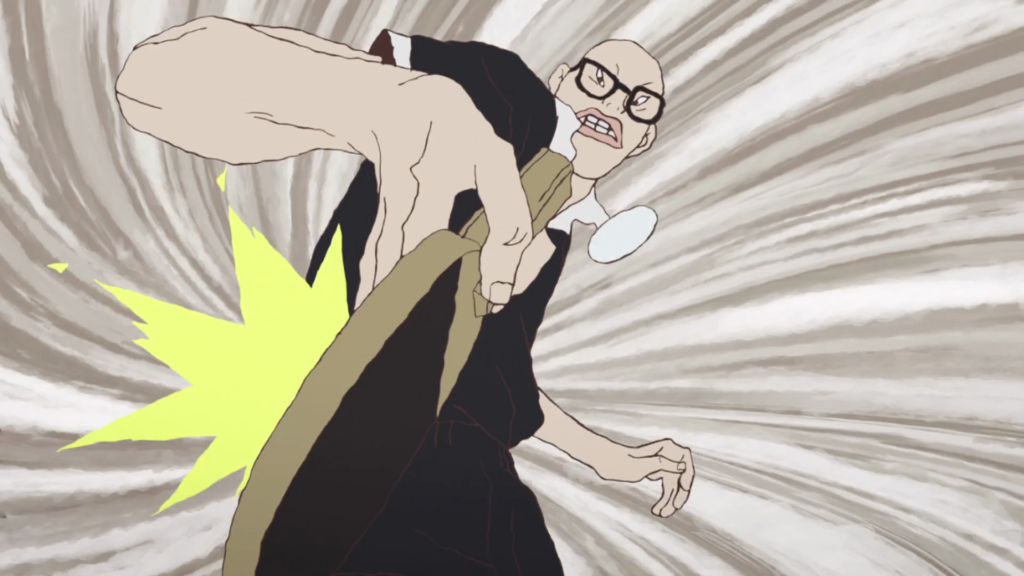 If you are someone who is into the more fujoshi side of things though, there are some moments that still might attract you. There are little elements that still might suggest, even though there was no clear market at the time of its original creation, a slight whiff of the homoerotic. For starters, there are very few women in the series. The main female characters are the elderly Obaba, who runs the table tennis dojo where Peco first played Smile and who later trains Peco after his decline; and Yurie, who is in a troublesome relationship with Kazama. Also, there is an episode on Valentine's Day where Smile is out doing his normal training, when Koizumi jokingly says that Smile should be his Valentine's Day date. OK, the age gap is way too big so it feels totally dodgy, but there is a little bit of something there.
This collection has plenty of extras: two episode commentaries, episode previews, various Japanese and American trailers, textless opening and closing, TV shorts and promotional videos are included.
Ping Pong is a series that stands out from the crowd. It certainly deserves to be watched simply because it does something different.