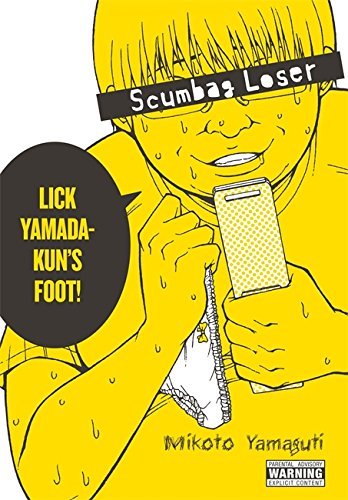 SAITEIHEN NO OTOKO -Scumbag Loser- vols 1, 2, 3 © 2012, 2013 Mikoto Yamaguti / SQUARE ENIX CO., LTD.
"Employee of the month is a good example of how somebody can be both a winner and a loser at the same time." – Demetri Martin
Released as a single omnibus edition, horror manga Scumbag Loser is a series that seems hard to appreciate. Maybe this is the reason why Yen have released it as one large book rather than three separate volumes, because the overall feeling reading it is that if the volumes were individually released the chances of stopping after the first volume would be much greater.
Perhaps one issue it is has is the unappealing central character, the "scumbag loser" in question. Masahiko Murai is a high school student who is pretty lower down in terms of popularity in his class. The only positive quality he seems to have is that he has a very good sense of smell, but this is outweighed by the fact that the smells he likes are usually unappealing. For example, the first thing he is seen smelling is a pair of girl's knickers.
Murai is also obsessed with people he considers to be losers and trying to prove that is above what he calls the "biggest losers". In his class the biggest loser is the ugly and smelly Yamada, but things then suddenly change when Yamada announces that he has a girlfriend, which in Murai's mind means that he is now the biggest loser, something that he cannot handle. Thus, he falsely claims to have a long-distance girlfriend, and picks the name Haruka Mizusawa, a girl he knew five years ago. But then, to his horror, he finds that Haruka Mizusawa has transferred to his class – and she does indeed claim that Murai is her boyfriend, completely unprompted. The reason why Murai is filled with horror? Mizusawa died five years ago.
After school, Murai and Mizusawa meet up. Murai asks Mizusawa to actually be his girlfriend, and promises that he will do anything to keep the relationship going. Mizusawa, who appears to have a sadistic streak complete with a menacing grin, demands that from now on she wants Murai to introduce her to the "biggest losers" that he knows every Wednesday. This then begins to snowball, partly because of Mizusawa's disturbing personality, but also because the personalities of everyone in Murai's class, as well as those of his family, start to change dramatically.
As stated, it is a hard manga to like, primarily because the characters are relatively unappealing. The manga is called Scumbag Loser for good reason. Murai is unpleasant and unattractive, while Mizusawa is manipulative. However, as a horror manga, unpleasantness is what you should expect. The best character in my view comes later on in the story. Yumi Ookura is a wannabe pop idol who auditions for an idol group whose manager wants unappealing members. In the case of Ookura, it's that she has no social skills. She too also becomes obsessed with Mizusawa, who also auditions for the group.
However, there are some positives to this series, the main one being the artwork. Mikoto Yamaguti's art is suitably creepy, especially when it comes to drawing Mizusawa's toothy grin. It kind of puts you in mind of the Titans in Attack on Titan, in that you can almost envision her eating those she torments. Plus, this smile starts to spread towards other people, making it even creepier in its sudden uniformity.
Having said this though, sometimes the artwork is not so great. The "Mature" rating of Scumbag Loser mainly comes from the violence as there is a fair amount of blood spilt in this manga. Whenever there is nudity or a sex scene, what are seen as the rudest parts (i.e. the groins and the nipples) are always obscured – sometimes in odd ways. For example, there is a scene where Mizusawa and Ookura's idol group entertain some fans sexually, so they have their buttoned-up shirts unfastened and opened so you can see part of their breasts, but not fully so the nipples are covered. However, at some angles it feels like the shirt is covering so little that you feel that the nipples are almost on the sides of the boobs rather than on the front.
Scumbag Loser is a hard manga to get through: the length, the characters, the plot make it a bit of a slog. The artwork in some areas does make it enjoyable, but sometimes when you are reading through the book it feels that it just isn't worth it.