Review of Death Note: Blu-Ray Collection
Ian Wolf
•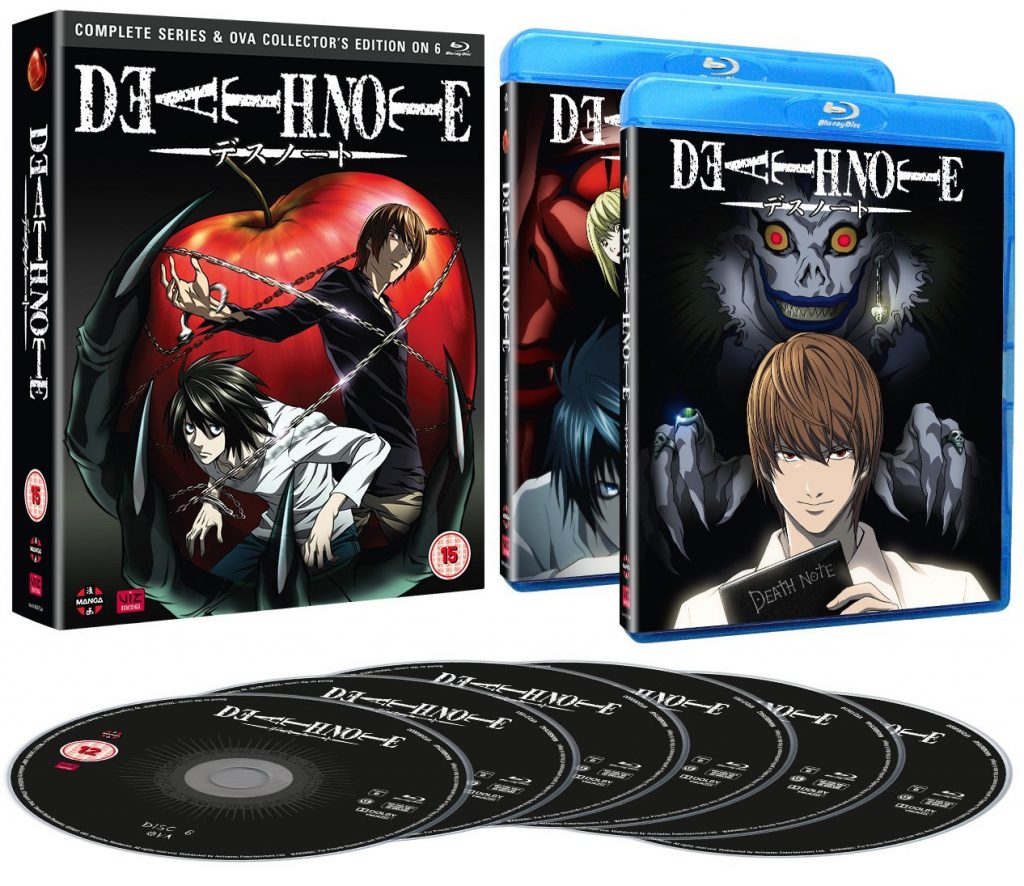 "You must believe in God, despite what the clergy tell you." – Benjamin Jowlett

If Death Note succeeds in at least one thing, it is that it has possibly created the most interesting and intriguing character of all anime. This is a big claim to make, but there are so many ways that you could describe lead character Light Yagami: genius, ruthless, draconian, misguided, charismatic, megalomaniacal, psychopathic, influencer, passionate, deadly and godly. It is hard to think of another anime character so complex that they can be described in so many different ways.
It is also hard to think of a modern anime or manga that has attracted so much controversy. While there are some series that have attracted people's anger because they contain sexual or violent scenes, Death Note has had been through several attempts to ban it in various countries including China and Russia, has been the cause of several school expulsions in America, and was even linked to a real-life murder in Belgium.
The story follows the highly intelligent 17-year-old student Light Yagami, who one day spots a black book falling past his classroom window. After class he finds the book, the "Death Note", and takes it home with him, reading a set of instructions that say:
The human whose name is written in this note shall die.
This note will not take effect unless the writer has the person's face in their mind when writing his/her name. Therefore, people sharing the same name will not be affected.
If the cause of death is written within the next 40 seconds of writing the person's name, it will happen.
If the cause of death is not specified, the person will simply die of a heart attack.
After writing the cause of death, details of the death should be written in the next 6 minutes and 40 seconds.
Light tries the book out and discovers it actually works. After this, he encounters the book's original owner, a Shinigami (death god) called Ryuk, who was bored and thought things would become more interesting if he dropped it in the human world. Light decides what to do with the book: he opts to use it to make the world a better place, by killing wrong-doers. He wants to make the world free of criminals, where only the good can survive in peace. Thus, Light starts to kill as many criminals as he can, and soon ends up being nicknamed "Kira", a Japanese corruption of the English word "Killer".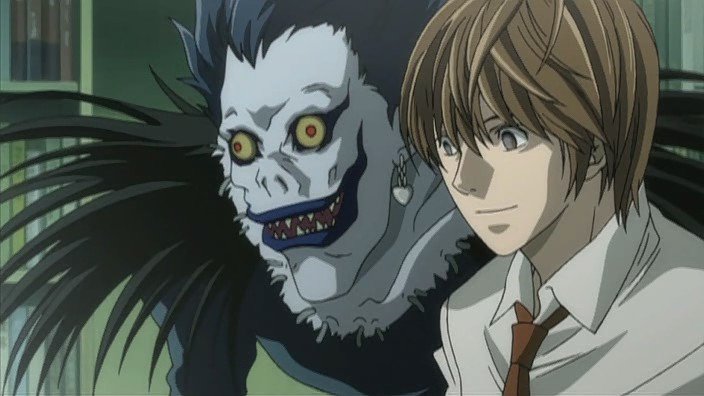 When so many criminals start dying all other the world, Interpol gets into contact with the world's greatest detective, a man simply known as "L". Using a fake video, L is able to track down Kira's location to Kanto, and soon Light ends up in a battle of wits with L, as well as the Japanese police, of which his father happens to be a member.
As the story continues, the battle between Light and L intensifies as the viewer tries to figure out what will happen: will Light be caught, or will he be able to discover L's real name and put in the Death Note? Also, we witness how much Light changes. He starts off a vigilante, and soon ends up becoming almost godlike in his desire and power. Light wants to become the god of this new world, and he is not going to let anyone stop him.
As stated, the main reason for watching Death Note is Light. This is a character that you can look at in so many different ways, and can develop so many different opinions on. One the one hand, he is an egotistical, draconian serial killer with a messiah complex who is responsible for the deaths of millions over his lifetime, and is so ruthless he will stop at nothing to achieve his goals. On the other hand, you could argue that because he is trying to kill bad people the ends justify the means. Over the course of the story, Light's activities cause crime worldwide to drop by 70% and he even manages to bring about world peace. Also, as far as gods go, his abilities seem to be more on show than God's. Then again, you can argue that while Light is in a way well-intentioned, he is corrupted by his powers and misguided by his own ideas.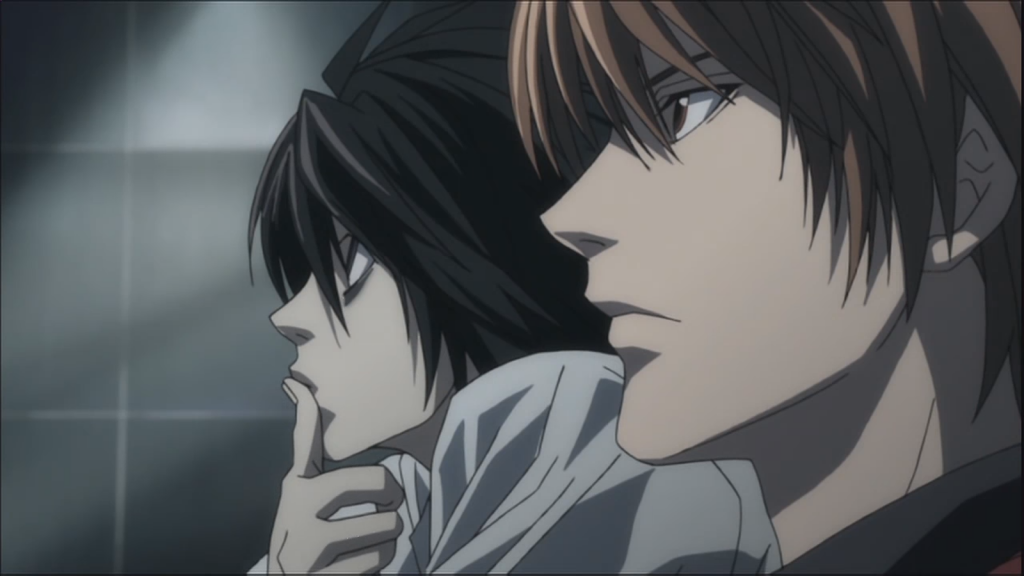 This is also why I think that Light is charismatic. Draco, the ancient Greek lawgiver from whom we get the word "draconian", was incredibly harsh, executing people for the smallest of offences (e.g., stealing a cabbage), but during his lifetime he was incredibly popular. People threw their coats at him in appreciation – which actually was a mistake because so many people threw their coats that according to legend he suffocated under a massive pile of them.
Similarly, Light gains many followers as Kira, and these are followers that he is able to manipulate to his advantage. In this modern age of "post-truth" politics, it seems as if it is those with charisma rather than political know-how who get into power.
This leads us to the storytelling. Original writer Tsugumi Ohba, along with artist Takeshi Obata, are able to do something remarkable: they are able to take Light Yagami, who is the biggest murderer in possibly all anime, and make him likeable. You sympathise with his cause, because his cause is ultimately to make the world a better place by getting rid of people who are awful, even though the thing he is doing is awful too. Ultimately, there is that bit of us that is a bit like Light, in that at some point just about everyone, whether as a child or an adult, has thought of someone particularly bad and hoped they would die. We all know of sci-fi stories about wanting to travel back in time and kill Hitler; we all wanted to get our own back on people who have committed atrocities around the globe; even during the US election, I bet you there were millions of people who looked at Trump and Clinton and thought to themselves: "Wouldn't be brilliant if one or even both of these people just dropped down dead, so that the US can have a leader who is actually good".
If you were to ask me which character in western fiction Light is most similar too, oddly I would go for a sitcom character: Rik Mayall's right-wing MP Alan B'Stard in the satirical sitcom The New Statesmen from the late 1980s and early 1990s. B'Stard, like Light, is horrid in so many ways: corrupt, greedy, power-hungry and bigoted. However, B'Stard is also rather likeable, mainly due to what is seen as a lack of hypocrisy. B'Stard was honest about his views. The character is honest when says things like: "I hate queers almost as much as I hate poor people", or when he once suggested the way to cut NHS waiting lists was to shut down the health service, and he is the only character in all fiction to be proud of the fact he has an incredibly tiny penis and it takes him less than a minute to orgasm.
Again, similarly Light lacks hypocrisy. He obviously has to lie to hide his identity from the police, but as Kira there are no double standards with his brand of justice. If you are suspected of having done something wrong, regardless of your race, gender, sexuality, class or whatever, you are down for the chop. There are those he does keep alive for his own purposes; those people will be due to die later. The main differences between the two characters is that Light is not comedic, but serious in his goals. Also, if B'Stard did exist, his name would no doubt go in Light's book.
Ultimately, it is up to you the viewer as to whether Light is good or not. Is he a brilliant vigilante righting wrongs, or just a murderer? Personally speaking, I would classify him as an antihero. His goal is basically to improve the world by letting the good survive, it's just that his way of achieving his goal is so unforgiving in its scope. As to whether I want him to succeed, shockingly for myself there is a big part of me that says: "yes".
Regarding the rest of this collection, the only extras are two OVA collections which retell the entire series. The quality of the animation is good, there appears to be nothing wrong with the subtitling, and the soundtrack mainly provided by metal acts Nightmare and Maximum the Hormones is great. On the downside, the second half of the series is not as good as the first due to some characters not appearing in it, and depending on whether you are for or against Light, the ending might disappoint you.
If there is any problem with it, it is there could be another Death Note related murder: in the form of a Hollywood adaptation of the series next year, with Nat Wolff playing the role of a character named "Light Turner". Now, I personally don't mind them changing the name of the character and setting the story in the USA. That is no different to taking The Seven Samurai, setting it in the Wild West, and turning it into The Magnificent Seven. Yes, there are always going to be people upset that the cast is not made up of Japanese actors and that there isn't a Japanese actor in the lead, possibly even calling it racist, but by the sound of things, it's at least a bit better than other manga adaptations I can think of. What I'm bothered about is the fact that L is being played by American actor Keith Stanfield when in the story it is made clear that he spent much of his childhood in England, while his assistant Watari is still being played by an Asian actor, Paul Nakauchi. This seems inconsistent. Surely you should change all the characters or none of them.
The big problem however, is that I cannot think of a decent American adaptation of an anime. If this is the first then that would be great, but I doubt it will, and what I suspect will happen is that more American parents will panic about their kids being corrupted.
In the end, the best thing to do is watch this series and decide for yourself, because it is a brilliant story with so much going on around it.