Your Lie in April Part 1 Review
Demelza
•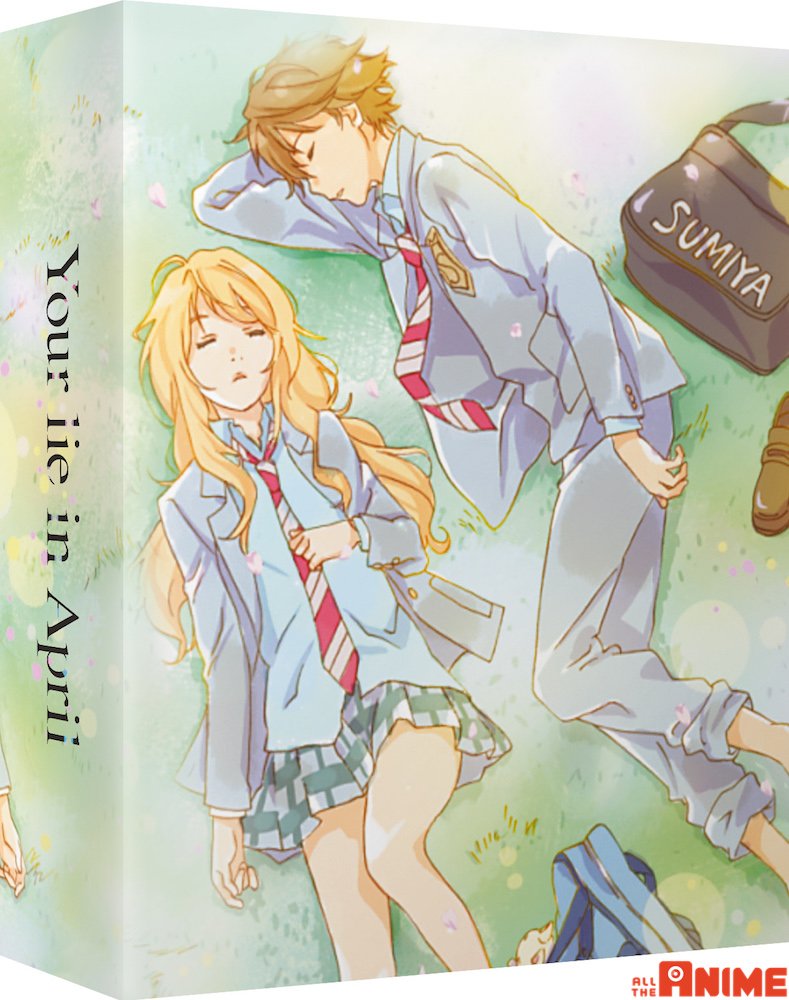 "Just like you said, we might not be able to turn in a performance that we can live with. But we're going to play. So long as we have a chance to play, and an audience that will listen, I'm going to play with everything I've got. So that the people who've heard me will never forget me. So that I can live in their hearts forever. That's my reason for existing. I'm a musician, just like you." – Kaori Miyazono

I always find it difficult to work out how to open my reviews, and this is especially true for a series like Your Lie in April that I'm extremely fond of. It was two years ago now that I watched the first episode on Crunchyroll and instantly fell in love with it. After completing the anime, I quickly decided that the series deserved to be hailed as one of my all time favourite shows. It's a title that I regard highly for various reasons, which I hope to convey to you throughout the course of this review.
Your Lie in April tells the story of Kosei Arima, a former child piano prodigy who, following the death of his mother, retired as a pianist due to becoming unable to hear the piano notes he was playing. It's worth noting that this isn't a physiological disability, it's just limited to his own music. Since leaving the world of music, Kosei has resigned himself to a quiet and almost bleak outlook on life. He feels like he's drifting through his existence without a real purpose in the world.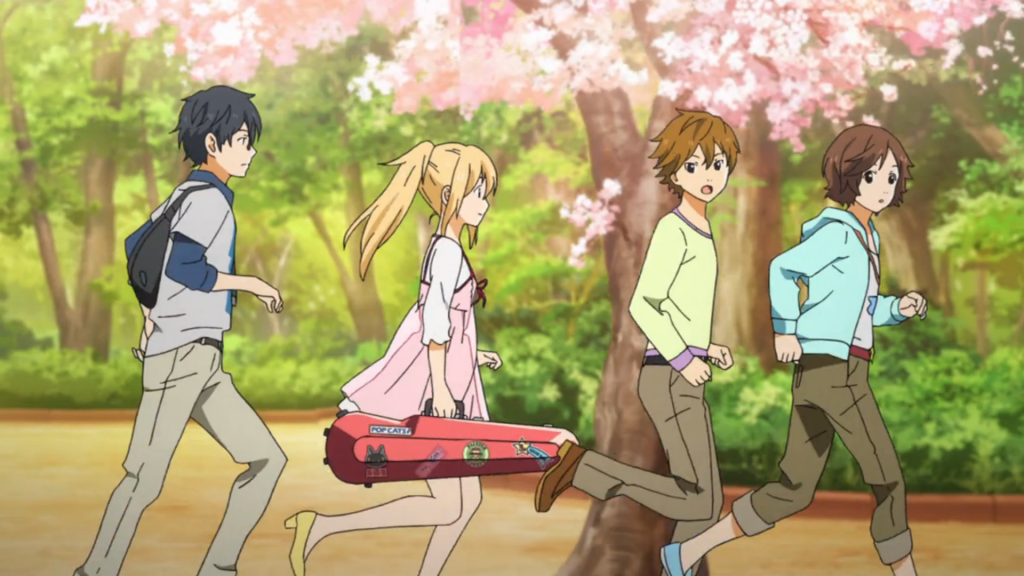 One day Kosei's childhood friend, Tsubaki Sawabe, invites him and Ryota Watari (another close friend of Kosei's) to hang out so that Tsubaki can introduce Watari to a classmate of hers: Kaori Miyazono. The meeting of Kosei and Kaori will change both their fates forever and bring colour back to Kosei's monotone world.

On the day that Kosei meets Kaori, he discovers that she's about to perform in a violin competition! While he's reluctant to attend the recital due to having not set foot inside a concert hall in over two years, he's reluctantly dragged along to the show by Tsubaki and Watari. As Kosei watches Kaori's wild and free-spirited performance he begins to feel inspired by her music. Maybe, just maybe he'll finally try to play the piano once more.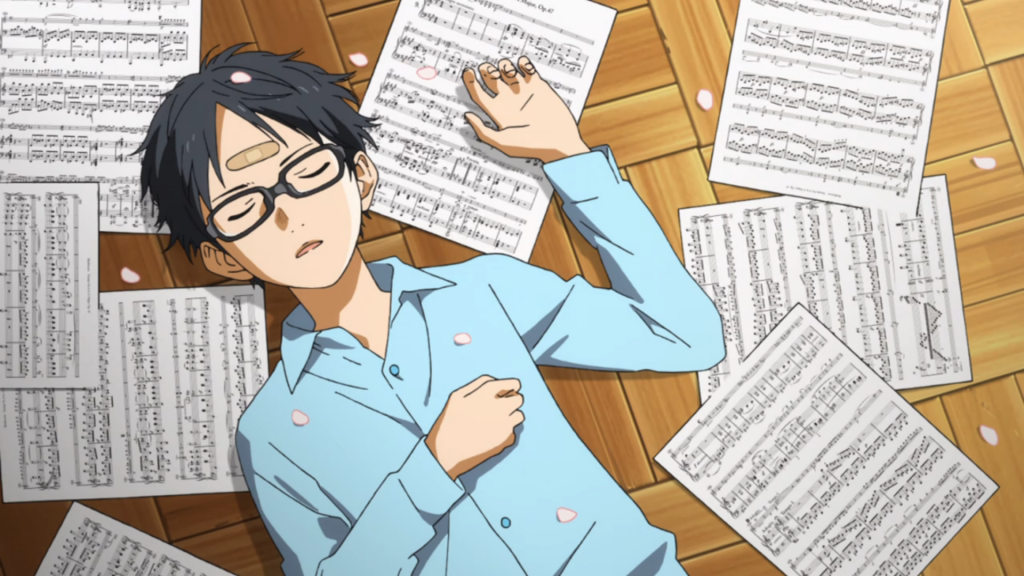 What this anime gives us is not quite the romantically driven plot that's been implied by trailers and the media. In reality, this is a story that explores what it means to be a musician and how music affects us. The very fundamentals of Your Lie in April speak volumes to me because music is incredibly important to me. I picked the quote above to open this article because I think it truly gets to the heart of Your Lie in April better than perhaps I ever could.

Music is a powerful way of conveying stories and emotions. How a song is played comes down to the individual: it can be slowed down, speeded up, or the rhythm and timing can be altered. Even just what that track means to the musician can influence its sound. This is a concept that Your Lie in April explores incredibly well. Kosei was taught by his mother to play a score note for note, never deviating from the original piece. Meanwhile, Kaori has little regard for playing something precisely and would much rather inject her own personality into the score. This makes Kosei question how he was taught and how he himself wants to play music. Musicians are ever evolving, ever improving, and Kaori constantly challenging Kosei's way of playing is very important for his development as a pianist.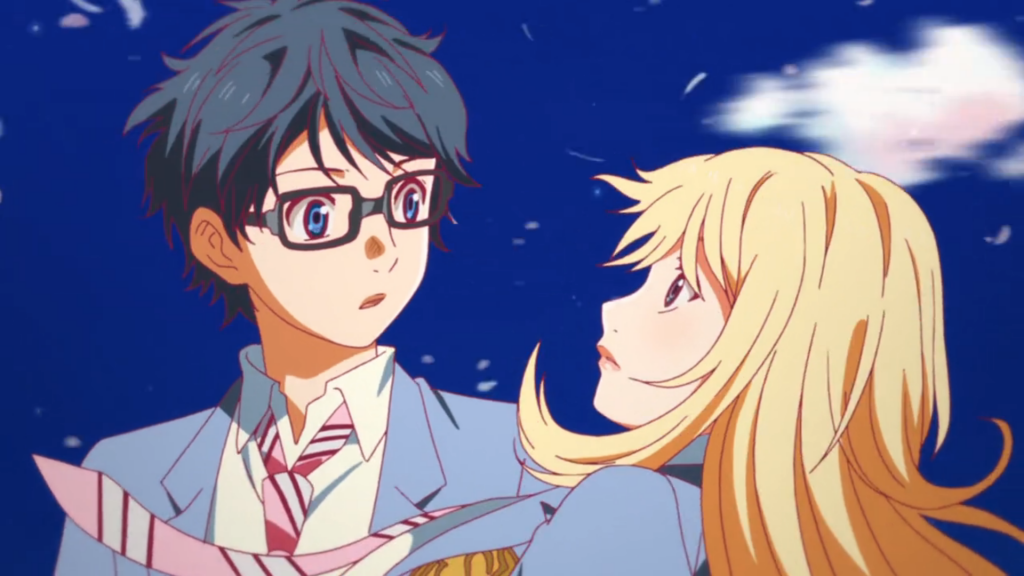 Kaori's central role within the story is to inspire Kosei as a musician. Watari and Tsubaki are both great characters (more on this later), but when all's said and done, they aren't musicians. Only Kaori can truly relate to Kosei's feelings toward music – and vice versa. It's heartwarming to watch as they encourage one another and grow together as performers, which is something that most music-focused anime just does not do. All throughout, Your Lie in April has the the burning desire to inspire, to teach, and to take your breath away.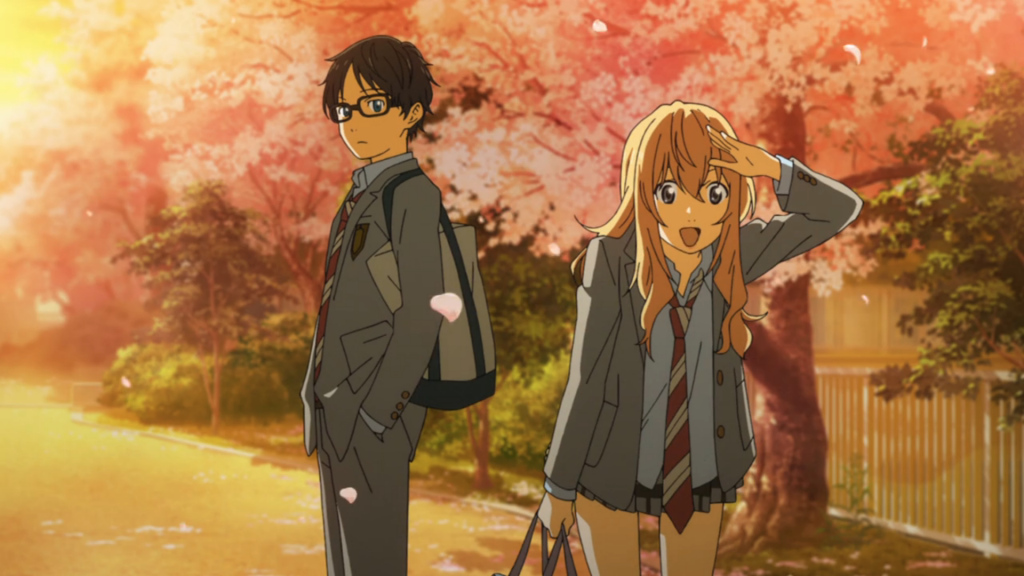 You can't have a strong series without a solid cast and that's what we've been given in this anime. I've already rambled on about Kosei and Kaori quite a bit but let me just say that both characters feel realistic, especially for young teenagers. Kosei is noted to be 14 and presumably Kaori is the same age. I feel this is notable because many anime series focus on older characters and 14-year-olds, especially  when it comes to professional matters such as performing, are rarely given the spotlight – which Your Lie in April offers this cast.
I haven't said much about Watari and Tsubaki but don't worry, these two are full of interesting insights and play supportive roles in Kosei's life. The biggest problem with talking about them is that they don't really come into their own until later in the story. They're both ever-present but don't make a notable impact until nearer the end of this set, when Kaori's presence has begun to infect their lives. Watari and Tsubaki might not play music but that doesn't stop them from being inspired by Kaori and wishing to do their best in life, which just feeds back into my earlier point about how important music truly is.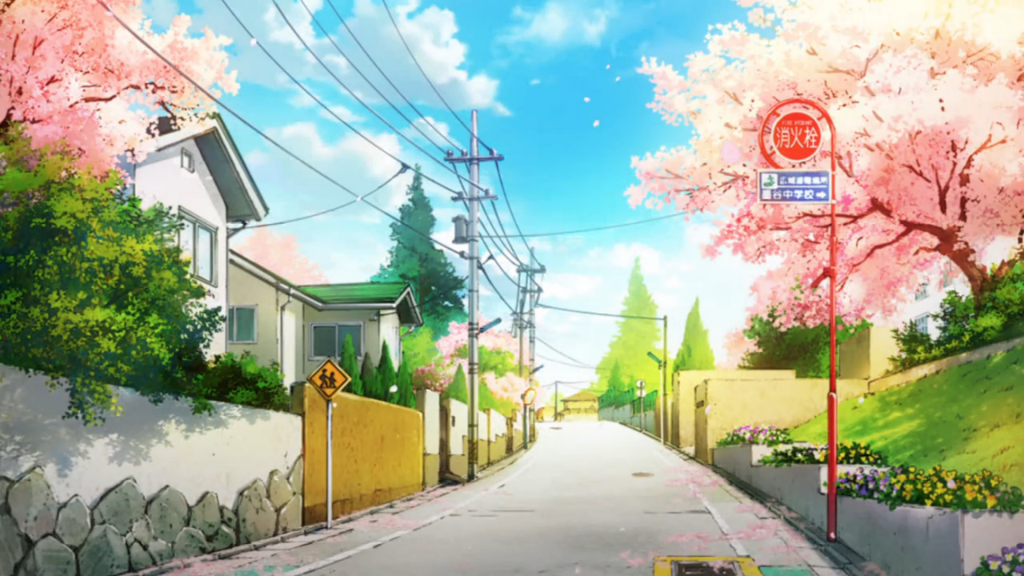 The animation for Your Lie in April has been handled by A-1 Pictures and is simply beautiful. The world is so bright and full of life that it just draws you in until you simply can't look away. Most importantly though, the studio have managed to capture the live musical performances very well and make it look as if the characters are actually playing the violin/piano thanks to some sneaky usage of 3D (which actually fits in for once!). A-1 Pictures have simply excelled in bringing this world together in a way that only their studio really can. Your Lie in April might be a slice-of-life series but it needs the ability to inspire through its animation – and it does just that.

Where music is concerned, the soundtrack has been handled by Masaru Yokoyama, who also provided music for Yamada-kun and the Seven Witches, Plastic Memories, and Rolling Girls. Many of the tracks on offer here are performances of classic Beethoven and Chopin but there is also a hefty amount of original music thrown in too. It has to be said that Yokoyama has worked wonders here and every little note enchanted me while also adding an incredible amount of emotion to every scene. The soundtrack is beautiful and often my first stop when I'm in need of some inspiration! The opening for the series is 'Hikaru Nara' by Goose house, which acts as a very pop-y and upbeat track, while the ending 'Kirameki' by wacci is more reserved but still a very uplifting song. Unfortunately neither tracks had Japanese or translated lyrics on offer in this release, so I'm left in the dark as to what the two songs are about.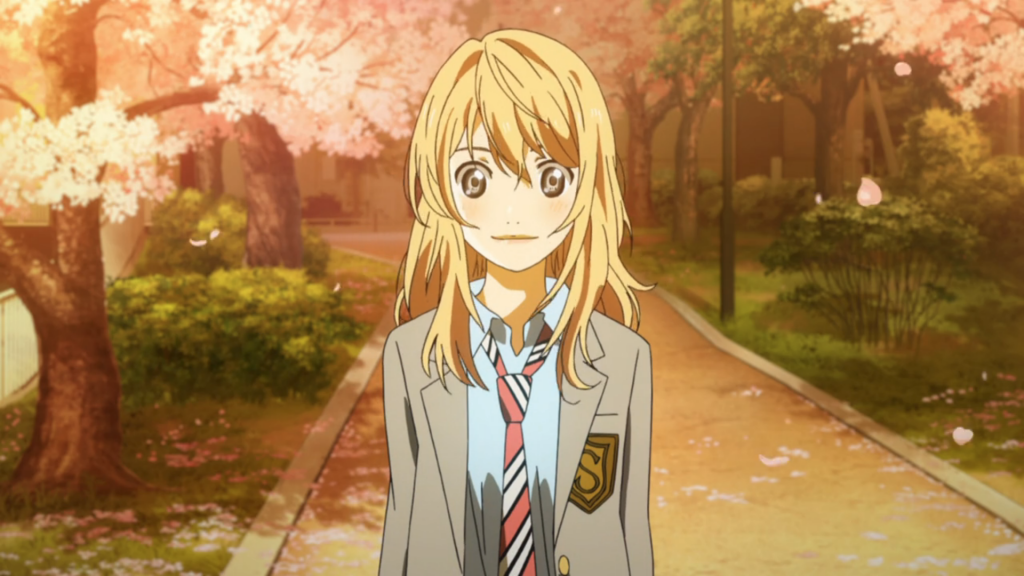 The voice actors have also done a good job here, but my personal favourite is Natsuki Hanae (Ken Kaneki in Tokyo Ghoul, Inaho Kaizuka in Aldnoah.Zero and Taichi Yagami in Digimon Adventure tri.), who plays Kosei, because he's quite quiet and reserved but also so full of confidence when Kosei needs it most. This is a role that Hanae voiced really well. My second favourite after Hanae is Risa Taneda (Rory Mercury in Gate, Erina Nakiri in Food Wars, Mirai Kuriyama in Beyond the Boundary), who plays Kaori, because she handles Kaori with a lot of fun and enthusiasm. The whole cast are just bursting with childish optimism and confidence. They sound great!

This release also has an English dub on offer and I wish I had as many nice things to say about it as I do about the Japanese language track, but sadly I don't. The best of the cast is Erica Lindbeck (Yuki Kaizuka in Aldnoah.Zero, Jericho in The Seven Deadly Sins), who plays Kaori, because she voices her character very well. On the other hand, Matt Mittelman (Hikari Sakishima in A Lull in the Sea, Saitama in One-Punch Man), who plays Kosei, just sounds incredibly bored and his voice doesn't fit a 14-year-old character. Because there was no emotion in his performance I didn't feel anything for Kosei as a character and that brought the whole thing down.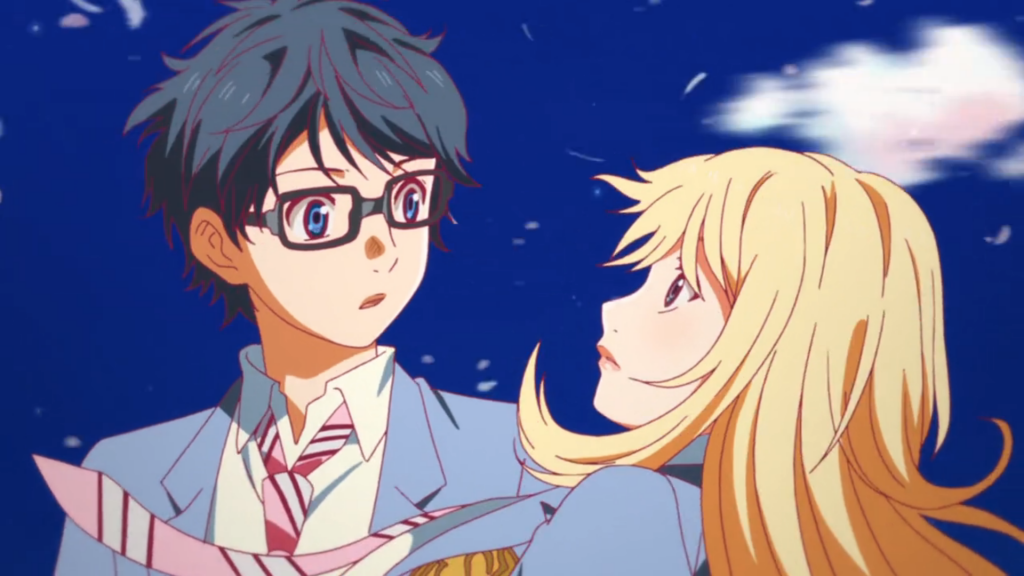 Your Lie in April Part 1 comes to the UK thanks to Anime Limited and is being released as both a standard DVD and Blu-ray collector's edition. The collector's edition includes a storage box to hold part 1 and part 2 together. On-disc extras include clean opening and ending videos, as well as audio commentary for Episode 1. This release contains the Japanese audio as well as the English dub and Episodes 1 to 11.

When everything's said and done all I can really say is that, to me, Your Lie in April is a masterpiece when it comes to telling a story about music. It inspires, captivates, and truly captures what it means to be a musician. I simply can't wait to get my hands on the second set and finish off my rewatch of this series because, as it stands, Your Lie in April is still one of my all-time favourite anime.