Review of Love, Chunibyo & Other Delusions – Heart Throb
Ian Wolf
•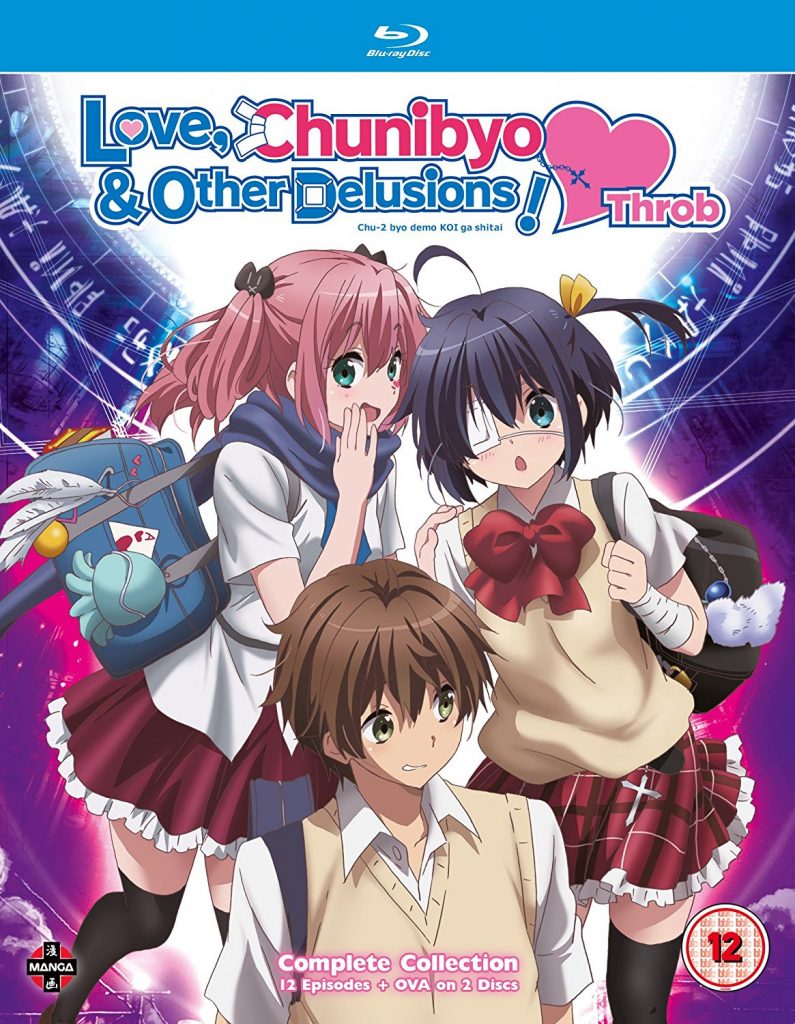 "Paging Mr. Delusional. You're wanted at the front desk." – 'Johnny Delusional' by F.F.S.
Things are going perfectly normally for Yuta Togashi. Well, as normal as they can be when his delusional girlfriend has now moved into his flat.
Chunibyo Rikka Takanashi is still being her odd self: wearing her eye patch to cover the eye that has a gold contact lens in it, which she believes controls her magic powers; wearing Heelys; fighting with an umbrella; and supposedly being able to open train doors simply by thrusting her arm at them when the train arrives at the station. Rikka parents are away, hence the reason why she is currently living in Yuta's place. He is looking after the flat while his parents are away working in Jakarta.
Most of the episodes in this second series are stand-alone stories, continuing to focus on the characters in the "Far Eastern Magical Napping Society – summer thereof", including Rikka's fellow long-haired chunibyo Sanae Dekomori; ex-chunibyo Shinka Nibutani, who is still desperately trying to escape her past; and the incredibly sleepy Kumin Tsuyuri.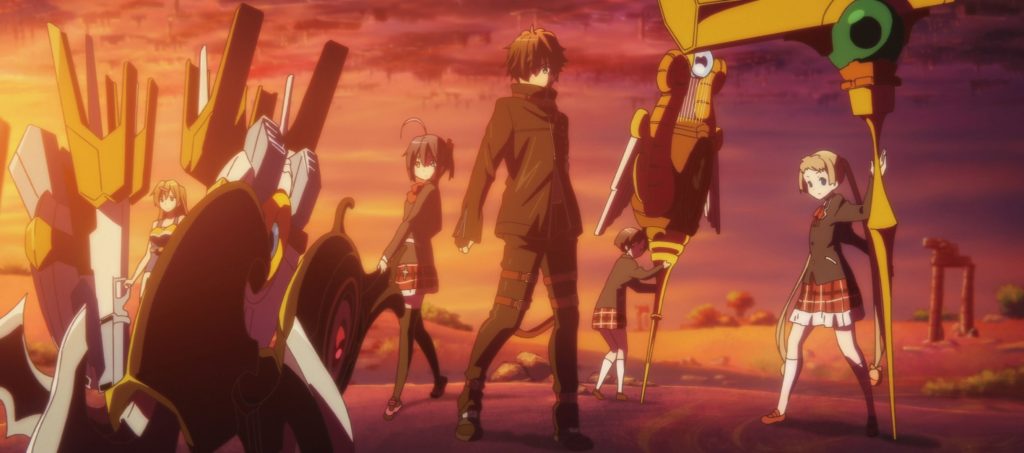 Across the series we see Yuta date Rikka at an aquarium where she has fun with dolphins and makes several references to H. P. Lovecraft; Yuta end up having to dress as a magical girl after getting a lower test score than Rikka; Shinka attempt to run for Student Council President by successfully convincing Sanae that she was her chunibyo idol and Kumin challenge another school to a napping competition.
However, there is also a new addition thrown into the mix. Rikka gets a visit from a chunibyo from another school: someone claiming to be a "magical devil girl" called Sophia Ring SPS Saturn VII, although her real name is Satone Shichimiya. She was a friend of Yuta's back in middle school. Indeed, it was she who inspired Yuta to become a chunibyo in the first place. After a rough start, Satone becomes friends with the rest of the gang, although Rikka is worried that Satone will take Yuta away from her and becomes jealous. As the story progresses, we realise that Satone does in fact still have some feelings for the boy she still refers to as "Hero".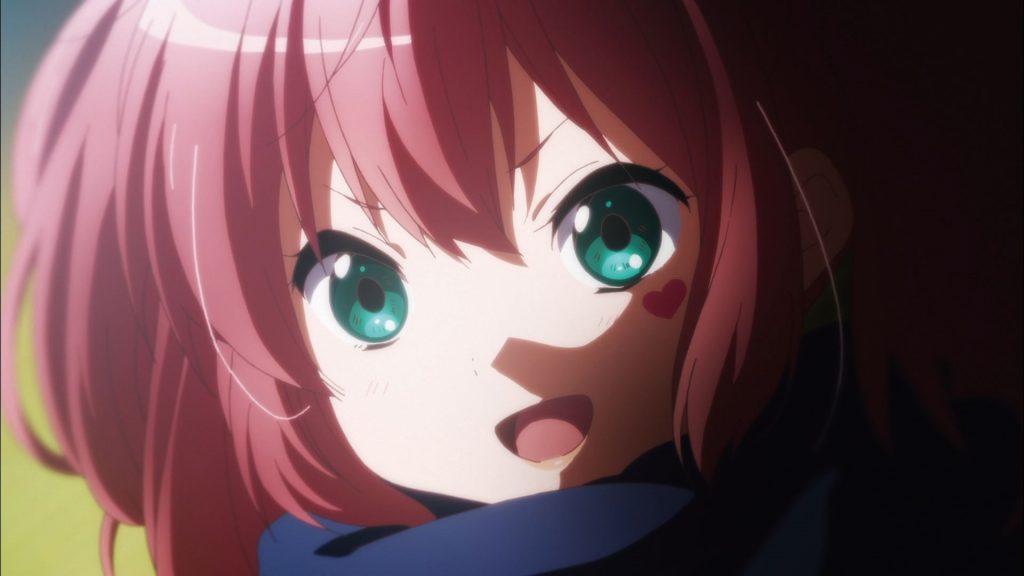 The second series still has plenty of the features that made the first one so enjoyable, the main one being comedy. There are plenty of comic moments in the show, mostly visual. These range from Shinka making Sanae gag by making her eat cheese, Yuta managing to pull off his magical girl look, and Kumin trying to get her friends ready for their competitive napping. There are also some funny scenes caused by anticipation. For example, there is the way that Shinka's chances of becoming Student Council President are horrifically scuppered by Sanae, who thinks she is being helpful. Then there are some odder moments, such as when Yuta discovers that Rikka has spent all of her allowance in a few days meaning she has to survive on almost nothing for a month, which leads to Yuta disciplining her by spanking Rikka.
The artwork is also great, especially in the "battle" scenes in which Rikka and her friends believe they are in a fantasy world and are using gigantic weapons to duel. The visual aspects in these scenes are wonderful, giving it a true fantasy feel while also mocking it.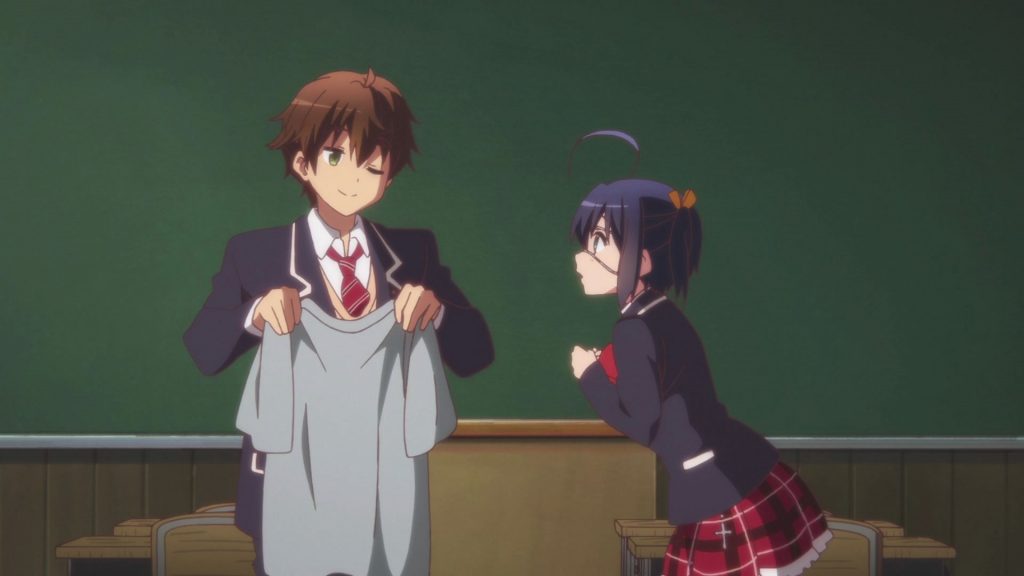 Satone's appearance in the series brings a new element to the show, creating a love triangle between her, Rikka and Yuta, although deep down you know that the relationship between Rikka and Yuta is not going to falter. She is still a fun character, nevertheless, but I am saddened by the fact that Makoto Isshiki has seemingly taken a back seat in this series. Most of the series sees him getting new jobs and trying to win over Kumin, but in the end a guy falls in love with him. I must confess that the way that a gay guy is just plonked into the show for comic relief did make me feel uncomfortable – although not as uncomfortable as Isshiki, I admit.
Extras in this collection include an OVA episode, a selection of four-minute anime shorts called Chunibyo Lite!, and textless opening and closing. The Opening, "Voice" by Zaq, and the Closing, "Van!shment Th!s World" sung by the four main female voice actors under the name of Black Raison d'être, are both OK, but nothing truly exciting.
If you enjoyed the first series, then Heart Throb will not disappoint you.