Love, Chunibyo & Other Delusions! Take on Me Review
Ian Wolf
•
SPOILER ALERT: This is a review of a long-running series and reveals details of past collections.
"Take on me (take on me)
Take me on (take on me)
I'll be gone
In a day or two." – A-ha.
Looking at other reviews of the most recent film in this wonderful romantic comedy series, some say its main problem is that it retreads old ground. Others say there are issues with the 3D animation. I say the main problem is that it's impossible to read that film title without wanting to say it in the style of Morten Harket – and if you didn't think that, you are now.
At this point in the story our lovers – the delusional chunibyo Rikka Takanashi and her ex-chunibyo boyfriend Yuta Togashi – are now in their third year of high school. Although in Rikka's case, it was only just, as she had to retake her exams.
They get a message from Rikka's older sister Toka that she has booked Rikka a trip to Italy, where Toka works. At first they think that it's just a spring break holiday, but when they see all of Rikka's stuff being put in a van, they realise that Toka is really planning to move Rikka to Italy permanently, in the hope that the move will snap Rikka out of her delusional state.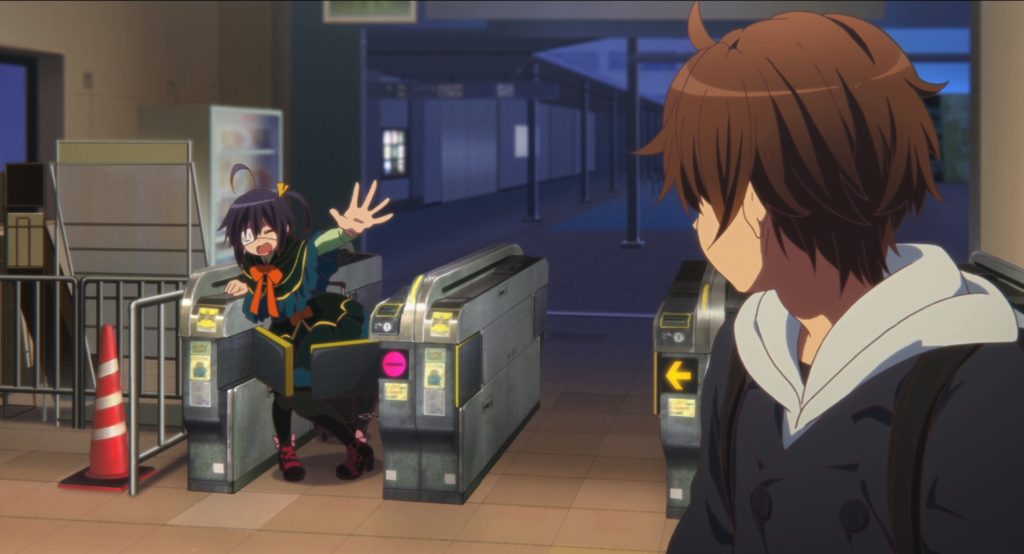 In order to get out of this, Rikka and Yuta's friends from the Far-East Magical Napping Society – Summer Thereof, along with Yuta's mother, come up with a plan: the couple should elope, and flee away from Toka, in the hope that this demonstration of their deep and loving relationship (combined with utter panic) will make her change her mind. Yuta and Rikka agree with the plan and flee, but when Toka discovers what has happened, she doesn't panic at all. Instead, she has collected embarrassing details about two members of the Society: the fact that Shinka Nibutani was once a chunibyo, and that there is a photo of her accidentally kissing long-haired chunibyo Sanae Dekomori. As both girls are members of the school's student council, Toka blackmails both of them into bringing Rikka and Yuta back home. Thus starts a trip across Japan, by road, rail, plane and boat, as Rikka and Yuta try to avoid being brought back home and separated forever.
While some may complain about the film retreading old ground, for me Take on Me feels like a nice warm return to characters that I know and love. The comedy comes in early enough, with sleepy Kumin Tsuyuri giving everyone in the Society a scare when she is caught napping while wearing a dummy sword stuck in her chest.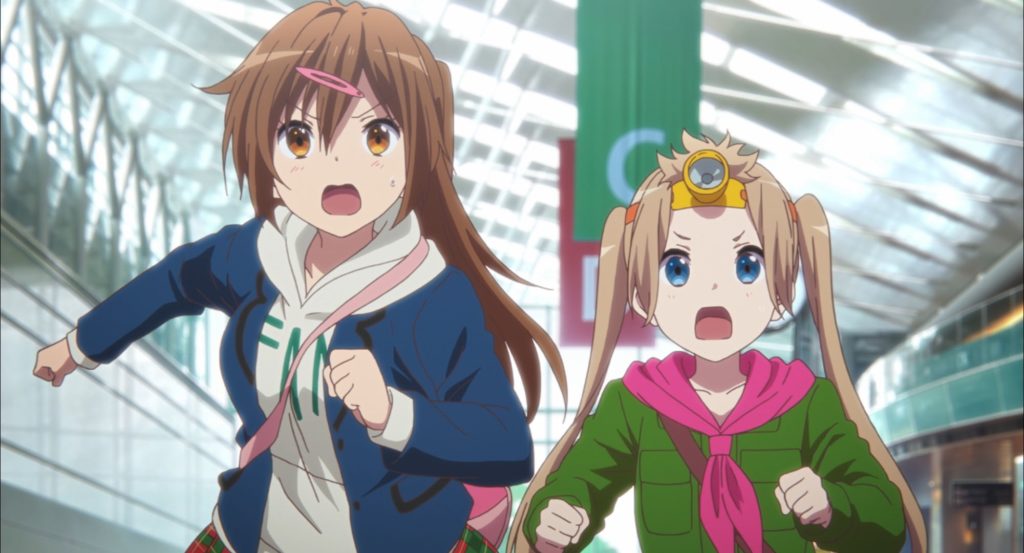 But it is not just the comedy that is worth the attention. If anything, the romance is the highlight of the story. While in Tokyo, Yuta buys Rikka a ring to demonstrate his love for her. When she wears it, Rikka begins to wonder about her true feelings and if loving Rikka and forming a relationship means that she will have to stop being a chunibyo. This in itself brings about some nice dramatic touches where, among other things, we finally meet Rikka's mother.
As well as all this, fans of Kyoto Animation are in store for some other treats. As the film takes place in various different locations across Japan, this means the characters visit all kinds of different establishments which will be familiar to keen fans of the studio, as they are all locations from various works. For example, Rikka and Yuta happen to wander past Tama-ya, the shop which is the setting for Tamako Market. There are also references to Clannad, Haruhi Suzumiya and Sound! Euphonium in the film.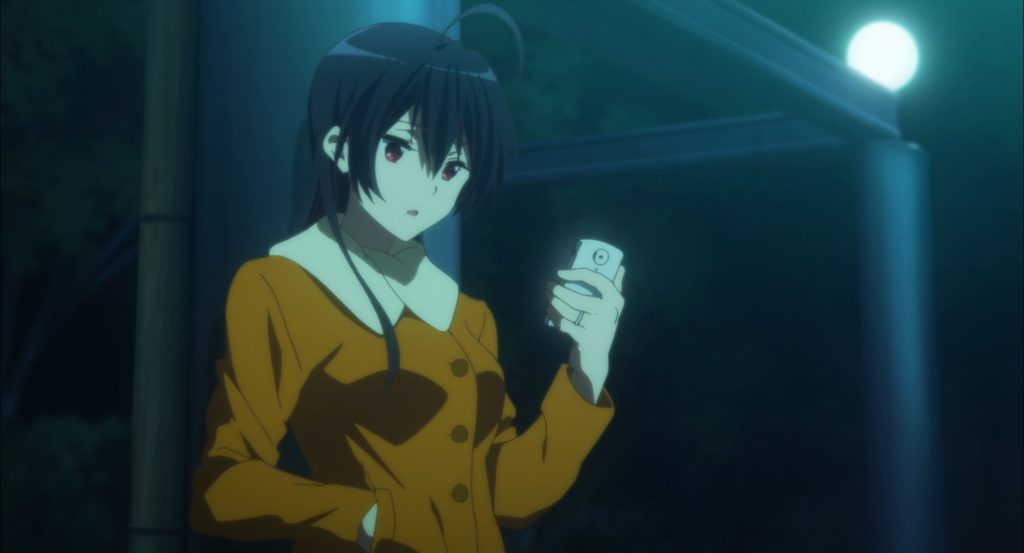 Regarding extras with the release, there is a Japanese promo video, three short animations featuring photo opportunities with the characters shown before the film starts, and textless opening and closing. All the songs in the film are performed by ZAQ, with the best of these being the opening track, "JOURNEY".
With this film being released earlier this year, and also considering the film's ending, I suspect that this may be the final ever outing for LC&OD. If so, then this series has certainly gone out on a high.