Eden of the East – Complete Collection Review

Cold Cobra
•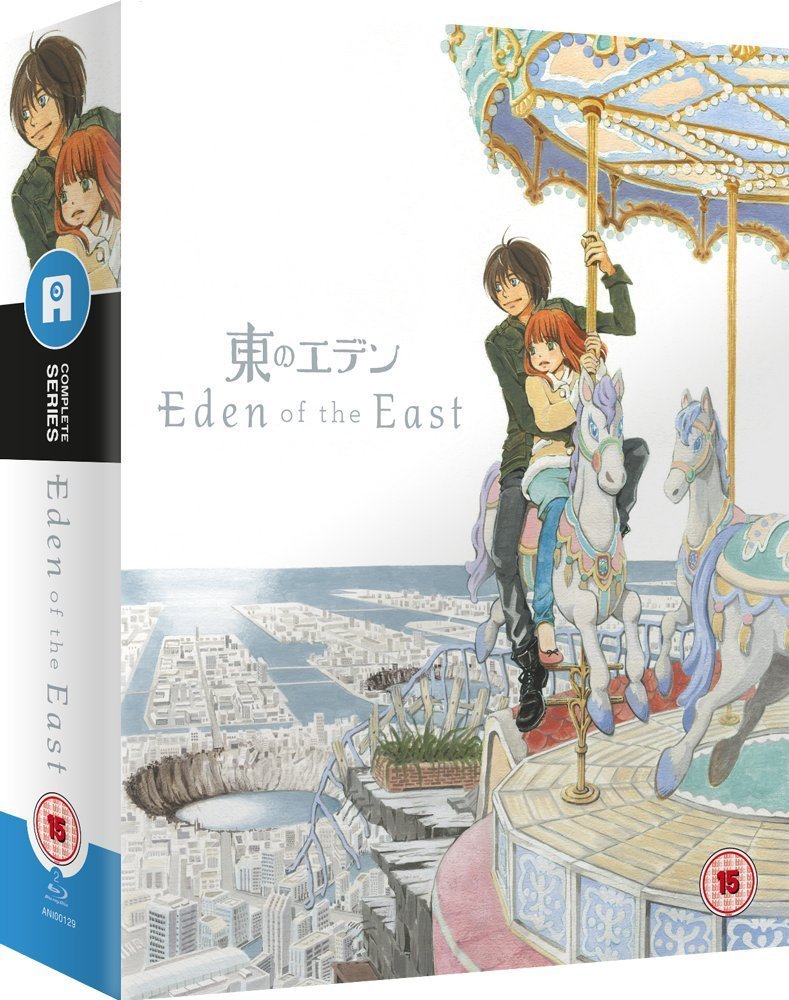 Eden of the East was undoubtedly the big hit of 2009, and now you can own the whole series and the films in one rather lovely Blu-ray box. Before looking at the set itself, let's have a quick reminder of the series, or a general synopsis for those who have yet to take the plunge into the world of Eden of the East.
Eden of the East is brought to you by Production IG and Kenji Kamiyama, a winning combination that has previously produced the Ghost in the Shell: Stand Alone Complex series. Within the opening episode we see young and impressionable girl Saki Morimi on a trip to the US and encountering a naked man waving a gun around who later reveals his name to be Akira Takizawa, although he only knows this due to a passport he found. He has amnesia, and, in true Jason Bourne fashion, goes back to his place only to find guns, various passports along with a mysterious phone he had on his person (well, had in his hand…)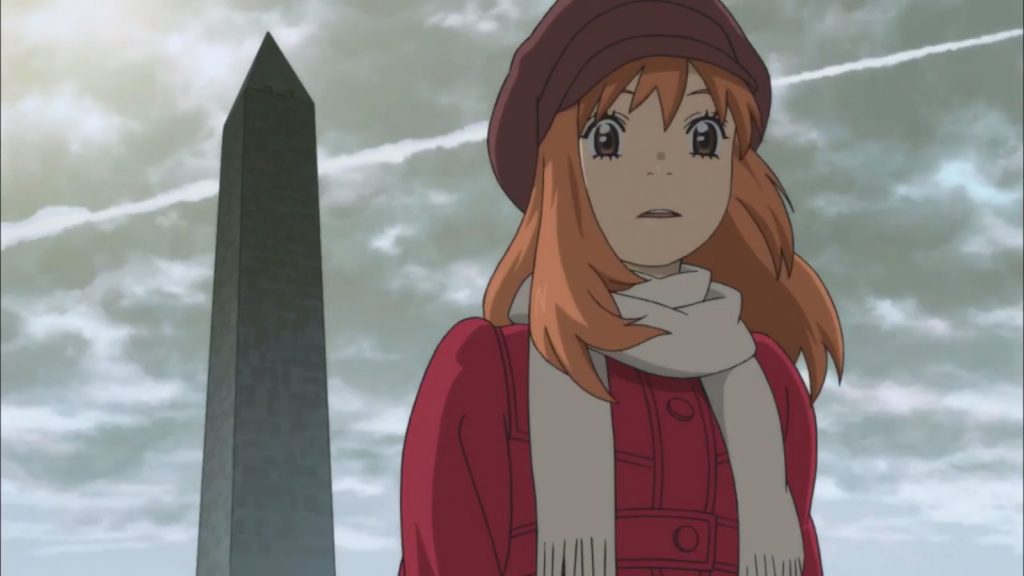 Saki and Takizawa soon travel back to Japan, which is still recovering from a series of missile strikes, the first of which mysteriously managed not to kill anybody, though that wasn't true for the latest strike. Without going too deep into the storyline, Takizawa is one of 12 "Selecao", a group of seemingly random people who have been given a ""Noblesse oblige" phone in which they can use to contact someone only known as Juiz and order anything, literally. From assassination to missile strikes to asking to suddenly own a business or a building, with the only catch being they're limited to 10 billion yen and they must use this power for the betterment of Japan. If they run out of money or they're judged to have misused the power of the phone, they're killed by "The Supporter", who is one of the 12, but which one is unknown. When "Mr. Outside", the shadowy leader of this game, deems someone to have "won" it, the other participants will be executed.
It all seems rather heavy, and it is, but the story is handled so well mostly because of the lead characters. Both are charming, pleasant, realistic (within a very unrealistic contest) and their feelings for each other are very sweetly played out across the series. Saki has several friends and family members, most of whom run a small business called "Eden of the East", which hosts a website where someone can tag any person, building or object with a description and other people can see these tags through their phone's camera. Seems unconnected, and it is, but it does come in handy as the plot progresses. Each one of these side characters again feels very real; it's only the Selecao that come across as over-exaggerated or a caricature.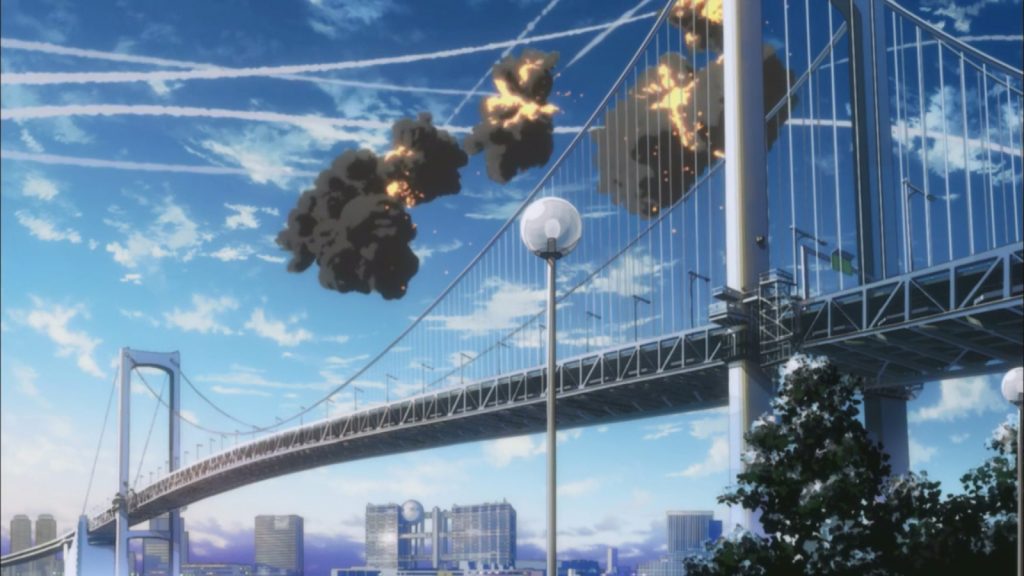 The animation is beautiful. The character designs are unique and endearing, the scenery and backgrounds are extremely detailed and busy, and the few bits of CG used for cars and some phone-related screens are perfectly integrated. The background music isn't exactly memorable, in fact I can't actual think of any, so that's one negative, but it's pretty tiny in comparison to everything it gets right. Even the English dub is good, with Saki and Takizawa retaining their sweet and gentle voice and excitable teen voice, respectively, although like a lot of dubs they miss the mark when they have to voice a sudden "outburst" of anger or panic, complete with comic facial expressions. It's a very Japanese thing and hard to dub, so it's understandable and it doesn't actually happen that often in the series.
The opening of the series as it broadcast on TV was "Falling Down" by Oasis, which is surreal to hear a British band from when I was growing up doing an opening, but very fitting… and also expensive to license, apparently. It features as the opening for Episode 1, and that's it. Episodes 2 – 11 have "Michael ka Belial" by Saori Hayami instead. Oasis probably just charged too much per use to do anything more. The ending theme is "Futuristic Imagination" by Japanese band School Food Punishment.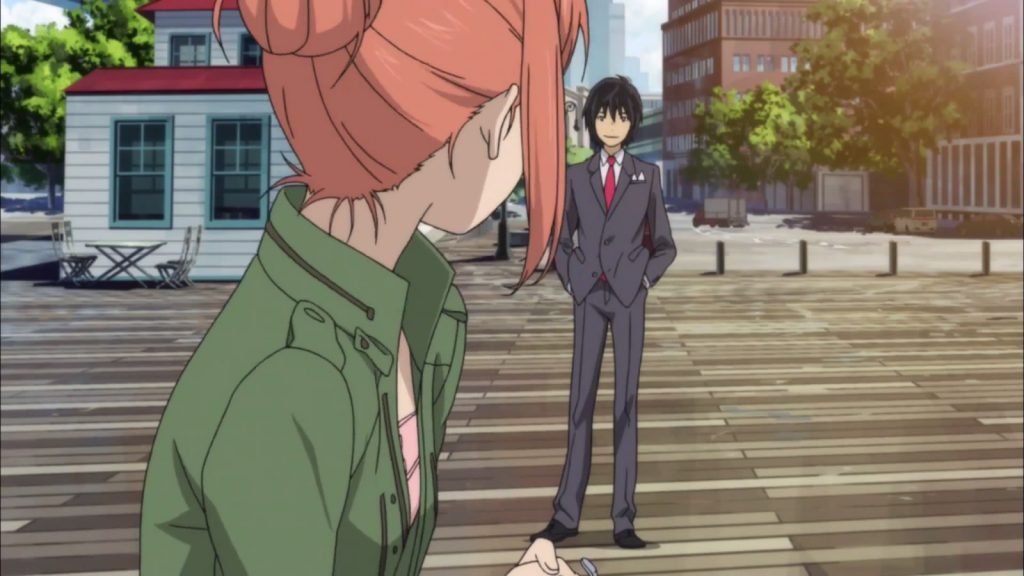 As stated at the top of this review, this set not only collects all 11 episodes, but also the two continuation movies, King of Eden and Paradise Lost, which is good because they effectively serve as Episodes 12 and 13 in that the plot isn't resolved until the final film. In fact King of Eden barely stands on its own, it's continuing on from episode 11 and ends in a cliffhanger that gets resolved as Paradise Lost starts. It really is safer to say it's a 13-episode series, it's just that Episodes 12 and 13 are a lot longer and have a higher budget. It's also interesting that the compilation film, Air Communication, is included as an extra on the King of Eden film disc, although it's Japanese with English subtitles only. Obviously there is no need to watch it when you have the 11 episodes it condenses in the same set, but it is nice that it's there given it's the "Complete Collection". I'm surprised it's not listed in the extras section on online webstores.
Speaking of Extras, it has plenty to tuck into, including several interviews with key staff and voice actors, trailers, TV spots and textless opening and closing, though only the second opening, obviously. As for physical extras you get a nice rigid box, a thick series booklet, art cards and some stickers. A very nice thing to have on your shelf.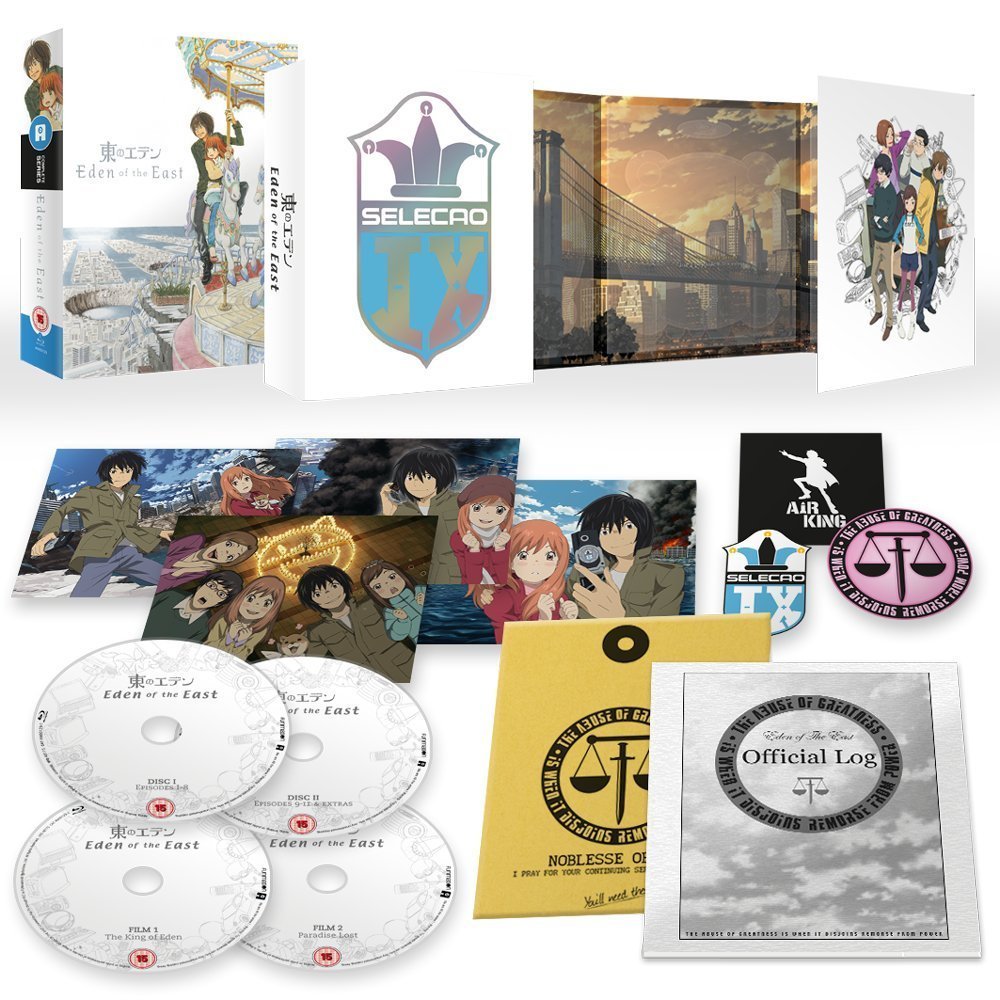 So should you invest in Eden of the East? Yes! Absolutely. There was a reason that was the talk of the (anime-related) internet back when it aired, and even the films, which didn't really stand well on their own when they were released, are perfectly fitting here in the one box. It tells an interesting mystery and techno thriller while simultaneously telling a well written and acted love story. If you're already a fan of series then you can replace your stand-alone Manga discs and get the whole series and films in one box complete with nice physical extras, and if you've never brought or watched the series before, then here it is, settle down and enjoy a proper modern classic.