Shimoneta: A Boring World Where the Concept of Dirty Jokes Doesn't Exist – a Second Review
Ian Wolf
•
Warning: Contains very strong language from the start.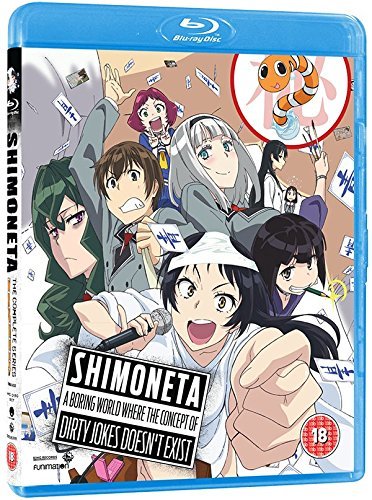 "I wrote, I wrote to the- the Council of Churches and I said, 'This fucking Bible… especially, erm, Paul,' I said, 'This fucking Bible really gives me the horn.' And er, I wrote, you know … civilly to them at the World Council of Churches, I wrote, 'Dear Cunts in Charge of Religion,' you know, familiar, friendly, 'Dear Cunts in Charge of Religion, your fucking guidebook or whatever the fucking thing is don't half give me the horn. I get fucking horn, especially on St. Paul!' And I got no reply whatsoever from that. Cunts! No wonder church attendance is dropping off."
– Peter Cook, from Derek and Clive: Ad Nauseam
I decided to begin this second AUKN review of Shimoneta with this quote to prove that you can create something that is incredibly rude and disgusting, but also funny. Peter Cook and Dudley Moore's X-Rated Derek and Clive albums are some of the funniest things you can ever listen to, even though what is contained on them is utterly disgusting.
Incendiary Lemon's review of Shimoneta pretty much covers all aspects of the plot and there is little reason for me to repeat it all again, so I would advise you to read his review first. If you already have, you will know that he talks about how 90% of the comedy is just saying something sexual and it is rubbish. I am inclined to agree. Most of what was featured didn't make me laugh, but the moments that did were the ones that were incredibly ridiculous. For example, there is a moment where they talk about Otome, the artist in the erotic terrorist group SOX, drawing by sticking a pencil up her pussy. There is another where the lead character Okuma eats biscuits that have been made out of Anna's "love nectar".
This is where the problem with Shimoneta stands out. Some might say that the problem with it is that is too rude. I say the problem is it's not rude enough! Those two jokes in the above paragraph to me are funny because they are so gross. The Derek and Clive albums of the 1970s still contain routines that are gross today, which is why they have lasted. To highlight a scene which Incendiary Lemon mentions, in which Ayame rolls around on the floor shouting: "Penis, penis, penis, penis, vagina, vagina, vagina, vagina", even I can make that funnier with a simple re-write, by changing it to "Cock, cock, cock, cock, cunt, cunt, cunt, cunt." It means the same thing, but those words are more direct and impactful, making the shock of the rudeness much greater.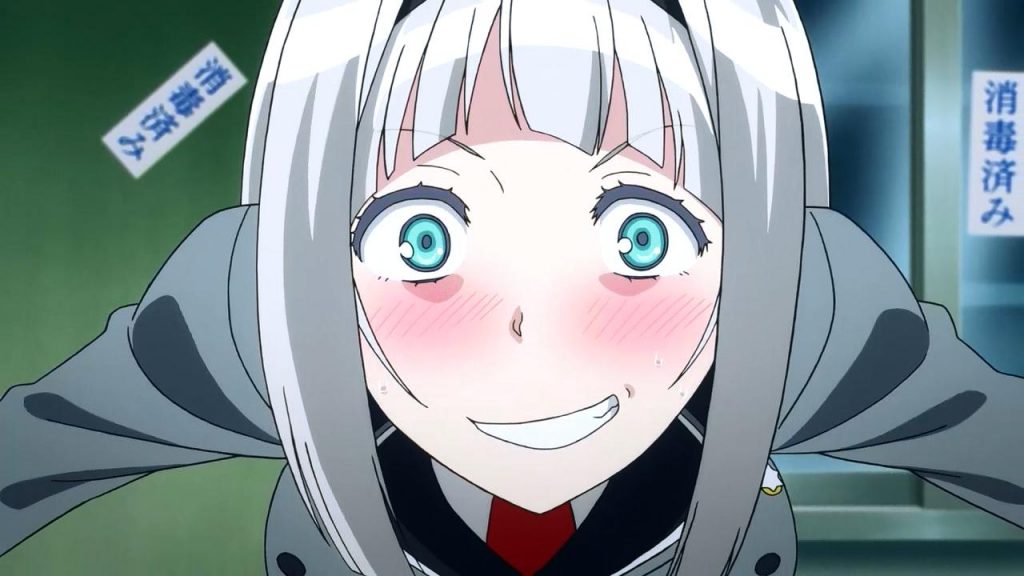 Any two-bit writer can make a scene in which a woman tries to rape a man, but it takes people like Pete and Dud to make a genuinely funny scene which involves a man trying to the break the Guinness World Record for producing the longest trail of snot, only for it to be ruined by his wife, and thus the man decides to break the Guinness World Record for kicking his wife in the cunt. It sounds horrific on the surface, but listen to it, and you won't stop yourself from laughing.
This brings up the vexing question of censorship. You see, it has been argued by some writers that Shimoneta is an attack on censorship, and a reaction to recent laws in Japan concerning pornographic works. This is arguably a noble endeavour, even if you don't like the sort of works coming out of Japan at the moment. Our laws on porn are messed up as well. Remember me mentioning the joke about the biscuits made out of Anna's "love nectar". If you don't know, that "nectar" is her ejaculate. Under UK law, it is illegal to feature pornography featuring female ejaculation, but as it is OK to show it featuring male ejaculate, you can argue that UK porn laws are sexist. Britain may have made it an offence to possess erotic images of characters under 18, but you can go into a bookshop and buy a Penguin Classics edition of the Marquis de Sade's The 120 Days of Sodom, which not only features extreme pornography, but sexual acts with people as young as four-years-old. So you can write a paedophilic sex scene, but if you try and draw the exact same thing, you would be committing a crime.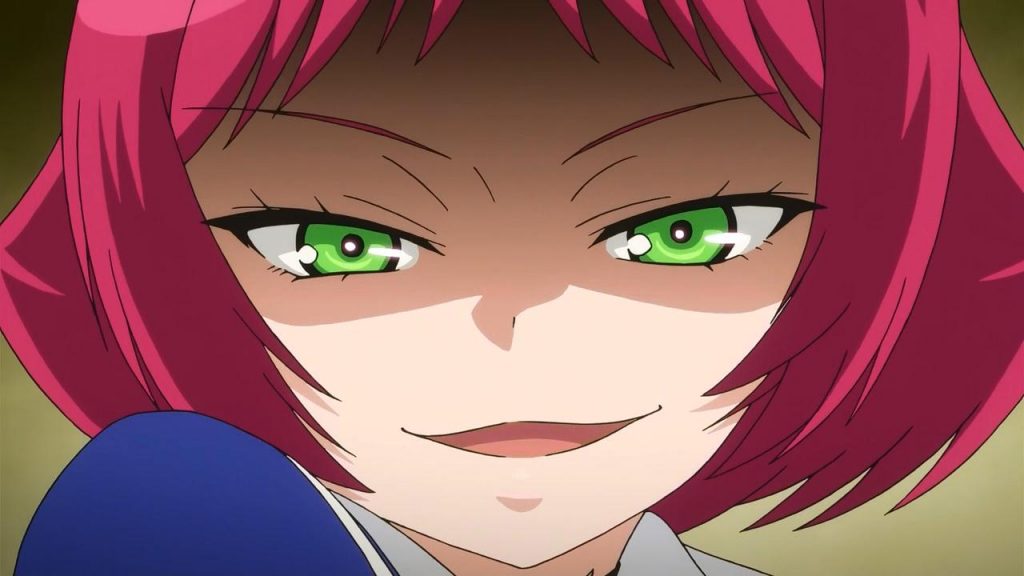 The problem, however, is that Shimoneta's attempts at humour let it down. Maybe if it was released as an OVA rather than a TV series, free of any possible issues broadcasters might have to offensive content, it might have worked better, but as it is based on a series of light novels and most of the anime adapts the contents of the books, I'm guessing not. If you are looking for a series which tackles the problems of censorship Library Wars does it better, mainly because it is not trying to be funny most of the time, being more dramatic and romantic.
There is also the other major problem when it comes to this sort of thing, which is that when you say you are against censorship of porn, you end up worrying that you end up siding with people you don't want to be on your side. I'm not talking about people who might support paedophilia although obviously that's an issue, but more like people who think that it is an attack on freedom of speech to deny them the right to say "nigger" in public.
I do know of people and news websites in this country whose views on freedom of speech and what should be said in comedy do infuriate me. I won't mention who these people are, partly as a petty act of self-censorship to pointlessly annoy them, and partly, to reference Linda Smith, because I don't want to give them the oxygen of publicity – or indeed the oxygen of oxygen.
But some of these people who claim to support freedom of speech do frustrate me. For example, I've seen people trying to compare Dapper Laughs, the comic who got axed from ITV2 for telling rape jokes, to Lenny Bruce, the American comic who in the 1960s was arrested several times for obscenity and died of a drug overdose. As far as I'm concerned, Dapper Laughs is no way comparable to Lenny Bruce, chiefly because Dapper's material was so shit it doesn't even deserve comparison. To quote Stewart Lee: "Who gets dropped by ITV2? That's like being barred from a pub that's already on fire."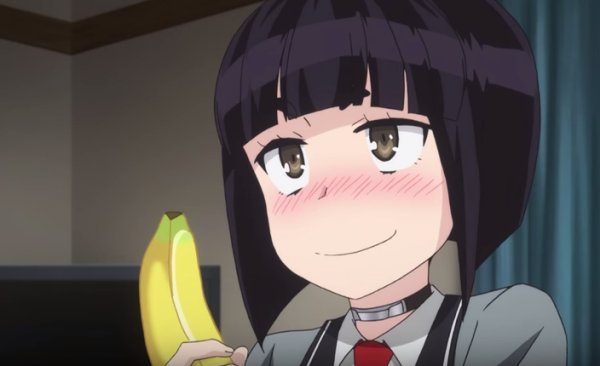 Now I should state that I think that comedy and indeed all art forms should be free to cover any subject, including rape, murder, drugs etc. One thing that annoys me, though, is bad comedians using freedom of speech to defend jokes that are just poor. Other comedians who have done material about rape and rape culture are brilliant. Adrienne Truscott for example, did a show at the Edinburgh Fringe about rape culture, naked from the waist down, in 2013. That year she won the Panel Prize at the Edinburgh Comedy Awards, and an increasingly prestigious Malcolm Hardee Award for Comic Originality. In that same year, Bridget Christie won the main Edinburgh Comedy Award prize with a show about feminism, and has one of the best rape jokes I can think of: "My rape fantasies involve more prosecutions and longer sentences."
In the world of anime, rape is also a strange issue. We protest if it involves two people, but we get less bothered when it involves a tentacled monster. It doesn't stop outside commentators talking about it obviously, which did lead to the memorable incident when both the left-wing and right-wing press published articles attacking the release of Urotsukidōji: Legend of the Overfiend, and ironically increasing the sales of the anime by giving it so much free publicity.
What also annoys me is that the same comedians who use freedom of speech to defend their rubbish jokes often tend to be the same comedians who tell their hecklers to shut up. They are hypocrites. Hell, I'm probably a hypocrite too for my views, but at least I'm willing to admit the possibility that my views are askew.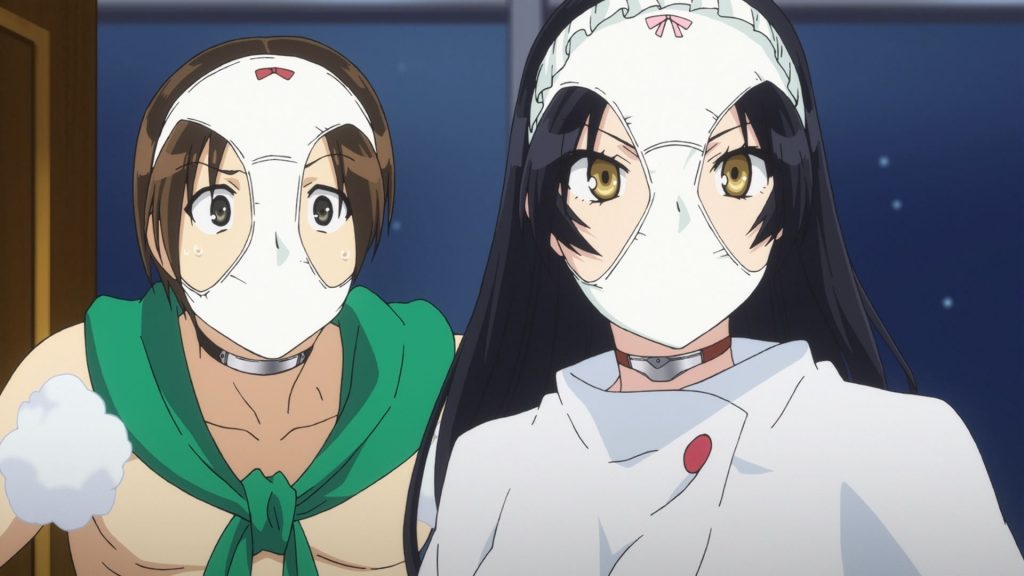 Maybe what we need to do when watching Shimoneta is get more into the world that it is set in, with people constantly having to talk in bizarre euphemisms to discuss anything rude otherwise they would get arrested. It is probably through this language problem that we end up having the issue with the humour. To the people of this world, just saying "penis" is offensive enough, whereas saying "fuck" (which only happens once in the series) doesn't seem to be needed as much. Is it possible to imagine such a setting really existing? I would say that it is, because people have lived through such a thing, there was a comedy that tackled it, and we have overcome it.
I'm talking about the time when in Britain it was illegal to be homosexual. The comedy that helped to tackle it was the 1960s radio show Round the Horne, which featured the characters of Julian and Sandy played by Hugh Paddick and Kenneth Williams, who spoke the Polari gay slang to get away with all kinds of things that if said directly would have got the BBC into a whole heap of trouble. In one sketch set in a music shop Sandy mentions that Julian is, "a miracle of dexterity on the cottage upright", but in Polari a "cottage upright" is an erection in a public toilet. Polari appears in later comedies, like the 1970s sitcom Porridge, where characters would often tell each other to "Naff off", but "naff" was Polari for a straight man who was not available for fornication.
You can compare the repressed Britain of the 1960s to the repressed Japan of the future. Here we see different groups of people trying to get away with what is seen by the government as perverse behaviour. The difference is that Round the Horne was dealing with a real-life situation and it managed to outlive it, the show ending in the same year the homosexuality was decriminalised. Shimoneta is set in a fantasy world and thus is harder to relate to. That is why it fails to live up to the rest comically, but it might live up to them in terms of a message about the dangerous of censorship.