"Love is the gross exaggeration of the difference between one person and everyone else." – George Bernard Shaw
Amagami SS is an adaptation of a harem-themed dating simulation game. There is one clear way you can tell why this is the case: the fact that in the game there are six different girls the male lead can fall for, and this anime sees the boy fall in love with all of them.
The story begins two years earlier, when Junichi Tachibana got jilted by his date on Christmas Eve. Since then he has not had much in the way of anything to do with romance. However, he eventually develops feelings for one of the girls in his school. The twist to this anime is that there are six different girls he falls in love with, told in six different stories, each story arc being four episodes long.
The stories involve Junichi falling for (in episode order) Haruka Morishima, a girl with a lot of fans in the school, who loves dogs and is a quarter British; Kaoru Tanamchi, one of Junichi's classmates and close friends who works part-time as a waitress; Sae Nakata, a classmate of Junichi's younger sister Miya, who is shy and asks Junichi to help coach her so that she can get a job; Ai Nanasaki; another of Miya's classmates and a member of the swimming club, who is keen to become a key member of the school team; Rihoko Sakurai, Junichi's childhood friend, member of the Tea Club, and who is constantly promising that she will eventually go on a diet; and Tsukasa Ayatsuki, the class representative in Junichi's class who is organising the school's Founder's Festival which is held on Christmas Eve.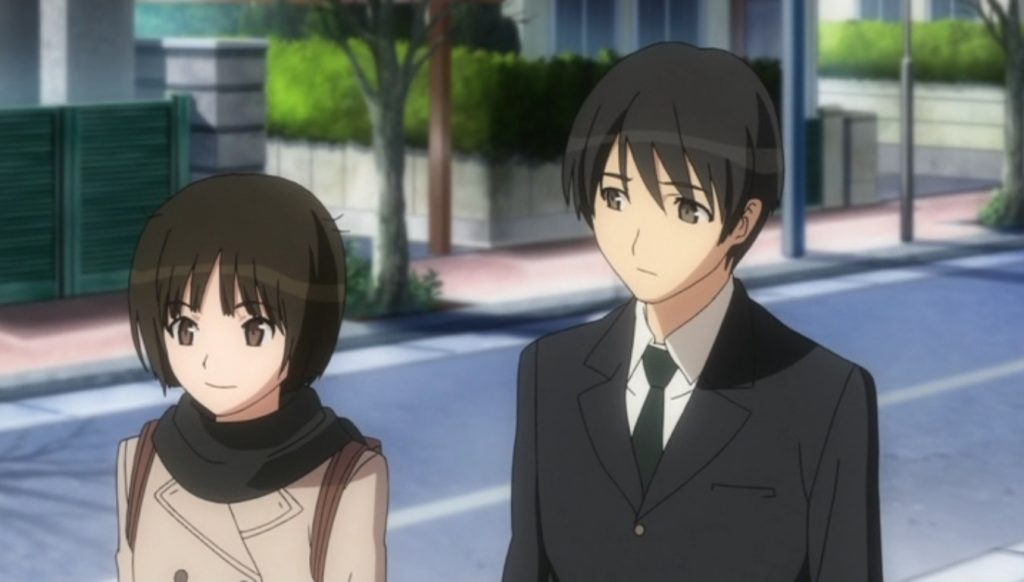 Each of the arcs sees Junichi form a relationship with one of these particular girls which ultimately ends up with the two merrily falling in love, the key point normally coming around Christmas, when previously Junichi had been dumped.
Clearly, the main attraction of Amagami SS is the multiple arcs and the way the story is told. We get to see the exact same characters take part in six separate stories in the main series alone. There are also two OVAs: one focusing on Miya (don't worry, there's nothing incestuous), and another on another character Risa Kamizaki, who acts like a stalker in terms of her affection for Junichi. The way the stories are told also differs from arc to arc. Rihoko's story is mainly told from her perspective, while Sae's features a voiceover from a narrator.
As well as plenty of stories,you also get plenty of music. Aside from the two opening title songs, "I Love" and "Kimi no Mama de" both sung by azusa, you get eight different endings, each one sung by the voice actress who plays the main female character in each arc. Out of these, my personal favourites would be Kaoru's song, "Kitto Ashita wa…" sung by Shizuka Ito; and Rihoko's song, "Koi wa Aserazu" from Ryoko Shintani. Kaoru and Rihoko's stories are also my favourite stories in the anime, possibly because of the more believable backstory of the characters as they are already good friends prior to the story beginning.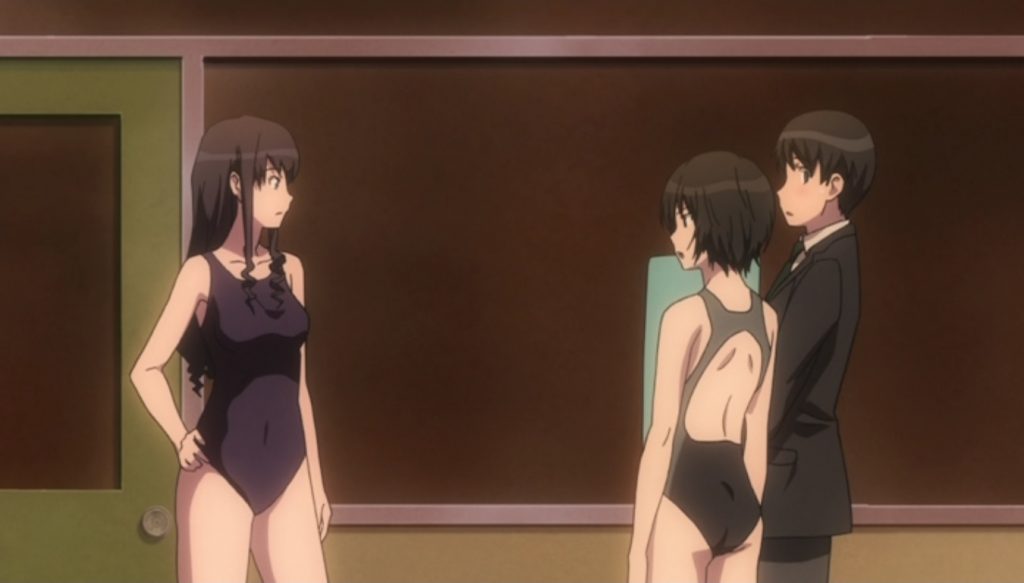 The vast number of songs means that in the extras, you have a wider variety of textless openings and closings. Aside from trailers for other shows, these are also the only extras in the collection. You do not even get a choice of audio: this release is sub only. The Japanese voice acting is OK, but nothing really remarkable.
However, the multiple arcs do have a downside. Namely, it feels as if the anime is spread betting. It's trying to please as many people as it can by going for all these different endings rather than just settling down on one. Also, think about the ending of each arc. Yes, Junichi falls in love with one of the girls – but that still leaves at least five others looking for love.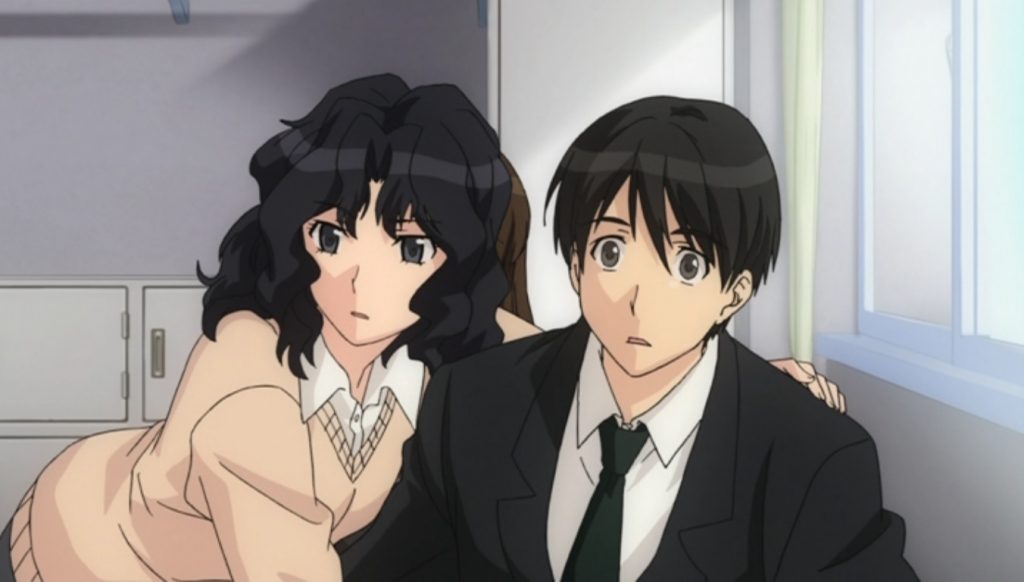 The main problem I have, though, with Amagami SS is the tone the series sometimes adopts. At times the series takes some surprisingly kinky turns. Some of these are relatively tame like kissing odd body parts like the belly button or the back of the knee. Others are weirder, like in the Haruka arc the lovers roleplay in the school cafeteria, with Haruka pretending to be Junichi's bound, starving hostage and him feeding her in public. The most tasteless moment for me however occurs in the Ai arc, but it isn't anything romantic. In it, Junichi is walking to school when Kaoru sneaks up from behind and grabs his arse suggestively to frighten him. You cannot just grope someone as a practical joke.
Because of the way the series is split, it is best enjoyed in small doses, an arc at a time. Strangely, the way the DVD splits the series by having a separate arc on a different disc, while the Blu-ray has two arcs per disc, appears to be better structured.