New Devilman Crybaby Visual, Cast & Netflix Launch Date Details!

NormanicGrav
•
We now have more information on the upcoming Devilman anime coming exclusively to Netflix!
Masaaki Yuasa and Science SARU have revealed new details for their next major anime project – Devilman crybaby, based on the classic manga series from Go Nagai. The series will be streaming as part of Netflix's Anime Originals slate which will mean it'll be exclusive to the streaming service worldwide on the same day and date on 5th January 2018.
You can view the Netflix page here, with an English dub trailer also available to view.
In addition to the official release date, we also have other brand new information including a trailer, visual and also the staff/cast details!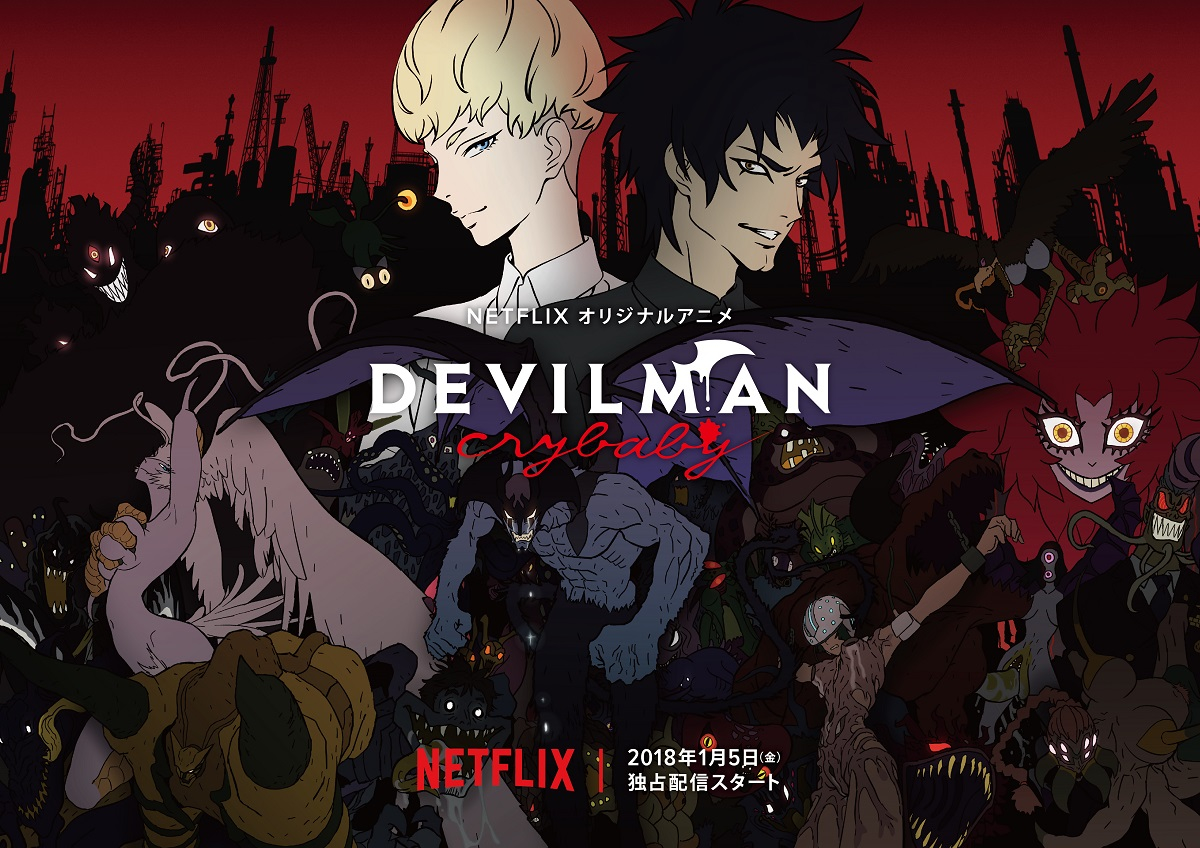 The Staff confirmed for the anime project alongside director Masaaki Yuasa (The Tatami Galaxy) and studio Science SARU (Lu Over the Wall) are screenplay writer Ichiro Okouchi (Code Geass) and music composer Kensuke Ushio (A Silent Voice). Denki Groove will offer the anime's main theme song called "MAN HUMAN", with Takkyū to Tabibito offering an ending theme song "Konya Dake" for episode 9.
The cast members were also revealed, featuring Kouki Uchiyama (Haikyu!!, Nisekoi, Yuri!!! on Ice) as the main titular character Akira Fudou and Ayumu Murase (The Ancient Magus Bride, Bananya, Haikyu!!) as Ryou Asuka. Also confirmed are Megumi Han (Hunter x Hunter) as Miki Makimura, Ami Koshimizu (Code Geass) as Miko, Atsuko Tanaka (Fate/stay night) as Sirene, Rikiya Koyama (Detective Conan) as Kaim, Kenjiro Tsuda (Naruto) as Nagasaki, YOUNG DAIS as Kukun, Subaru Kimura (Gundam Build Fighters) as Gabi, KEN THE 390 as Wamu, Hannya as Babo, and AFRA as Hie.
The protagonist Akira Fudo (Kouki Uchiyama) learns from his best friend, Ryo Asuka (Ayumu Murase), that an ancient race of demons has returned to take back the world from humans. Ryo tells Akira that the only way to defeat the demons is to incorporate their supernatural powers, and suggests that he unite with a demon himself. Akira succeeds in transforming into Devilman, who possesses both the powers of a demon and the soul of a human. The battle of Devilman and Akira Fudo begins.
The 10 episode series will be exclusive to Netflix's streaming service starting 5th January 2018 and will be available in nine different spoken languages (including English) as well as 25 subtitle languages across the world.
Here are the previous trailers for Devilman crybaby while you're waiting for the launch!