Here's 7 Anime Titles Coming Soon Exclusively on Netflix

NormanicGrav
•
With the latest addition to the Netflix Originals line-up; BLAME! launching on May 19th, we take a look at the film among five other titles that are confirmed to arrive onto the service in the future – whether they just got announced for Japan at the moment or have placeholder pages setup in preparation.
To start of, here is what's coming to Netflix on May 19th (May 20th for United States):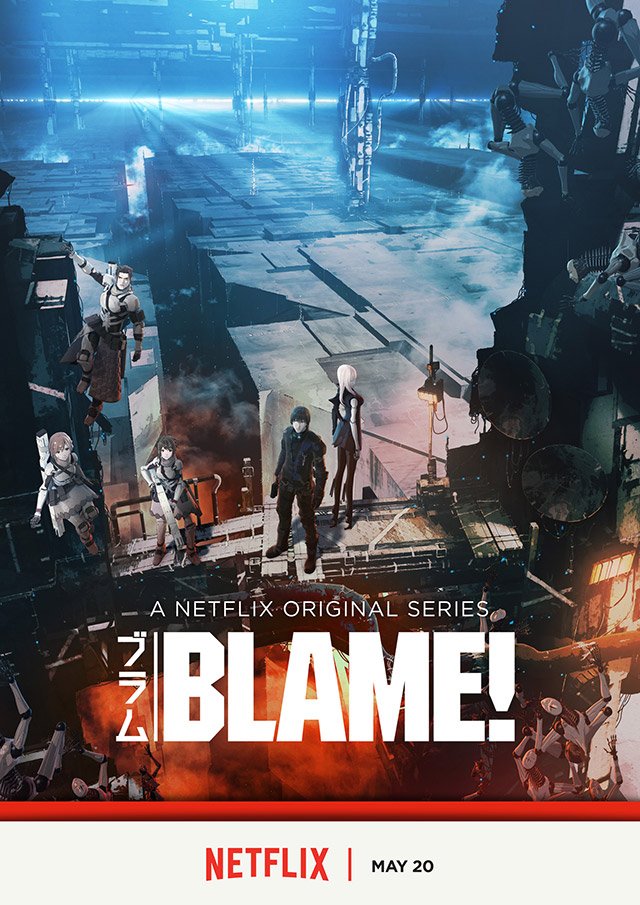 BLAME!
Streaming Date: May 19th (May 20th for various countries)
Netflix page
In the post-apocalyptic future, the complex networks of machines have created chaos and the human world was destroyed. The robots known as the "Constructer" continued to build a meaningless structure with no one to guide them. Soon these cities reach out to the outer planets and another breed of life form emerges. Follow the journey of a strange man, name Killy, in his search for the understanding of the chaotic world being run by Silicon lifeforms out to destroy him and every living thing in their path.
Before Knights of Sidonia, creator Tsutomu Nihei worked on a 10 volume manga series called BLAME (pronounced 'Blam') in 1998. It received a 6 episode OVA series in 2003 but Polygon Pictures has brought the title back. The series was teased within the second season of Knights of Sidonia until eventually a feature-length film adaptation was announced not long after.
The film is directed by Hiroyuki Seshita who previously helmed Knights of Sidonia: Battle for Planet Nine as well as being chief director for Ajin. Joining Seshita is character designer Yuki Moriyama (Ajin), screenplay writer Sadayuki Murai (Cowboy Bebop), sound director Yoshikazu Iwanami (Fate/Stay Night [Unlimited Blade Works], Saga of Tanya the Evil), singer angela (Heroic Age, Knights of Sidonia, Valvrave the Liberator), actor Takahiro Sakurai (Berserk, Code Geass) as the main lead Killy, and actress Kana Hanazawa (Monogatari, Nisekoi) as the main female lead Cibo.
The film will be available worldwide on May 19th & May 20th (depending on which country you reside) in English, Japanese, French, Spanish and Brazilian Portuguese audio with English, Japanese (Closed Captions), French, Polish and Arabic subtitles. Nihei's other work Knights of Sidonia is available to stream on Netflix as well.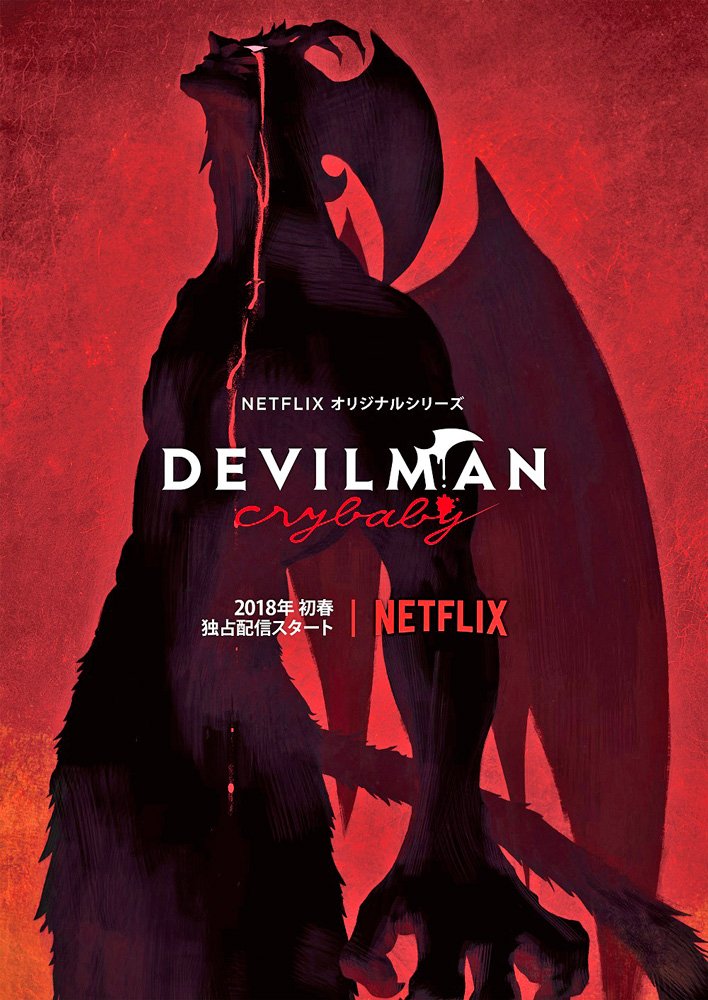 Devilman: crybaby
Streaming Date: 2018
Netflix page
Akira Fudo is informed by his best friend Ryou Asuka that the demons will revive and reclaim the world from the humans. As the humans do not stand a chance against the supernatural power of the demons, Ryou suggests fusing with a demon. Akira becomes Devilman, with the power of a demon and the heart of a human.
Masaaki Yuasa has been fairly busy as of late with two major feature length films heading to Japanese theaters in the last two months, in fact his next major work caught many by surprise. He will be directing a new anime adaptation of Devilman entitled Devilman: crybaby. Devilman is a 1972 manga written by Go Nagai and has become one of the most well-known titles in the history of anime & manga, with two anime adaptations and even a crossover with 009 Cyborg that is also available to watch on Netflix.
Masaaki Yusasa (Ping Pong) will be directing this brand new adaptation alongside Ichiro Okouchi (Code Geass) who is helming the script, Kensuke Ushio (A Silent Voice) composing the music, and Atsuhiro Iwakami (the Garden of Sinners) as Executive Producer. Aniplex is also involved with the production as well as studio Science SARU who animated Masaaki Yusasa's two recent films Lu Over the Wall (Yoake Tsugeru Lu no Uta) and  The Night is Short, Walk on Girl (Yoru wa Mijikashi Arukeyo Otome).
Devilman's previous anime adaptations are currently unavailable for the United Kingdom but Discotek Media in the United States have the rights to the 1972 TV series while Manga Entertainment once helmed the rights to the 1987 OVA.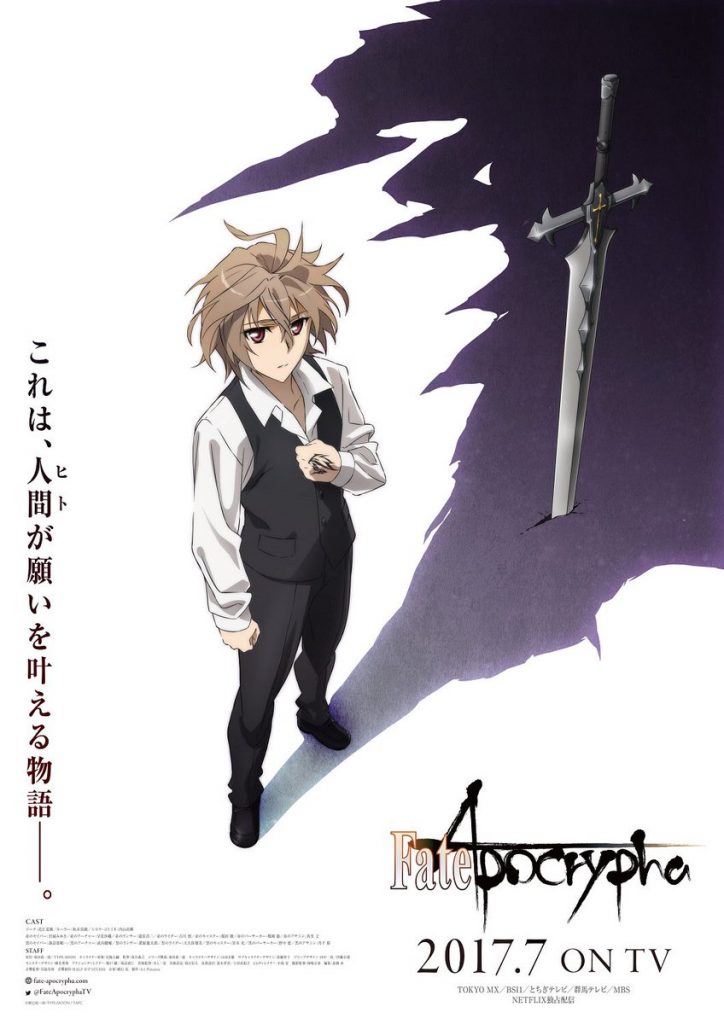 Fate/Apocrypha
Streaming Date: Summer 2017
There was once a Holy Grail War waged by seven Mages and Heroic Spirits in a town called Fuyuki. However, a certain Mage took advantage of the chaos of World War II to steal a Holy Grail. Several decades have passed, and the Yggdmillennia family, who took upon the Holy Grail as its symbol, defected from the Mages' Association and declared their independence. Furious, the Association sent a force to deal with the Yggdmillennia, but they were defeated by the summoned Servants. With the Holy Grail War system changed, war with seven versus seven, breaks out. And so, the curtain rises on the epoch-making Great Holy Grail War.
Fate/Stay Night fans have had a lot of exciting announcements that are covering 2017 and one of them is heading to Netflix. Apocrypha's anime adaptation from studio A-1 Pictures is based on the 2012 light novel series of the same name focusing on a parallel world where the events of Fate/Stay Night and Fate/Zero never happened. The Holy Grail war is now in Romania and features Jeanne d'Arc as the main Ruler and female protagonist.
Staff details include director Yoshiyuki Asai (Charlotte), music composer Masaru Yokoyama (Your Lie in April), character designer Yuri Yamada and series composition Yuichiro Higashide (SCHOOL-LIVE!). Musicians EGOIST and GARNiDELiA will be singing the theme songs.
So far this is the only title on this list that currently has no placeholder page and no word on English localisation, even Aniplex of America wasn't sure despite unveiling it at their latest panel in a recent convention they attended. Rest assured, this title should be heading west regardless. Fate/Stay Night [Unlimited Blade Works] is currently available to stream on Netflix if you cannot wait.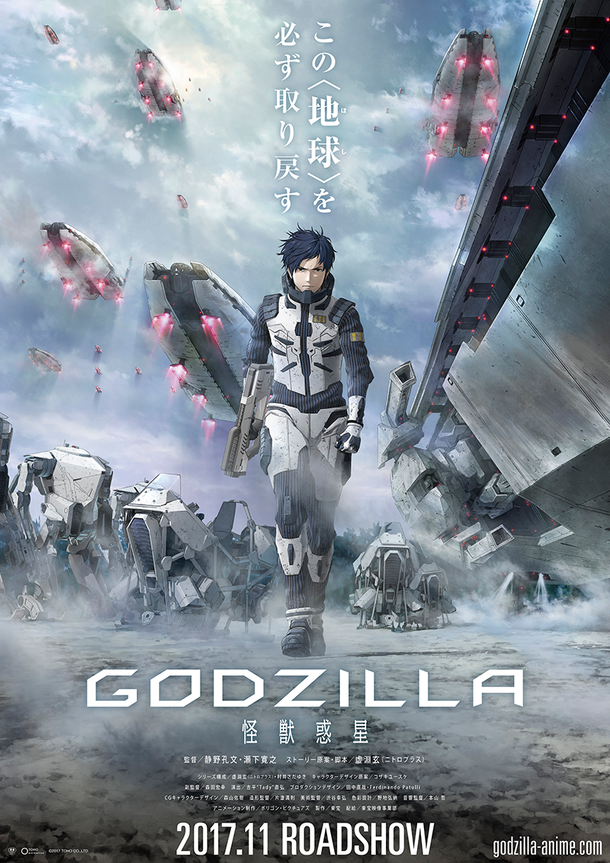 Godzilla: Monster Planet
Streaming Date: November 2017
Netflix page
The last summer of the 20th Century, giant living creatures called "Kaiju" and the monster-destroyer Godzilla revealed themselves to humanity. In 2048, humans admit defeat and only those who were selected by the government-controlled A.I. were allowed to board the spaceship and head to humanity's new home "Tau Cetus e". That too, ends in failure. One boarder is a young man named Haruo whose parents were killed by Godzilla. He has but one goal: return to the Earth and defeat Godzilla.
Polygon Pictures have another anime title to offer after BLAME! later this year with the next Godzilla instalment. Monster Planet will be a CG animated movie trilogy with the first film heading to Netflix in November 2017. Monster Planet is set way into the future where humanity left Earth due to Godzilla causing havoc but they eventually return with hope that they can reclaim their planet.
Gen Urobuchi (Madoka Magica, Psycho Pass) will be writing the screenplay while both Hiroyuki Seshita and Koubun Shizuno (both worked on Knights of Sidonia) are directing. Not much is know aside from a fair amount of illustration art and cast members Mamoru Miyano, Takahiro Sakurai, Kana Hanazawa, Yūki Kaji, Tomokazu Sugita, and Junichi Suwabe voicing the film's characters.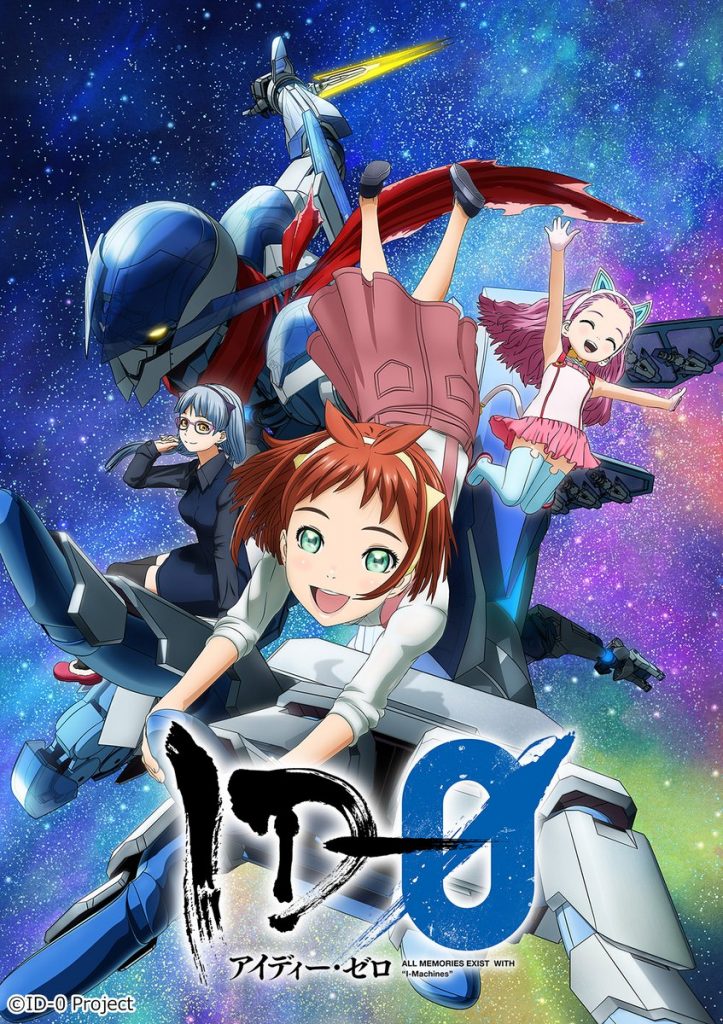 ID-0
Streaming Date: 2017 (Aired in Japan back in April 2017)
Netflix page
I-Machines are the general term for robots that operate in extreme environments. While Alliance Academy student Maya Mikuri is in the middle of operating an I-Machine, she gets involved in an incident with pirates, and ends up serving as a crew member on an excavation company's spaceship.
Another CG anime joins the Netflix roster with ID-0, from studio SANZIGEN who also animated Arpeggio of Blue Steel. The show aired in Japan during the Spring 2017 season and not that many people are aware of the show's existence.
Code Geass creator Gorou Taniguchi directs the series alongside character designer Hiromi Katou (Guilty Crown), music composer Takayuki Hattori (Martian Successor Nadesico), and series composition Yousuke Kuroda (Highschool of the Dead). No other details are known in terms of when exactly the show will be streaming outside Japan, but it should be sometime in 2017.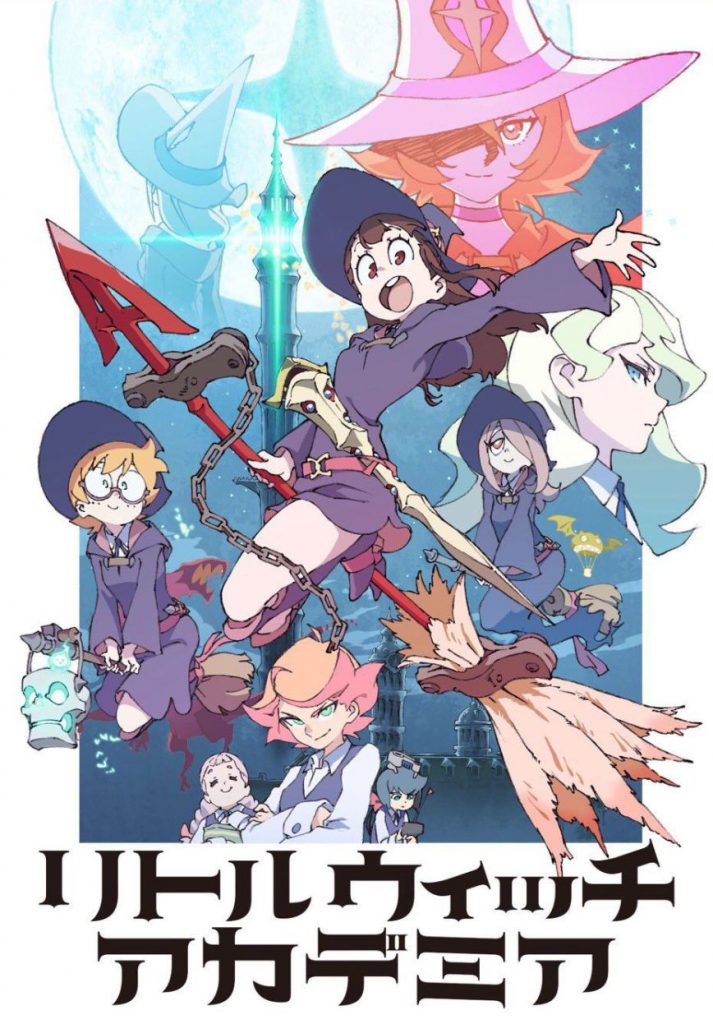 Little Witch Academia: The 2017 TV Series
Streaming Date: 2017 (Aired in Japan back in January 2017)
Netflix page
In a time when magic is on the decline amid society, Atsuko Kagari is a cheerful girl who enters Luna Nova Academy in order to accomplish her dream of becoming a witch like her idol, Shiny Chariot. Shiny is a famous witch who disappeared from public view many years ago. On her way to school, Kagari meets the kind Lotte Yanson and the mischevious Sucy Manbavaran and the three become friends as they share a bedroom in campus. At the academy, Atsuko soon discovers she is in serious disadvantage compared to the other girls since she doesn`t come from a magical family and is required to learn the magical curriculum from scratch. Having found an item that once belonged to Chariot, Atsuko must discover how to activate and properly use the mysterious Shiny Rod as she hopes it might lead to finding out what has truly happened to her vanished idol.
One of the most anticipated shows of the Winter 2017 season never saw a legal stream which disappointed many, and that is because Netflix own Worldwide rights to the series. It's no surprise to be fairly honest considering they already have the two OVAs that came beforehand (and unlike the Kickstarter sets, the Netflix streams come with an English dub option).
Little Witch Academia's 2017 TV series follows the same events as the first OVA but eventually delves into a new direction, similar to the Rebuild of Evangelion film series in terms of comparison. The studio behind Little Witch Academia is Studio Trigger, known for animating Inferno Cop, NINJA SLAYER FROM ANIMATION and of course Kill la Kill. You Yoshinari (Little Witch Academia: The Enchanted Parade) directs the series with Michiru Oshima (Fullmetal Alchemist) composing the music and Jun Watanabe (Bakuman!) as sound director.
The two original OVA films are available to stream on Netflix in English & Japanese audio with English subtitles.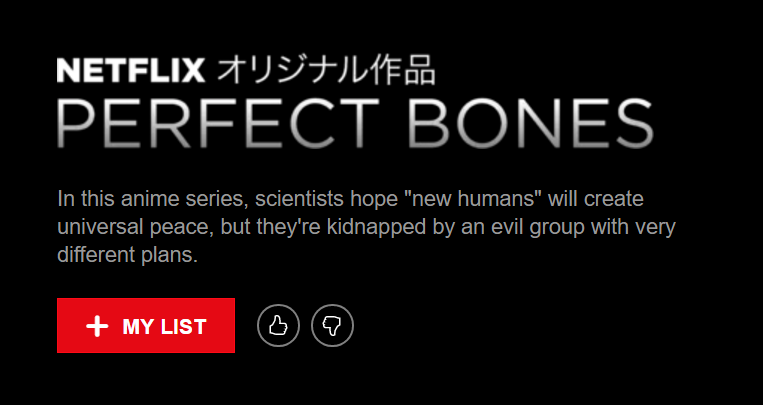 Perfect Bones
Streaming Date: 2018
Netflix page
Last but not least we have a title that's barely received any information aside from studio Production I.G and director Kazuto Nakazawa (Kids on the Slope) working on the project. There is a plot synopsis at the very least:
Perfect Bones set in a future where scientists have tried to create the "perfect human" in hopes of keeping peace in the universe. After nearly achieving their goal through several children, the scientists send their "new humans" for further training where they are kidnapped by an evil organisation set on using their powers to implement their own concept of a new world order.
That's it for what's in store for the time being. Here's a list of other Netflix Original titles available on the service:
Ajin: Demi-Human
Cyborg 009: Call of Justice
Cyborg 009 vs Devilman
GANTZ:O
Glitter Force (Smile PrettyCure)
Harlock: Space Pirate
Knights of Sidonia
Knights of Sidonia: Battle for Planet Nine
Kuromukuro
Little Witch Academia
Little Witch Academia: The Enchanted Parade
Magi: Adventure of Sinbad
The Seven Deadly Sins
The Seven Deadly Sins: Signs of Holy War