Anime Limited to release Mobile Suit Gundam: The Origin I-IV for the UK

NormanicGrav
•
Distributor Anime Limited have kept themselves quiet when it comes to Gundam after suffering numerous push-backs with a few of their titles. Today, Anime Limited have announced the next instalment in the Gundam franchise that they will be bringing to the UK and France very soon to Blu-ray with Mobile Suit Gundam: The Origin.
Mobile Suit Gundam: The Origin is one of the latest titles Sunrise have produced in the past decade and the first new series to be brought over for the UK since Bandai/Beez released the likes of Gundam 00 & Gundam SEED. Like the North American release, the UK & French releases will feature the first four OVAs in one collection. This collection is known as The Chronicle of Char & Sayla.
The collection will be released on 28th May 2018 on Blu-ray only with English & Japanese audio with English subtitles. The collection will be released in a special 1000 unit only edition that matches the other Anime Limited Blu-ray sets, this edition is not exclusive to Shop AllTheAnime and will soon be available across all UK retailers that sell anime.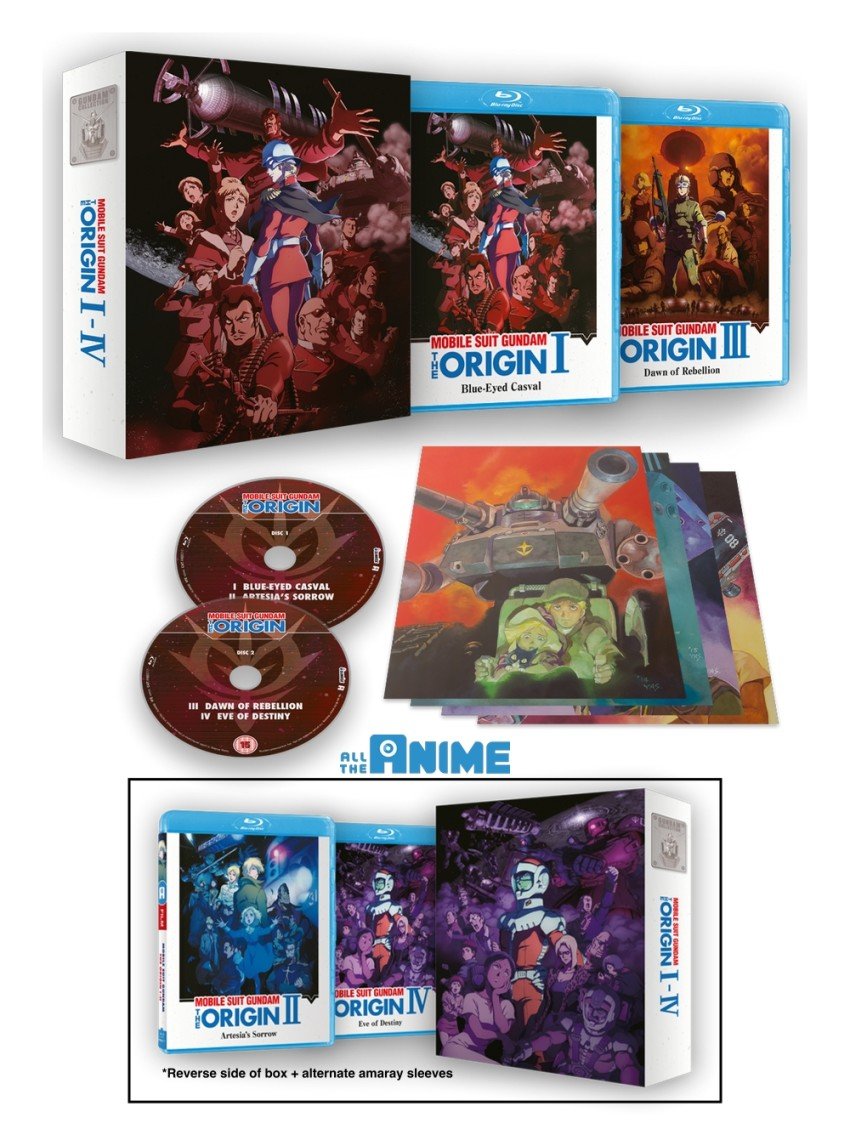 Plot Synopsis for Origin I:
"Universal Century 0068, Side 3 – The Autonomous Republic of Munzo. Zeon Zum Deikun attempts to declare complete independence of Munzo from the Earth Federation Government, while he preaches the evolutionary potential of humans who have advanced into outer space. Deikun however suddenly falls to his death in the middle of his speech at parliament.

Upon Deikun's death, Jimba Ral spreads word of a House of Zabi conspiracy – but despite such efforts the power and sphere of influence of House of Zabi, led by Degwin Sodo Zabi, only seem to escalate.

While we witness for the first time the untold convulsions of Universal Century history, Casval and Artesia, just bereaved of their father, must face destinies which will be just as tumultuous as the very era itself."
Home Video Release Content Specs:
SRP: £49.99
Audio: English, Japanese
Subtitles: English
Discs: 2
1000 Print Edition Specs:
Release Date: 28th May 2018
Box with 2 Blu-ray cases
4 Artcards
Pre-orders for Shop AllTheAnime won't go live until early May, but the listing is available to view.
At the end of their announcement post they have stated that more Gundam titles are in the works for a UK release. Currently they have released the original Mobile Suit Gundam, Mobile Suit Zeta Gundam, Mobile Suit Gundam ZZ, Mobile Suit Gundam: The Movie Trilogy, and Gundam: Reconguista in G on Blu-ray (the latter two of which are currently out of print).
You can check out Anime UK News' interview with Osamu Taniguchi (Producer) and Mika Akitaka (Mechanical Designer) from the European premiere of Origin III.
Source: Anime Limited