Manga Entertainment Schedules UK AKIRA 4K Ultra HD Blu-ray Anime release for 30th November
Distributor Manga Entertainment has revealed plans to release a 4K Ultra HD Blu-ray for Katsuhiro Otomo's Akira, which is scheduled for 30th November 2020 in the United Kingdom and Ireland territories.
The film will be presented in a special collector's edition only release containing the 4K version as well as the Blu-ray version plus a bonus Blu-ray disc with additional bonus features.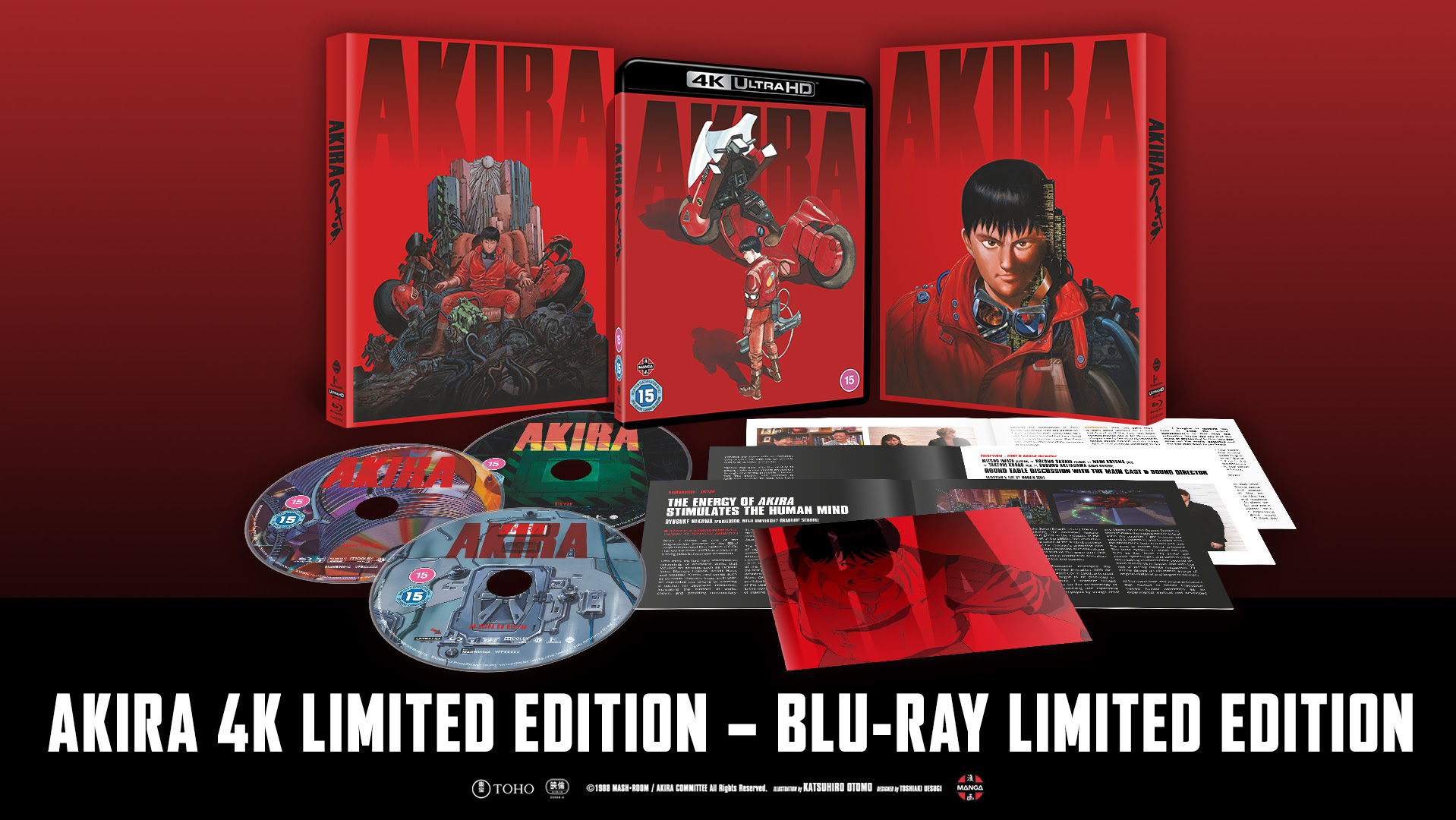 The Suggested Retail Price is £59.99 and the discs will include Japanese with English subtitles (Dolby TrueHD 5.1), the 1988 English dub (Dolby TrueHD 2.0) and the 2001 English dub (Dolby TrueHD 5.1). The 4K Ultra HD release will include the film presented in 4K resolution. 4K disc is all region and will require a 4K Ultra HD Blu-ray player (or PlayStation 5, Xbox One X or Xbox Series X games console) and a 4K Television to play the film.
The main Blu-ray release is the same as the previous release from Manga Entertainment featuring Akira Sound Clip (1988) (JPN 2.0 with ENG narration), Music for Akira, Kaneda's Theme, Exodus, Ethnic Meets Hi-Tech, Awakening, Mutation, Requiem, Director Interview (JPN 2.0 with ENG subtitles), Storyboard Collection, The Writing on the Wall (8 still menus containing translated background text), Original Trailers (2 videos – JPN 2.0 with ENG subtitles), Original Commercials (3 videos – JPN 2.0 with ENG subtitles), Restoring Akira (ENG 2.0), Picture, Glossary, U.S. Trailer (2013).
The bonus Blu-ray disc includes AKIRA sound making 2019, AKIRA sound clip by Geinoh Yamashirogumi, End credits for 1998 theatrical release, Theatrical preview – Trailer collection with English subtitles, and Storyboard collection.
Included with the collector's set is a 40 page booklet which covers 'The Energy Of Akira Stimulates The Human Mind' by Ryusuke Hikawa, 'The Music of Akira Continues to Evolve' by Reiji Asakura, a round table interview with the Japanese cast and sound director, and 'Timeline of Events in Akira'.
"Neo-Tokyo, 2019. The city is being rebuilt post World War III. Kaneda and Tetsuo, two high school drop outs, stumble on a secret government project to develop new weapons – telekinetic humans. Tetsuo learns of the existence of his 'peer', Akira, the project's most powerful subject, and determines to challenge him…"

Plot Synopsis via Manga Entertainment
Based on Otomo's manga series, AKIRA is animated by studio TMS Entertainment (known back then as Tokyo Movie Shinsha) and features Katsuhiro Otomo as director and writer, Izo Hashimoto joining Otomo as writer, and Shōji Yamashiro as music composer. The film had been released around the world including the UK back in the 90s and has been available for over 20 years.
Manga Entertainment has released the film on VHS, DVD and Blu-ray in the UK. Funimation have the rights to the film for United States and Canada with their plans to release a 4K Ultra HD release scheduled for 22nd December 2020 (the US & UK 4K sets are the same except for Blu-ray disc regions).
---
Source: Manga Entertainment PR