Anime Limited Licenses Mamoru Hosoda's BELLE for UK & Ireland, Theatrical Release Announced
UK distributor Anime Limited has announced earlier this morning they have acquired the UK & Ireland distribution rights for Mamoru Hosoda's upcoming 2021 theatrical film BELLE.
BELLE (Ryū to Sobakasu no Hime) will be released in theaters across the United Kingdom & Ireland territories, but at the time of this post currently does not have a release window. On a positive note, the film will also be released on home video after its theatrical window is complete. The film is scheduled for Japanese theaters on 16th July 2021, and North American distributor GKIDS will be releasing the film for United States & Canada territories.
"Suzu is a 17-year-old high school student living in a rural village with her father. For years, she has only been a shadow of herself. One day, she enters "U," a virtual world of 5 billion members on the Internet. There, she is not Suzu anymore but Belle, a world-famous singer. She soon meets with a mysterious creature. Together, they embark on a journey of adventures, challenges and love, in their quest to become who they truly are."
Plot Synopsis via Anime Limited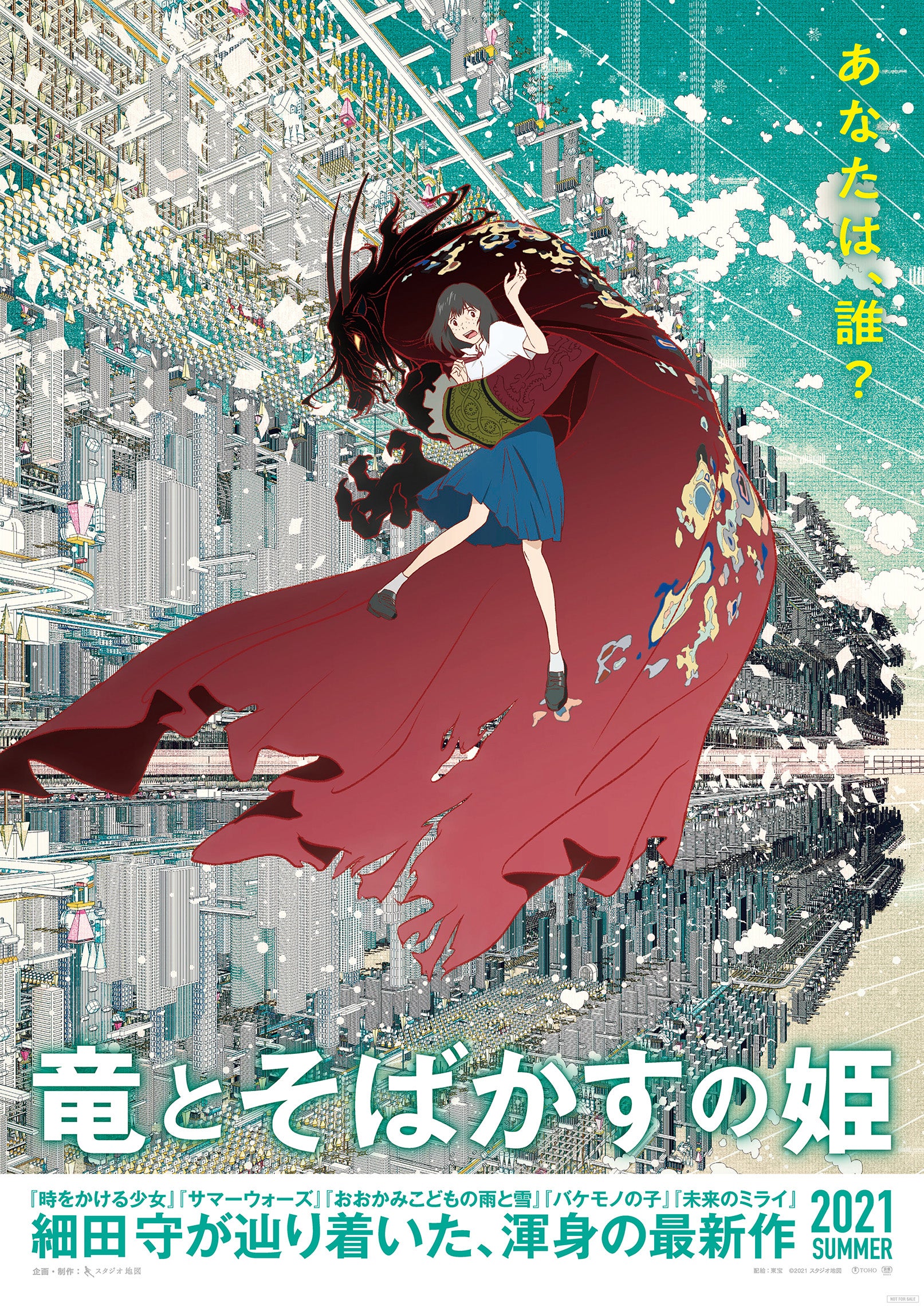 BELLE is the latest anime work from Studio Chizu who also animated Mamoru Hosoda's previous films The Boy and the Beast, Mirai and Wolf Children. Mamoru Hosoda returns as director and writer for the film, and is joined by a number of international staff members from all around the world offering their contributions to the project. These include:
South Korean character designer and animator Jin Kim, known for his work on multiple Disney projects including Frozen and Moana. He will be providing the character design for the character Belle.
Irish director and animators Tomm Moore and Ross Stewart, who founded Cartoon Saloon and produced the Academy award nominated films The Secret of Kells, Song of the Sea, The Breadwinner and Wolfwalkers. The duo will be contributing to the artwork of the film.
British architect and designer Eric Wong, providing designs for the film's virtual world 'U'.
Swedish music composer Ludvig Forssell, known for his scores on Hideo Kojima & Kojima Production video games Death Stranding and Metal Gear Solid V: The Phantom Pain. He will be composing the music for the film.
The Japanese voice cast so far includes singer Kaho Nakamura voicing Belle as well as her character's insert song performances, Ryō Narita (Your Name) voicing Shinobu Hisatake, Shōta Sometani (Sion Sono's Tokyo Tribe, live-action Parasyte) voicing Shinjirō Chikami, Tina Tamashiro (live-action Ankoku Joshi) voicing Ruka Watanabe and Rira Ikuta voicing Hiroka Betsuyaku.
"Mamoru Hosoda is one of the greatest directors alive, and his film The Girl Who Leapt Through Time is not only a personal favorite, but was the catalyst for the founding of this company. BELLE represents a dream team of talent from around the globe to create – this is a big screen extravaganza. Perfect for this time as we welcome people safely back to cinemas once more – I can't wait for people to see it!"
From Andrew Partridge, CEO and Founder of Anime Limited.
Anime Limited have released Mamoru Hosoda's Mirai on Blu-ray & DVD, while Studio Canal distributed The Boy and the Beast, and Funimation UK (Manga Entertainment at the time) distributed The Girl Who Leapt Through Time, Summer Wars, Wolf Children and One Piece: Baron Omatsuri and the Secret Island for home video.
---
Source: Anime Limited