Anime Limited Reveals 4K Ultra HD Blu-ray release for Mamoru Hosoda's BELLE, Scheduled for June 2022
UK distributor Anime Limited have announced their home video release plans for Mamoru Hosoda's 2021 film BELLE (Ryū to Sobakasu no Hime) for the United Kingdom and Ireland.
The science fiction fantasy film produced by Studio Chizu is currently scheduled for release on 27th June 2022 with three editions available; a standard Blu-ray, standard DVD and a deluxe edition 4K Ultra HD & Blu-ray combo pack. All options will feature English & Japanese audio with English subtitles.
The 4K Deluxe Edition Package: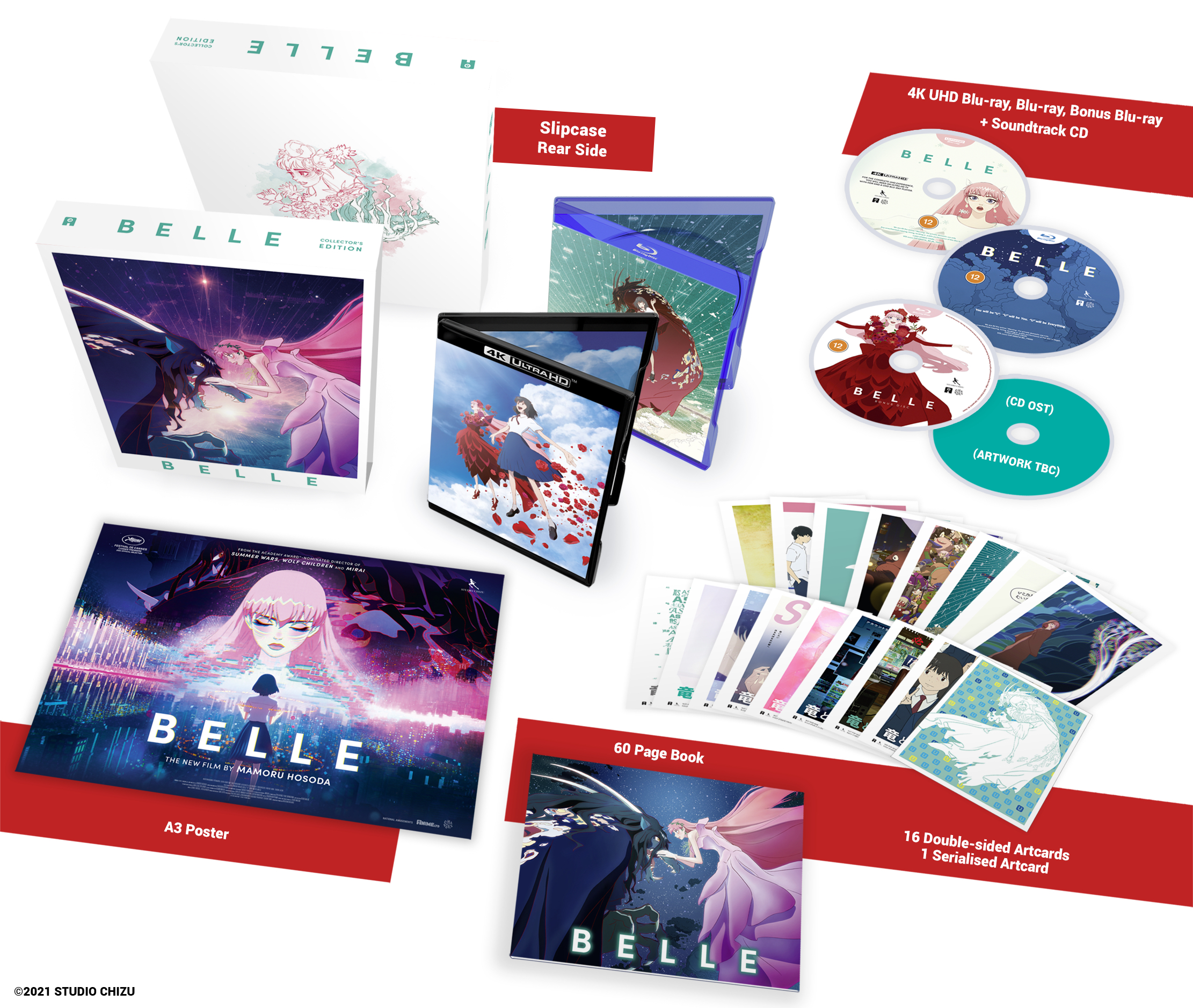 The deluxe edition, exclusive to retailers AllTheAnime and Zavvi, will include a rigid box housing the 4K Ultra HD & Blu-ray discs of the feature film, a bonus Blu-ray disc with tons of bonus features and the film's original soundtrack CD composed by Ludvig Forssell (Death Stranding, Metal Gear Solid V: The Phantom Pain).
Also included with the set is an A3 poster based on the UK theatrical artwork, 60-page booklet with information about the film and music lyrics, as well as 16 double-sided art cards with 1 serialised art card.
The 4K Ultra HD disc will include Dolby Atmos 7.1 audio, Dolby Vision High Dynamic Range (HDR) and also a bonus feature presented in 4K; Interview with director Mamoru Hosoda at the Glasgow Film Theatre. The disc is expected to be region free like the distributor's previous 4K releases (for context: there are some 4K titles in the world that are not region free, like GKIDS' Weathering With You).
The bonus Blu-ray disc will include over 2 hours of content:
The Making Of BELLE
A Conversation with Director Mamoru Hosoda
The Music of BELLE interview
Finding the Voice of BELLE
Scene Breakdown: The Ballroom
Scene Breakdown: The Station
Hosoda @ Animation is Film
Hosoda Draws Belle
Kylie McNeill performs "Gales of Song"
Design Gallery
The extras are currently listed for the collector's edition and not the standard (whereas they are featured on the GKIDS Blu-ray release in North America).
The SRP for this release is £69.99 with an early bird planned for Thursday 28th April 2022 (price is to be confirmed).
Standard Edition Package: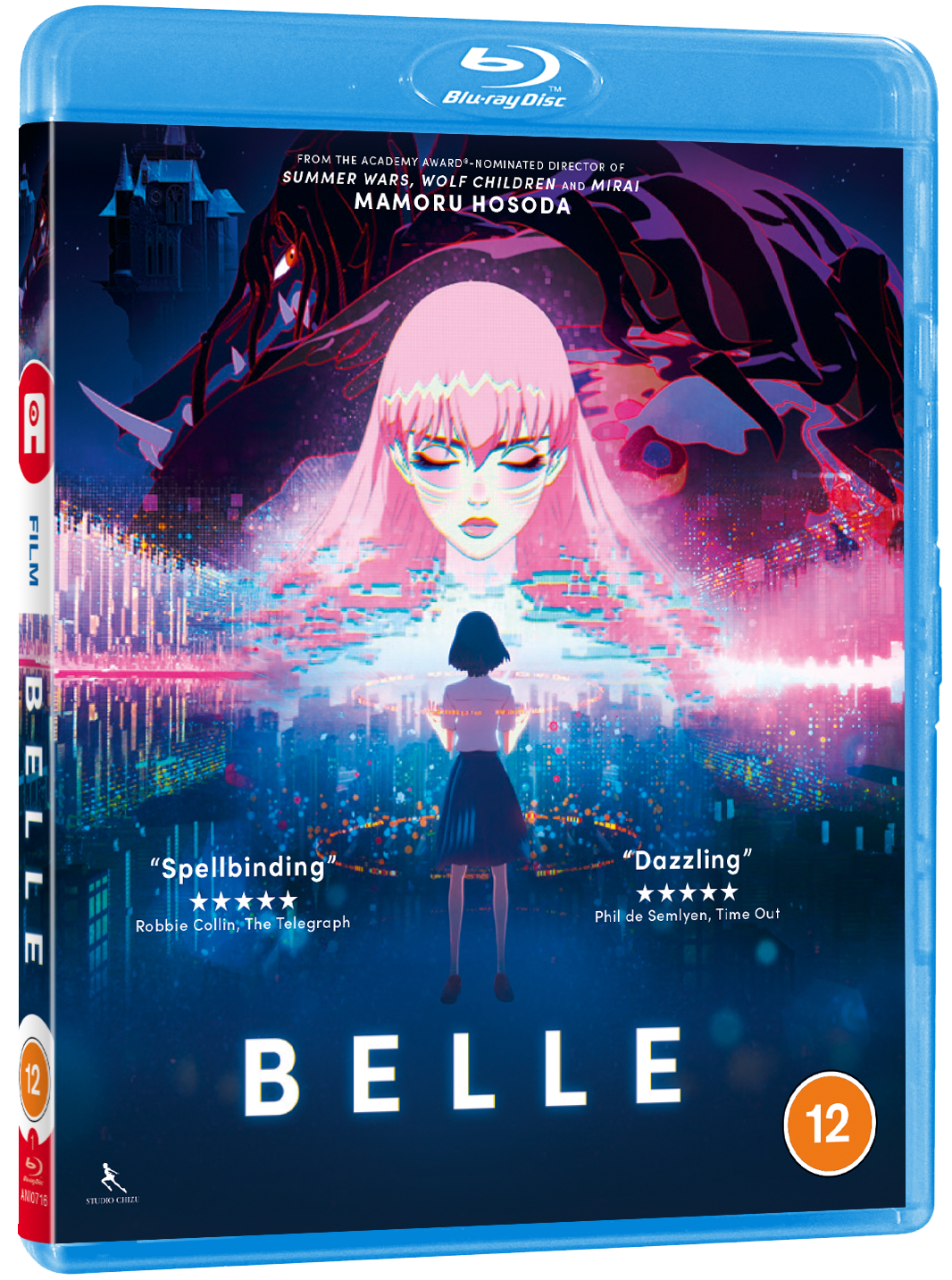 In addition to the collector's edition, a standard edition Blu-ray and DVD release will also be available across multiple retailers.
About BELLE:
"Suzu is a 17-year-old high school student living in a rural village with her father. For years, she has only been a shadow of herself. One day, she enters "U," a virtual world of 5 billion members on the Internet. There, she is not Suzu anymore but Belle, a world-famous singer. She soon meets with a mysterious creature. Together, they embark on a journey of adventures, challenges and love, in their quest to become who they truly are."
Plot Synopsis via Anime Limited
BELLE is the fourth animated feature film from Studio Chizu, with Mamoru Hosoda returning to direct the film after their previous works Wolf Children, Boy and the Beast and MIRAI.
BELLE brings a collaborative work of a number of international staff members. In addition to Swedish music composer Ludvig Forssell, we also have Korean character designer Jin Kim (Disney's Encanto) and Irish animation studio Cartoon Saloon (The Irish Folklore Trilogy) help contribute to the designs of the film.
The English dub also provided English versions of the film's music, with actress Kylie McNeill providing vocals for the main character Belle.
About Anime Limited:
Since late 2012 Anime Limited have distributed a wide range of anime titles for the UK & Ireland. For the past decade, they have released classic hits like Cowboy Bebop, El-Hazard and Perfect Blue, and partnered with studio Sunrise to release the iconic Gundam franchise on Blu-ray. They are also known for releasing anime that are considered cult classics or very niche, with releases like Bartender, Genius Party, Kaiba, ON-GAKU, Princess Arete and Tokyo Marble Chocolate.
BELLE marks another release for Anime Limited's continued support for the 4K Ultra HD format. Their previous releases include Belladonna of Sadness, Millennium Actress, Weathering With You and Your Name, with their next 4K release scheduled is the upcoming TV series Future Boy Conan.
---
Source: Anime Limited Press Release