Neon Genesis Evangelion Ultimate Edition Blu-ray Details Revealed, Pre-orders Open, Available 6th December
After months waiting and a recent countdown ticking off for the past seven days, details on the upcoming Ultimate Edition Blu-ray release for Neon Genesis Evangelion has finally been revealed.
---
Pre-order Details:
First things first, UK distributor Anime Limited is collaborating with US distributor GKIDS and Australian distributor Madman on offering the same packaging for each region. The discs will have different regional encoding but the content is otherwise identical. Below are the links to their respective retailers for those who are need assistance in where they can order the set.
United Kingdom & Ireland: AllTheAnime
United States & Canada: GKIDS
For European members who are interested in the UK release, do note that prices during checkout won't have UK VAT included but will be subjected to customs in your region.
---
Ultimate Edition Details:
There's a lot of content provided in this release, so we'll do our best to break it down to make it easier for everyone.
Packaging: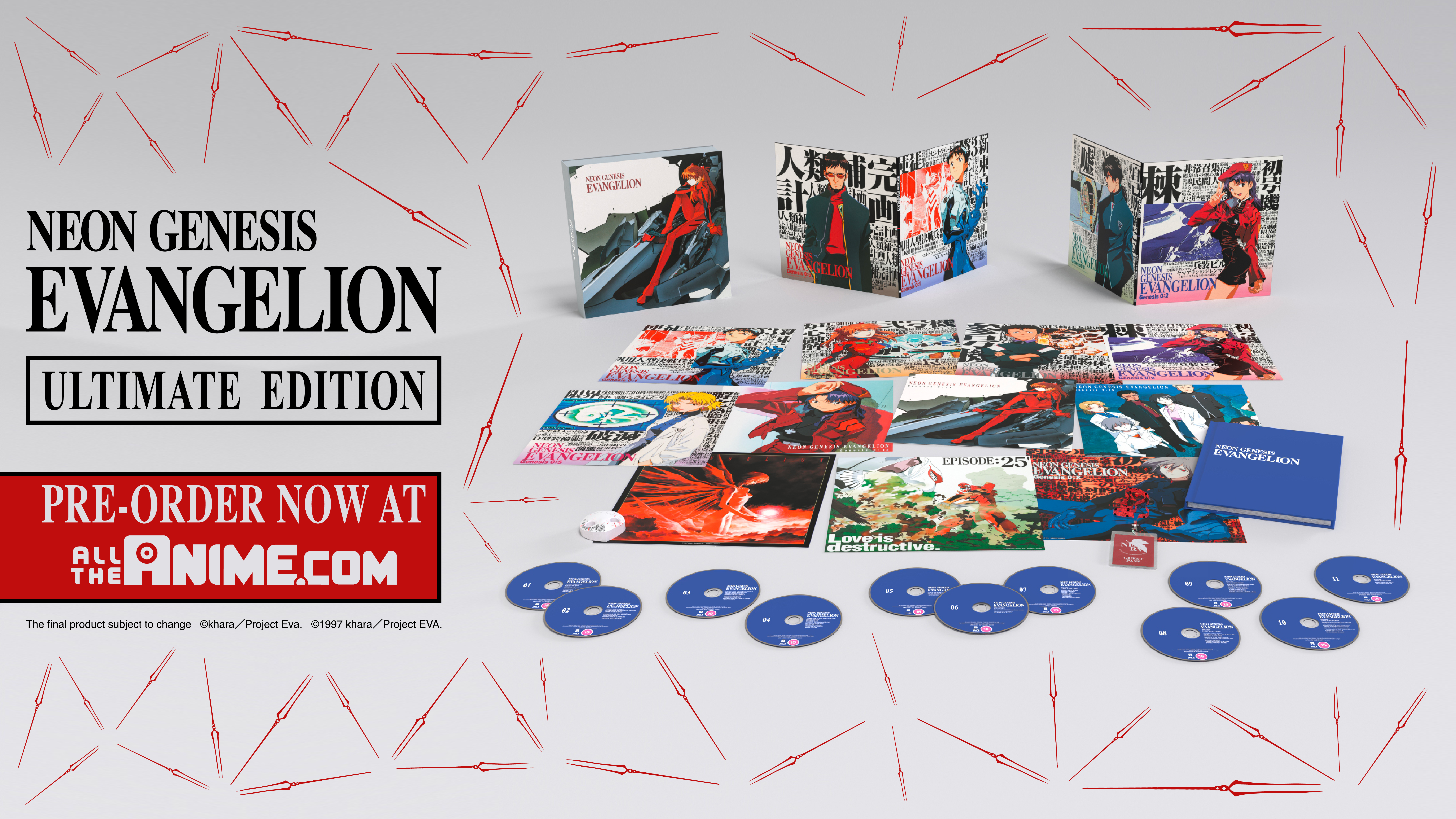 The Ultimate Edition is packaged in a "premium-quality rigid-board shoulder box" with exclusive artwork never seen in any release in the UK. In fact the artwork here was previously used in the Japanese LaserDisc release.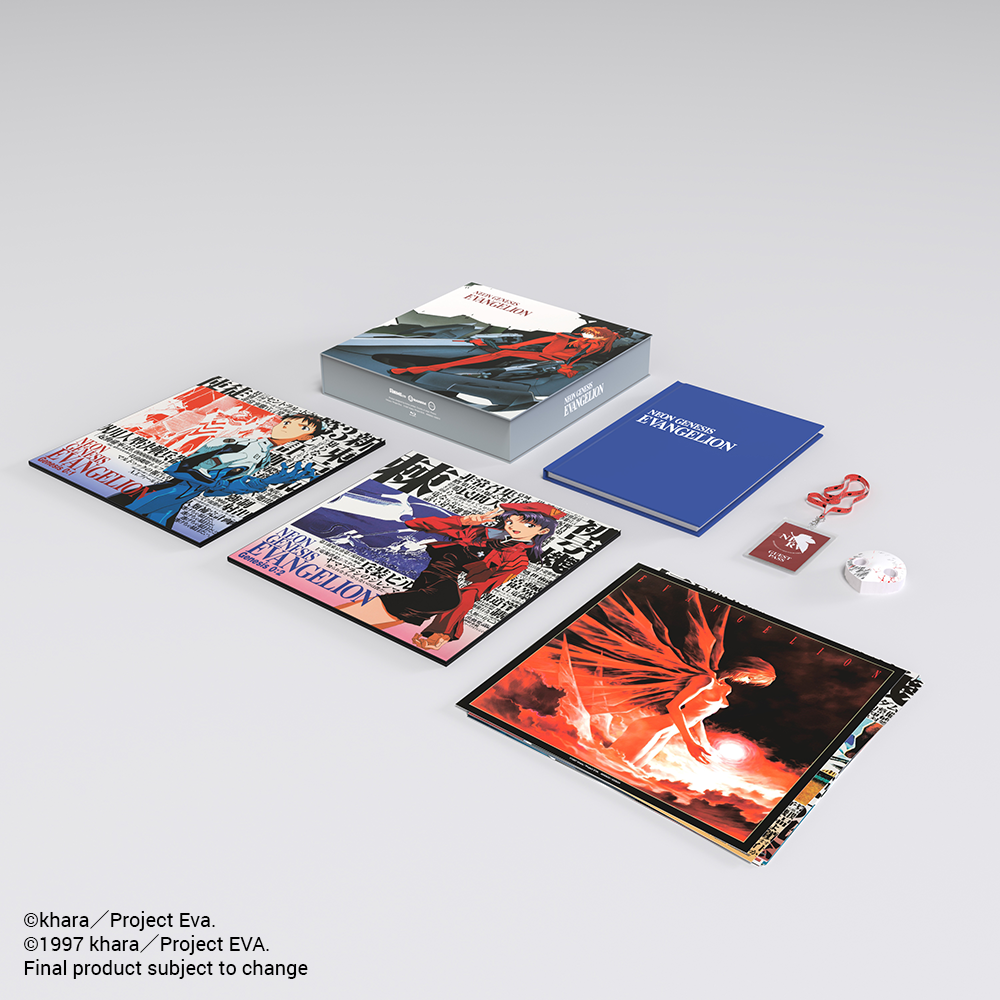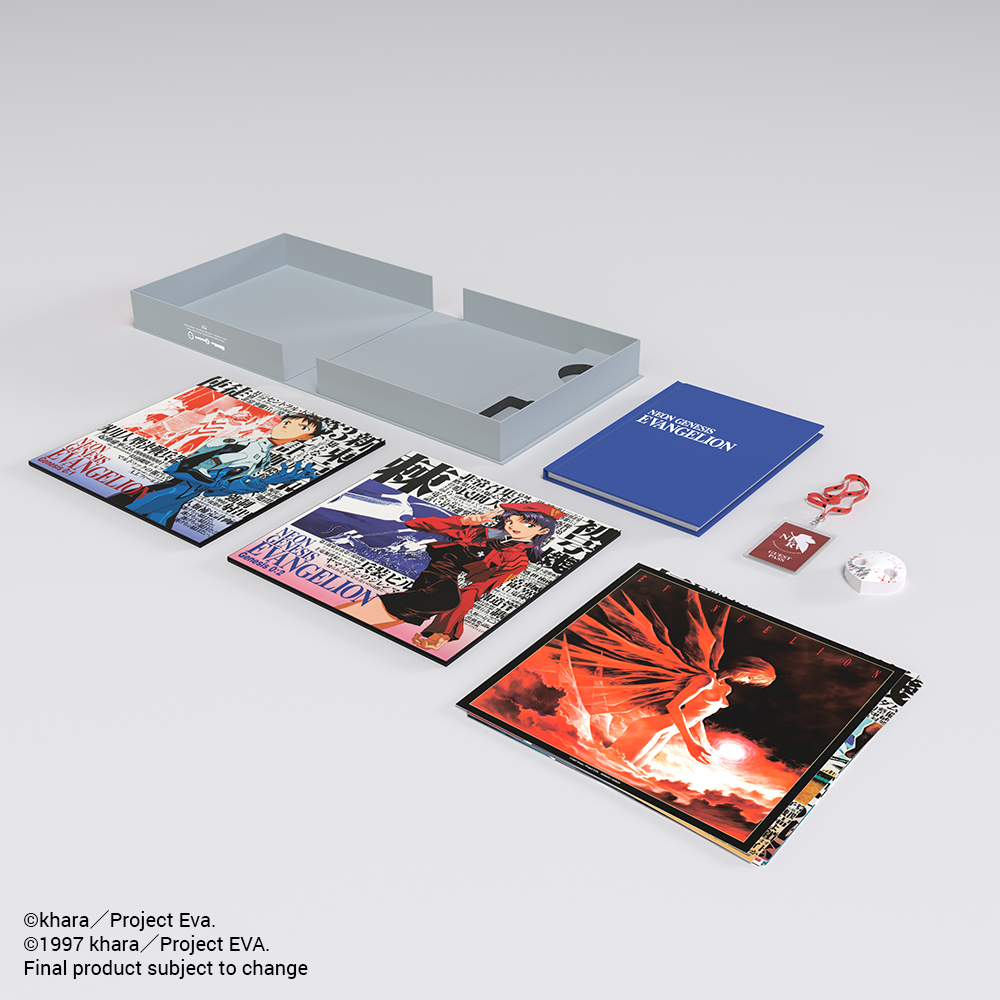 The set includes two sturdy fold-out disc carriers also featuring artwork from the LaserDisc sets. Asuka & Rei cover the main box, Shinji & Gendo are on one carrier, while Misato & Kaiji are on the other.
For physical items we have a 156-page book that features:
Promotional Posters and Artwork
Glossary of Angels and EVA units
Timeline of key moments in the release of Neon Genesis Evangelion
Full Credit List for each episode
Detailed Surveys of all 26 NGE episodes
And many more.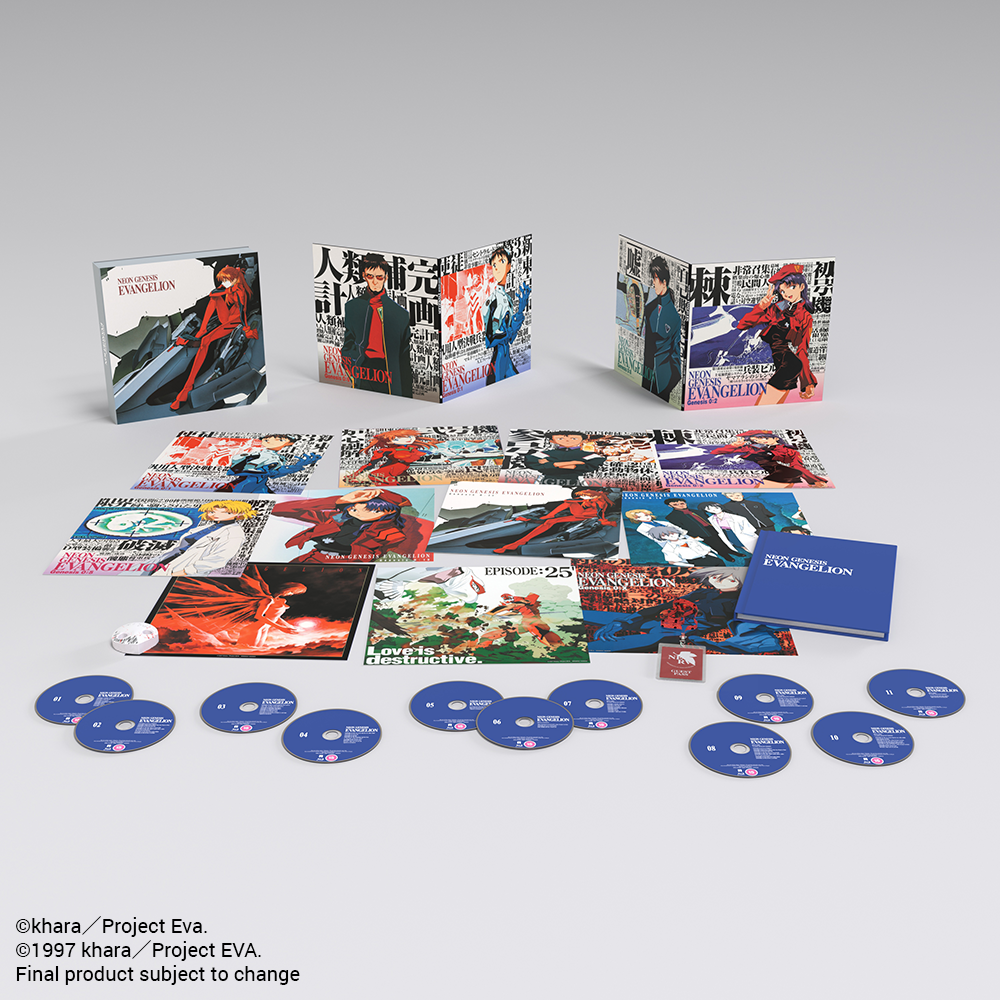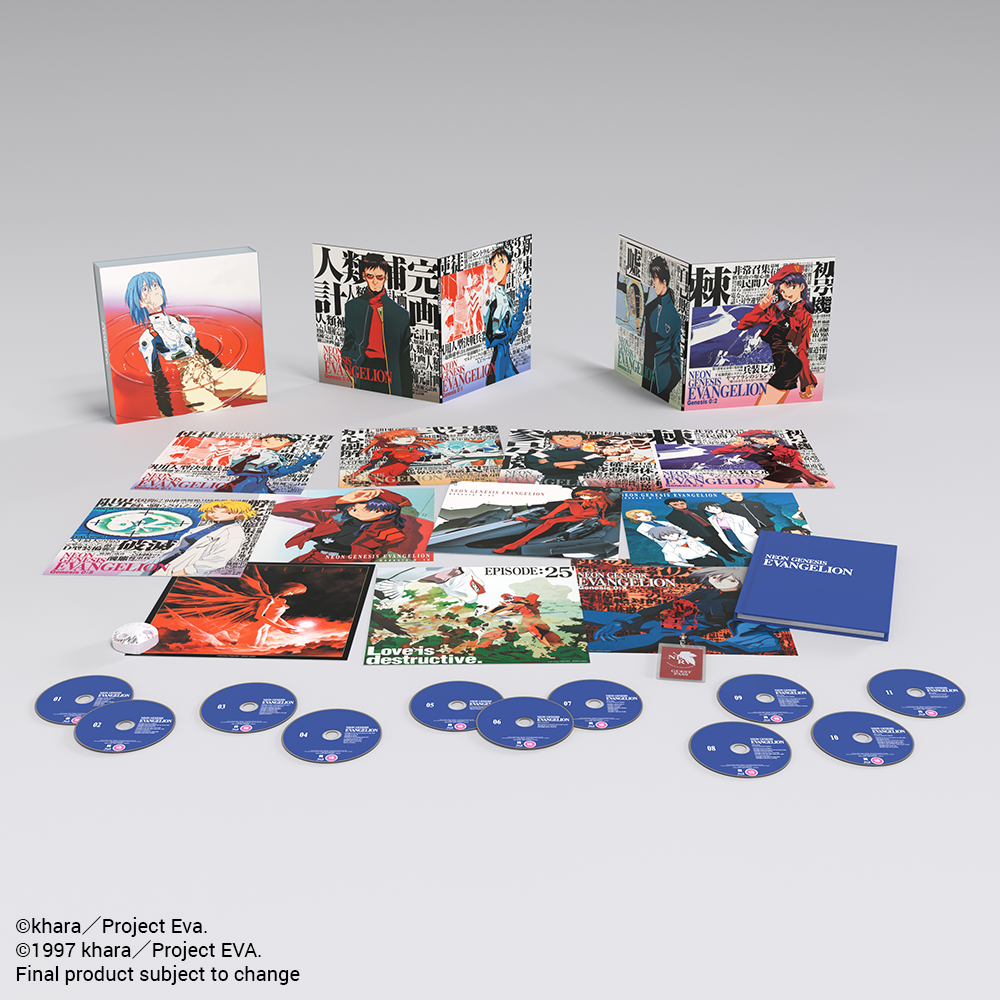 Also included are 11 double-sided 12×12″ Art Boards. These are stated to be high-quality replication of the full character based artwork from the Japanese LaserDisc sets. The distributor further states they are printed on sturby cardstock for wall display and framing.
Other fun physical items included are a limited edition Sachiel Resin Paperweight, and a double-sided NERV guest ID Card with a reusable 450mm Lanyard "adorned with the Magi System's signature "EMERGENCY" indicators".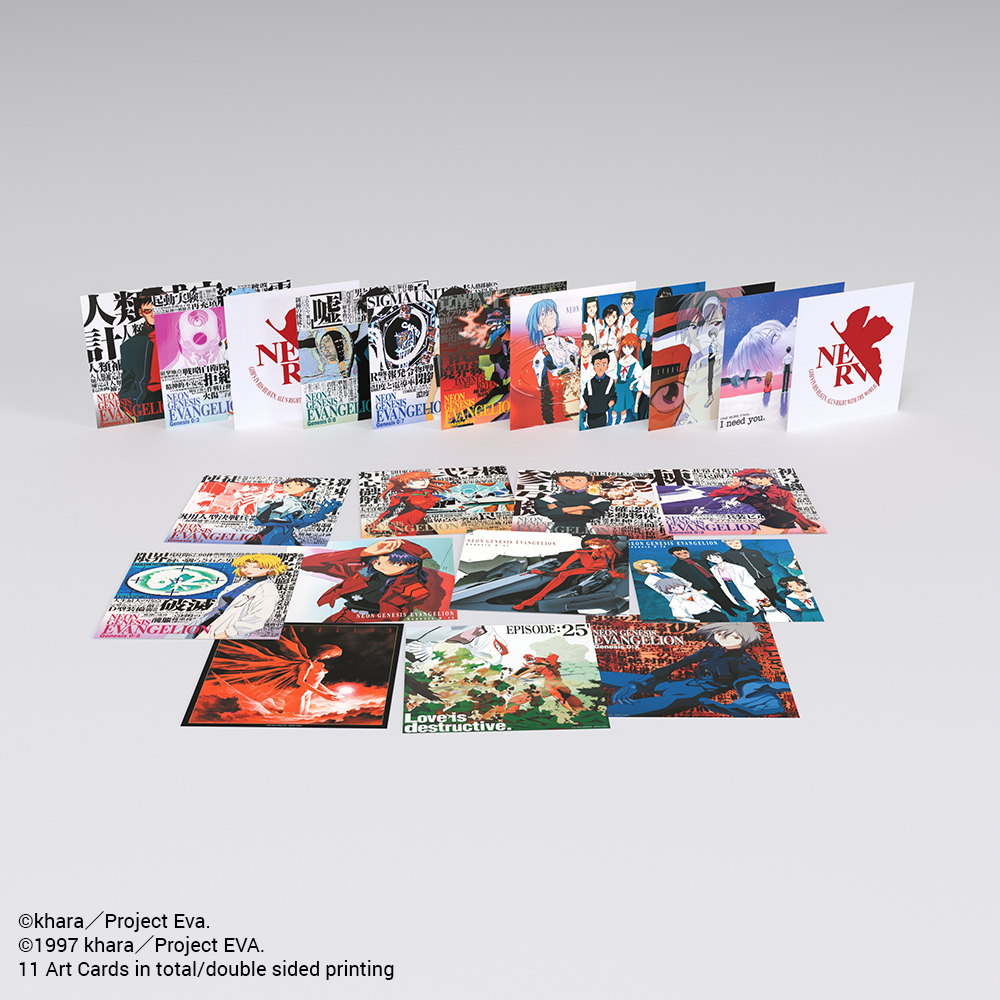 Main Disc Specs:
The main content of the package is all 26 episodes of Neon Genesis Evangelion, the compilation film Evangelion: Death(true)² and theatrical film sequel The End of Evangelion, all presented in high definition. There are 11 Blu-ray discs in total for this Ultimate Edition.
Let's get the bad news out of the way – the iconic ending song 'Fly Me to the Moon' will not be included in this release.
The good news is with regards to the English dub situation, which many had been asking ever since Anime Limited first announced the rights. For context, there are multiple versions; the group of dubs produced by ADV Films (for the TV series) and Manga Entertainment (for the films) with a mostly identical cast, and another produced by VSI Los Angeles for Netflix, each have a different cast of voice actors.
This Ultimate Edition release will include both the classic English dubs (ADV Films for TV Series, Manga Ent. for films) as well as the recent VSI Los Angeles Netflix dub.
It is worth pointing out that the Netflix dub is known as the Official Dub, while the Classic Dub refers to the original ADV & Manga dubs. In addition, the dubs are on separate Blu-ray discs (similar to how Gundam SEED was handled).
Japanese audio with English subtitles will be included, and for those who require Hard of Hearing subtitles, that will also be available.
The audio type for Japanese and Netflix's dub will be DTS-HD Master Audio 5.1, the former based on the 2003 renewal version. DTS-HD Master Audio 2.0 in an original mix remaster is also specified.
For those interested in the voice cast list, that is listed later in this write-up.
On-Disc Bonus Features:
A ton of on-disc bonus features with over SEVEN hours of content! With the exception of the Fly Me to the Moon related content, everything that was included in the Japanese Blu-ray Disc Box release will also be in the Ultimate Edition Blu-ray release.
Neon Genesis Evangelion:
Title-free Opening
30-second Next Episode Previews
TV Commercials
The End of Evangelion:
Home Video version of Episode 25 "Air"

Included in LaserDisc/VHS release 'Neon Genesis Evangelion Genesis 0:13'

Home Video version of Episode 26 "Magokoro o, kimi ni"

Included in LaserDisc/VHS release 'Neon Genesis Evangelion Genesis 0:14'

Musunde Hiraite: First ever full-size compilation of musical tracks that appeared on Episode 26 "Magokoro o, kimi ni," based on raw recording
Episode 26 live-action segments' special rush print

Live-action segments of "Magokoro o, kimi ni" edited personally by chief director Hideaki Anno in accordance with the script

Episode 26 live-action segments' on-set video

Making-of footage from the filming of the live action segments of "Magokoro o, kimi ni," newly edited (Filming: Hideaki Anno, others)

Episode 26, alternate last scene

A version of the last scene with Asuka with a different script than the final version, made during production.

Theatrical Teaser
Theatrical Trailer
TV Spots
Misc. Extras:
Neon Genesis Evangelion Genesis 0:0 IN THE BEGINNING
Neon Genesis Evangelion Genesis 0:0′ THE LIGHT FROM THE DARKNESS
Image Board Collection

A collection of image boards and design sheets drawn during the television series' planning stages, set to the original soundtrack (first featured in 'Neon Genesis Evangelion Genesis 0:1' LaserDisc and videotape's special bonus extras)

Japanese Voice Auditions
TV Commercials Collection:

Japanese VHS Release
Original Soundtracks
SEGA Saturn game
Monthly Newtype March 1996 issue (Kadokawa Shoten)
Shōnen Ace April 1996 issue (Kadokawa Shoten)

Music video collection:

Full size opening "Cruel Angel's Thesis"
"Soul's Refrain / Tamashii no Refrain" by Yoko Takahashi
"Thanatos – If I Can't Be Yours" by Loren & Mash
"Armageddon" by Shiro Sagisu
"Memories of Heaven /Tengoku no Kioku" by Megumi Hayashibara

Animatics Collection:

Episode 9 "Both of You, Dance Like You Want to Win!"
Episode 15 "Those women longed for the touch of others' lips, and thus invited their kisses."
Episode 18 "AMBIVALENCE"
Episode 19 "INTROJECTION"
Episode 20 "WEAVING A STORY 2: oral stage"
Episode 21 "He was aware that he was still a child."
Episode 22 "Don't Be."
Episode 23 "Rei III"
Episode 24 "The Beginning and the End, or "Knockin' on Heaven's Door"
Episode 25 "Do you love me?"
Last episode "Sekai no chuushin de ai wo sakenda mono"
Evangelion: Rebirth
Episode 25: "Air" (partial)
Retail Specs:
The Ultimate Edition Blu-ray set will be released starting Monday 6th December 2021, and will retail at SRP £299.99. There are 1,500 units available for the UK & IE site.
(UPDATE 20th August: Anime Limited has announced that all 1,500 units had been bought and due to popular demand, will be adding an additional 1,000 units. However, this second batch of orders will not dispatch until the end of January 2022).
An announcement about NEON GENESIS EVANGELION 👇 pic.twitter.com/2MCPu8HU8g

— All The Anime (@AllTheAnime) August 20, 2021
The Ultimate Edition Blu-ray will be exclusive to Anime Limited's online store for UK & IE customers. Pre-orders have opened starting today and is available at an Early Bird offer of £199.99, with Anime Unlimited members able to order at a lower cost of £180.
The distributor has confirmed that more editions will be revealed on Monday 30th August.
---
English Dub Voice Cast:
DC refers to the director's cut episodes for the original TV series.
Shinji Ikari
ADV & Manga: Spike Spencer
Netflix: Casey Mongillo
Rei Ayanami
ADV & Manga: Amanda Winn-Lee
Netflix: Ryan Bartley
Asuka Langley Soryu
ADV & Manga: Tiffany Grant
Netflix: Stephanie McKeon
Kaworu Nagisa
ADV: Kyle Sturdivant, Greg Ayres (DC)
Manga: Aaron Krohn
Netflix: Clifford Chapin
Misato Katsuragi
ADV & Manga: Allison Keith
Netflix: Carrie Keranen
Ritsuko Akagi
ADV: Sue Ulu
Netflix: Erica Lindbeck
Gendo Ikari
ADV: Tristan MacAvery, John Swasey (DC)
Netflix: Ray Chase
Kozo Fuyutsuki
ADV: Guil Lunde
Manga: Michael Ross
Netflix: JP Karliak
Ryoji Kaji
ADV: Aaron Krohn
Netflix: Greg Chun
---
About EVANGELION: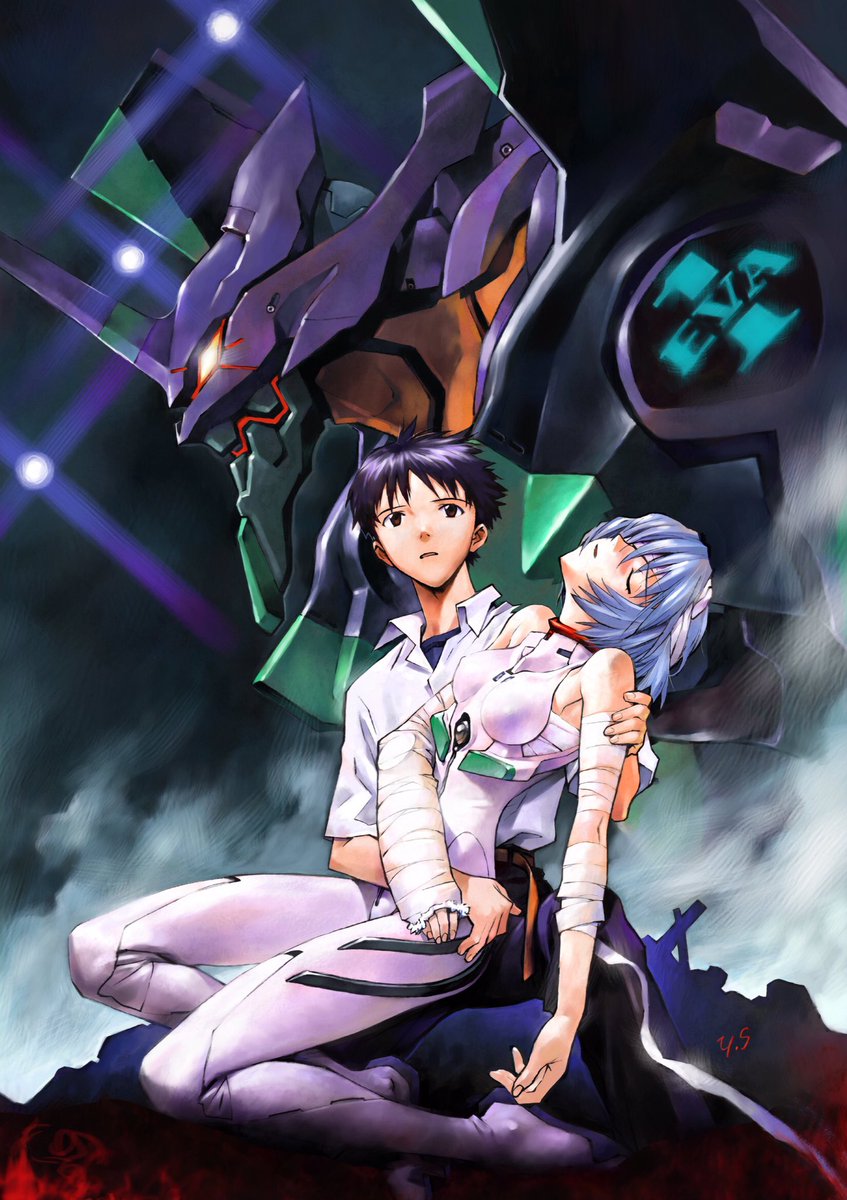 Neon Genesis Evangelion first aired in Japan on October 1995 until March 1996 for a total of 26 episodes. The anime was produced by studio GAINAX and both written and directed by Hideaki Anno. Yoshiyuki Sadamoto drew the characters and Shiro Sagisu composed the music score.
Episodes 21 to 24 were also given the director's cut treatment which provides new and reworked scenes for the story. The show features the well-known opening song A Cruel Angel's Thesis by Yoko Takahashi and during broadcast the closing song Fly Me to the Moon. Due to licensing issues, Fly Me to the Moon was not included in the Netflix stream outside of Japan.
The television series was distributed by ADV Films for United Kingdom, Ireland, United States & Canada territories in 1996 on VHS and 2000 on DVD. Netflix streamed the series in 2019.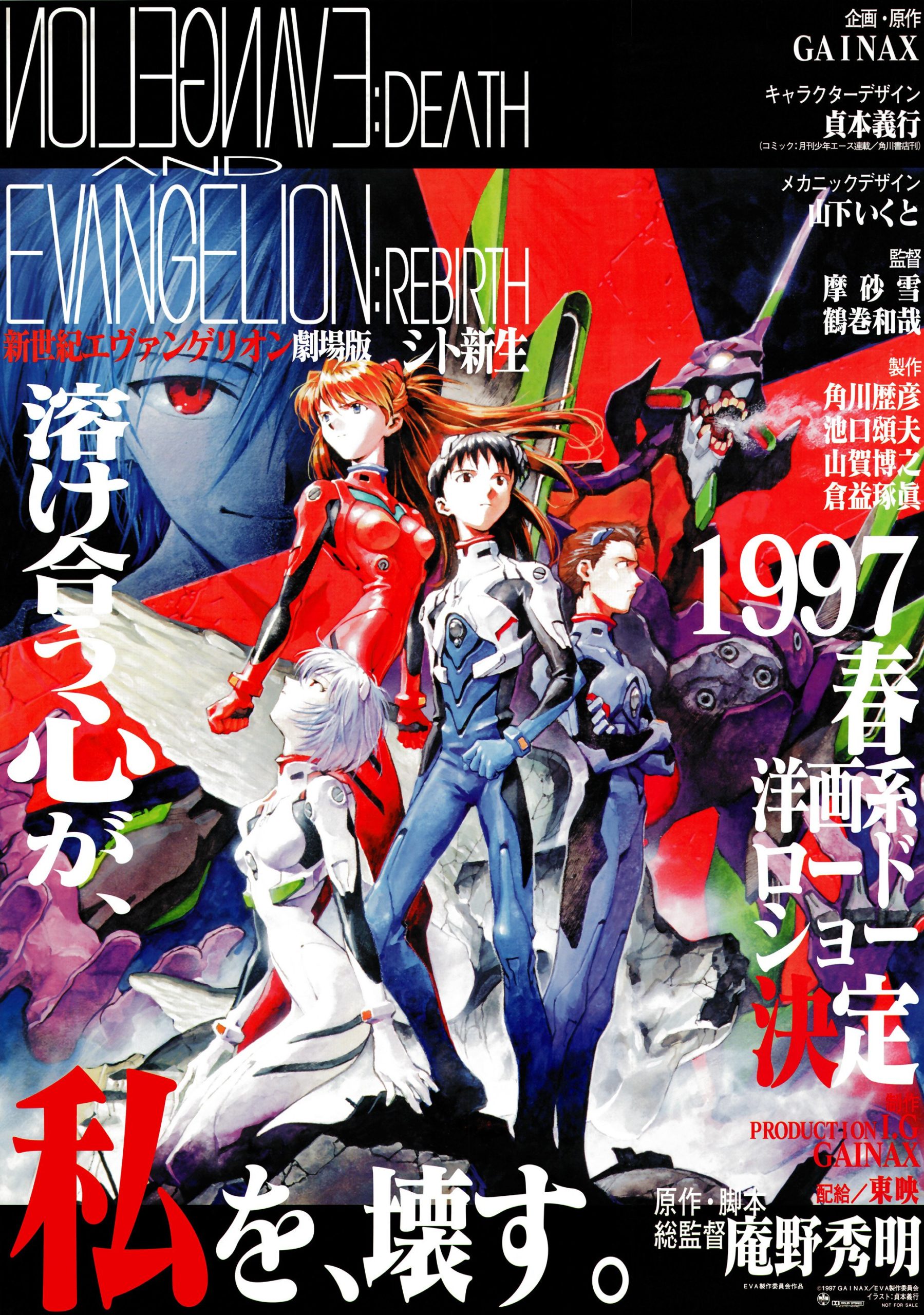 In March 1997, Anno and GAINAX then produced a compilation film recapping the first 24 episodes of the TV series into a 67 minute runtime, called Evangelion: Death & Rebirth. The compilation part is the Death segment, while the Rebirth segment is an incomplete version of what would later be known as The End of Evangelion. Kazuya Tsurumaki assisted Anno with directing the film.
The film was revised a few times with Evangelion: Death(true) in January 1998 for television broadcast followed by a theatrical re-release with Evangelion: Death(true)² in March 1998 as part of Revival of Evangelion. The latter is the version that was used for the Netflix stream and also Anime Limited's Blu-ray release. In the 2015 Japanese BD-BOX & DVD-BOX release, the original Evangelion: Death & Rebirth as well as Evangelion: Death(true)² were included together on the BD-BOX while Evangelion: Death(true) was also included on the DVD-BOX.
The film was first distributed by Manga Entertainment for United Kingdom, Ireland, United States & Canada territories in 2002.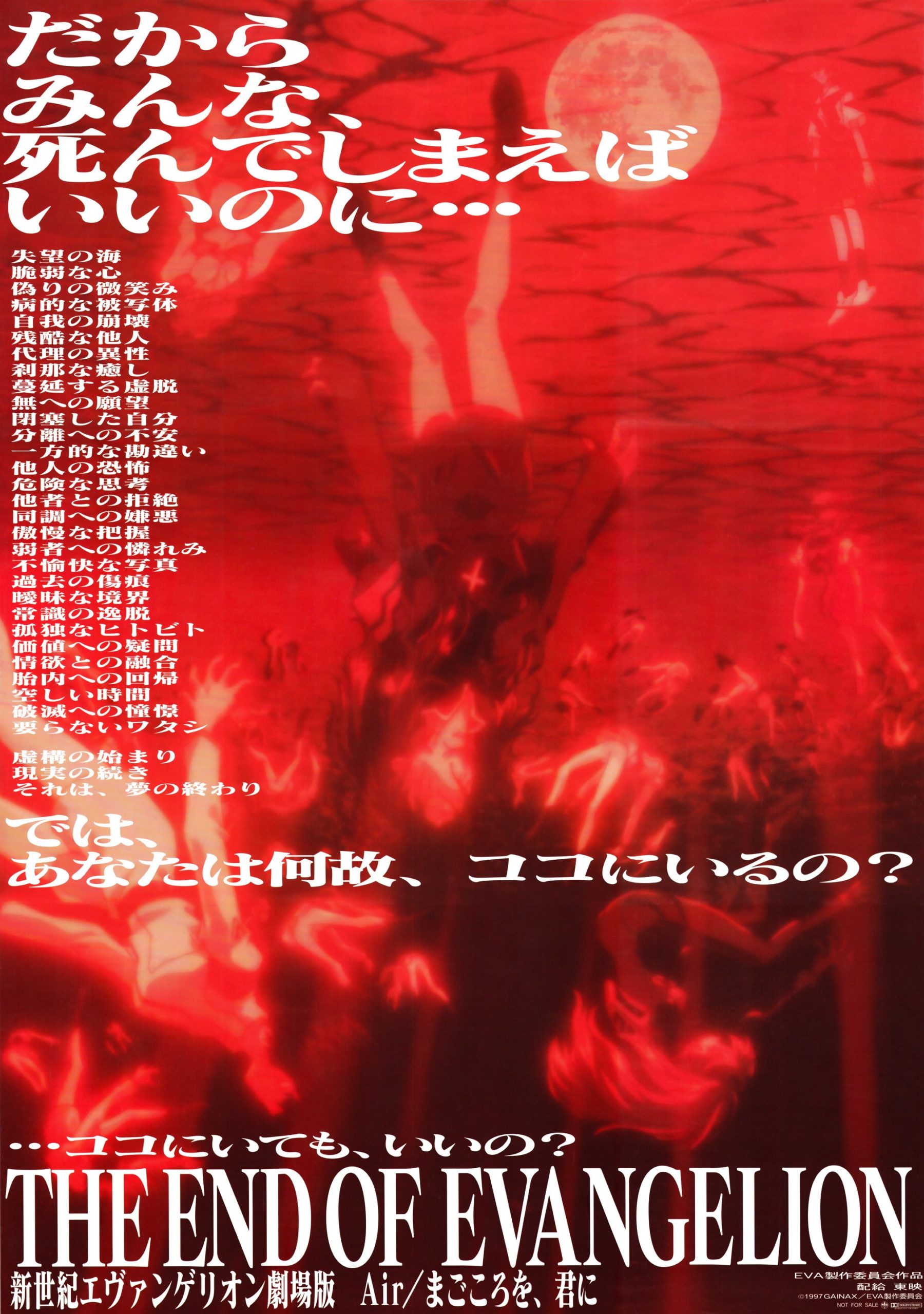 In July 1997, the franchise wrapped up with the second theatrical film The End of Evangelion, which is an alternative ending to the franchise that replaces episodes 25 & 26 from the TV series with a different direction. Production I.G assisted GAINAX with the animation for this film. Like Evangelion: Death & Rebirth, the film is split into two parts with a total runtime of 87 minutes.
The End of Evangelion later became known to many as one of the most well-known anime films of all time, alongside Studio Ghibli films, Akira, Ninja Scroll and Ghost in the Shell. The film was also distributed by Manga Entertainment for United Kingdom, Ireland, United States & Canada territories in 2002.
---
Source: Anime Limited EVANGELION Website