Goodbye, Don Glees! Theatrical Review
Demelza
•
Director Atsuko Ishizuka has been at Madhouse for a long time, quietly rising through the ranks and leaving behind some fantastic work. Readers may recognise her most for A Place Further than the Universe, an anime original TV series following four high school girls. Today I'm here to talk about Goodbye, Don Glees! a new original film from Ishizuka which promises to capture our hearts. Will it succeed? Let's find out! 
The story takes place in a remote countryside town where first-year high school student Roma Kamogawa is about to reunite with childhood friend Hokuto Mitarai (referred to as Toto by his friends) who has returned from Tokyo for the weekend. It's the summer holidays and Roma has been spending his days working on his family farm while saving money to buy fireworks for Toto's return. This coincides with the weekend they always hold a private firework show for themselves.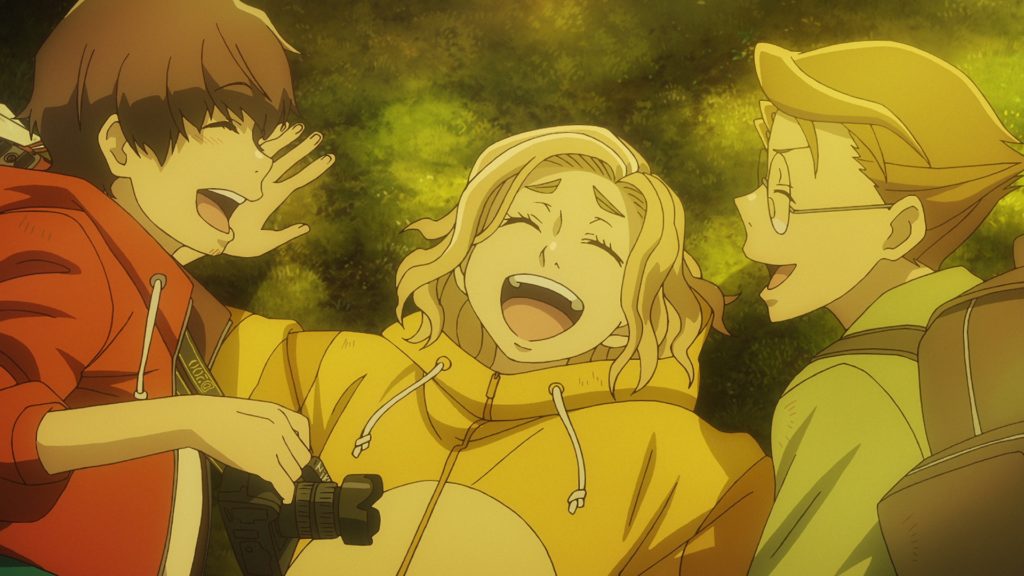 But this year is slightly different to normal as the duo has turned into a trio with Roma's new friend Shizuku Sakuma (nicknamed Drop), having joined the 'Don Glees' gang. Toto isn't thrilled by this, nor by the fact Drop has encouraged Roma to drop his life savings on a drone so they can film the fireworks from up on high and his mood further sours when things go horrible thing for the three.
The night the trio set off their fireworks, the nearby forest catches on fire and although it's nothing to do with them, the members of Don Glees are blamed by their classmates on social media. If they can get the footage of that night off the drone then they can clear their names, but Roma lost control of it and now it's in the woods, miles away from their clubhouse. Still, Roma and Drop are determined to retrieve it and Toto has no choice but to come along for the ride, because that's what friends do, right?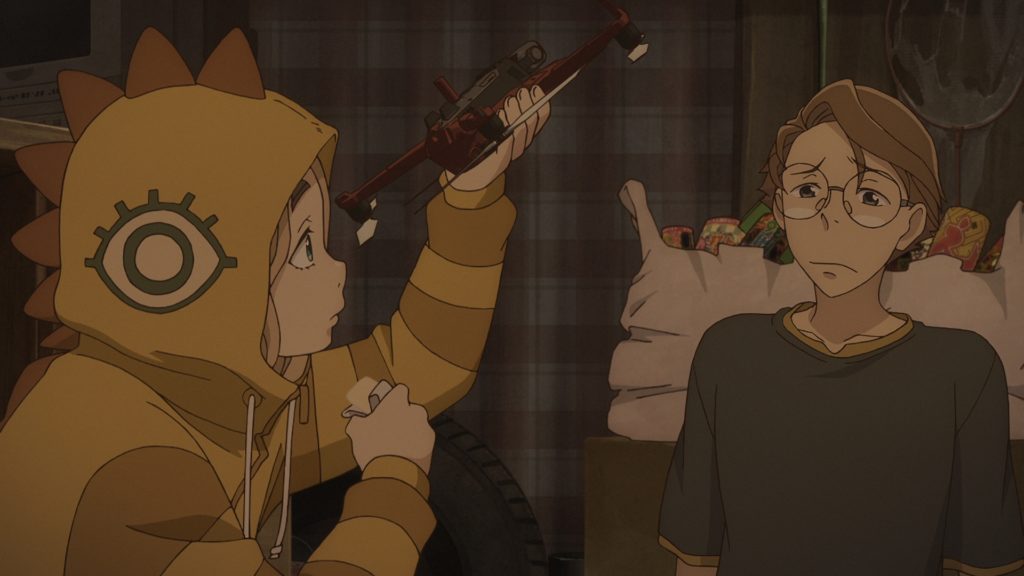 I was lucky enough to first see this film at this year's Scotland Love's Anime, where Jonathan Clements introduced it to the crowd. One particular part of his introduction has stuck with me since then. Clements talked about how Ishizuka's choice to have an all-male cast this time around (in contrast to A Place Further than the Universe), was influenced by the fact that boys can be thrown around and roughed up more than girls can – something we see a lot of in this film!
The journey to retrieve the drone is a true summer holiday adventure. It's estimated to take two days, not accounting for them getting lost or running into any kind of trouble – which they do. They're woefully underprepared in the eyes of an adult, but to these three it doesn't matter as long as they have the map to their destination and some drinks and snacks to survive on. Exploring the forest is no easy feat and these boys get plenty banged up as they go, usually in humorous incidents befitting of the saying "boys will be boys", which certainly gives merit to Ishizuka's decision to have teenage boys as her main cast this time around. Most importantly, their antics are tremendously fun to watch.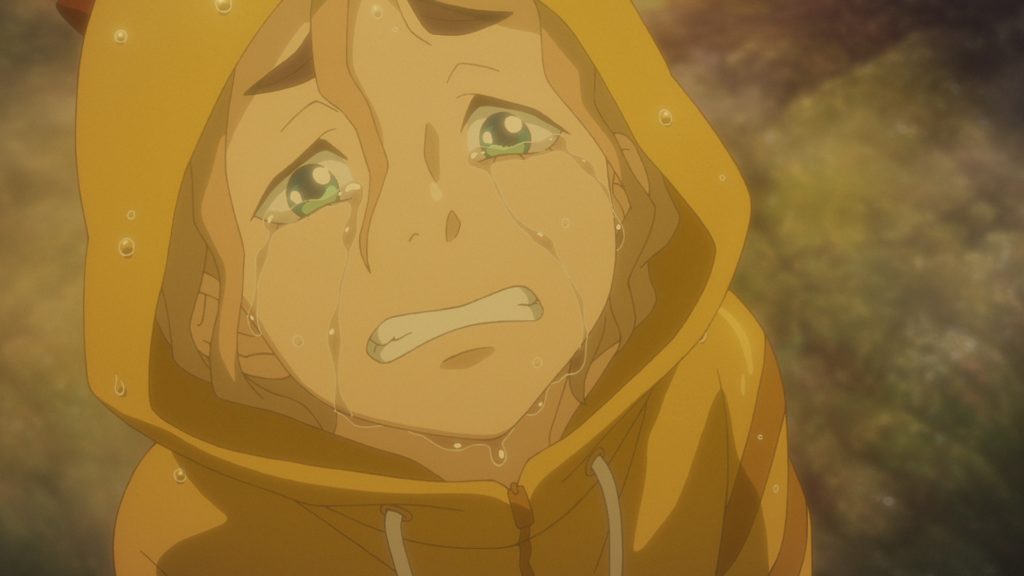 I may have called this a summer holiday adventure, but in truth, Goodbye, Don Glees! is much bigger than that. It's about these three characters finding their place in the world. Roma has never left his small town before, never even gone as far as they need to retrieve the drone, so this adventure is effectively showing him how small the world he lives in currently is. Meanwhile, Toto loves the big city and can't imagine how he lived so comfortably in this town. Everything seems so small now and Roma and the Don Glees club feel so childish to him, but it's not hard to see that there is a sense of loss dwelling in Toto as well. Particularly since Drop's in the picture, he's feeling like his position as Roma's best friend is slowly being replaced. 
Then there's Drop, who formally lived in Iceland and talks excitedly about the lone telephone booth he found near a golden waterfall and the fact he's searching for a "treasure". His history is shrouded in mystery, with brief comments scattered throughout the film that begins to paint a bigger picture for us as an audience and Roma who has been turning a blind eye to reality. Some viewers will immediately recognise the signs of what's to come here, although I do have to give the director credit for managing to sidestep one theory I had concocted early on.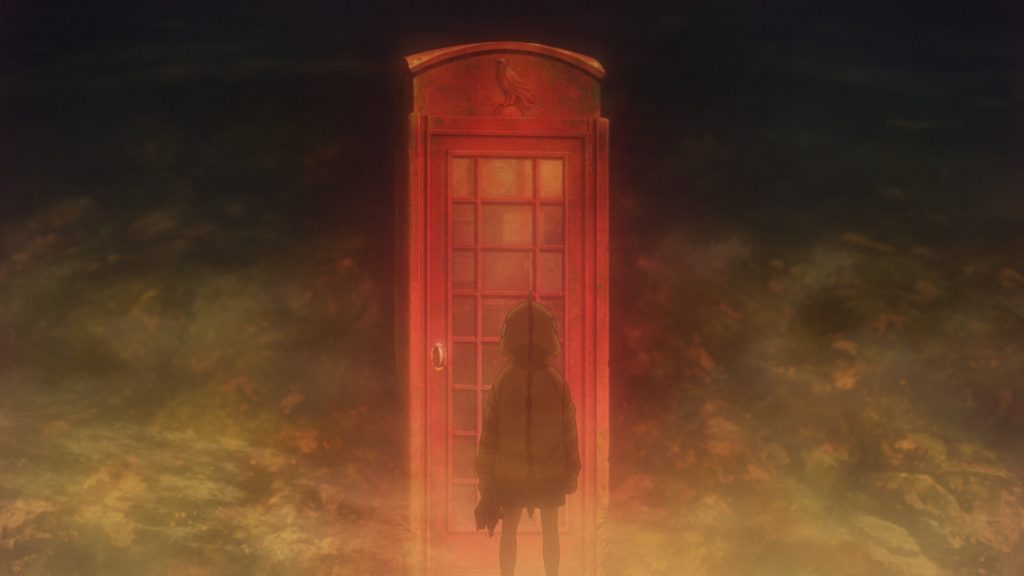 Honestly speaking I loved this film and I was excited to have the opportunity to watch it again so soon for this review. My only criticism is that I feel like the film is a little bit too long, not in terms of runtime (it's only an hour and a half) but in the sense that the story could have finished once the drone retrieval tale ran its course, but it doesn't. It's not like the remaining time is aimless, but I'm just not sure we absolutely needed it either. Luckily that doesn't sour the film at all and even having watched it twice in close succession I never found myself bored or letting my mind wander, so it's clearly not a big issue in the grand scheme of things. 
This film is animated by the animation studio Madhouse (No Game, No Life; A Place Further than the Universe) and it looks fantastic (the screenshots do not do it justice). The team have given it a muted colour palette befitting of the countryside setting and this captures its atmosphere well, but that's not to say the colours are dull by any means. There's some occasional use of CG (mostly for the fireworks and some scenes of the boys exploring on their bikes) which can momentarily throw you out of a scene, but it doesn't look bad, all things considered.
Music for the film has been handled by Yoshiaki Fujisawa (A Place Further than the Universe, The Eccentric Family, Mushoku Tensei: Jobless Reincarnation) and there's a good selection of emotional and upbeat tracks to compliment the ups and downs of the film. There are also vocal tracks (performed by YAMO), which slot into the story remarkably well during key scenes. I can certainly see why Anime Limited have gone to the effort of releasing it on vinyl; it's a soundtrack that remains memorable even away from the movie itself.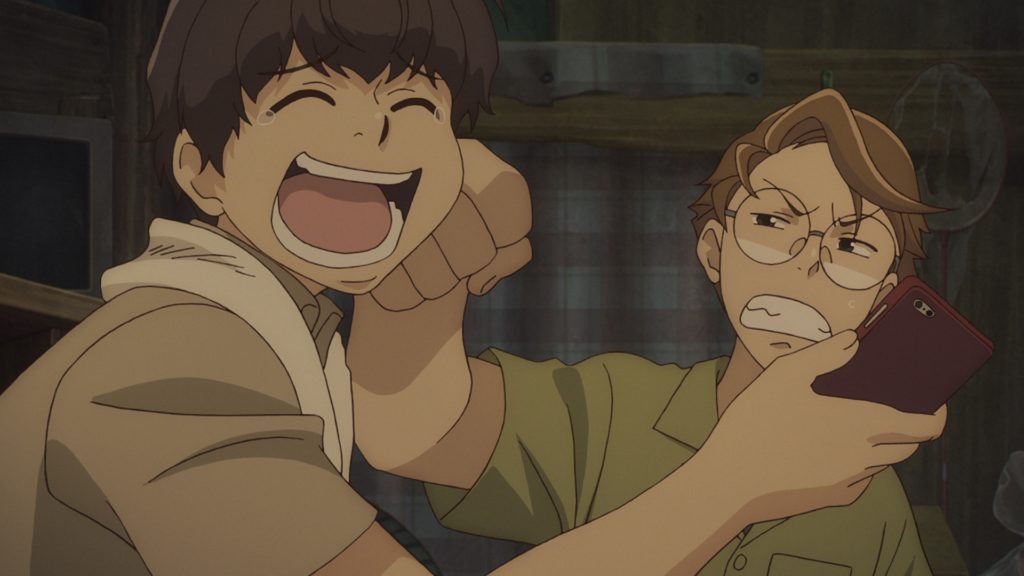 Where voice actors are concerned, the film is being released both in Japanese and with an English dub, although I haven't had the opportunity to see it dubbed. On the Japanese side, protagonist Roma is voiced by Natsuki Hanae (Ken Kaneki in Tokyo Ghoul, Tanjiro Kamado in Demon Slayer) and I have to say this casting choice is probably what made me so instantly fond of the character. Hanae always brings a very excitable and bubbly persona to his roles, but he also has the range to navigate tricky emotional scenes with the seriousness they demand. So for a teenage boy on a summer adventure with many ups and downs, Hanae is a perfect fit. 
Toto is played by Yuki Kaji (Daida in Ranking of Kings, Kenma Kozume in Haikyu!!) while Drop is portrayed by Ayumu Murase (Shoyo Hinata in Haikyu!!, Kazuki Yasaka in Sarazanmai) and just like Hanae, these talented actors handle their characters extremely well. 
Overall Goodbye, Don Glees! is a memorable adventure following three young boys at a time of their life when they're beginning to think of the future while similarly stuck in the past. This film is tremendous fun first and foremost, but its underlying messages will resonate well with viewers and leave an emotional mark too. With repeated viewings proving no less enjoyable, this film is a highly recommended watch. 
Goodbye, Don Glees! Is being released in UK cinemas from the 30th of November 2022. It will be available in Japanese with English subtitles as well as with an English dub. The film has already been shown at Scotland Love's Anime where it won the audience and judges award for 2022 and was also shown at the Leeds Film Festival. Tickets can be booked here.
Images copyright ©Goodbye, DonGlees Partners