Iroduku: The World in Colors Complete Collection Review
Demelza
•
Update 17/07/2023 – It has come to our attention that Episode 13 on Disc 2 of the MVM release is missing subtitles. This is something we noticed on the review discs provided to us by MVM and raised with them prior to publishing the review. At the time the company confirmed that Disc 2 had been remastered already, however, fellow reviewer Onosume has confirmed that the issue has made it to the first print of the retail release of the series. Presumably, MVM will replace the faulty disc if you get in touch with them, but this is definitely something to be aware of if you're an early purchaser.
Studio P.A. Works have a vast collection of original anime under their belt, which has grown significantly in the last few years. One such series is Iroduku: The World in Colors, an original project from 2018 that was available to stream through Amazon Prime Video. Now the series has come to home video thanks to MVM, but is it worth watching? Let's find out! 
Our story begins in the year 2078 and follows teenager Hitomi Tsukishiro, who's from a family of witches but has no love for magic. Hitomi's also colour-blind and her life has no particular joy to speak of as she's closed herself off from everyone around her. Her grandmother Kohaku takes it upon herself to give Hitomi a change of scenery by sending her 60 years into the past, back to 2018.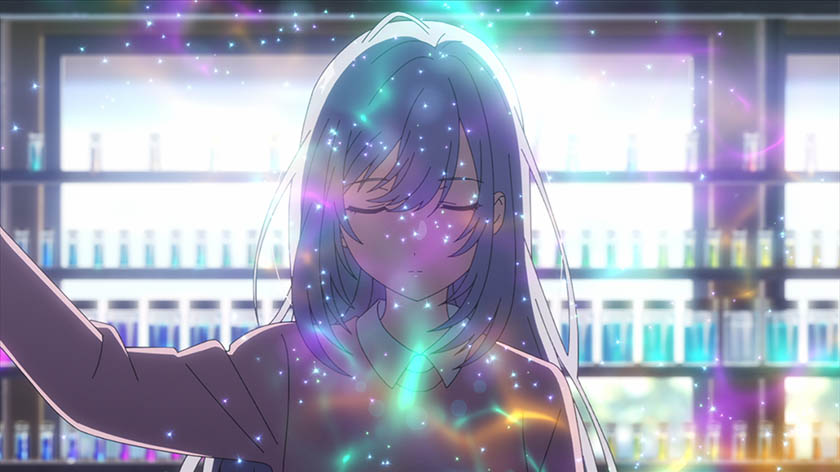 Plunged into an unfamiliar era, Hitomi struggles to adjust to her new surroundings. She has nothing but the clothes she arrived in and a letter addressed to the teenage Kohaku of this era. She's guided to the magic shop Kohaku's family runs by some students from Minamigaoka High School. Still, our protagonist is soon disappointed to learn that Kohaku is currently studying abroad in England and, thanks to her whimsical personality, there's no telling if she'll return home anytime soon! 
With no way to return home without Kohaku's help, Hitomi must adjust to life in this era. Thankfully, her great-great-grandmother is happy to let Hitomi stay in Kohaku's room and they'll even enrol her in Minamigaoka High School so that she can enjoy a normal life where she'll hopefully come to appreciate the every day as well as the magic that runs in her family's bloodline.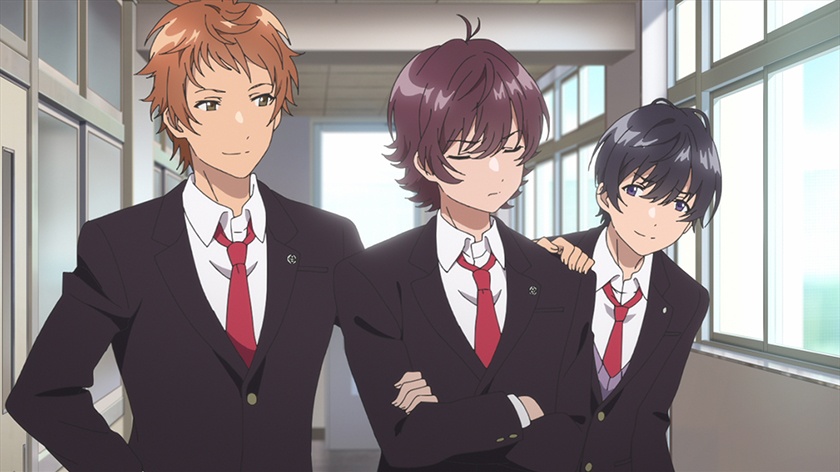 The day before her enrolment, Hitomi meets Aoi, a fellow student who's drawing in the nearby park. To Hitomi's surprise, she can see the colour of his drawing and accidentally brings it to life using magic. Aoi leaves before she can ask to see more of his artwork and her everyday life is still monochrome and lacking in colour, but perhaps being in this era will allow her to solve her colour-blindness. 
Aoi is a part of the Photography & Arts Club along with Asagi, Kurumi and Sho who helped Hitomi find the magic shop when she first arrived in this era. They're also all in the same class together, so Hitomi is soon encouraged to check out the club and potentially join it officially. Due to her interest in Aoi's art, this proves a timely offer!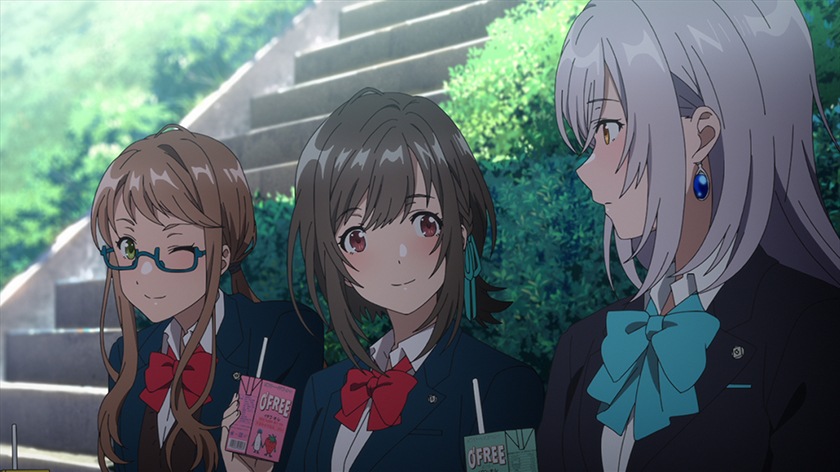 Iroduku is a story about time travel, magic and growing up. Hitomi may have shut herself off from the world, but in a new living situation surrounded by new people, she begins to open up. Each of the students in the Photography & Arts Club has problems of their own too, which are explored throughout the series and help Hitomi relate to them. By the time Episode 4 rolls around, Kohaku has returned to Japan too and begins working out how to send Hitomi back to her own time. It's not going to be a fast process, but it does mean Hitomi can enjoy the day-to-day while reassured that Kohaku will figure out a solution. 
Kohaku is also in Hitomi's class and has a terrible reputation for causing trouble with her magic, usually accidentally. Even on her first day back, she ends up in the headmaster's office for a lecture! Her personality is the exact opposite of the withdrawn Hitomi and that contrast helps get viewers invested in the series as we watch the two interact with one another and grow as people. It's heart-warming and rewarding, which is the most important thing when you're dealing with a story like this.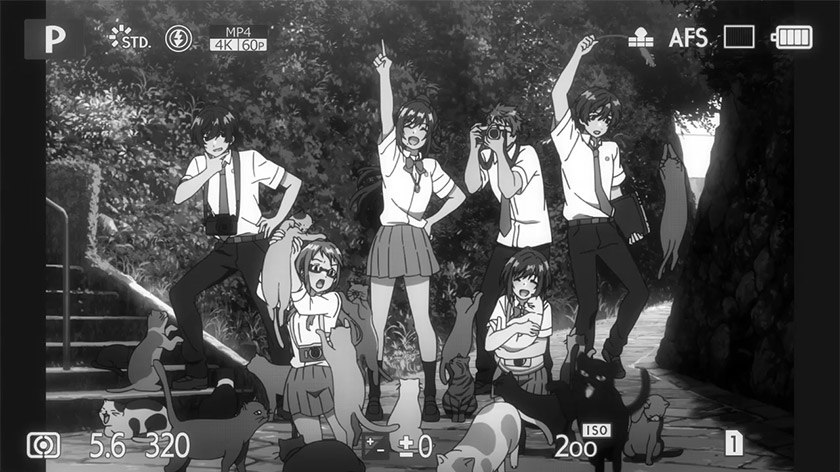 As previously mentioned. Iroduku was created by P.A. Works (Shirobako, A Lull in the Sea, Buddy Daddies), written by Yuuko Kakihara (Kids on the Slope script, Buddy Daddies script and series composition), directed by Toshiya Shinohara (The Aquatope on White Sand, A Lull in the Sea) and featuring character designs from illustrator Fly (Bottom-tier Character Tomozaki, Chasing After Aoi Koshiba). This is an experienced team who are good at creating these coming-of-age stories, both here at this studio and in the wider anime industry. Iroduku's use of colour matches up well with the vibrant visuals the studio can provide and I really enjoyed seeing the contrast between the bright palette used for the majority of the series compared to the monochrome visuals we get when viewing the world from Hitomi's point of view. It's a real treat for the eyes and you can tell a lot of work has gone into making sure the visuals match the theme of Hitomi's world opening up in this new era.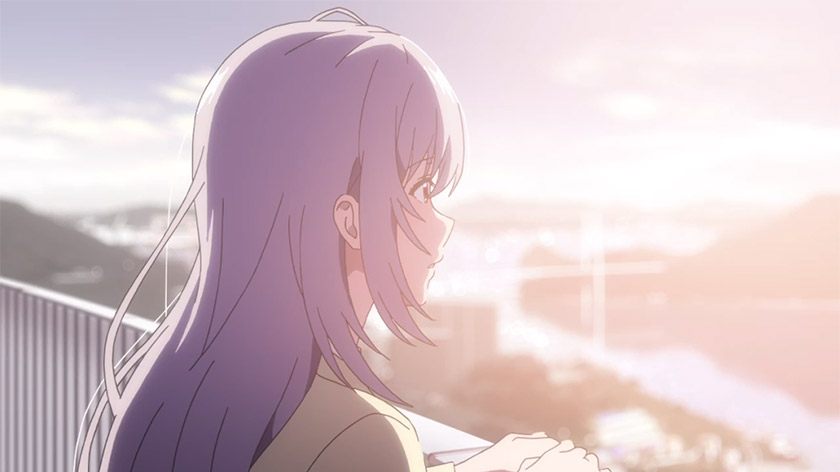 Music for the series has been handled by Yoshiaki Dewa (Call of the Night, Flying Witch) and the soundtrack is filled with gentle compositions that complement the setting. I've always found that P.A. Works have a knack for picking composers who can create perfect 'slice-of-life' backing tracks. Nothing intrusive, but music that's memorable and works well both in the context of the show and away from it and that's certainly the case here. The opening theme for the series is "17-sai" by Haruka to Miyuki, while the ending theme is "Mimei no Kimi to Hakumei no Maho" by Nagi Yanagi. Both songs are mellow and gentle tracks that capture the themes of the show well. 
This release includes the series with both its original Japanese audio and an English dub. Hitomi is played by Kaori Ishihara (Shouta in Miss Kobayashi's Dragon Maid, Tiese Schtrinen in Sword Art Online: Alicization)  in Japanese and Alyssa Marek (Aoi Miyamori in Shirobako, Ruby Hoshino in [Oshi no Ko]) in English. Meanwhile, Kohaku is handled by Kaede Hondo (Sakura in Zombie Land Saga, Chitose Haruna in Fuuka) in Japanese with Cat Thomas (Wiene in Is It Wrong to Try to Pick Up Girls in a Dungeon?, Takeyama in O Maidens in Your Savage Season) on English duties. Both sets of the cast handle their roles well, so the one you choose to watch will certainly come down to personal preference rather than one being better than the other.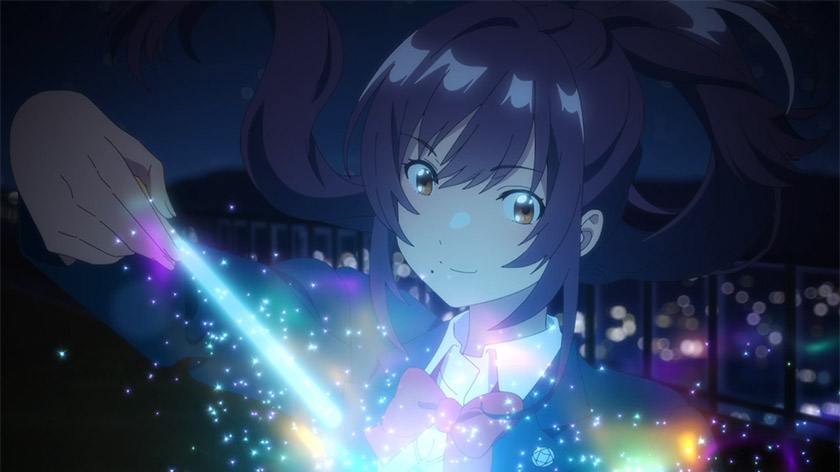 Iroduku comes to home video in the UK thanks to MVM who have released it as a complete Blu-ray collection containing all 13 episodes. On-disc extras include some trailers and clean opening and ending themes. 
Overall, Iroduku: The World in Colors is a series that you will absolutely want in your collection if you're a fan of teenage coming-of-age stories. With vibrant animation, likeable characters and an intriguing story that will keep you hooked from beginning to end, there's plenty to enjoy here if you're a fan of the genre.