Autumn 2022 Preview – New Series
How difficult is it for a brand-new series making its debut this autumn to get noticed amidst the all-enveloping tsunami of long-awaited returning shows? Well, for some of us, brand-new shows are a welcome sight as we're eager for new stories, new situations, potential new favourites. There was a time, after all (and not so long ago) when Spy x Family was an unknown quantity. Could any of the new shows be The New One? (Did someone mention a series entitled Chainsaw Man…?)
Ian Wolf
You might be aware that there is one particular series that people have been talking about…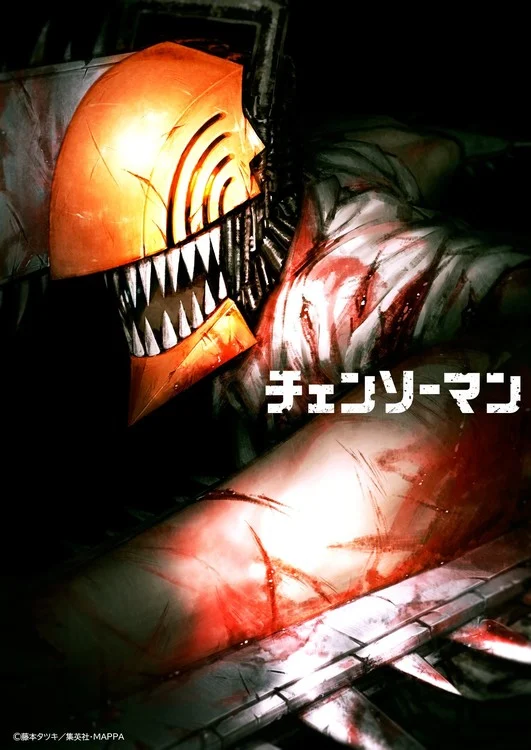 Chainsaw Man, set in an alternative reality in which devils live in our world, follows a poverty-stricken young man named Denji. Denji is trying to clear his late father's debts by using a devil he has befriended called Pochita who has chainsaw powers to kill other devils for the group of yakuza his father was in debt to. When said criminals decide they have had enough of him, they get a zombie-powered devil to kill Denji. However, by consuming Denji's dripping blood, Pochita restores Denji back to life, giving him his chainsaw powers. By pulling a ripcord dangling from his chest, Denji can make chainsaws emerge from his head and arms to slay all before him. He is then recruited into a group of Devil Hunters working for the government.
There's been plenty of talk about this series even before the anime debuted. People have already been enjoying the manga. I've already seen people cosplay the fully chainsawed-up Denji at conventions prior to the anime's debut.
Reviews of the opening episode have generally been good, with much talk about the opening titles with its multiple movie references. I must say however I was not too keen on it, as I felt the opening music was nothing to get excited about and there were some unnecessarily gratuitous shots of some female characters. I'm also unsure about the amount of CGI that studio MAPPA has used in the show. Some however are not keen on MAPPA's involvement at all, given their view on trade unions. In the second episode, in a scene in which Denji is having a bath, the manga shows him talking about union jobs and paid days off. For "some reason" MAPPA removed this dialogue and just had Denji singing in the bath. You cannot deny however that this series has plenty of bloodthirsty action in it that is going to entertain lots of viewers.
While we all know that Chainsaw Man will be the main talking point of the season, there are plenty of the other anime out there just as worthy of mention – and if you like chainsaws, then there is another series that is full of power tools available to stream right now.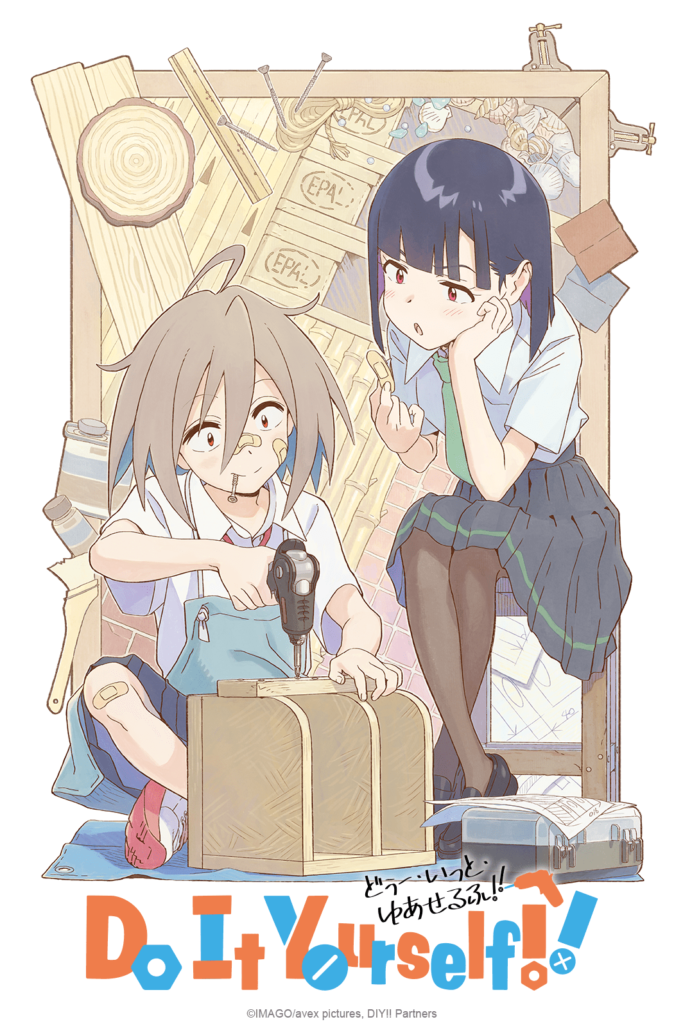 Do It Yourself!! however is a very different beast to the gory Chainsaw Man. As you might guess from the title, the show is all about DIY, or to be exact, about a bunch of schoolgirls who join together to make up a school DIY club. The main character is Yua Serufu (pronounced to sound like "Yourself" in English), a clumsy girl who is always getting injured. One of these accidents ends up with her breaking her bike, but a girl from her school who is passing, Yasaku, gets out a tool belt and repairs it. Serufu joins the DIY Club, partly because she wants to make a bench for her old friend and next-door neighbour Miku (whom Serufu nicknames Purin), and partly because the club needs a minimum of five members to function, so she joins as the club's second member.
This is very definitely a cute and cuddly show. One of the first things we see is Serufu in bed with her three pets: a dog, a cat, and pig wearing sunglasses who is called Meat. The show uses a pastel-like colour pallet, and the series already feels like it fits into the "iyashikei" style of healing, tranquil anime series. I have to say between it and Chainsaw Man, Do It Yourself!! is my personal favourite.
Chainsaw Man and Do It Yourself!! are both available on Crunchyroll.
Onosume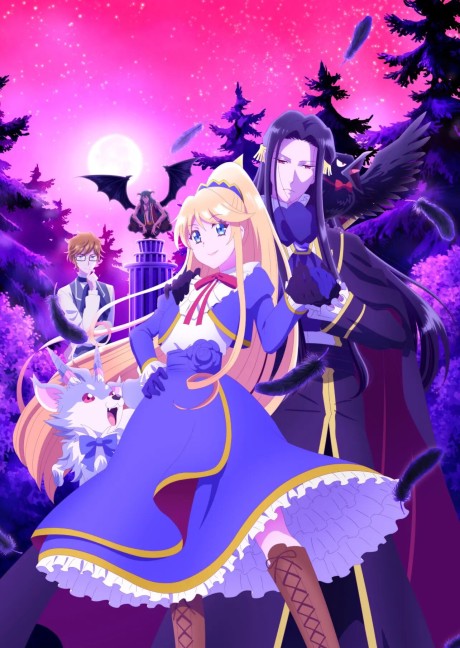 This Autumn brings us one series that I've been looking forward to seeing how it has been adapted to the screen – I'm the Villainess, So I'm Taming the Final Boss. This is a series that I've latched onto quite a bit thanks to reviewing both the light novel and the manga, and while it doesn't quite live up to my expectations, it's still worth digging into, especially if you're coming into things fresh.
The series is an isekai comedy that focuses on Aileen Lauren D'Autriche, a young noblewoman and daughter of the Ellmeyer Empire's Prime Minister, who has just been unceremoniously dumped by her fiancé and heir to the throne, Prince Cedric. Stunned into shock, Aileen suddenly remembers details of her past life, being a sickly girl lying in a hospital in modern Japan with only her favourite dating sim, "Regalia of Saints, Demons and Maidens" to entertain her, which of course is the world she is living in right now. That, however, is a problem, as Aileen is the game's antagonist and is doomed to die in every single route! Vowing to avoid her terrible fate and wanting to seek vengeance on Cedric, Aileen formulates a plan to cuddle up to the cause of each of her in-game deaths, the Demon Lord and Cedric's brother, Claude, and make him marry her. For if she can woo and protect Claude from ever unleashing his demonic powers and turning into a dragon, her bad end and can be avoided, right?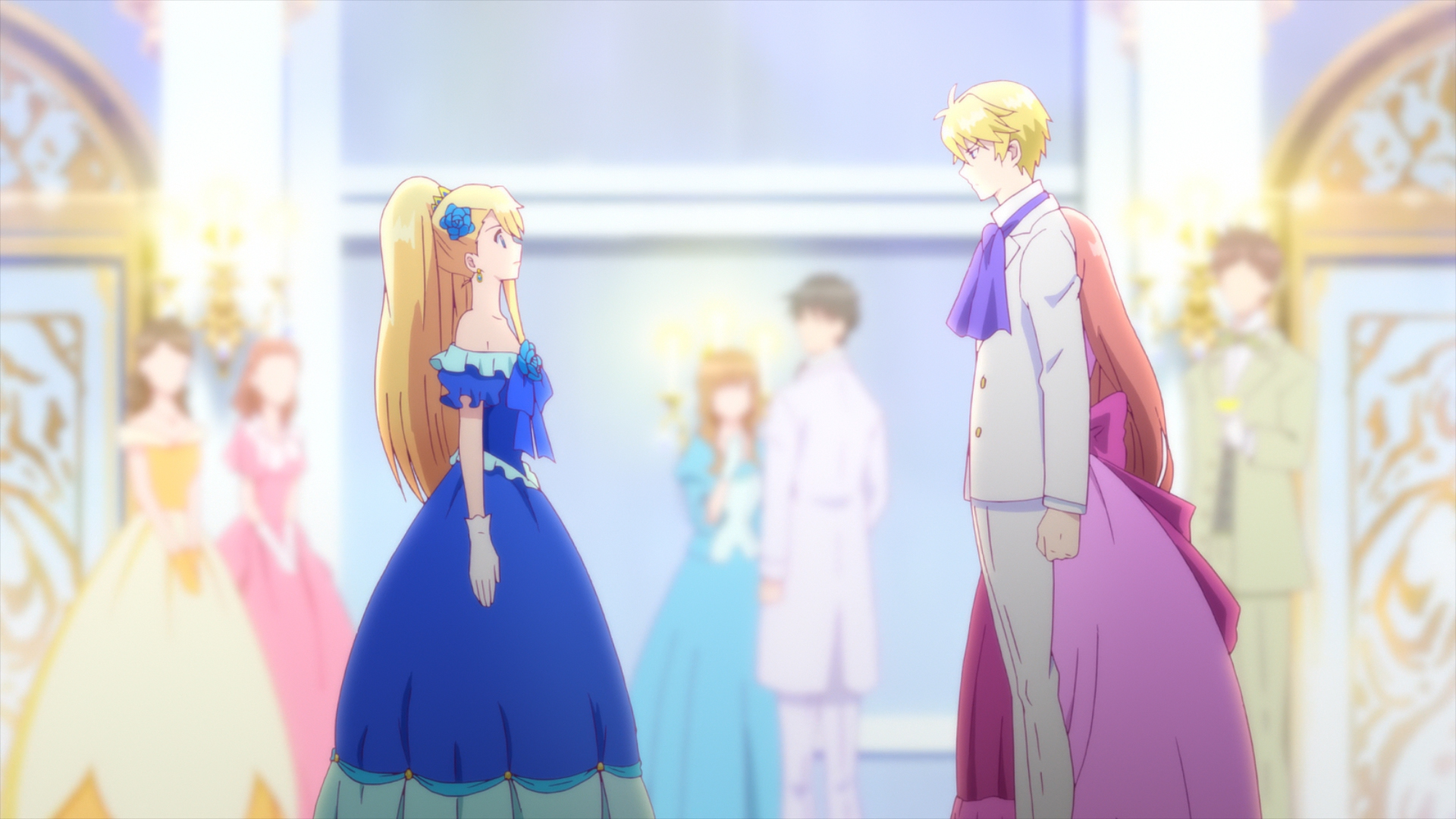 What makes the overall story entertaining is that it's a power player with its court politics, playing out a rollercoaster as it pulls you through various machinations as the two sides here – Cedric and his new fiancée Lilia, and Aileen and Claude – pull at each other's strings and try to get the upper hand. The first four episodes (which adapt the first light novel and entirety of the manga) carry this over from the source material pretty well as it takes you through the initial beats of the plot, while giving a big visual glow-up to its colourful and larger-than-life cast of characters. They don't fall completely into the pretty boy trope but guys like Claude, Keith and even bad guy Cedric are genuinely handsome, while the demons are really cute and cuddly, from the adorable sweet-loving crow Almond to the little Fenrir cub that latches onto Aileen. Tonally it's never quite a laugh-out-loud comedy, but it's good fun nonetheless and really good at charming you into its world.
Its cartoonish visuals add to this really well, with bright colours and a soft art style delivering overall a very light-hearted tone despite some of the darker topics that the series has to explore. This does fall down a bit when it comes to the bigger set pieces though, which can look rather flat in comparison to the manga's artwork, but I wouldn't particularly call it bad.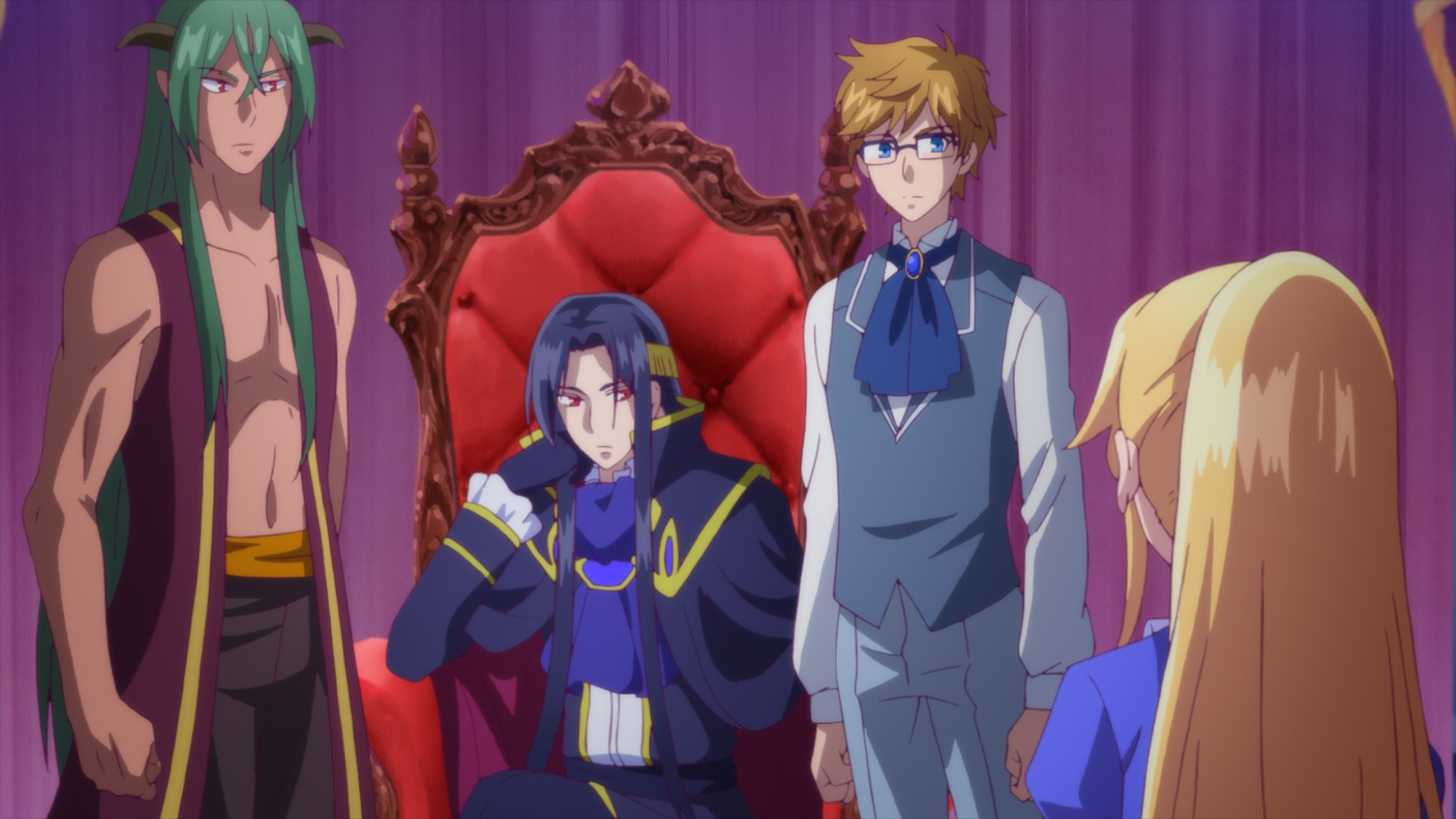 Where I felt it doesn't quite live up to my expectations is in its pacing, and in some parts in the portrayal of Aileen herself. While her voice seems perfectly cast with a great performance by Rie Takahashi, she does come off a little too sweet and malleable at times rather than the haughty and scrappy fighter she is in the light novel, stopping at nothing to fulfil all her schemes.
Where the light novel sometimes felt bloated in its detailed monologues, the manga cut this down into a very neat and tidy story, which is what the anime seems to be based on, but cuts things down further to fit everything into a 24-minute episode. While everything still works as a whole, it does at times feel quite rushed, particularly in the opening episode, and it does shorten some of the scenes connecting between different plot points, such as Aileen's initial conversation with journalist and informant Jasper, and that between her and her father about attending the soirée, while some of the background detail from Aileen's internal monologues is also missing. While these are great at giving that extra political context, I can see why they've been cut down as they'd be difficult to fit in. Nevertheless, this shouldn't be taken too much as a downer, as by Episodes 3 and 4 it feels like it's starting to hit its stride as all the different plots and schemes start to come into play.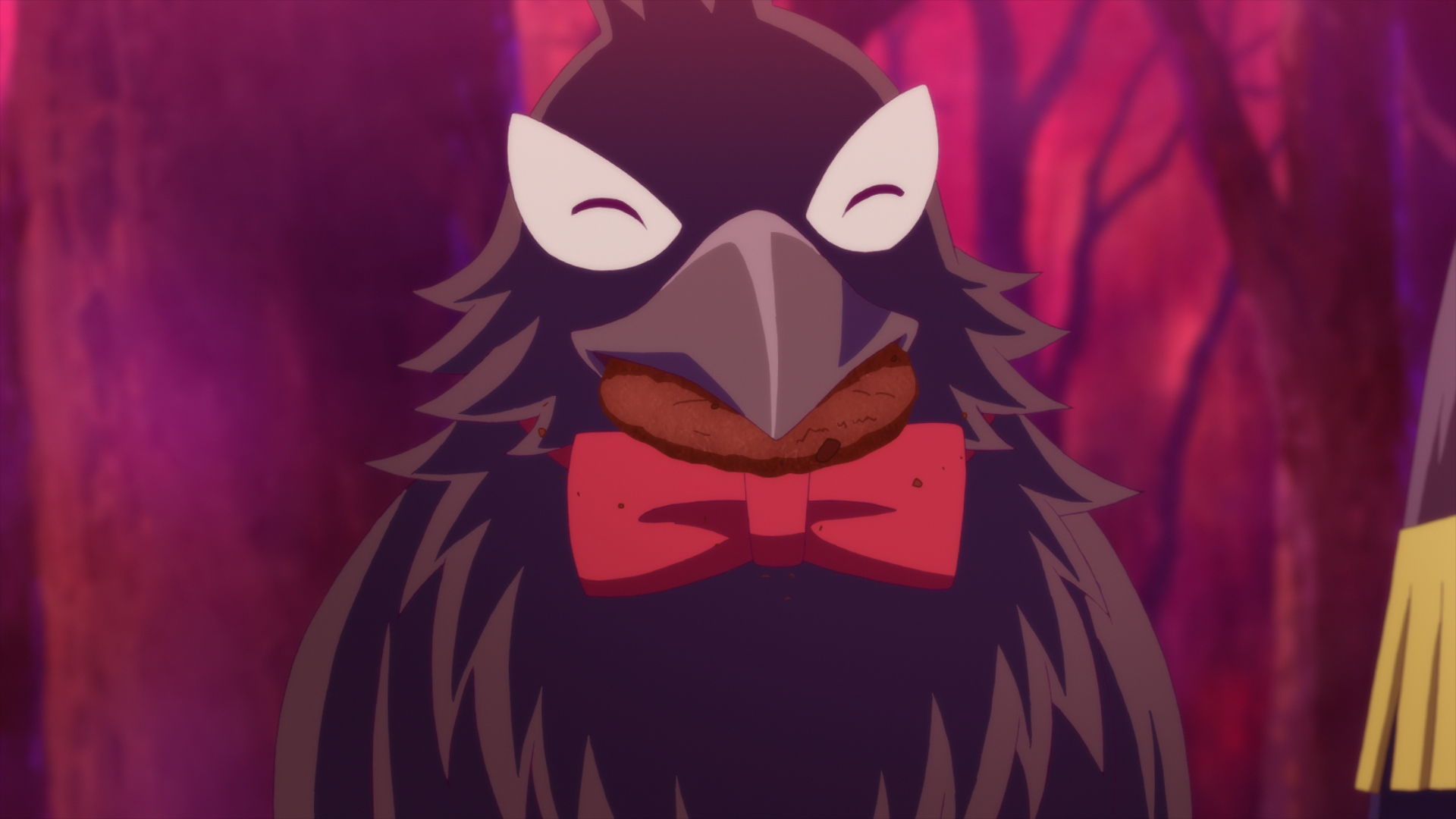 If political schemes and machinations poured into a colourful isekai romantic comedy sounds like your sort of thing, then I would highly recommend you give this a shot. As much as I have issues with how it is paced and missing some content from the source material, it still manages to carry over the same story in an enjoyable way, and I'm looking forward to seeing how things progress after the end of the first light novel's climax.
I'm the Villainess, So I'm Taming the Final Boss is available for streaming on Crunchyroll.
Demelza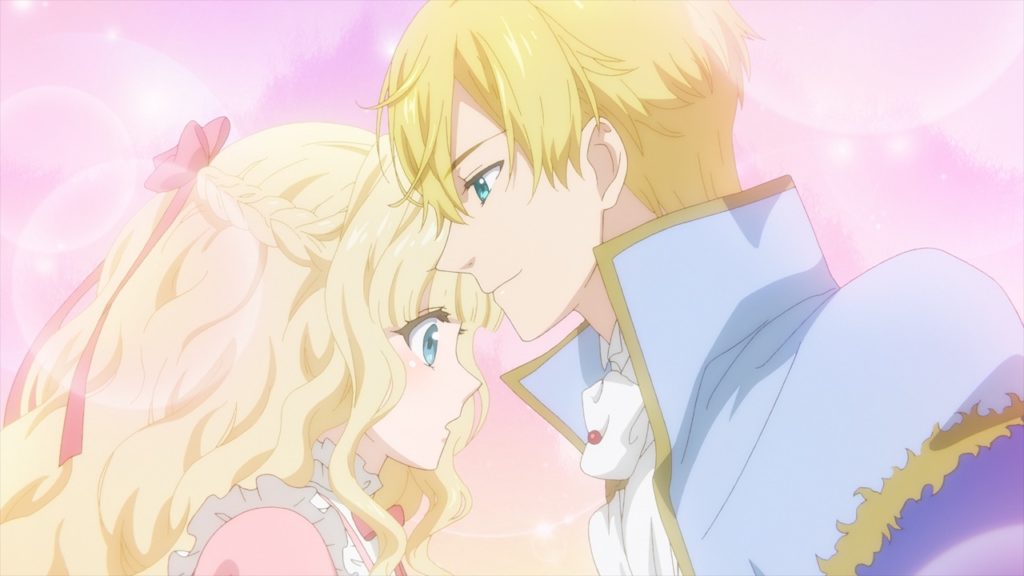 I glance at the Autumn Season with hesitation. Having enjoyed a number of the series in the Summer (will anything be able to top Lycoris Recoil as my anime of the year?) it's difficult to drum up enthusiasm for a bunch of newcomers. So it falls to some familiar faces to help bridge the gap, with adaptations of series I'm already fond of entering the stage. 
With that in mind, my first pick of the Autumn Season is Bibliophile Princess by Madhouse, adapted from a light novel series licensed in English by J-Novel Club. Our story follows Lady Elianna, a noble with a deep love for books who is engaged to Prince Christopher. Although Elianna sees no reason someone like Christopher would choose her as his fiancée, the arrangement gives her access to the royal archives which are filled to the brim with books she'd otherwise be unable to read. 
However, four years after their engagement rumours begin to circulate that Elianna is a "fake fiancée" and Christopher has been seen spending time with Lady Irene. Elianna reasons she has no reason to complain if this is the end of their relationship; after all, she always thought there was a time limit on it, but could the reality of the situation be completely different to her expectations?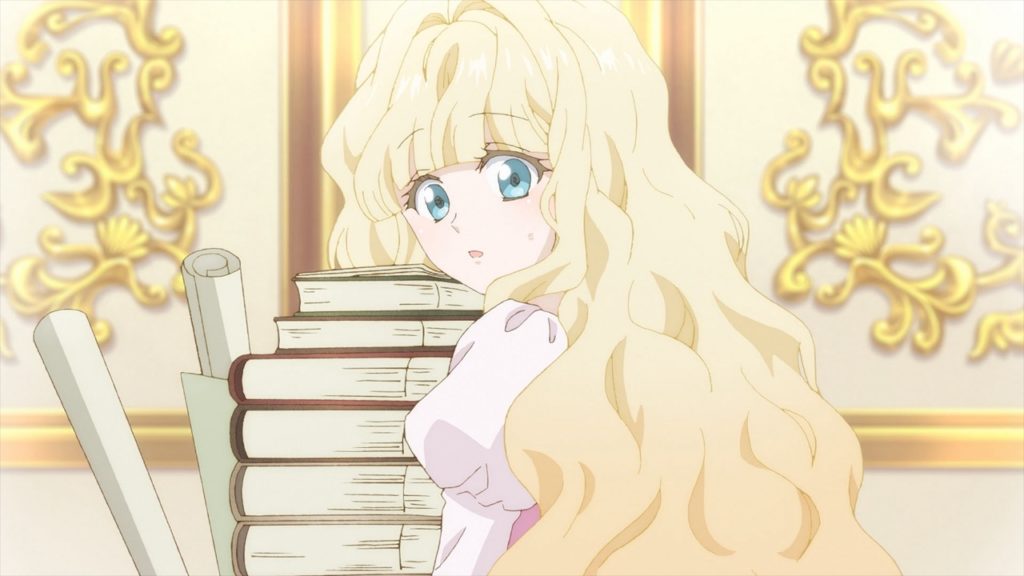 As the synopsis suggests, Bibliophile Princess is a romance series and unfortunately, it does fall into a few of the traps of the genre. Namely that most of the conflict could be resolved if Elianna and Christopher just sat down and talked to one another. Nevertheless, as both of our leads are likeable enough, that problem can be overlooked – at least for now. Elianna might be small and quiet, but her love of books has made her incredibly knowledgeable, which she can use to help the kingdom, and this makes her an interesting protagonist to follow since her life doesn't simply revolve around her romance with Christopher. 
The series is also nice to look at visually, thanks to Madhouse. They've chosen a very bright colour palette, which works well for it. It vaguely reminds me of some of their other romance-focused work like My Love Story or even Cardcaptor Sakura honestly, although there are way fewer magical elements here! 
Either way, if you're looking for a slow-burn romance then this one will serve you well. It may not be doing anything revolutionary for the genre, but that's not the worst thing given this is a genre severely underserved.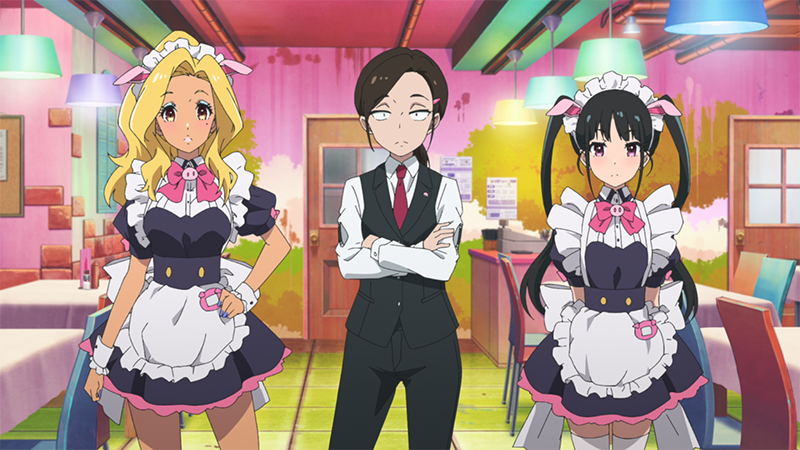 My second pick of the season is newcomer Akiba Maid War, from P.A. Works and Cygames. The series takes place in Akihabara in 1999, following 17-year-old Nagomi Wahira who is just starting her dream job of working in a maid café. She joins the pig-themed café Oinky Doink Café and is quickly disillusioned with the work when the manager (currently unnamed) and existing staff get her embroiled in all kinds of trouble! 
It turns out that all the maid cafés in the area hold a grudge against one another and can often be found gunning each other down. Yes, you read that right, the staff of these establishments go around and have gunfights in the street should the situation warrant such action. This is half slice-of-life, half-crazy action series as Nagomi desperately tries to find a place in the world and keep herself alive!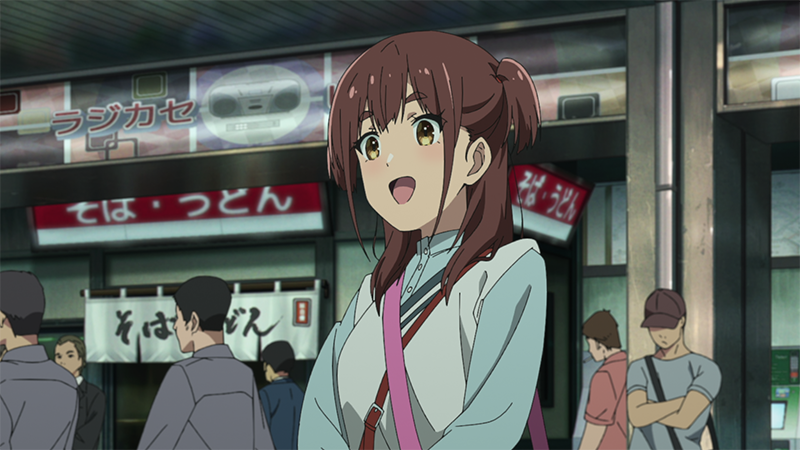 I'm honestly not sure what to make of this one yet after two episodes, particularly since I'm unsure if we're supposed to believe that the setting is our world or some kind of alternate universe. Perhaps the best way to look at it is simply with optimistic curiosity as the story develops. There are many unanswered questions right now, but even if they remain unanswered, I'm at least confident our time spent watching this anime will be enjoyable. Fingers crossed anyway! 
Bibliophile Princess and Akiba Maid War are available on HIDIVE.

HWR
Looking at the new offerings this season, I find there is a familiar assortment of fantasy, Slice of Life and isekai, but also a series that stands out amongst the packed Saturday for streaming in Bocchi the Rock!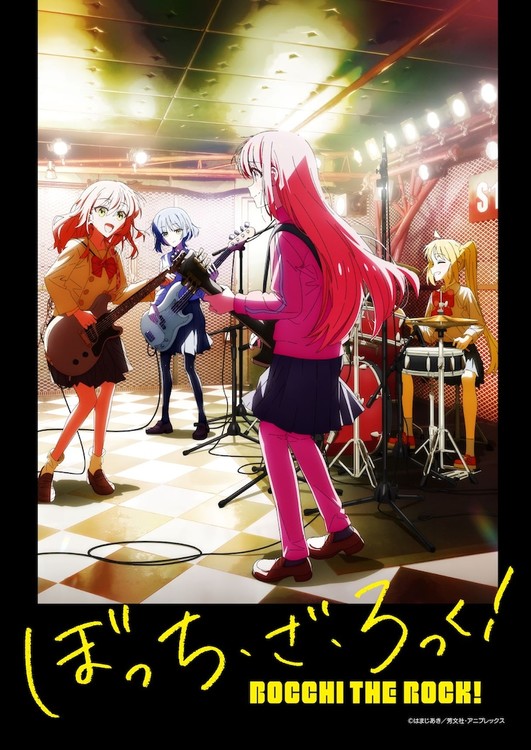 BTR can be seen as being similar to K-On! but if Yui was socially introverted to the extreme, as lead character Hitori Gotou tries her best to become a talented guitarist and fulfil her dream of joining a band but is emotionally shunted by her shyness.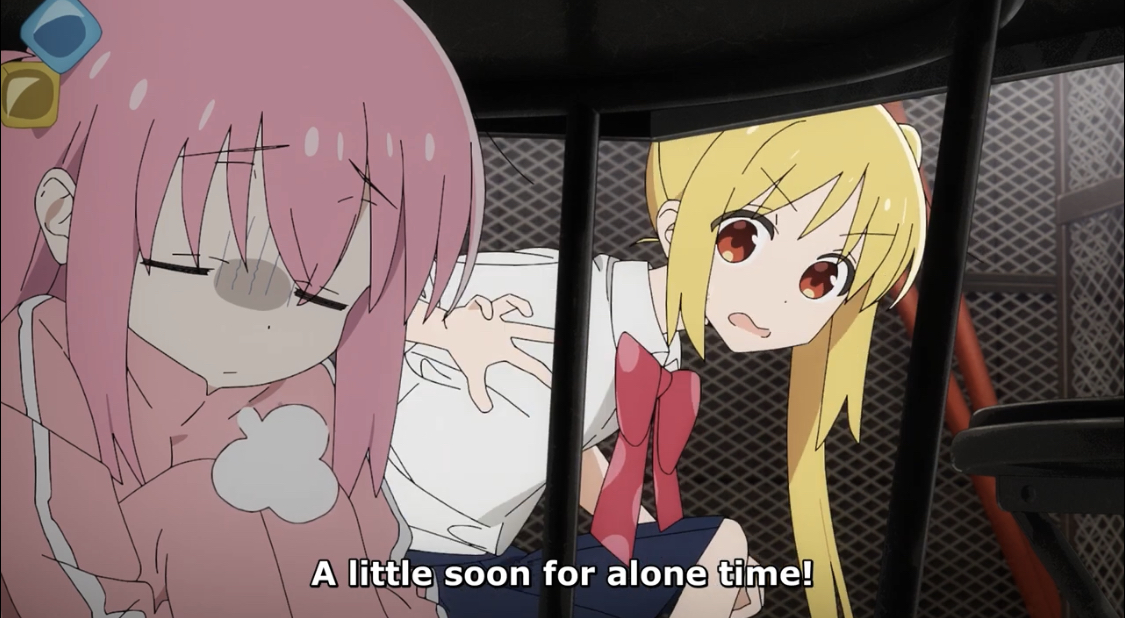 Of course, the story here is that through meeting new friends and bandmates Nijika Ijichi, Ryou Yamada, and Ikuyo Kita, she will slowly but surely (literally in this anime) come out of her box and gain the confidence to perform live. Though the story seems predictable, its execution has been very entertaining and fun – I'm hoping it keeps this up and delivers a good watch.
I'll also give a mention to the DIY-focused Slice-of-Life series Do It Yourself! which has also been fairly charming so far and is worth a look at if you enjoy the genre.
Bocchi the Rock! and Do It Yourself! are both streaming on Crunchyroll.
Cold Cobra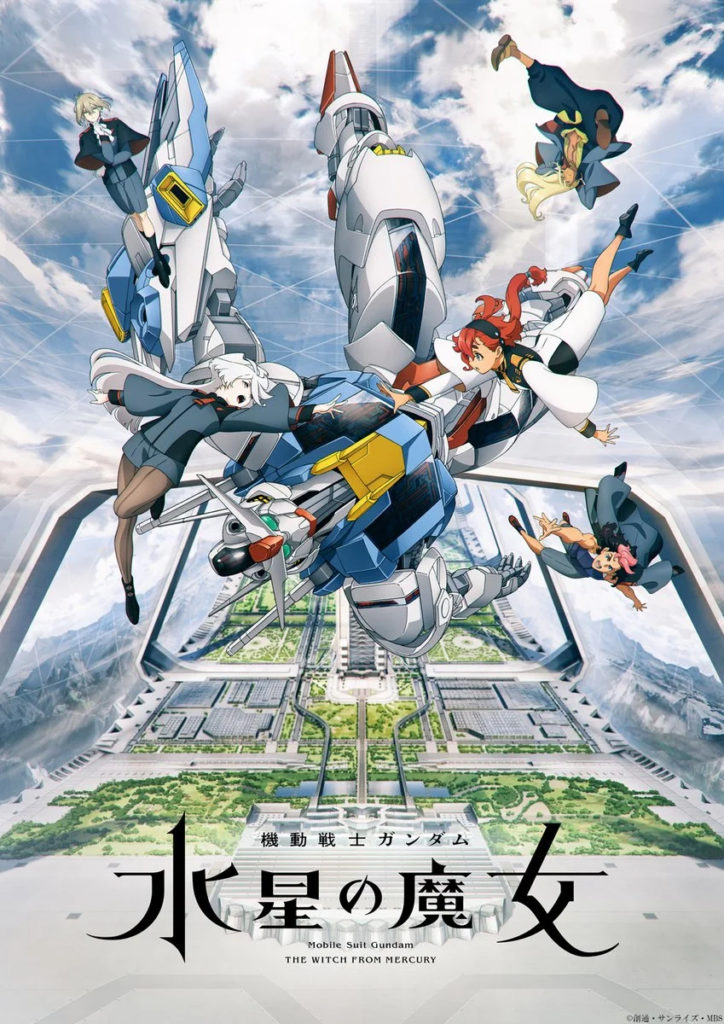 It's been seven years since we got a brand new Gundam TV series and much like Iron Blooded Orphans, Mobile Suit Gundam: The Witch From Mercury has gone out of its way to present a very different feel from the shows and alternate timelines that came before it. Ignoring the admittedly great prologue, or Episode 0, which focuses on the parents of our lead character many years before the show actually begins, The Witch from Mercury is set in a school for mobile suit pilots where disputes are settled in duels between the massive machines. Our lead character is Suletta Mercury, an extremely rare female Gundam protagonist, who is something of a country girl out of her depth (though in this case the "backwater" she comes from is a colony above Mercury) complete with stuttering and feeling overwhelmed by pretty much everything, but also, endearingly, she has a list of things she wants to do which includes making friends, giving them a fun nickname and even going on a date. Her pure innocence is easy to get behind, especially as she comes with the meta-series' newest Gundam mobile suit: the Aerial, which looks great and has a unique system involving floating bits of armour that break off and can forms shields or guns pretty much at will, like an evolution of the Fin Funnels from the original shows (that later reappeared in several of the spin-offs under different names…)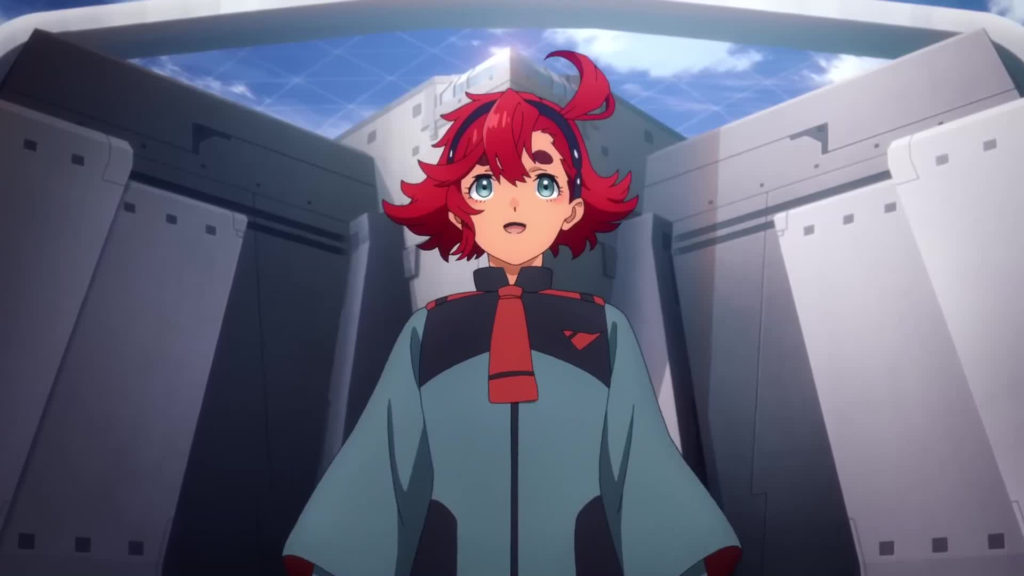 Suletta meets a girl named Miorine who, as it turns out. is the daughter of a bigwig in the political world and wants nothing more than to be free of his shadow and expectations and head to Earth but is instead forced into an engagement with school jock and fellow son of an important person, Guel. The first two episodes focus on this trio as Suletta ends up duelling Guel with the stakes being that if she wins, the engagement is off. She wins, leading to Miorine plainly declaring that it now means she and Suletta are engaged instead, which confuses the simple-minded Mercurian, given "they're both girls" leading to a dry response of how "things must be quite backwards where she comes from". It's nice to see same-sex relationships being presented as nothing out of the ordinary, especially given it is out of the ordinary for this franchise. Even if at least for now it seems it's more a means for Miorine to not have to marry Guel than actual love between two women, it's a refreshing moment.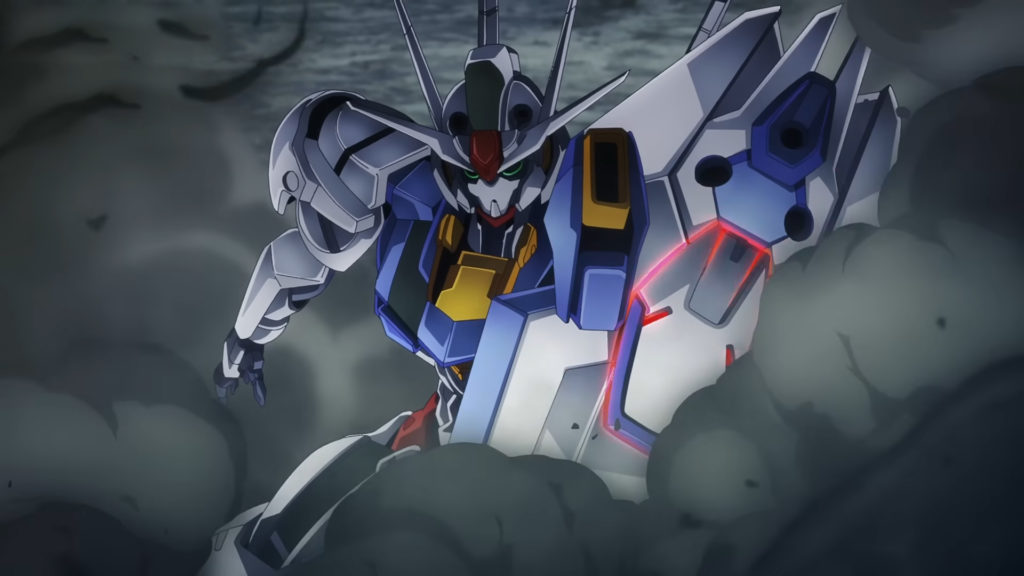 Guel's influential father gets the duel stricken from the record and they do a rematch where Guel's suit is rigged but that only leads to the arrogant prick showing he actually has a sense of honour as he breaks the system and tries to win with his own strength. It's not hard to see this trio being our lead group of characters once some sort of war or such breaks out that leads to a more traditional Gundam set-up. We've already seen friction between people born in space and born on Earth through certain student interactions and Suletta's mum works for a company that creates technology that was previously banned and is clearly up for challenging the greedy politicians who rely on the major mobile suit manufacturers for their power. For the record, that banned system is referred to as the "GUND-ARM", which people begin to shorten to Gundam, which made me laugh. I don't think you really needed to write a reason for why the titular name ended up being used in this universe, but why not?
Overall, only two episodes in as of this writing (well, three if you include the prologue) and already The Witch From Mercury feels very different but at the same time when the mobile suit battles happen or sniping politicians talk around a bitdesk it also feels very at home in the franchise, so I'm looking forward to seeing what direction it ends up going in.
Mobile Suit Gundam: The Witch From Mercury is currently streaming on Crunchyroll.
Sarah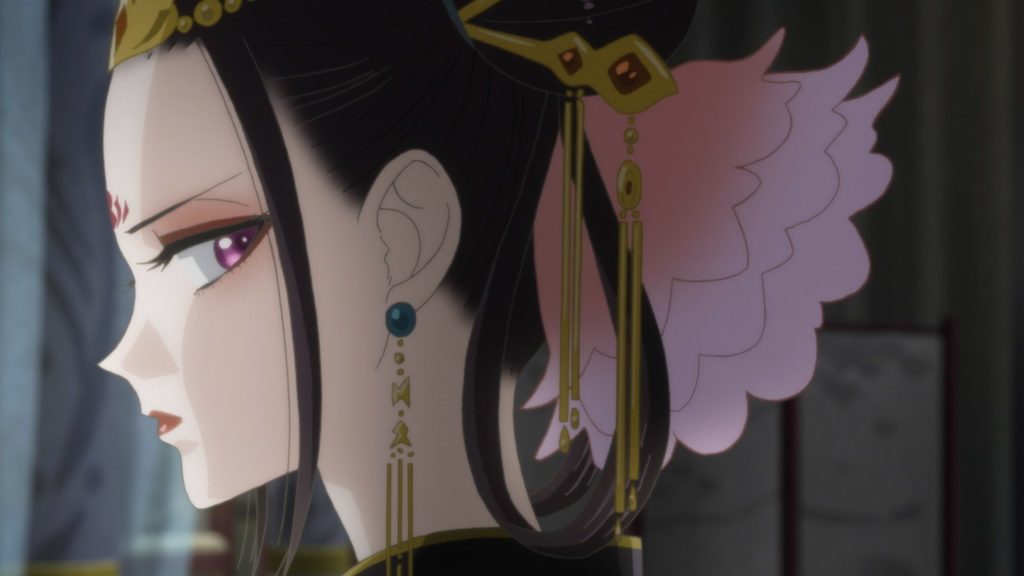 If – like me – you've been looking for an anime that isn't in any way isekai and has a really compelling story, then Raven of the Inner Palace could be just the right fit.
One night, the young emperor, Gaojun, seeks out the Raven Consort who lives alone, deep in the inner palace. Few people have ever seen her and although she's an imperial consort, she is not required to perform 'night-time duties' for the emperor. But when he meets her, he discovers that she is a proud young woman with magical powers and a mind of her own. Shouxue uses her magic to solve a mystery that has been troubling the emperor and earns his respect. But when he spies on her as she goes alone to bathe, he learns that she is concealing a powerful secret that, if revealed, could bring his reign to an end.
The promotional artwork for Raven of the Inner Palace is elegant and attractive – so I was hoping that the anime series would not disappoint – and it's been one of my highlights of the Autumn Season so far. Based on light novels by Koko Shirakawa (none currently available in English) set in a Chinese-influenced fantasy world, both the art and the soundtrack (some wonderfully delicate scoring by Asami Tachibana) have brought the characters to life and kept the viewers' attention focused on an intriguing plot. Chinese fantasy is having a moment, doubtless enhanced by Seven Seas bringing out several danmei novels which have already gained many fans in the West through the live-action dramas and anime of series such as Heaven Official's Blessing. Add in elements to Raven of the Inner Palace such as Chinese names and honorifics in the dialogue, and most of the male characters attending on the emperor being described as eunuchs of the palace, as well as the character/costume designs and you have just the right flavour for a Chinese-inspired fantasy. A word in praise, too, for the delightful OP: "MYSTERIOUS" by Queen Bee and the poetic ED : "Natsu no Yuki" (Summer Snow) by krage which establish just the right atmosphere. Above all, it's the main character, the Raven herself who holds our attention: voiced by Saku Mizuno, she dominates the story, the only woman in the palace, it seems, who has no fear of offending the young emperor. Vengeful ghosts, broken hearts, betrayal, poisonings and magical birds…there's much to intrigue and enchant the viewer.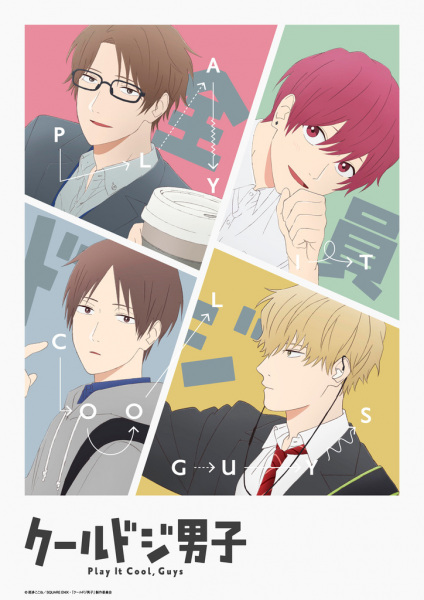 I was also intending to write about Play It Cool, Guys which should have started on Crunchyroll but still seems to be delayed. I'm fond of the manga and was hoping it wouldn't get left out of the Autumn Season run but it's taking a long time to make the transition, even though it began airing in Japan on October 10th. Maybe by the Autumn Overview…
Update 24.10.22 – the first three episodes are now available on Crunchyroll – and they're all eleven minutes in length.
Raven of the Inner Palace is streaming on Crunchyroll.
Rui
Like my fellow writers I've been enjoying the early episodes of Raven of the Inner Palace and Revolutionary Girl Utena: In Space (oops, I of course mean Mobile Suit Gundam: The Witch from Mercury), but the series I'm talking about for this article was one which came as a pleasant surprise: BLUELOCK. I like sports anime as much as the next person, and after a few years of slim pickings it feels as though we have recently had a relentless onslaught of them season after season. BLUELOCK is about football, like the pretty-good (and similarly-named) Aoashi earlier this year (as well as the relatively mediocre Shoot! Goal to the Future, also this year), so as somebody unfamiliar with the source material, when I first saw the promotional artwork I thought that it was going to be yet another retread of similar ground. Sports shows are ultimately more about the characters and teamwork than the sport itself but three football shows in the space of three seasons felt like too many! I'm going to have to spoil the core premise of BLUELOCK very slightly to be able to talk about it properly, so please skip past the screenshots if you're planning on going in fresh.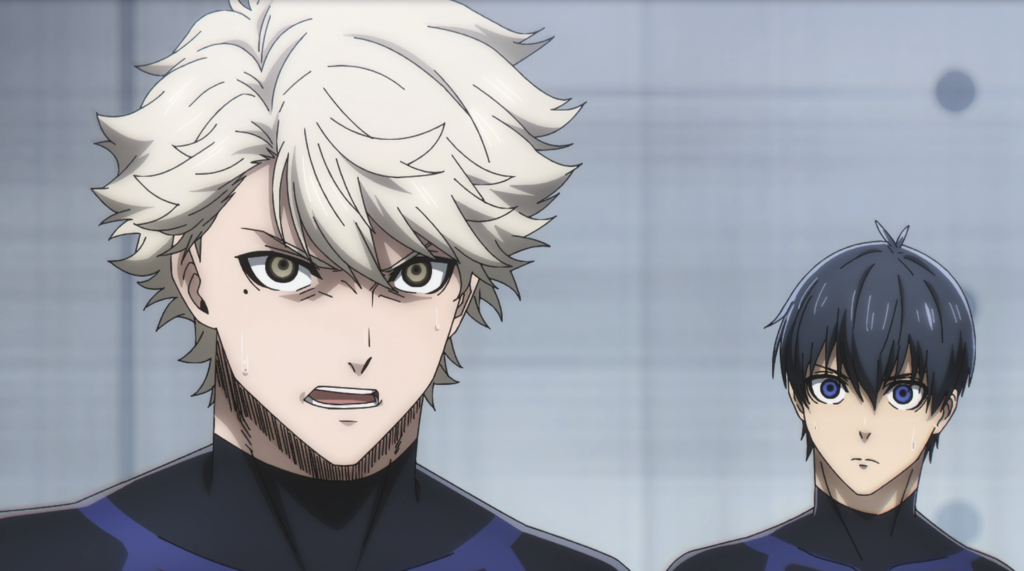 BLUELOCK is nothing like other football anime. In the same way that Kuroko's Basketball accepted that it was never going to topple SLAM DUNK as everyone's favourite traditional basketball series and dared to try a completely different approach, BLUELOCK throws out the rulebook and introduces us all to a bizarre universe where Japan is so driven to win the World Cup that it invests in a training facility specifically designed to turn one ordinary high school footballer into a megastar who will singlehandedly carry the national team to victory. And while I accept that the premise is utterly stupid (the show's presentation makes it very clear that the viewer is expected to suspend disbelief), the entirely convincing passion that the characters have for putting Japan on the international football map makes me wonder whether national sports budgets might not have been spent in worse ways in the past.
The start of the series plays out much like any other, showing our hero Yoichi coming off the back of a disappointing qualifying match and speculatively showing up to a summons by the local football association. He's understandably surprised when he learns that the path to future success isn't as closed-off as it seems; so long as he's happy to put everything into participating in this crazy new training regime – which is calculatedly evocative of the 'death game' setups in Danganronpa and Squid Game – and doesn't mind ending the careers of his fellow applicants along the way in order to emerge victorious. I should clarify that the people who 'drop out' of the special training are effectively banned from playing on the national team, not actually killed, though that's not much comfort to these hot-blooded youths!
What follows is the kind of predictably unpredictable insanity of any successful 'death game' series, where a single (rather sociopathic) football maniac has been placed in charge of whittling the huge number of hopeful applicants down to find their future star. Yoichi has to contend with having football-themed challenges and matches with peculiar rules dropped on him at a moment's notice, at the same time as getting to know the equally competitive wannabe stars who are sharing his dormitory area. They all have strong personalities and hate to lose, which is exactly why they've been chosen for the training, and the possibility of alliances and backstabbing adds another layer of excitement to a viewer coming in fresh like I did. This is entertaining stuff; a bunch of driven, charismatic, talented lunatics pitting themselves against one another as though their lives depend on it, with not a single self-insert isekai hero in sight to moan about their situation.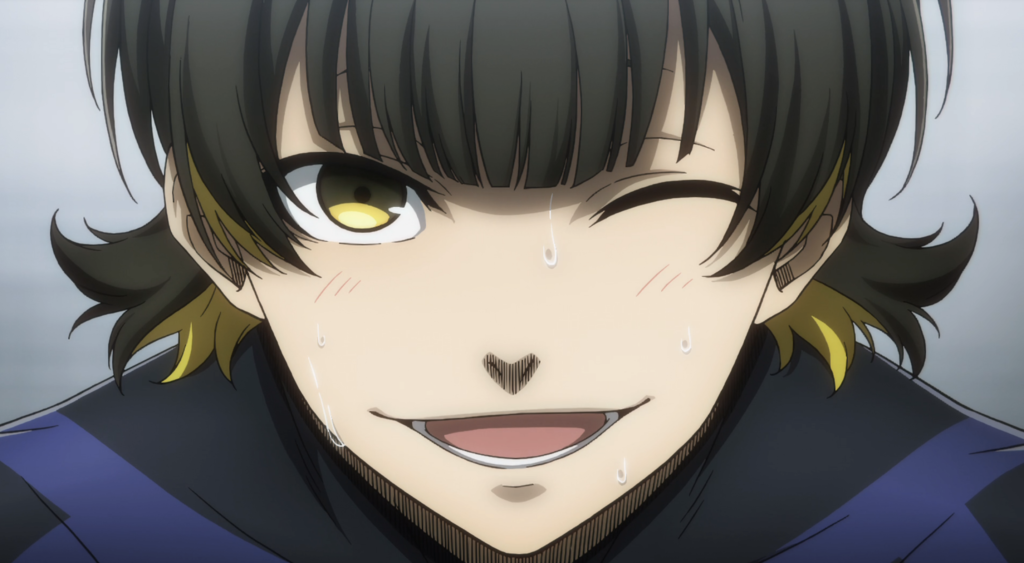 The message of BLUELOCK goes against the unspoken rules of its genre and in doing so, borrows heavily from other recent hits in a way that feels fresh and exciting. I love teamwork but there's definitely something cathartic about getting to see a very different take on football after so many shows which play it straight. Don't be put off if you're not usually into sports anime full of pretty guys doing nothing; much like spring's delightful Birdie Wing -Golf Girls' Story-, this one is here to entertain, and it stands to appeal to a much broader shonen manga audience as a result.
BLUELOCK is currently streaming on Crunchyroll.