Snow White with the Red Hair Volumes 22 and 23 Review
Demelza
•
Last time I reviewed Snow White with the Red Hair it had just hit a 20-volume milestone, as well as passing 100 chapters. And with these achievements under its belt, the series underwent some changes as the cast faced new challenges. Now we join them for another two volumes, to find out what's in store for our cast next. 
As readers may remember from Volume 21, Shirayuki has now been tasked with spreading the Orimmallys (the special breed of plant she helped cultivate in Lilias) to other domains. She's joined by her guard Obi, and fellow herbalist Ryu who decided at the end of Volume 21 that the best way for him to continue to learn and grow was to stay by Shirayuki's side rather than return to the palace. Together the three arrive at the Oriold checkpoint, where they ask the knight captain for permission to plant the Orimmallys but the response they're met with is not what they were hoping for! 
While the knight captain is all for the project, he tells our heroine that she'll first need permission from Lord Eisetsu Lugiria. Not one to be discouraged, Shirayuki vows to get Eisetsu's agreement and with the help of the knight captain, the three are invited to a ball where they're formally introduced. There they're lucky enough to reunite with Kiki, who helps put their minds at ease before the important meeting. 
When Shirayuki meets Eisetsu she's struck by a feeling of unease and suspects that the lord is looking to use her in a bid to get closer to Zen and important figures in the country of Clarines. Eisetsu knows that Shirayuki is both a court herbalist and close to Zen, so she's an excellent target if he wants to form firm connections with the royals. But Shirayuki is none too pleased that their presence there is being exploited, particularly when Eisetsu has shown no interest in hearing out their request regarding the Orimmallys.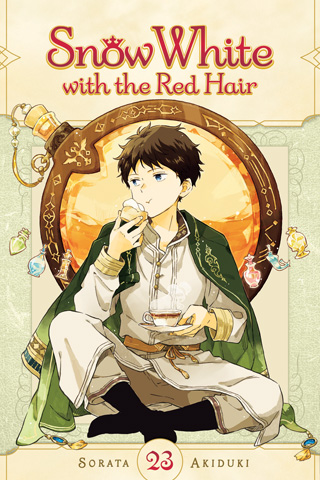 This storyline continues into Volume 23, where we find Eisetsu finally prepared to hear Shirayuki out. In return for considering the Orimmallys proposal, Eisetsu first wants Obi to take on a request. The lord has heard that a Berget loyalist (readers may remember this being a major storyline from Volumes 17-19) may be lurking in the territory looking to cause trouble for Eisetsu but also plotting against Prince Zen. 
At this point no one in Shirayuki's group is happy about how Eisetsu has treated them, refusing to see them, stringing them along and taking advance of their presence. But Obi is loyal to Zen and he'll do whatever it takes to protect his master and if this also benefits Shirayuki then he's more than happy to go along with it. And he may even have help from the Bergat twins, Tsuruba and Tariga… 
As Obi seeks out the traitor, Shirayuki and Ryu are left at the Lugiria estate where they have a mystery of their own to solve. It seems someone may be using an unusual perfume to seduce others. Could the two cases be related somehow? 
The events surrounding Eisetsu are set to continue into Volume 24 (and perhaps beyond?), so it's safe to say we're in a major arc now. This is a shift compared to Volumes 20-21 which were more about tying off loose ends and looking to the future, which was by no means a bad thing but it's nice to change focus to a story with more depth to it. I imagine many readers will dislike Eisetsu at first, not least because in his first encounter with Shirayuki he's flirty and quite pushy with her, but I will say that as the story goes on, his personality begins to mellow out and we come to understand the reasons behind his actions. We may not forgive or agree with them, but the clarity makes him a much better addition to the series than you'd first expect. 
It's also nice to see the return of the Bergat twins, who played such a big part in the last major arc. One thing I often appreciate about Snow White with the Red Hair is that no one is ever truly forgotten and characters we've gotten to know are often referenced or reappear where it makes sense. And for a series as long-running as this is now, that's really important for the readers. I always feel it's a waste when new characters are introduced only to never be seen again when their part in the plot concludes, but here the world feels so much more alive because author Sorata Akiduki never puts those characters aside. It's just one of those things that add to the charm of this series, even more so as it continues to expand into new territories with plenty of new people for Shirayuki to meet. 
Snow White with the Red Hair Volumes 22 and #23 both come to the West thanks to VIZ Media and continue to be translated by Caleb Cook. The translations for both books read well with no issues to note. Volume 24 and #25 have already been released in English, which leaves us just a single book behind Japan so I imagine the release speed is going to slow down considerably from here. 
Overall, these two new entries in the world of Snow White with the Red Hair present the cast with new challenges, new encounters and new mysteries to solve. As we find ourselves amid a major arc, long-time readers will no doubt continue to enjoy what this has to offer.