Full Metal Panic! Ultimate Edition Blu-ray Review

Sarah
•
"Not a problem." Sousuke Sagara
Full Metal Panic! (2002) 24 episodes Director: Koichi Chigiro  (Tokyo Babylon, The Tower of Druaga, Last Exile)
Kaname Chidori is leading a normal high school life… but when a transfer student Sousuke Sagara (with an unusual cross-shaped scar on his jaw) joins her class, nothing will ever be normal again. For  seventeen-year-old Sousuke is a highly-trained sergeant in the secret multi-national anti-terrorist mercenary organization called MITHRIL, more used to piloting an Arm Slave mecha than going to high school.  He's been sent – undercover –  to protect her. But spirited Miss Chidori doesn't want to be protected until bizarre and troubling events begin to occur and she discovers that she's one of 'The Whispered'. This means that she has special abilities that unscrupulous 'others' would do anything to possess. Escaping from one highly dangerous situation after another, she eventually is taken on board the Tuatha de Danaan, MITHRIL's state-of-the-art submarine, where she meets Sousuke's colleagues, led by the softly-spoken young captain, Teletha 'Tessa' Testarossa who seems to be remarkably fond of Sousuke. As MITHRIL fights off terrorists, the brutal and sinister Gauron makes a nightmare reappearance from Sousuke's past. Gauron seems to have sustained an unhealthy and obsessive interest in  the young man since he trained him to be a child soldier in war-torn Helmajistan. A nuclear missile has fallen into the wrong hands – and Gauron is clever enough to set ally against ally, placing the MITHRILcrew and Kaname in mortal peril.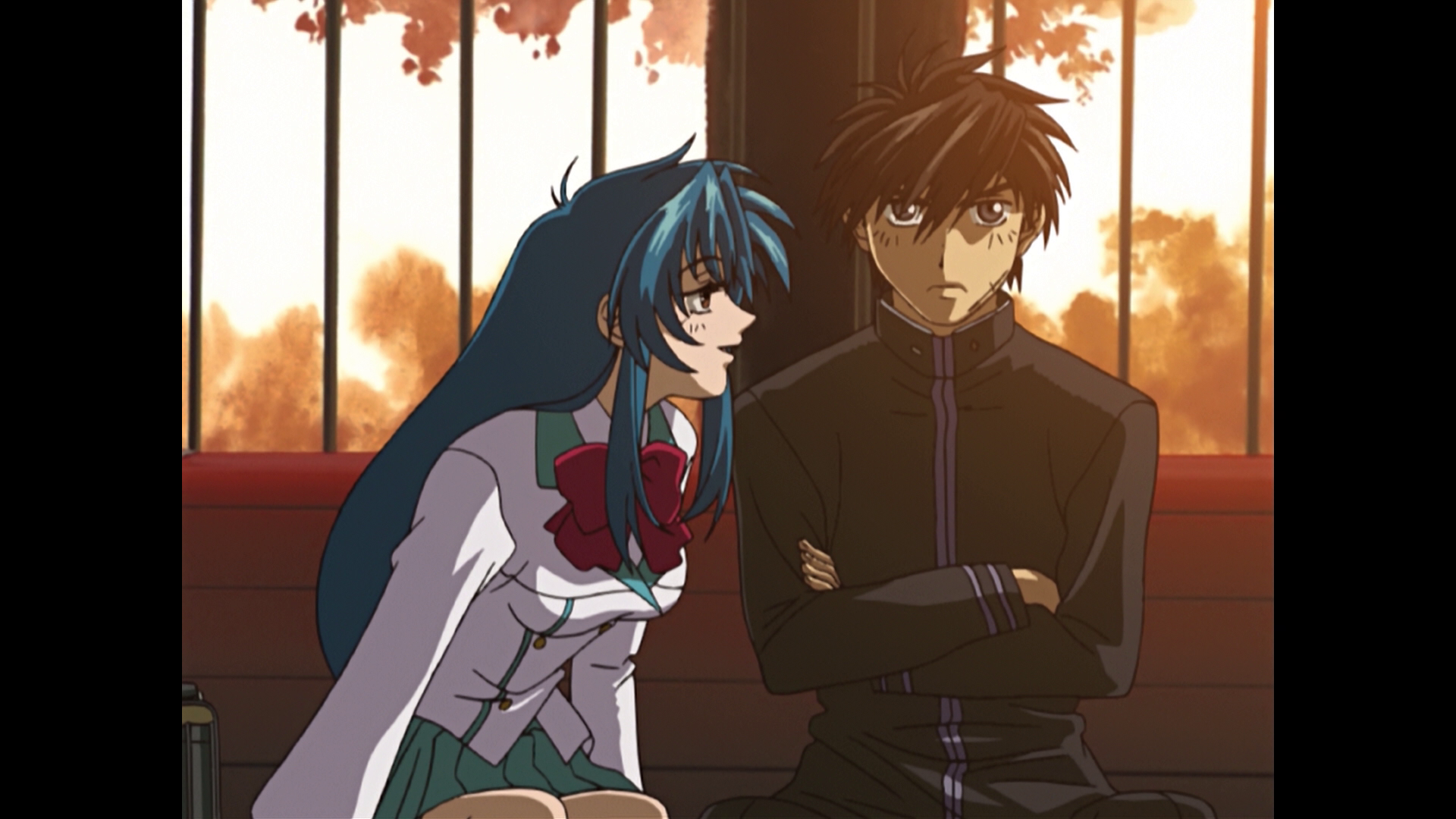 Mecha, a tsundere – yet sympathetic – heroine, a dauntless hero who's utterly out of his depth in high school but proves a resilient and cool-headed combatant on the field of battle pitted against a psychopathic, indestructible villain; FMP throws all these high-octane ingredients into the mix and more besides, resulting in a tense action series, lightened by moments of high school comedy.
Full Metal Panic? Fumoffu (2003) 12 episodes Director: Yasuhiro Takemoto (Lucky Star, High Speed! – Free! Starting Days)
Kaname and Sousuke are back at Jindai High, and as Kaname's devoted bodyguard, Sousuke sees danger lurking in every corner. Smoke grenades, stun guns, plastic explosives to blow up suspicious-looking messages left in lockers, he's ready to employ his full barrage of military expertise to protect Kaname. Which, inevitably, leads to many misunderstandings and destruction on the grand scale. They come up against school bullies, the yakuza, a pervert wearing a horse's head, a haunted hospital – and, of course, a day at the beach, bikinis and all. And a disastrous trip to a pleasure park results in one of the most iconic and hilarious moments of the whole three series. Fumoffu!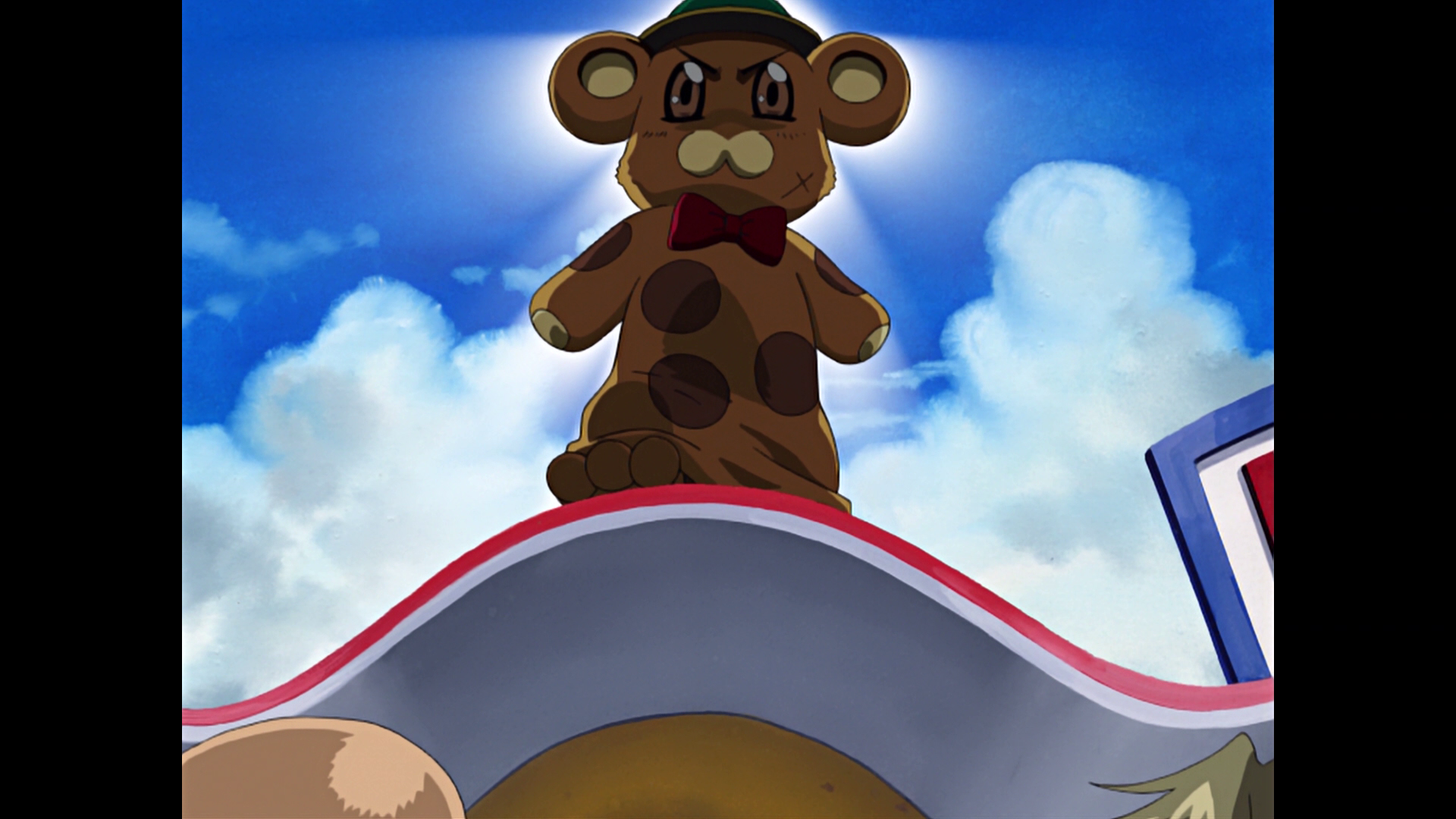 This series, in contrast to the first (which only has the odd light-hearted episode) is OTT crazy humour from the get-go. And yet, in spite of the absurdity of the earnest Sousuke applying all his soldierly experience to protect Kaname, the dynamics of this odd couple 'will they-won't they?' relationship are rather endearingly portrayed. Most of the time, it's Sousuke putting duty before personal feelings – while not even realizing that he has feelings – which results in Kaname frequently venting her fury (with a paper fan)  at his obtuseness. And the comedy – although drawn with very broad strokes –leads to some genuine laugh-out-loud moments.  And if you're wondering what on earth Fumoffu means, I'm not going to spoil it for you; have fun watching and finding out for yourself!
Full Metal Panic! The Second Raid (2005) 13 episodes Director: Yasuhiro Takemoto
Two months after the events depicted in the first series, a sinister organization called Amalgam gains the upper hand by developing a special 'Black Technology' that can see through MITHRIL's Electronic Cloaking System. There's traitor in MITHRIL who's leaking their secrets and endangering lives. But when Sousuke is suddenly and inexplicable replaced by MITHRIL as Kaname's bodyguard, he refuses to accept the orders he's been given.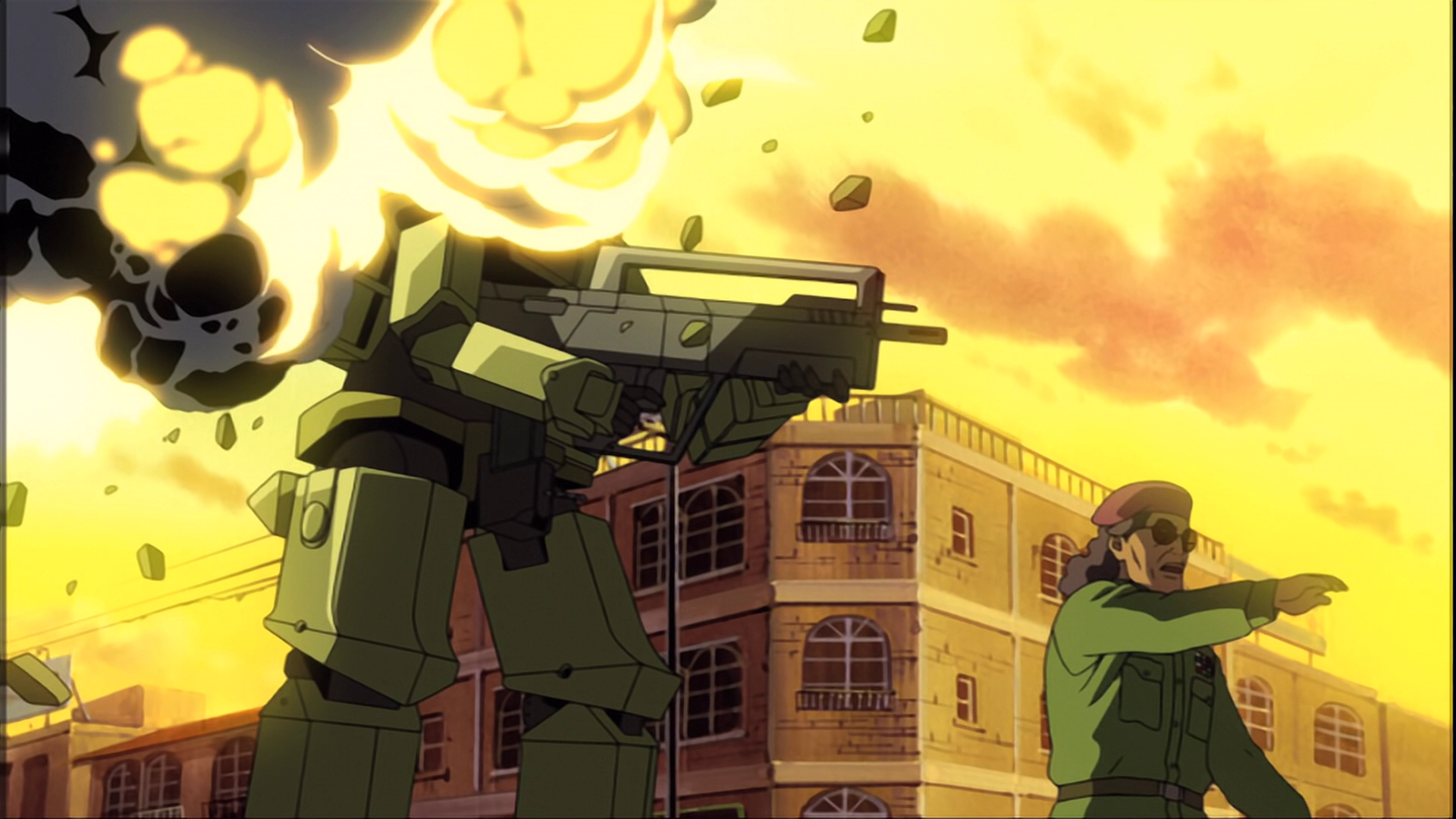 Whereas in Fumoffu,  the accent is very much on the comedy; the third season returns to the darker tone of the first with MITHRIL's operatives placed in mortal danger by treacherous rivals who will do anything they can to steal their technical secrets and destroy them.  Full Metal Panic! is at its best when it's delivering gritty action and here the creative team didn't hold back. The tone is much darker, with explicit, bloody violence; don't be deceived by the lighter moments of farcical comedy at Jindai High, this series earns its BBFC 15 certificate by graphically depicting acts of terrorism, conflict and murder.
***
They don't make anime series like this anymore. Whether you're indulging in nostalgia (like me) or falling for the charms of Full Metal Panic! for the very first time, this complete is well worth the watch. Based on the light novels by Shouji Gatou (he and director Koichi Chigiro have collaborated on numerous projects, including The Melancholy of Haruhi Suzumiya) it's an addictive cocktail of fast action, mechas and violence, lightened by episodes of crazy comedy, fan service and high school antics. You'll soon forget the PillarBoxed 16:9 aspect ratio (a necessity, for the first two series, given the original format) as the story unfolds at a cracking pace. The original character designs have stood the test of thirteen years surprisingly well and GONZO's animation team turned in a slick and convincing piece of work. Anime Limited have given us all three series (The Second Raid was never released for R2, so it's a first in the UK) as well as two OVAs, all very smoothly and unfussily transferred to Blu-ray format. Disc navigation is straightforward and you can slip between Japanese and English versions, with or without English subtitles while watching. (At the beginning of each disc, there is a different Funimation trailer which can't be skipped but it's a very minor irritation.)
Content-wise, it's significant to note that the first series was originally scheduled to launch in autumn 2001, but due to 9/11, the terrorist theme was deemed far too sensitive, leading to a delayed release.  In the early 2000s there were quite a few anime series that exploited the idea of the child – usually a girl – assassin: Noir, Gunslinger Girl, Madlax).  And it has to be said that in today's equally sensitive times, this love affair with guns can make for uncomfortable viewing at times.
The original Japanese cast is filled with starry names and starry performances, from Tomokazu Seki as Sousuke and Satsuki Yukino as his tsundere Kaname, to Shinichiro Miki as his cheerful colleague Kurz Weber and Yukina as Captain Testarossa. However, When it comes to the ADV US dub, it's really well done. With fine voice actors like Chris Patton as Sergeant Sagara, a young Vic Mignogna as Kurz Weber, Hilary Haag at her seductive best as Captain Testarossa etc; the dub-script is delivered extremely convincingly. One thing will grate, however: the pronunciation of some of the Japanese names, especially that of the heroine, Kaname. If you can forgive them for that (and one or two dodgy 'foreign' accents in the minor roles)  Chris Patton and Luci Christian make a pitch-perfect pairing in the lead roles.
The first thing you notice about the score for FMP is that the martial signature tune is uncannily like the theme from The A Team, setting up a whole subconscious series of expectations. Composer Toshihiko Sahashi (Mobile Suit Gundam Seed, Saint Seiya, The Big O) has done a very clever job in paying homage to that stirring and iconic music while, at the same time, creating something new. And by Season 3, Sahashi has become especially skilled at underscoring tense scenes and increasing the tension.  Mikuni Shimokawa delivers all the OPs and EDs which, musically, are likable but fairly typical of their time. However the ED of Season 2 features some adorable chibi versions of the main characters (Remember Kyo Kara Maoh 1st ED, anyone?) .
Extras in the Ultimate Edition comprise: Koichi Chigira x Shouji Gatou Special Interview, Textless Songs, Original TV Spots, U.S. Trailers, Japanese Piracy Warnings, Location Scouting in Hong Kong (parts 1-7), Textless Songs, Trailers, The Second Raid Episode 000 and OVA "Tessa's Eventful Day. Also:  Collector's packaging and a full sized art-book (30 x 30) not seen. Out of all the extras, of particular interest is a short documentary about the rise in popularity of the light novel in Japan, referencing Full Metal Panic! as a good example of the format.
Back in the day, our very own Paul and Martin reviewed the final episodes of FMP# 1 and all of Fumoffu in the original ADV UK release; you can read their insightful and detailed analyses here.
In Summary
This is one big glorious all-inclusive Blu-ray collector's edition of an all-time anime favourite. It doesn't come cheap – but with three seasons bundled in and as many extras as one could wish for, Anime Limited have done us proud. Why not treat yourself?
(And – if you ever wondered where names such as Arbalest and Bonta-kun came from, look no further!)
Update 2018: 
Even though this Limited Edition (December 2015) has now sold out, the three series are still available in individual box sets from Anime Limited.