Arata Kusaga's life changes when the sun turns black and his world (ours?)  – and his beloved cousin Hijiri – are swallowed up by the Breakdown Phenomen. Gifted with a grimoire by Hijiri, Arata sets out to find a way to undo the damage and save her. The answers lie in the Royal Biblia Academy, a school for magi with (of course) a pervy headmaster. There, Arata (who possesses the powers, it turns, out of a Demon Lord candidate) is told he must work with the Trinity Seven, nubile female mages who represent the Seven Deadly Sins. Or, to quote the official blurb, 'seven beautiful female mages whose powers are intrinsically tied to the same sins that Arata has to master to put his world back together'. And so the mastering begins!
A well-written harem anime can be diverting and fun to watch. Think of Nisekoi – or Love Hina – or even a classic like Oh! My Goddess.  But Trinity Seven seems to be doing its best to press all the cliché buttons without bothering too much about …well, anything, really, except getting ticks in the relevant fan service boxes as soon as possible: hero's hand on boob? tick; girls in swimsuits at the beach? tick; his magic makes the girls' clothes fall off? (just like Negima!) multiple ticks! (It's probably worth noting here that the manga by Akinari Nao (art) and Kenji Saito (story) on which this anime is based is rated 'M' Mature by US publishers Yen Press.)
Maybe this wouldn't matter so much if the story had anything interesting or new to say in the mages and alchemy story realm, but it hasn't; the magic system is pretty random, with fantasy bits and bobs thrown in together with pick n'mix from science fiction (Breakdown Phenomenon)  resulting in an odd blend of grimoires and paladins, codices, archives and demon lords. The characters' names only serve to reinforce this impression: Lugh; Selina and Lieselotte Sherlock; Lilith. The series pootles along in this random way (dragon here! magic explosion there! more boobs!) until past the halfway mark when the plot suddenly belatedly kicks in and director Hiroshi Nishikiori (A Certain Magical Index) ups the ante. It's well animated and looks like a fantasy but 'looks like' is no substitute for a decent plot and the creation of a convincing magic system, not just spouting of Latin, Greek and Hebrew names borrowed from countless other similar creations.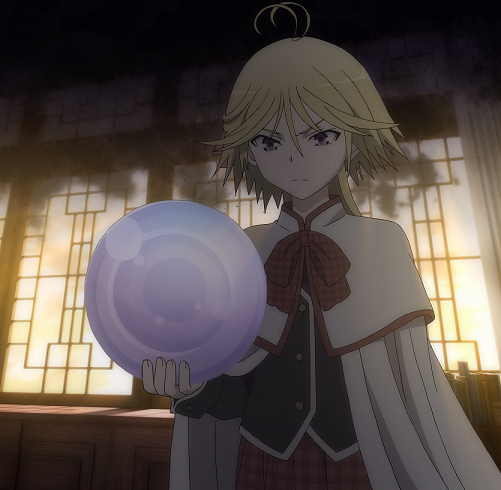 One of the main irritations with harem (or reverse harem) series is that, having paraded a sequence of potential partners for the main character, just like a Visual Novel, no real commitment is ever made, so the plot and characters never move forward or develop. The series is described as a 'fantasy romantic comedy' but surely a romcom demands a little more of its main protagonist, in this case, Arata, who rarely seems to want more from a relationship than to grab the nearest boob.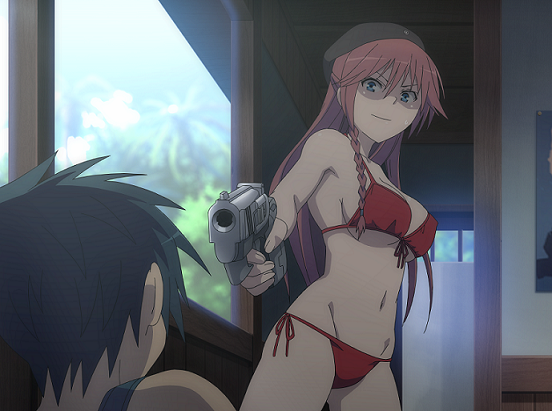 This impression isn't helped in the US dub by relatively new VA Cameron Bautsch who goes for a salacious leer in the voice that enhances the jerk side of Arata's nature; experienced VA Yoshitsugu Matsuoka (Kirito in SAO, Yukihira Soma in Food Wars) gives a much less obnoxious performance. In fact, this is one of those releases where I definitely recommend the sub over the dub, although there's a wonderfully dry, deadpan turn by another unfamiliar (to me, anyway) VA, Christina Stroup as Arin Kannazuki, the mage who spookily resembles Arata's missing Hijiri and persists in calling him her husband.
Oddly enough, one redeeming feature for Trinity Seven is the interesting and unusual soundtrack, supplied by TECHNOBOYS PULCRAFT GREEN-FUND (WitchCraft Works); their main influence seems to come from the minimalist school, and maybe Thomas Newman (American Beauty). The striking OP is "Seven Doors" by ZAQ and the four (yes, four!) EDs are:
#1: BEAUTIFUL≒SENTENCE" by Magus Two
#2: "SHaVaDaVa in AMAZING♪" by YuiLevi♡
#3: "ReSTART "THE WORLD"" by TWINKle MAGIC
#4: "TRINITY×SEVENTH+HEAVEN" by Security Politti
The extras on this easily navigable Blu-ray are textless OP and EDs and four trailers for other Sentai releases (not all available on R2).
In Summary
If you're a fan of fan service, then you probably won't be disappointed. The music isn't too shabby, with a strong OP and interesting selection of 5 EDs! But take away the music, the attractive character designs and the ecchi and Trinity Seven sadly seems little more than a rather ordinary and undistinguished fighting fantasy.