The Place Promised in Our Early Days / Voices of a Distant Star Twin Pack Review

darkstorm
•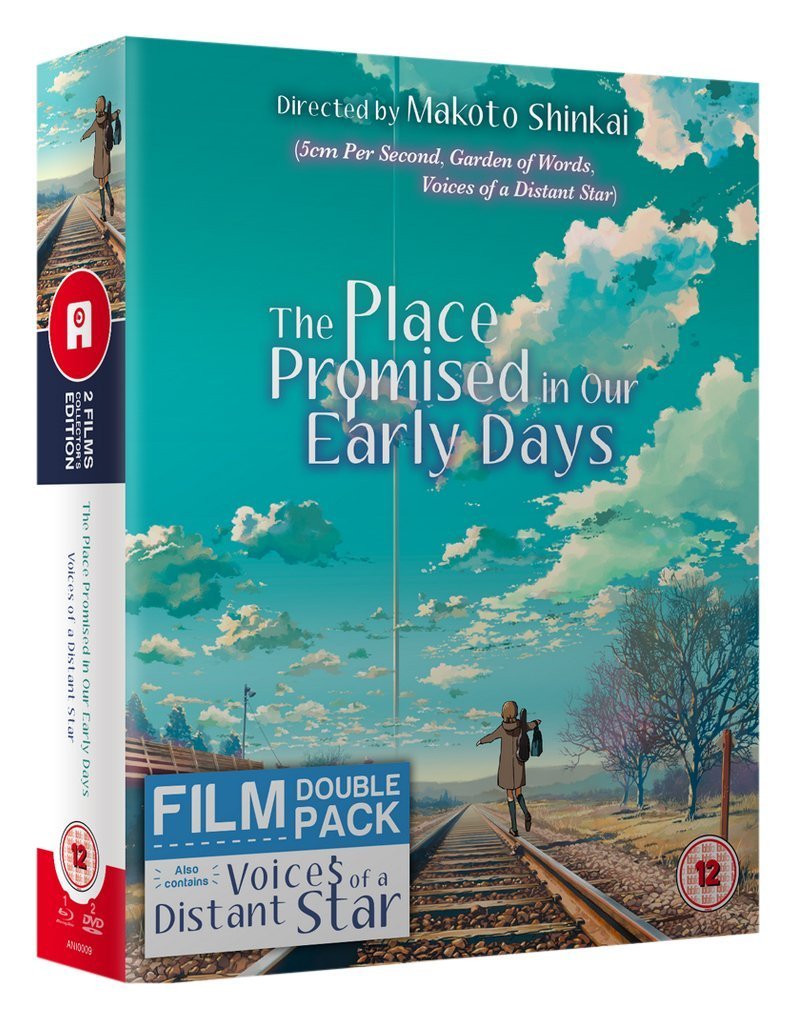 Makoto Shinkai is currently known as the director of 2016's biggest Japanese animated film, Your Name. But many years prior he was a beloved director of shorter, more unconventional pieces, originally starting out as a one-man production powerhouse – doing everything from the storyboards and animation to even voice acting – with only a few movies to his name. Back in 2013 Anime Limited announced they had licensed his earliest work, Voices of a Distant Star and The Place Promised in Our Early Days, as a Blu-ray and DVD combo, however it was subjected to numerous delays. It probably wasn't planned at first, but its eventual release conveniently falls just after Your Name comes to UK cinemas, ready to satisfy newly-made Makoto Shinkai fans eager to see where his anime filmmaking skills started. This is the first time that both of these films are available in the UK in Blu-ray format.
Voices of a Distant Star is his earliest commercially available work; an OVA written, directed and produced by Makoto Shinkai telling the story of two teenagers whose relationship is torn apart when school girl Mikako is recruited into the UN Space Army to pilot a mecha against an alien race called the Tarsians, whereas Noboru stays on Earth and continues his education. The pair attempt to keep in contact via cell phones, with Mikako sending her friend texts from the battlefield, but as she travels deeper into space, the time it takes for her messages to reach him become impossibly further away.
The OVA is 25 minutes long so does not go into great detail about when the war come about, how Mikako learnt to pilot the mecha or why the aliens are as they are, but in this instance it does not matter. The OVA focuses on the main characters' relationship with the themes of long distance communication and the loneliness it creates. Like the war backdrop, we do not see the full journey of Mikako and Noboru's relationship but their simple interactions and emotions resonate clearly. The pair have a few intimate moments and clearly defined character motivations so it's heart breaking to see the pair yearn for each other from a vast distance. Even if you haven't experienced a long distance relationship you can empathise with Mikako as she chokes up realising that her simple message will take years to reach Noboru. It's also refreshing to have a female as the mecha pilot fighting in the war and the male waiting for her to come home whilst staring at his phone, praying for it to ring – it proves that such emotions are universal, regardless of gender.
A premise such as that of Voices of a Distant Star could have easily drifted into Evangelion territory with a traumatised pilot, or even contained She the Ultimate Weapon melodramatic vibes but it avoids them both beautifully. Mostly because of the restricted running time but also at the end of the day, although they miss each other, they have to keep going. Mikako doesn't stop fighting in the war because of her lost love, nor does Noboru grow old without moving on with his life; it's a tragic but relatable tale.
Originally released back in 2002; visually it hasn't aged well, and not because it's in 4:3. The backgrounds are gorgeous, especially when we're shot into space with Mikako, and the planet designs are unique too, but the characters themselves, especially in the facial department, are uneven and bland. The 3D is especially bad in places with the mecha units themselves most guilty of it. Harsh criticism considering Makoto Shinkai did it all by himself, but I will say that the little action we do see is choreographed well, and there are far worse looking anime out there with longer time frames and bigger budgets.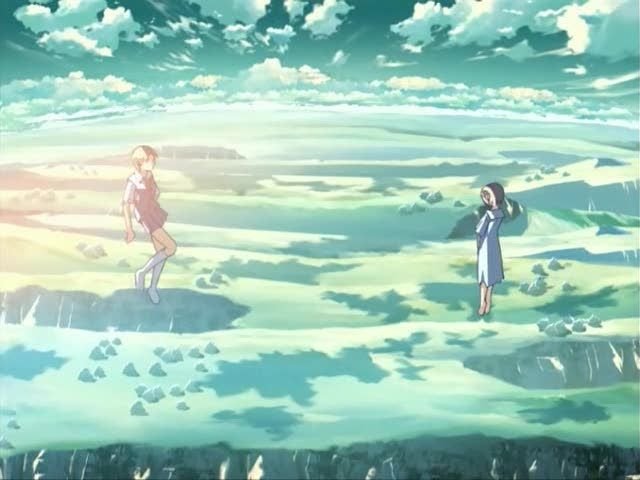 The second movie of the combo pack, which is more prominent on the packaging, is The Place Promised In Our Early Days, which takes place in an alternative timeline where Japan has been divided after the second world war, with Hokkaido taken by 'the Union' to conduct experiments inside a mysterious tower built so high into the sky that it captures the interest of three teenagers: two boys Hiroki and Takuya, and a girl named Sayuri. The two boys are planning on building a plane and flying to the tower themselves to see what's beyond it, but their plans are halted for three years when Sayuri suddenly disappears. Where she went holds the key to what's going on in the mysterious tower.
This is Makoto's first feature-length film that actually has many elements from Voices of a Distant Star all the way to his latest work Your Name, and its fascinating to see how his ideas have developed over time and been refined in latter works. Place Promised is clearly his very first attempt at a feature-length however as there are a lot of pacing issues and ideas that feel like separate mini-films tacked on into one. The opening act focuses on the relationship between the three teenagers; first the two boys who have been friends for ages, then the girl tagging along for the summer of 1996 where their relationship blossoms. Understandably it's important to develop the relationship considering how central it is to the plot, however this act does drag and it doesn't help that the characters themselves are all quite similar in looks (all sporting young faces and the same shade of brown hair) and more importantly, similar in personalities – idealistic, hardworking and rather bland overall. There are no big emotional outbursts or variety in character traits to help divide the group up; it's easy to confuse the boys especially with each having their own intimate scene with Sayuri in the past. Even in the latter scenes when the stakes are higher, the three characters fail to really express much emotionally to drum their turmoil and character into the audience's hearts.
Like Voices of a Distant Star, Place Promised has a rich history and an impending war threatening the relationship between the three characters that the film either glosses over, rushes out via technobabble, or leaves for the audience to look it up with Google. However, in Place Promised the lack of information actually hurts the film, especially in the second half when it starts to take over the main conflict of the film and directly affects the three teenagers. You could get away with this if the backdrop and main science fiction elements were simplified but sadly this film takes place in an alternative timeline, where parts of Japan have been split and owned by different parts of the world that's not explained in the film itself, then there's a terrorism conspiracy plot going on in the back ground and the scientists in the tower have their own plan of exploring the concept of parallel worlds. The parallel worlds idea is a fascinating one which is hinted in the easy-breezy opening act mostly via Sayuri, but doesn't feel fully realised within Place Promised itself; they hint at multiple different 'dreams' existing at one time, and yet we're restricted to just the two we're shown in film. It feels like a wasted opportunity. Elements of people existing and being connected in different realities is thankfully explored again in Makoto's Your Name, with far better results, but in Place Promised a lot of the film ends up being either a drag or half baked.
The animation for Place Promised shares Voices of a Distant Star's stunning backgrounds but thankfully steps up the animation budget; everything is visually more fluid and brighter in colour, and despite the characters all suffering from very similar faces and hair colours/styles, they're better drawn and animated compared to his previous short.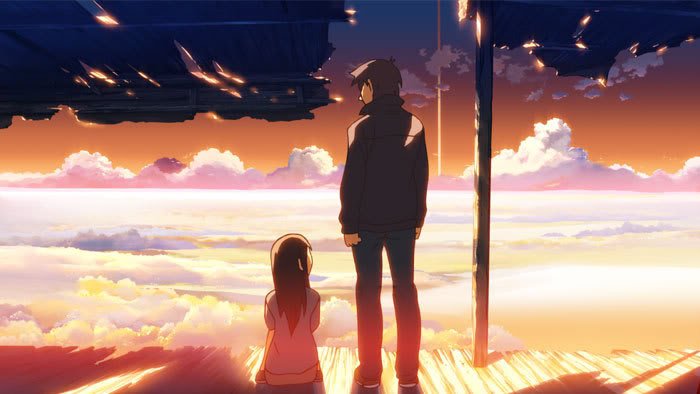 Although it's not advertised in the Blu-ray's packaging there's actually another Makoto Shinkai short in here; She and Her Cat, a five-minute short that he developed completely by himself aside from the score and the female voiceovers. Originally released back in 1999 it tells the simple story of a year in the life of a male cat and the relationship with his female owner. It's a simple yet sweet tale and really worth a watch; even in five minutes you can see how much work Makoto put into it and his writing talent shines through. I wish, however, that there was an English dub for it; some of the subtitles go by fast but pausing breaks the poetic nature of the piece.
The short can be found in the extras menu; alongside alternative Japanese audio for Voices of a Distant Star with Makoto voicing the main male character, plus storyboards and a trailer collection. For Place Promised there's a trailer collection alongside interviews with the Japanese cast of the three main protagonists. There are also two interviews with Makoto talking about the production of the films separately.
The Voices of a Distant Star and The Place Promised in Our Early Days Blu-ray combo is an important collection whether you're a long-term fan or new to Makoto Shinkai's work. It's fascinating to see how Makoto's vision, unfiltered by bigger budgets and studios, unfolds on screen, and know that all the hard work he put into them brought him into the limelight we see him in now. The films are not perfect by any means but they are clearly the result of one man's hard work and joy for the medium regardless of the obstacles he had to overcome to create them. This a collection to pick up if you're a film buff, Makoto fan, have a curiosity for anime production or all of the above.