Your Name English Dub Revealed, New UK Theatrical Screenings & More!

NormanicGrav
•
The train never stops and keeps going with Makoto Shinkai's latest film dominating both the UK screenings and the Japanese box office. Your Name has already received very positive feedback from critics and achieved a slot for a potential nomination at the Academy Awards. Here's what's currently going on for the film!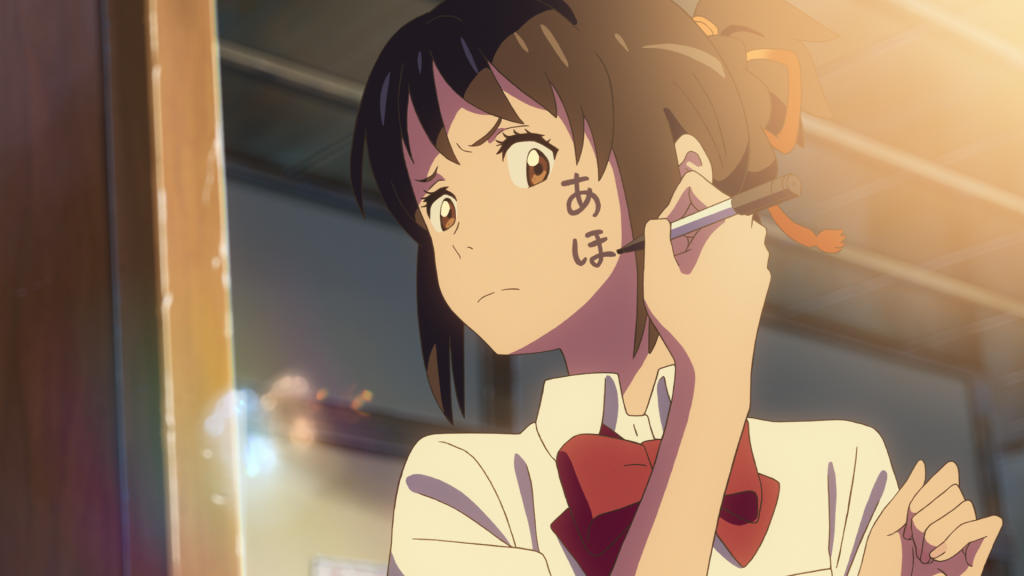 NEW & UPDATED THEATRICAL SCREENING SCHEDULE
Here in the UK, distributor Anime Limited have announced on their blog that they will expand their screenings for the film after much demand. Here's the current list of release dates for the screenings:
November 18th to 23rd:
Showcase Cinemas will be running the film at 16 different venues with the English dub and Original Japanese audio with English subtitles twice a day.
November 24th:
Nationwide screening across the country at over 120 venues. Many of which are already sold out! Most of the screenings will be the Original Japanese audio with English subtitles.
November 25th to 30th:
Select cinemas will be screening the film. Examples include:
Odeon
Aberystwyth (Aberystwyth Arts Centre) [Individual Day Screening]
Birmingham (Broadway Plaza)
Brighton (Duke of York) [Individual Day Screening]
Glasgow (Glasgow Film Theatre) [Individual Day Screening]
Leeds (Hyde Park Picturehouse) [Individual Day Screening]
London (Panton Street)
Kingston
Manchester
Southampton
Vue – Various days of the week:
London – Islington Road
London – Shepherd's Bush
London – Westfield Stratford
Vue – November 29th only:
Basingstroke
Cambridge
Exeter
Gateshead
London – Finchley Road (02 Centre)
London – Westfield
Norwich
Oxford
Plymouth
Sheffield
Swansea
December 4th:
The NYAV English dub will be screened at 13 venues across the country:
Cineworld
Birmingham
Cardiff
Edinburgh
Glasgow
Sheffield
Showcase – These are listed for December 5th (so dub audio may not be confirmed)
Bristol
Leicester
London – Bluewater
Nottingham
Vue
Leeds (The Light)
London – Shepherd's Bush
Manchester
December 6th to January 27th:
Anime Limited have a range of screenings with independent cinemas booked for this period, estimated to be about 4-5 venues for now.
More venues may be added as the days go by, so best to keep an eye over on the official Your Name Cinema website!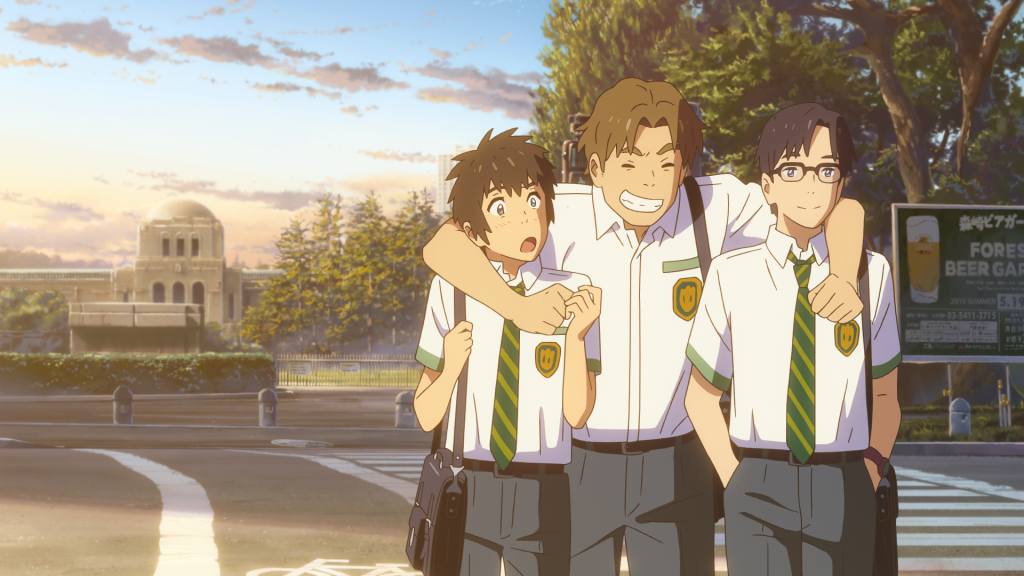 ENGLISH DUB CAST FROM NYAV AND TRAILER!
The English dub provided by NYAV Post has been unveiled via Anime Limited's blogpost! Here's the cast for the film:
Character – Cast
Taki Tachibana – Michael Sinterniklaas
Mitsuha Miyamizu – Stephanie Sheh
Katsuhiko Teshigawara – Kyle Hebert
Sayaka Natori – Cassandra Morris
Tsukasa Fujii – Ben Pronsky
Shinta Takagi – Ray Chase
Yotsuha Miyamizu – Catie Harvey
Toshiki Miyamizu – Scott Williams
Futaba Miyamizu – Michelle Ruff
Taki's Father – Marc Diraison
Teshigawara's Father – H. D. Quinn
Teshigawara's Mother – Michelle Ruff
Yukari Yukino – Katy Vaughn
Miki Okudera – Laura Post
Hitoha Miyamizu – Glynis Ellis
Additional Voices
Ray Chase
Kevin T. Collins
Marc Diraison
Ben Diskin
Erin Fitzgerald
Paige Fitzgerald
Sri Gordon
Wayne Grayson
Catie Harvey
Kyle Hebert
Eddy Lee
Cherami Leigh
Laura Post
Ben Pronsky
H. D. Quinn
Spencer Rosen
Alyson Leigh Rosenfeld
Michelle Ruff
Erica Schroeder
Kaiji Tang
Maki Terashima-Furuta
Katy Vaughn
Staff
ADR Director – Stephanie Sheh
ADR Director – Michael Sinterniklaas
Additional ADR Director – Anthony Tortorici
Casting Director – Stephanie Sheh
English Script Adapter – Clark Cheng
Recording Engineer – Anthony Tortorici
Recording Engineer – Michael Schneider
Production Coordinator – Clark Cheng
Production Assistant – Anthony Tortorici
Audio Mixer – Oscar Garcia
You can view the trailer provided by Anime Limited here: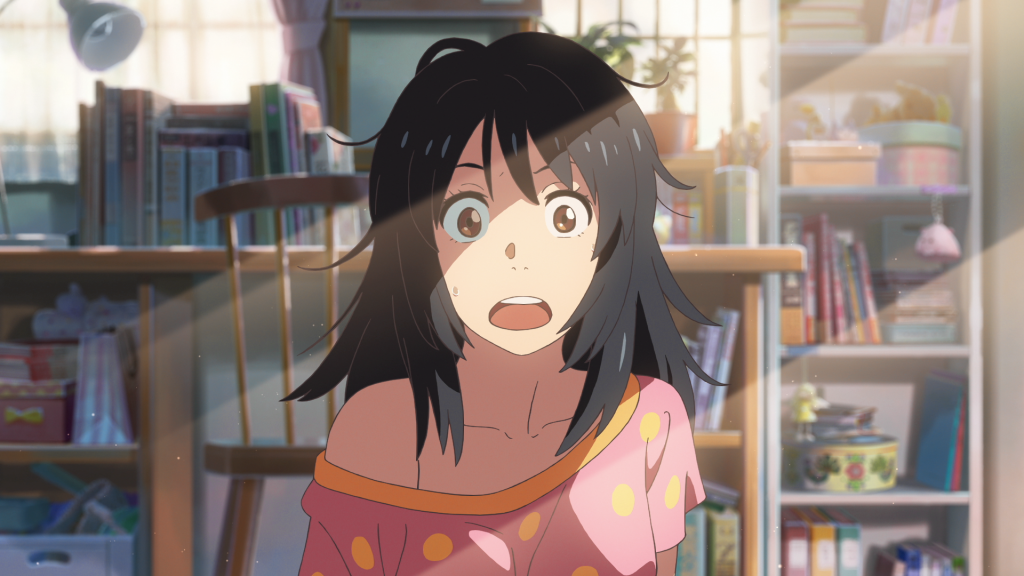 FILM DOMINATES CRITICS & THE JAPANESE BOX OFFICE
Over in Japan, the film has now earned nearly 18.5 billion yen at the Japanese box office after dominating the number one slot for a total of 12 weeks (not consecutive as it was once pushed to number two by the latest live-action Death Note movie).
In the overall box office chart, the film is currently the 7th highest grossing film of all time in Japan. The current holder at the 6th position is Princess Mononoke (at 19.4 billion) followed by Howl's Moving Castle (at 19.6 billion) with the 5th position.
The film has also made some success with the critics with numerous praise and some even calling Makoto Shinkai the successor to Studio Ghibli's Hayao Miyazaki.
BBC Radio 1 – ★★★★
Empire Magazine – ★★★★★
Front Row Reviews – ★★★★★
The Hollywood News – ★★★★★
The List – ★★★★★
The Telegraph – ★★★★★
Time Out – ★★★★
Total Film Magazine – ★★★★★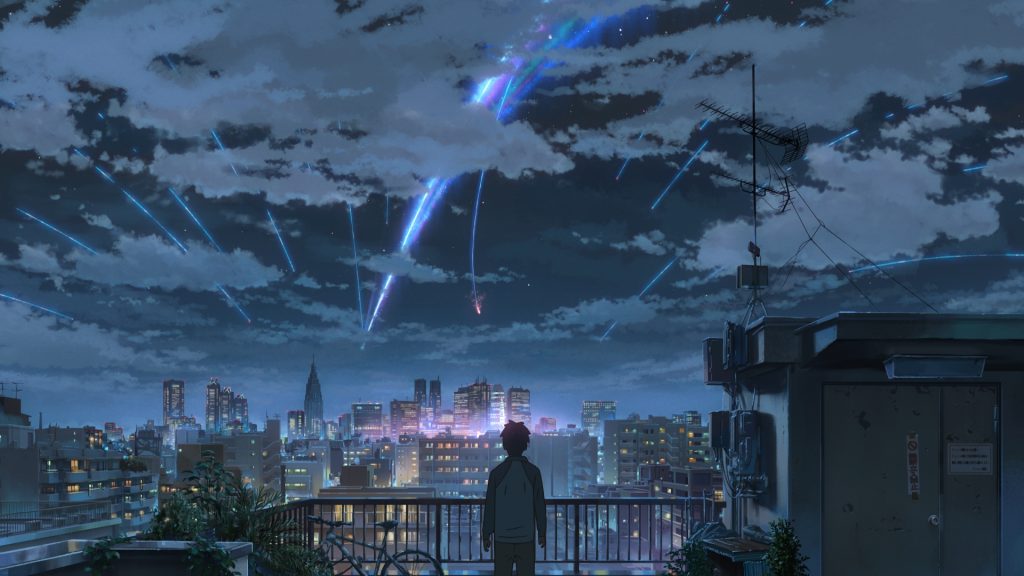 ABOUT THE FILM
Your Name, also known as Kimi no Na wa., is currently Makoto Shinkai's 6th major film. The 106 minute long film first began theatrical distribution on August 26th 2016 and has managed to maintain its position in the box office ever since.
Mitsuha and Taki are total strangers living completely different lives. But when Mitsuha makes a wish to leave her mountain town for the bustling city of Tokyo, they become connected in a bizarre way. She dreams she is a boy living in Tokyo while Taki dreams he is a girl from a rural town he's never visited.

What does their newfound connection mean? And how will it bring them together? Find out in the latest film from the acclaimed auteur Makoto Shinkai.
The director is also well-known for directing previous works including:
Voices of a Distant Star (Hoshi no Koe) [2002]
The Place Promised in Our Early Days (Kumo no Mukou, Yakusoku no Basho) [2004]
5 Centimeters per Second (Byousoku 5 Centimeter) [2007]
Children Who Chase Lost Voices (Hoshi o Ou Kodomo) [2011]
The Garden of Words (Kotonoha no Niwa) [2013]
He also directed short films like She and Her Cat (Kanojo to Kanojo no Neko) [1999] and have done promotional work with Taisei Corporation and Z-Kai [2011-14]. He's even done work with the Japanese visual novel developer Minori for various Opening songs and trailers including ef ~ A Fairy Tale of the Two [2006].
Your Name has been licensed by Anime Limited for theatrical and home release for the United Kingdom & Ireland. The home release will also include the film's soundtrack composed by Radwimps.
If you want a good head-start on checking out the director's catalogue, Anime Limited will also be bringing The Place Promised in Our Early Days & Voices of a Distant Star on Blu-ray from November 21st in a collector's edition combo pack which also includes the She and Her Cat short film.