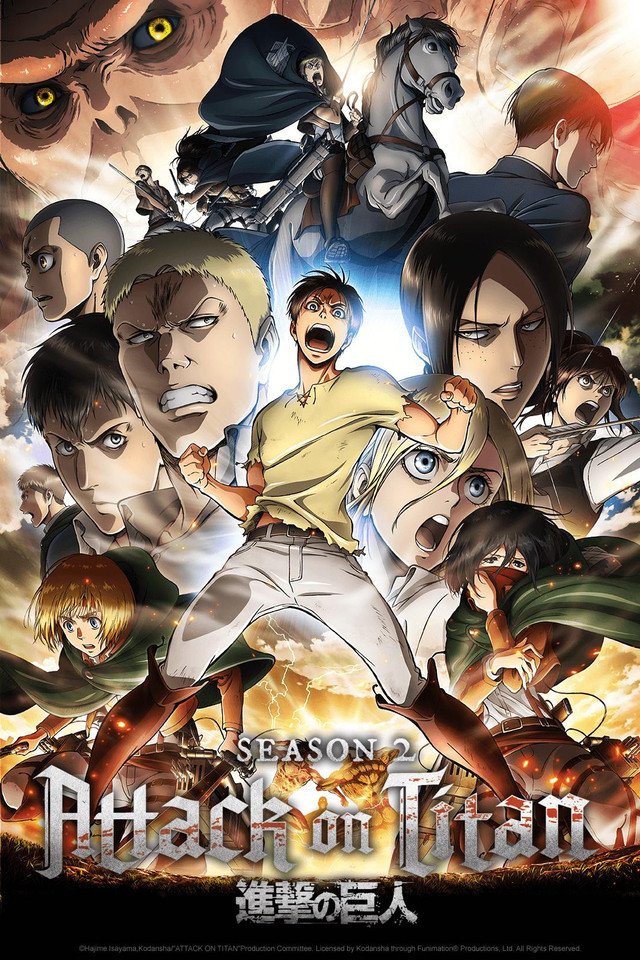 Spring Preview 2017
The return of Attack on Titan! Season 2 of My Hero Academia! Yet more Berserk! The Eccentric Family re-appears for more tanuki mishaps and mayhem! Rage of Bahamut returns, even more epic than before and – oh, wait. What's that you say? You've subscribed to Crunchyroll and Funimation UK and the latest Bahamut isn't on their Spring list? It's only showing on Amazon Prime UK? And a raft of other promising, highly anticipated series are only showing in the US on Amazon Strike?
Just when we thought there was some hope of no longer being the poor relations in the UK when it comes to legal, accessible and affordable simulcasts, Amazon buys the rights of several of the eagerly-awaited Spring series. However, with so many long-awaited sequels on show and some intriguing new titles, there's plenty to keep our writers at Anime UK News engaged and excited. They're here to share their initial thoughts and impressions of the new Spring Season. Agree? Disagree? We'd love to hear your thoughts too…
IncendiaryLemon
To get the obvious out the way first, the show I was looking forward to the most this spring was Attack on Titan Season 2. Yes, it is the most generic answer anyone could possibly give, but it has been 4 long years since the original series first broadcast, and I have been desperate to know what's in that basement! As someone who doesn't read the manga, the wait to know what happens next after the first season left so many unanswered questions has been very painful, so I am incredibly thrilled to finally see the show back on our screens. The first two episodes certainly haven't disappointed so far, with Episode 2 in particular delving into the backstory for Sasha, one of my favourite characters, as well as giving us the Titan- based action we all know and love. I've heard from manga readers that it's all set to go downhill, but from where I'm standing, it's looking pretty great at the moment.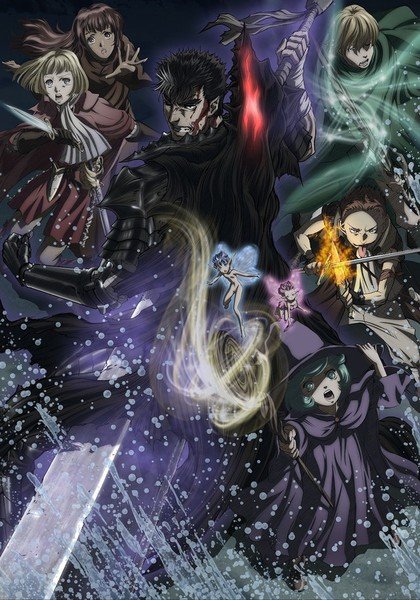 Going from something everyone and their mother was excited about to something I'm pretty sure only I was, the new series of Berserk also started this season. Last year, when the adventures of Guts finally continued after almost two decades (as far as anime is concerned), the backlash was enormous, with most of the complaints being launched at the 3D animation, which I can certainly agree with. However, even if it does look pretty terrible, at the end of the day, it's still Berserk, a franchise I have a ton of love for, and no matter how poor the animation, the strength of both the story and characters certainly salvage it. After the cliffhanger ending of the last season, Season 2 wastes absolutely no time getting straight back into the action, with Guts confronting a familiar foe and Farnese getting a horrific backstory. No matter the animation, Berserk remains as dark, twisted and brilliant as it ever was.
The third and final anime I wish to highlight for this season is another one that I don't think many people were looking forward to, but in contrast to Berserk, I also think it's one pretty much no one really knows about either: Hinako Note. Filling the 'cute girls doing cute things' void in my life this spring, Hinako Note is about the titular Hinako, who travels to the city after living in the countryside, and ends up living with three other girls in a secondhand book store. Together with Mayuki, Chiaki and Kuina, she plans to resurrect her school's theater club in hopes of getting over her social anxieties. Honestly, there isn't too much to say about this one given its nature and the fact that only one episode has come out at time of writing, but personally I found it to be a good mix of comedy and cuteness, and it makes for a good break between the gore, death and anguish of shows such as Attack on Titan and Berserk. 
Ian Wolf
We all know what the big series are going to be: the second series of Attack on Titan, the second series of My Hero Academia, and Boruto – the sequel to Naruto. However, there are some other series that are of interest. Two of these are titles whose original manga versions have only recently been released in English.
One is a title I have already reviewed for AUKN:  the clockpunk series Clockwork Planet. The series begins with the world having died, but then brought back to life by a genius engineer using only gears, so the whole world runs like clockwork. The series follows four people – mechanical otaku Naoto Miura; RyuZU, an automaton he manages to repair; Marie Bell Breguet, a genius technician; and her bodyguard Vainney Halter – who, after a month of meeting each other, become the world's most infamous terrorists.
The series has already attracted comment from some people, but sadly this is about what some see as inappropriate content. For example, there is a scene in which RyuZU sucks Naoto's fingers in a manner too suggestive for some, and thus it has put some people off. However, the setting and situation will hopefully outweigh these concerns.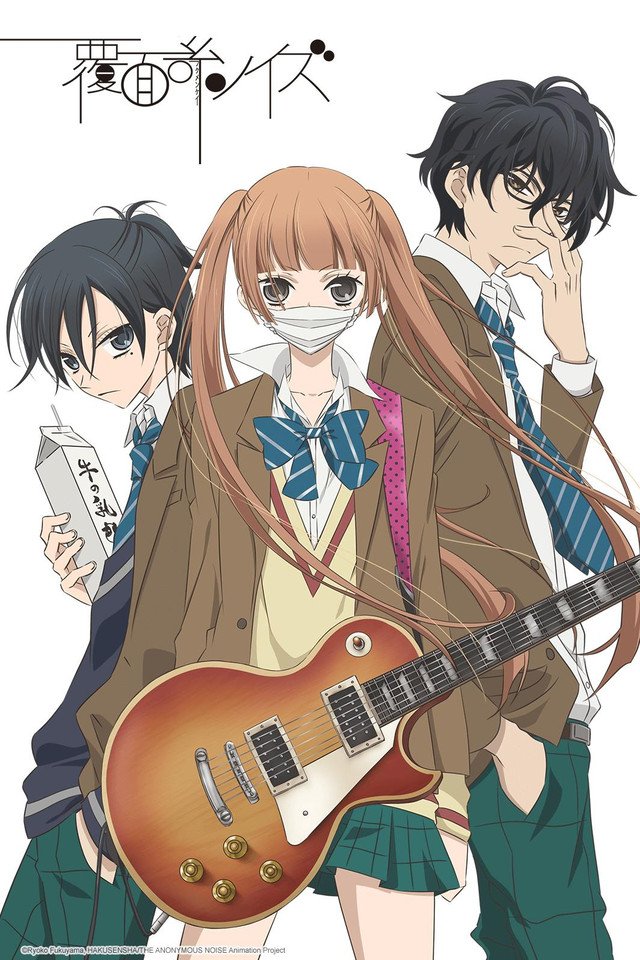 The other series of interest is Anonymous Noise, a series revolving around music and romance. It follows a love triangle, at the apex of which is Nino "Alice" Arisugawa, a girl who loves to sing, but who spends most her time in public wearing a face mask. When she was younger the two boys she was closest to moved away from her: Momo Sakaki, her old next-door neighbour and Kanada "Yuzu" Yuzuriha, who loves writing music and hates his lack of height, to the point that he is constantly drinking milk in an effort to make himself taller. When Nino arrives at her new high school, she spots Yuzu playing guitar in the light music club and tries to reignite their relationship. It is not long before she also seems to spot Momo as well.
Having seen the first episode, I find that the series has several impressive features. First of all there is the music: the songs are credited to the band "in NO hurry to shout", which is a fictional band that appear in the series. The songs that have featured in the anime have been good so far and I'm looking forward to hearing more. A collection of singles will be released on 19th April. The other big thing that impresses is the "camerawork". There is a scene in which Nino has to perform with the light music club on stage as singer, and when she performs you cut to a view from the audience which looks like it is being filmed by someone on a cameraphone, dancing to the music. The camera doesn't keep still and the image is slightly of poorer quality as you would expect, thus adding to the realism of the moment. Let's hope it can keep the pace up.
Rui
I'm drowning in sequels! The follow-ups to Attack On Titan, My Hero Academia, Berserk and (saving the best until last) The Eccentric Family guarantee that I'll be spending a lot of time on Crunchyroll this season, as all four were highlights of their respective seasons the first time around. If you're not up to date on The Eccentric Family and like your anime to be both thought-provoking and unusual, it's well worth checking out the first season on DVD/BD from MVM in the UK.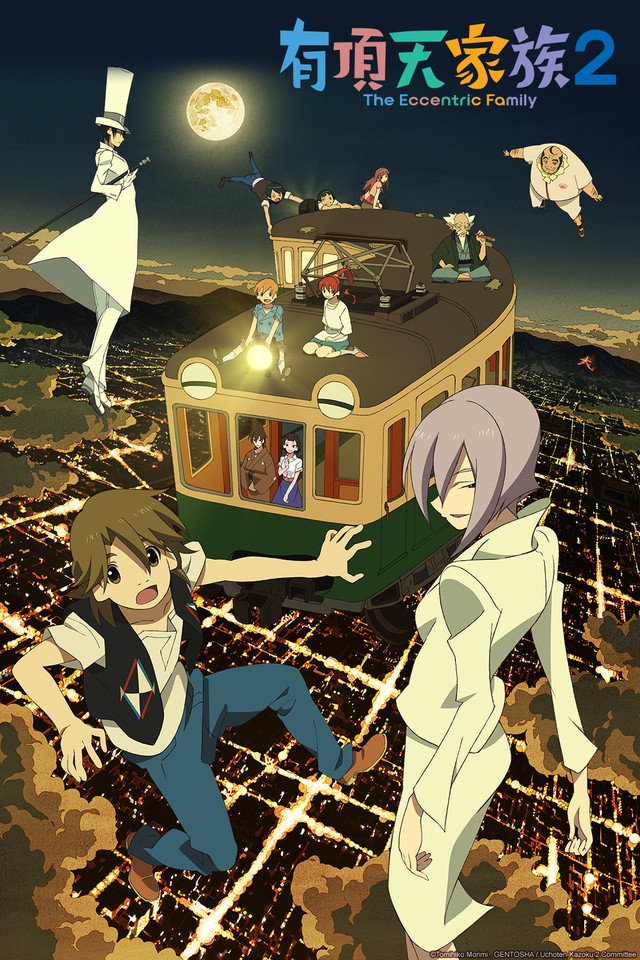 Amazon has snatched quite a few titles I might have checked out otherwise and some of the ones I want to watch most aren't available in the UK at all (Natsume's Book Of Friends, how I miss you) but overall the damage hasn't been too bad. Yet.
In terms of brand new anime, the horrendously-titled WorldEnd: What do you do at the end of the world? Are you busy? Will you save us (hereafter SukaSuka for my sanity) is the pleasant surprise of the season so far. My expectations were rock bottom; fantasy light novel adaptations about cute girls with powers are a dime a dozen these days and it's a genre that struggles to impress me at the best of times, but when I forced myself through the first episode of SukaSuka I found a lot more to like than I expected. The characterisation and world building are already getting me thinking! I rewatched the first episode with a friend after the first viewing and we're both looking forward to seeing where things go.
Aside from that, I'll definitely be watching the new Laughing Salesman, Kenka Banchou Otome and – if the excessive censorship is less annoying in future episodes – Seven Mortal Sins. Not a huge amount of completely new content has caught my eye this time around but that which has is plenty to keep me busy.
Cold Cobra
Well, okay so I'm also watching Attack on Titan Season 2, and there is obviously very little to mention there. I will mention My Hero Academia Season 2 in a bit more detail, as it is similarly glossed over, due to being an obvious pick. The original series took a lot of people by surprise due to its combination of western comics and manga, not to mention its lead protagonist Izuku Midoriya, who has to be the most likable character on TV at the moment. The first season got through the world building and character set ups, leading to a final few episodes of classic shonen action. This gives Season 2 the ability to jump straight into some more action and light-hearted jabs at comics and hero shows in general without having to build up the characters or introduce them. The first two episodes have set up another shonen classic of a tournament arc, which will be fun, and obviously lead into something bigger.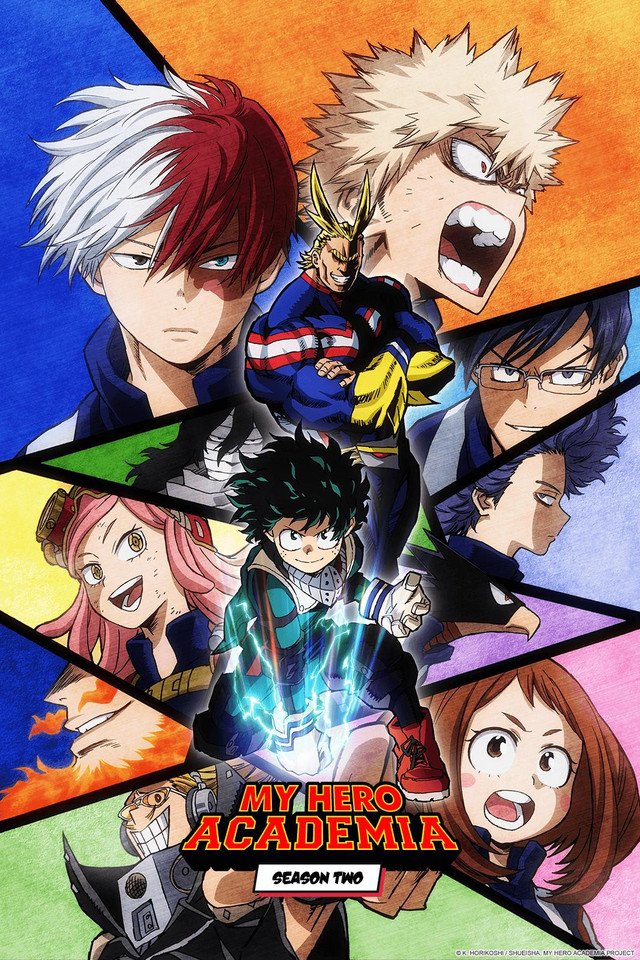 As this site's resident Naruto reviewer it won't surprise you to find out I'll be watching Boruto as well. The first two episodes of the Naruto sequel have been good in a "seeing characters as adults" kind of way, but also kind of annoying in that Boruto is pretty much Naruto again, including rebelling against the adults, despite growing up in a family. I know, he's mad that his father isn't around much, but you'd think given his Dad has his face carved into the side of a mountain might make you respect him a bit more… Still, early days, and this is already better than most filler arcs Shippuden produced, though that might be the biggest damning with faint praise in the history of faint praise damning…
I'm sure by the end of the season there will be one or two other series that I'm not aware of at the moment added to the line-up, but even if nothing else catches my eye, I'm happy to have the three shows to watch, and on my TV via the one streaming service no less!
Paul
The Spring season of 2007 was legendary. 10 years on, I don't think this season will meet those same high standards, but that's not to say Spring 2017 is without interest. Second seasons for Attack on Titan and My Hero Academia are welcome, but I'm particularly pleased to see The Eccentric Family return. It's a weird story, set in the smokey side streets of modern day Kyoto where any number of creatures from Japanese folklore are living amidst a bemused human society. It has a unique aesthetic and is clearly a passion project for the talented animators working on it, who are giving it their all. Based on a story written by Tomihiko Morimi of the fantastic Tatami Galaxy, his love of language is evident throughout as the characters trade dialogue like gun fire.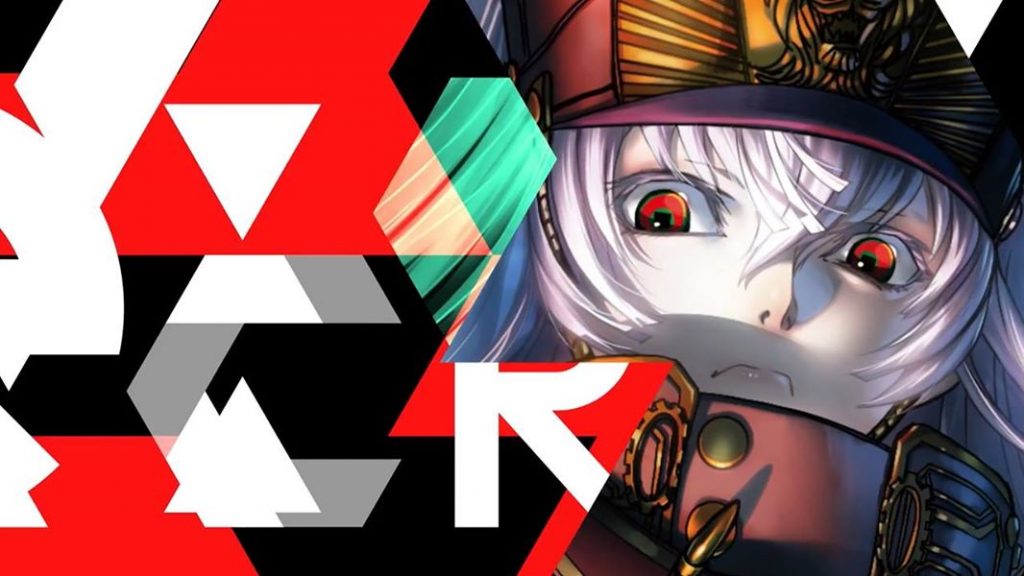 Somewhat more conventional but never the less entertaining is Re:Creators. Back when musical composer Yoko Kanno (Cowboy Bebop, Escaflowne) was relatively active, her participation in an anime series would be enough to pique interest, and the same could be said today for Hiroyuki Sawano, albeit his trademark style is totally different to Kanno's own. His style is heavy and infused with adrenaline, and is going to play a big role in Re:Creators. The first episode's action scenes were great: filled with the sounds of clashing metal and indiscriminating collateral damage. Reading up on it also introduced me to a new word: Isekai, which is a genre of (Japanese) fiction where characters are transported from one world into another, foreign world, albeit this is reversed in Re:Creators, with anime characters invading the real world.
Sarah
Much as I'm enjoying the return of My Hero Academia and AoT, I find that there aren't as many truly different series this Spring Season to discover. I love coming across something quirky or unusual, a well-made series that draws you back in with its skilful storytelling. However, that said, here's two new series that – thus far – are different from the over- preponderance of material based on shonen manga or light novels.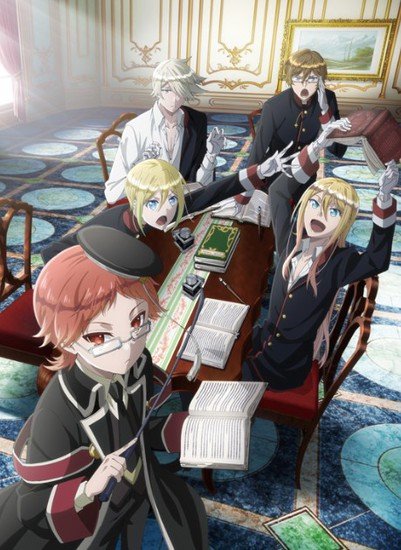 The Royal Tutor
The diminutive Professor Heine Wittgenstein arrives at Grannzreich Palace to act as royal tutor to the king's four younger sons to prepare them as potential successors to the throne, should anything happen to the Crown Prince. Heine could be easily mistaken for a child. (This happens. A lot.) But appearances can be deceptive; in spite of his childlike stature, he possesses a keen intelligence and understanding of human nature. As each of the four princes: forbidding Kai, genius Bruno, proud Leonhard and free spirit, exuberant Licht are soon to discover…
I'd been enjoying reading the manga of The Royal Tutor by Higasa Akai digitally from Yen Press (the first of the paper volumes will be released in May) so was delighted when the anime TV series was announced! At first glance, with its bishonen princes and nineteenth century 'Viennese' setting, it might seem as if it's nothing but a frothy confection – but don't be deceived. (For anyone confused by its promotional material, it's not a BL drama or an idol show; it's something rather more subtle than that.) The design team recreate Akai's distinctive graphic style rather well, using her chibi forms to amusing effect. But there's also some shrewd character analysis on offer, leavened by welcome little touches of humour. It's very different from anything else on offer – and well worth a watch if you're seeking some relief from the constant barrage of action shows.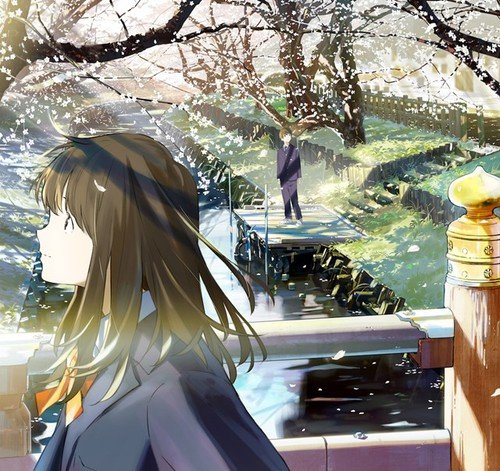 Tsuki ga Kirei
Akane is a gifted athlete and member of the middle school track team. A fellow third-year student, Kotarou, loves books and intends to become a published author. They say opposites attract…but, even though they both have spotted each other (there's a wonderfully awkward meeting where both meet at a family restaurant, with their parents embarrassing them by insisting on chatting together) they're both so shy that these first feelings of interest and attraction could so easily be blown away by the spring breeze, like falling sakura petals.
I was pleasantly surprised by this quiet little slice-of-life series, an original anime directed by Seiji Kishi (Assassination Classroom, Magikano) with attractive, water-colour designs and a surprisingly unsentimental style of storytelling (thus far!) Another welcome antidote to the noisier series. I just hope it isn't spoiled by some tedious soap-style melodrama later on down the line.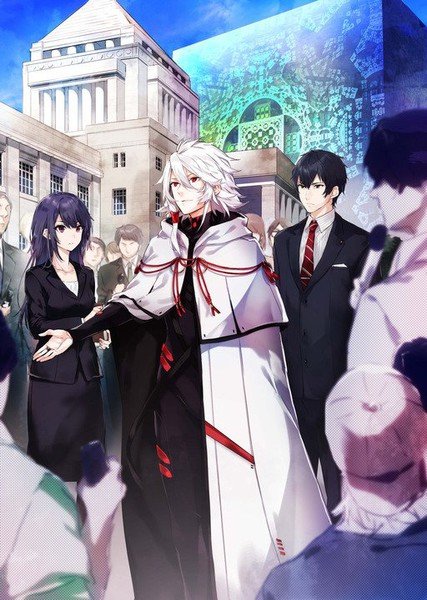 (I'm also really enjoying sci-fi/alien encounter series KADO: The Right Answer – but feel tempted to wait a little longer before assembling any thoughts, critical or otherwise.)
Demelza:
I fall into the same camp as a few of my fellow writers in regards to some of the shows I wanted to watch being region blocked by Amazon. Most notable of these is Is It Wrong To Try To Pick Up Girls in a Dungeon: Sword Oratoria, which is a spin-off to one of my favourite fantasy series and something I'd been greatly looking forward to watching. Despite Amazon having prevented me from watching Sword Oratoria and a few other anime, I've still found a lot to like this season with the return of My Hero Academia and the new whacky comedy Eromanga Sensei, but overall there are just two new shows that have seriously caught my eye.
Sakura Quest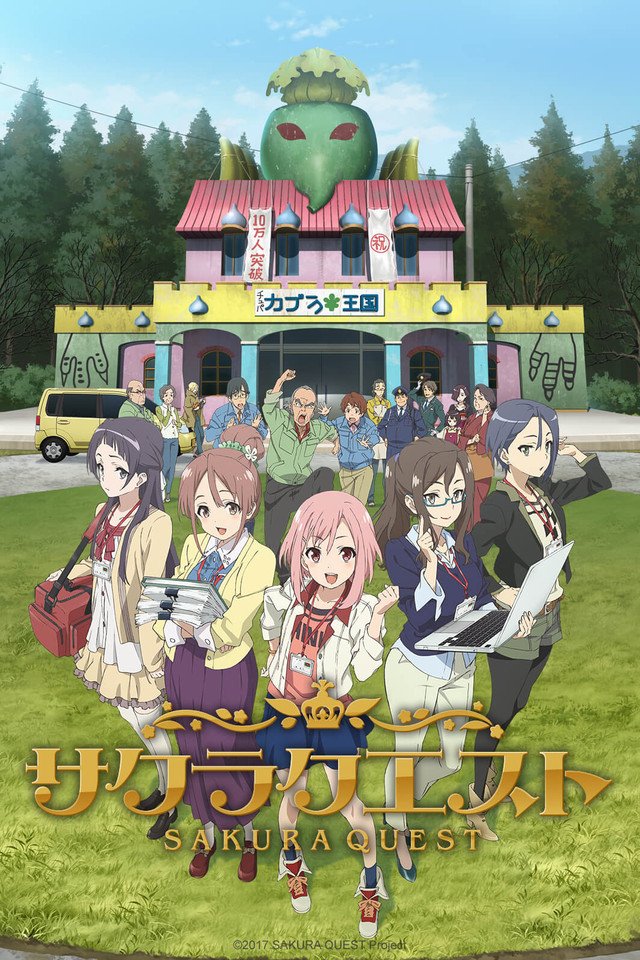 Sakura Quest is the latest original series from studio P.A Works and, as a big fan of Shirobako, I knew I had to check it out. The show follows the adventures of Yoshino Koharu, a young girl who has been trying to find a job in Tokyo. One day she's offered a role with the tourism board of the economically struggling Manoyama village where she will fill the role of being the "Queen". With no other choice but to accept the job, Yoshino soon finds herself in Manoyama and does her best to bring this struggling village back to life.
I can't deny that from the two episodes I've watched that Sakura Quest is a slow burner. The plot moves slowly and much like P.A Work's  Shirobako anime, if you aren't invested in the characters, then you'll probably struggle overall. However, I think the studio has a knack for creating these kinds of stories and I like Yoshino and the friends she makes enough that I want to see this adventure through. It might not be as exciting as creating anime, but it's certainly intriguing in its own way.
Anonymous Noise
The other series to have caught my eye this season is Anonymous Noise. If you've read any of my reviews or articles before then you'll know how much I enjoy a musically focused show and Anonymous Noise looks to scratch that itch quite nicely. So far it has already outdone last seasons Fuuka anime by including more than one original song in an episode and having an incredibly likeable cast (the animation quality is pretty notably as well so far).
The first episode is a bit all over the place because the series is a primarily a shojo in nature and so trying to couple music with a suitably exciting romantic storyline, but I think the fast, action-packed nature of it all is also what drew me in so much. I'm not sure we're looking at a ground-breaking anime that will change our world forever, but if you're a fan of shojo series then I think you'll find a lot to like. At the very least it's a show well worth keeping an eye on, in my opinion, as the first episode easily captured my heart.