Assassination Classroom: Season 2 – Part 1 Review
Ian Wolf
•
"I had a terrible education. I went to a school for emotionally disturbed teachers." – Woody Allen
When we last watched Class 3-E of Kunugigaoka High School, the androgynous student Nagisa Shiota had just managed to defeat a former instructor who tried poisoning most of the class in an attempt to get his revenge on Nagisa, the class, and their destructive tentacled teacher Koro-sensei.
We resume with the class trying to enjoy the final day of their summer vacation in Okinawa, with Koro-sensei organising a test of courage which is actually an attempt at matchmaking. When this fails, the pupils discover the best people to match up are their two instructors, Tadaomi Karasuma and Irina "Prof. Bitch" Jelavic, in what starts a possibly futile attempt to get the two to fall in love with each other.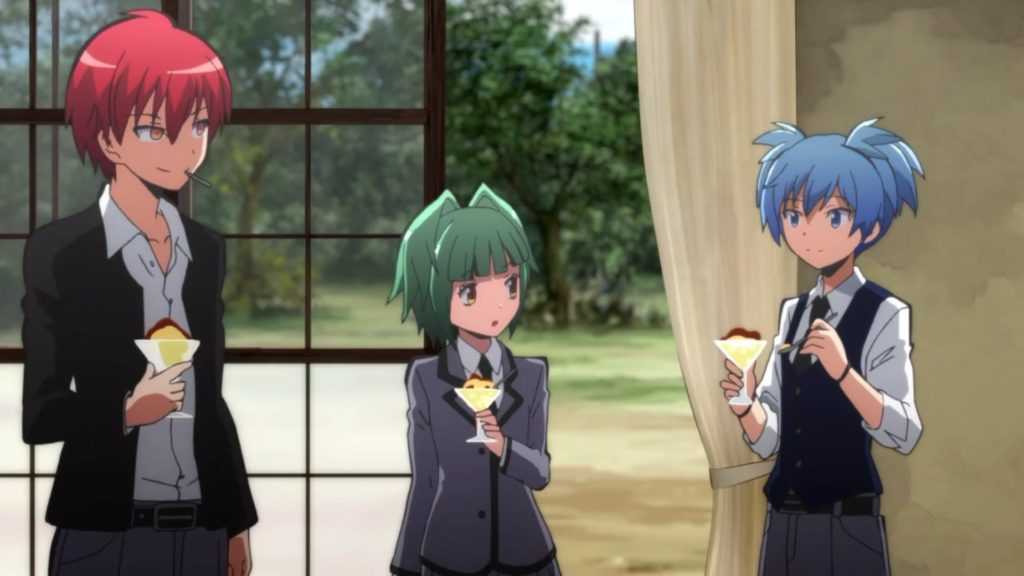 When they get back to school, the assassination attempts come thick and fast… and bizarre, if Kaede Kayano's attempt to kill him by making a gigantic pudding with a bomb inside it are anything to go by. Then Koro-sensei becomes the victim of a smear attack when he is wrongly accused of stealing bras, but this is another assassination plan by Shiro and his tentacled fighter Itona to kill him. When this fails, Shiro abandons Itona, and the class take him in, helping Itona by removing his painful tentacles. Itona's skills with electronics, thanks to his parents having previously run a mobile phone business, are soon used to help the class's assassination plots – although the boys seem to be more interested in using his remote controlled tank to spy on the girls.
The class still have all their other problems outside of their attempts to murder their teacher. They are forced to make amends after they injure the owner of a nursery, meaning that they can't study for the two weeks prior to their mid-term exams; the perpetually poor class representative Yuma Isogai gets into trouble when Class 3-A discover he is breaking the school rules by having a part-time job; but worst of all, the entire class is made a target by the Reaper, the world's most deadly assassin, who goes as far as kidnapping Jelavic – or at least that is what it seems.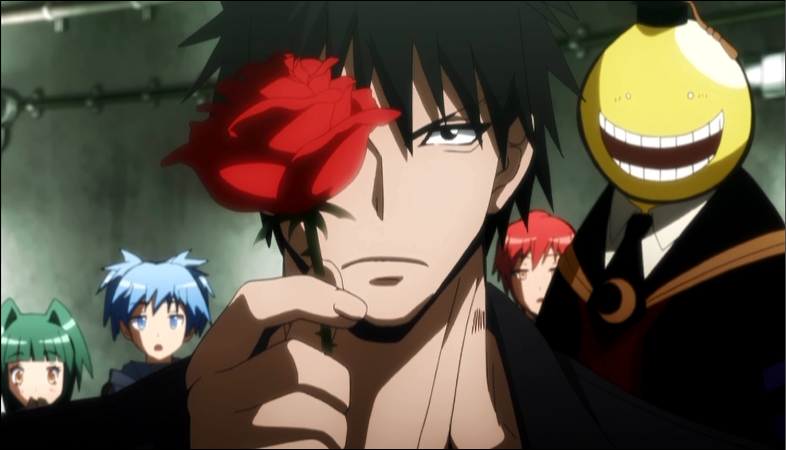 After this, Nagisa has to deal with his violent and domineering mother, the class creates a restaurant for the school's cultural festival, and we learn not only what it was that made Principal Asano such a harsh educator, but how far he is willing to go for the sake of his brutal ideas.
The collection still contains all the best elements of the first: good quality animation mixed with equally good voice acting, a thrilling plot and deeply interesting characters. Assassination Classroom does not fall into the old trap of only focusing on one or two of the students, but all the students get their chance to shine.
Arguably though, the character who stands out most in this collection is Principal Asano, because we see just how ruthless he is in his attempt to make sure that Class 3-E must be bottom at everything. His treatment of Class 3-A students comes straight out the classic children's novel The Demon Headmaster, as he brainwashes his students into becoming balls of utter hatred. His educational attitudes are akin to the fascistic tone of Satsuki Kiryuin, the student council president in Kill la Kill, but while Kiryuin and her school is very much over-the-top, Asano appears to be generally cooler. The only time he becomes violent to the students is when his own son criticizes his teaching methods. When Class 3-E end up doing better than Class 3-A, his first reaction is a plan to sack Koro-sensei and replace Class 3-E's current classroom with something that is ultimately a prison.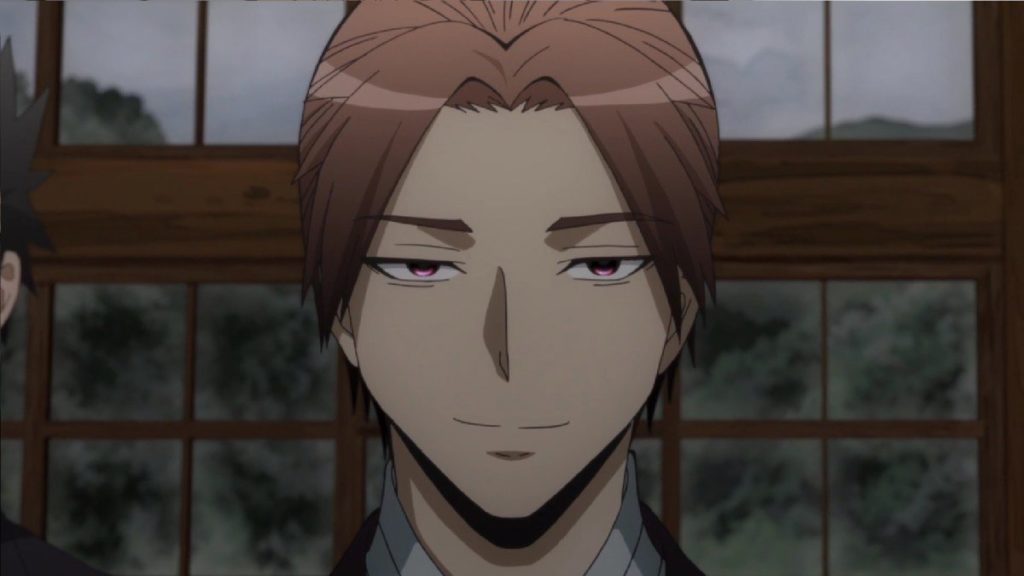 This is evidence of how great Assassination Classroom is in terms of its writing: this is a series in which the main character is a tentacled monster who has already destroyed most of the Moon, and plans to destroy the Earth as well, but he doesn't come across as the main villain. Because Koro-sensei is such a good and kind teacher, you support him over Asano, which in turn leads to the dilemma the students have, because they must kill their target, but on the other hand their grades are so much better because of him.
Regarding the extras, if you get the Blu-ray you get a special presentation box with space for the second part. On the discs themselves there is episode commentary, an interview with Sonny Strait who provides the English dub voice of Koro-sensei, previews, trailers and textless opening and closing. Personally, I prefer the end theme "Kaketa Tsuki" by Shion Miyawaki over the opening, "Question" sung by the Japanese cast.