Dragon Ball Super – Episodes 94 – 99 Review

Cold Cobra
•
At the end of the last review I wrote "fingers crossed in six weeks time I'll be finally talking about the tournament starting, even if it's a few episodes into the batch…", well I'm happy to report that a few episodes into this batch, the Tournament of Power has actually started!
For a brief catch-up, 8 out of the 12 Universes are forced to fight in a 80-person, 8-team Battle Royal where the winning team's universe gets to continue to exist, but the other 7 will be erased completely from existence. The 10 fighters of Earth have been chosen, though Buu had to be dropped due to falling asleep, so Goku popped over to Hell and made a deal with Frieza to fill out the team…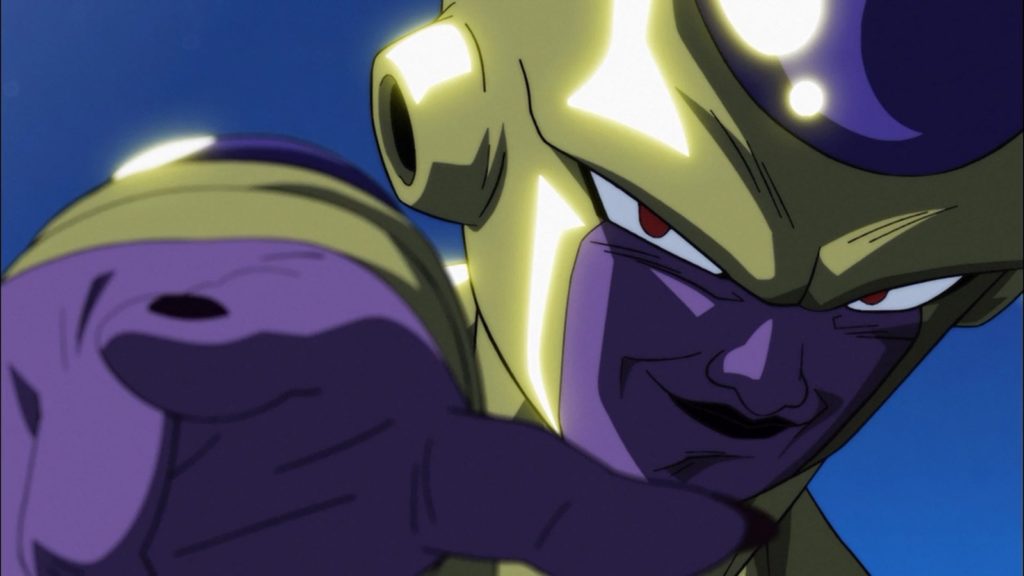 The first two episodes focus on the relationship between Goku and Frieza, the latter's first course of action is to punch Goku in the gut "by accident", only to get a response in kind. Goku soon points out that they can't do this here, which just goes to show you how big the stakes are for Goku to turn down a fight, but before they can head to the other team members, a bunch of assassins from Universe 4 arrive to try and stop Frieza from joining the team. Goku is horrified to see Frieza murder a good majority of them (come on, Goku… what did you expect?), and then is equally surprised when the former Emperor breaks free of a super-powerful field of "God of Destruction energy" before trapping Goku in it (again, Goku….). Frieza tries to make a deal with one of the other Universes to join their team so he can kill Goku and still be alive, but he has to break communication when Beerus and Whis arrive. Goku apologises, saying he "forgot Frieza was the worse scum imaginable", or words to those effects, before Beerus allows the two to have a brief fight to "get it out of their system". The fight ends in a draw, and they soon head off to meet the other team members.
Episode 96 has some rather funny moments of people not wanting to trust Frieza, especially Vegeta, who falls for Frieza's little digs far more than he should. Over in the Tournament grounds, three Gods of Destruction from the three of the four non-participating super strong universes have a three-way battle to test the durability of the stage, and then end up have to repair the damage they cause. Then, believe it or not, the fighters all gather on the fighting stage! Goku meets his next super powerful foe (the silent bug-eyed Jiren), Frieza meets his Universe 6 doppelganger Frost (and agrees to work together with him) and the Saiyans from both Universe 7 and 6 briefly chat before the episode ends… then, finally…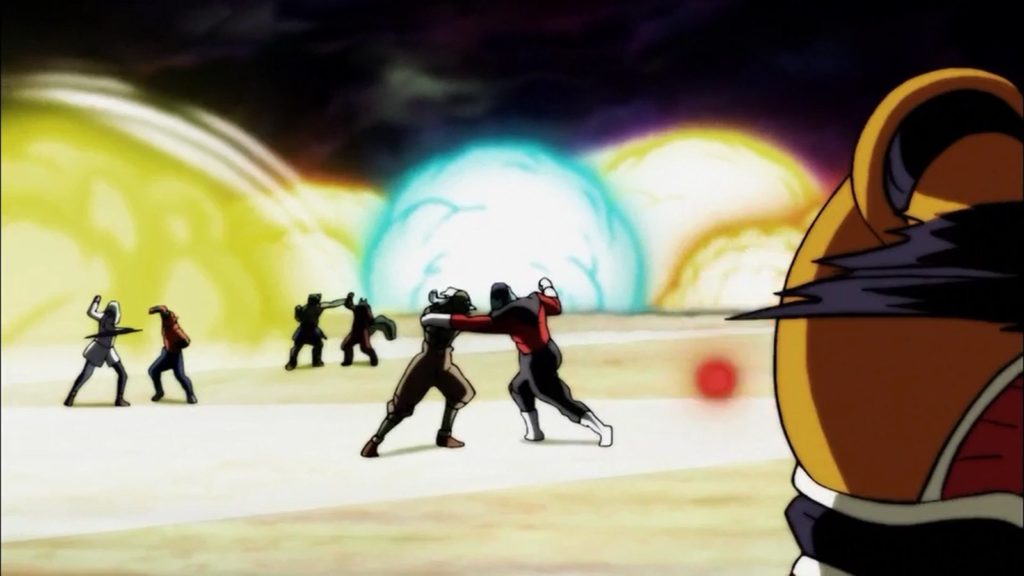 Episodes 97 – 99 see the Tournament of Power finally begin, and boy, it doesn't disappoint. When I heard the rules (i.e. that it isn't a tournament as much as it's just a team-based Battle Royal, complete with elimination via being thrown off of the stage, pro-wrestling style!) I thought that it was going to be a hard one to animate. They'd have to show key people fighting, but what about all the other people fighting at the same time? Well, they made a background with tons of explosions going off all around whoever the episode is focusing on, giving the feel that everyone "off camera" is indeed fighting simultaneously. Sometimes the fights are happening at the same time, but we just see them one after the other (only a minute passes in Episode 97, but plenty of stuff happens.) and generally, it's pretty non-stop, action-wise.
The two versions of the Omni-King Zen-oh sit on their seats with electronic tablets that they swipe and delete participants as they get eliminated, enjoying the "game" immensely. Not to get too deep into spoilers, but one Universe is eliminated by the end of this batch, and is indeed completely erased on the spot. A whole universe of people, "pop". Gone. Once again the childlike Omni-Kings continue to smile and enjoy themselves as everyone stops fighting and looks on in shock, a stark reminder of the stakes. Frieza of all people actually comments that their childlike personality clashing with the horrible act is unsettling, though he then declares he'll rule over them one day (yeah… good luck with that!). The Angels, particularly the Grand Priest and the Angel assigned to the erased Universe, seem pretty happy too… hmmm… I don't trust any character that gets their smirking mouth zoomed in on…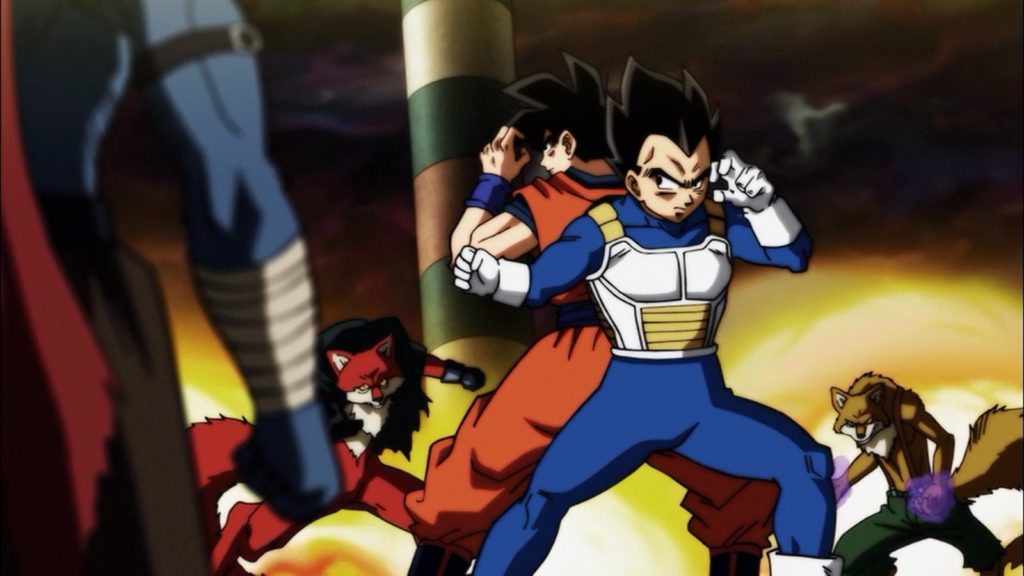 And there we go, after an eternity of waiting, the big Battle Royal with an uncountable amount of lives on the line is properly on the way, and it's currently pretty chaotic. I imagine as more and more generic stock Toriyama design-looking characters are eliminated we'll get to a handful of key people and then fighting will be a bit more focused. I have the feeling my next review will be a hard one to write without spoiling anything, given the nature of this Battle Royal and that it'll clearly take up 100% of the runtime. I guess I'll have to deal with that in six weeks time! Until then, I'll enjoy the mindless action for 24 minutes every Sunday…