Himouto! Umaru-chan Complete Collection Review
Demelza
•
It's unusual to find me reviewing a comedy anime. In fact, one of the only comedy anime I've enjoyed of late is KonoSuba, but somehow I still found myself intrigued by the idea of Himouto! Umaru-chan. It might not be set in a fantasy world but, with countless references to some of my favourite hobbies, maybe Himouto! Umaru-chan could be the one to break my dislike of comedy?

The story revolves around Umaru Doma, who to the outside world is a model high school student. She has perfect grades, is kind to everyone, and excels at everything she tries her hand at. However, at home with her brother, Taihei, Umaru wears a hamster hoodie and transforms into a massive geek who spends her time lazing around eating junk food and playing video games! Can she keep her two lives separate or is someone eventually going to find out that Umaru is not all she seems to be?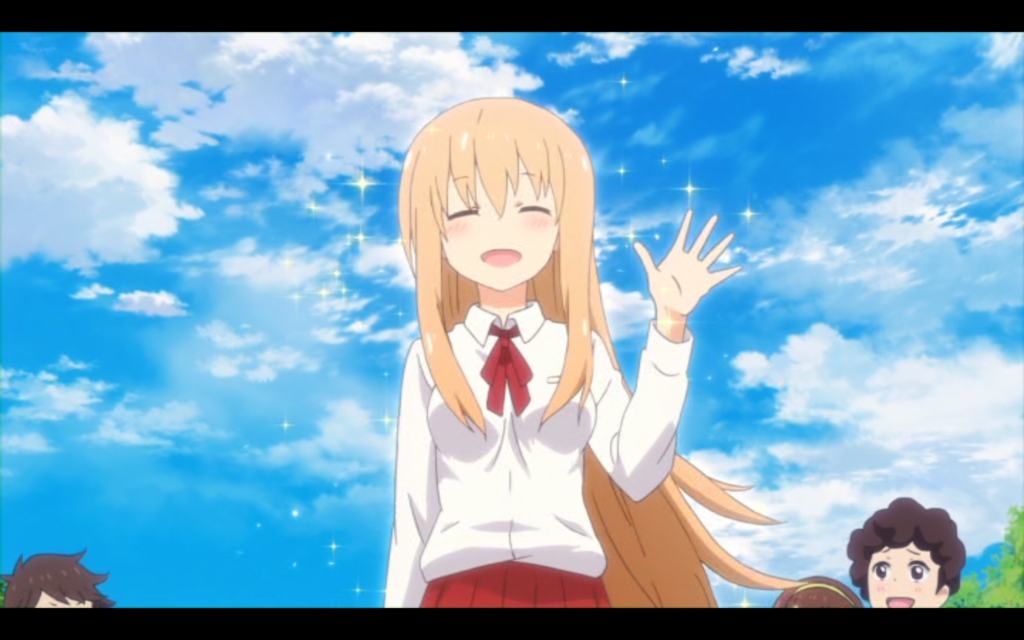 Each episode of Himouto! Umaru-chan is fairly self contained and revolves around Umaru's latest antics at home or school. They're all filled with a great deal of references to Japanese media (anime, games, manga), as well as things like Hatsune Miku. For someone as invested in Japan and Japanese culture as I am, this is something I really enjoyed. Even if I didn't always understand the references being made, the fun cast of characters made up for it.

Alongside her brother (or slave, as she treats him), Umaru has a best friend named Nana Ebina, a rival at school called Sylphynford Tachibana, and shy stalker girl Kirie Motoba. All of these girls are fun to watch and they bounce off Umaru's personality really well. Although, it has to be said that Ebina being deeply in-love with Taihei put me off her a little bit. There's nothing wrong with her feelings but the fact she actively has smoke emitting from her head whenever she's near him is a bit over the top for my tastes.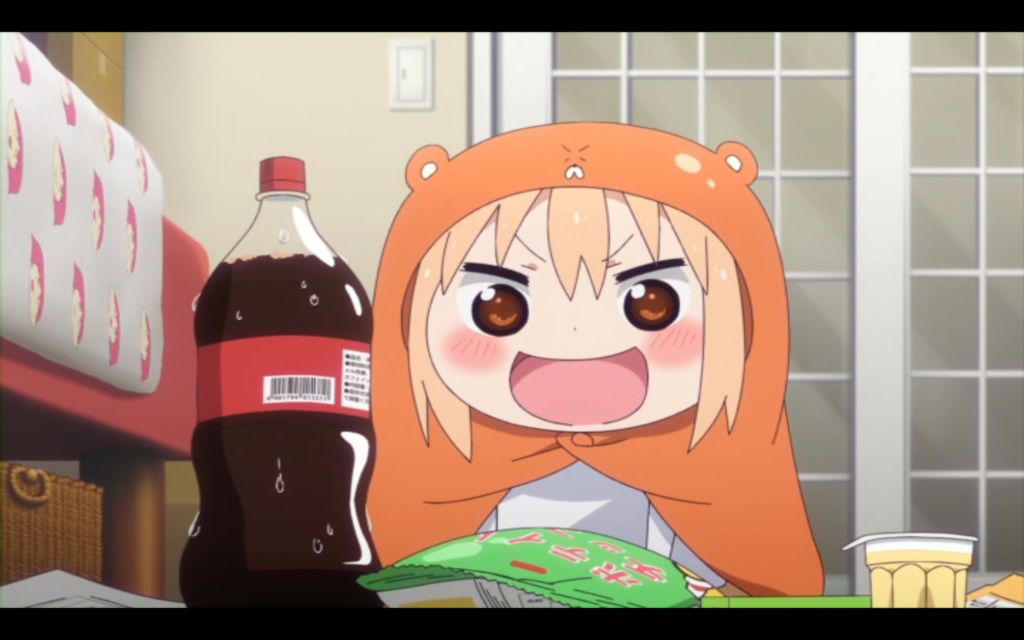 On a logical basis, I do question a few things that happened in the series. When Umaru is at home she transforms into a chibi-style character the majority of the time. I always thought that this was just a representation for us as viewers but it really happens in actuality, too! For example, at one point a character turns up at Umaru's home and asks if chibi Umaru is actually Umaru's little sister. I also wonder why Ebina, as a proclaimed best friend, has no idea about Umaru's secret way of life. If you're that close to someone, how is it remotely possible that you have no idea about this huge side of someone's personality? Neither of these things ruin Himouto! Umaru-chan as a show but they certainly boggle my mind, and no doubt others will pick up on them too. Finally, I think if you aren't someone who's big on Japanese media and you don't understand the references on offer here, you'll likely lose much of the enjoyment for the series. 
Himouto! Umaru-chan has been adapted by Doga Kobo (Plastic Memories, New Game!) and it looks nice overall. A slice of life/comedy anime is not that demanding in terms of its animation, but Doga Kobo have obviously put a lot of love into the series and it's very colourful and full of life. I especially like the attention to detail when Umaru transforms into her indoor style, such as changing her facial expressions and making her new size work within the apartment she lives in. The animation is of a nice quality all round.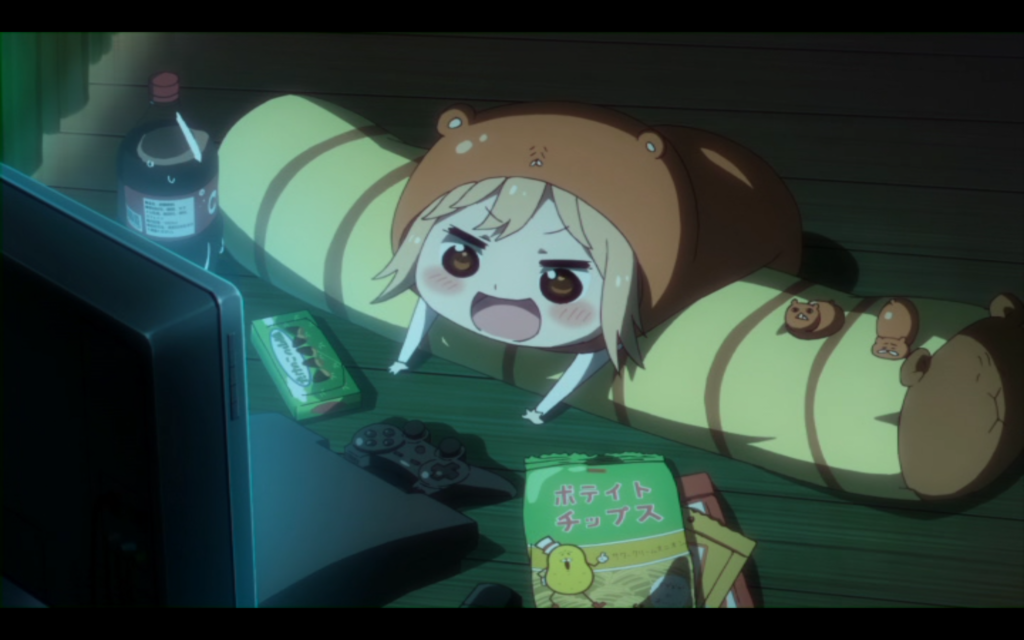 Music for the series comes thanks to Yasuhiro Misawa and the tracks on offer certainly fit the anime well. I especially liked Misawa's take on some music from the Ace Attorney series for one scene later in the show. The opening theme for the series is "Kakushin-teki Metamarufoze!" sung by the female voice actors for Himouto! Umaru-chan. The ending theme is "Hidamari Days", which is also performed by the girls and both this and the opening nicely work for the show.
Voice actors for the series do a good job, especially Aimi Tanaka (Peipain in Show by Rock!!, Miwa in Absolute Duo) who plays Umaru and injects a suitable amount of crazy into the role. Her voice might irritate a few people as it can be slightly screechy and whiny, but to me that fits Umaru well. I also really liked Kenji Nojima (Narumi Kanai in Scum's Wish, Nobuchika Ginoza in Psycho-Pass), who plays the role of Taihei. Umaru's brother is quite laid-back and doesn't often get angry, but when he does Nojima plays up the anger to a perfect level of menace. There is an English dub of the series included but I only lasted a single episode before giving up on it due to Emily Neves's portrayal of Umaru. Neves's tone for Umaru just makes her sound a lot more childlike than the character actually is. If you can't stand Umaru's Japanese VA then the dub is a valid option but otherwise I wouldn't recommend it.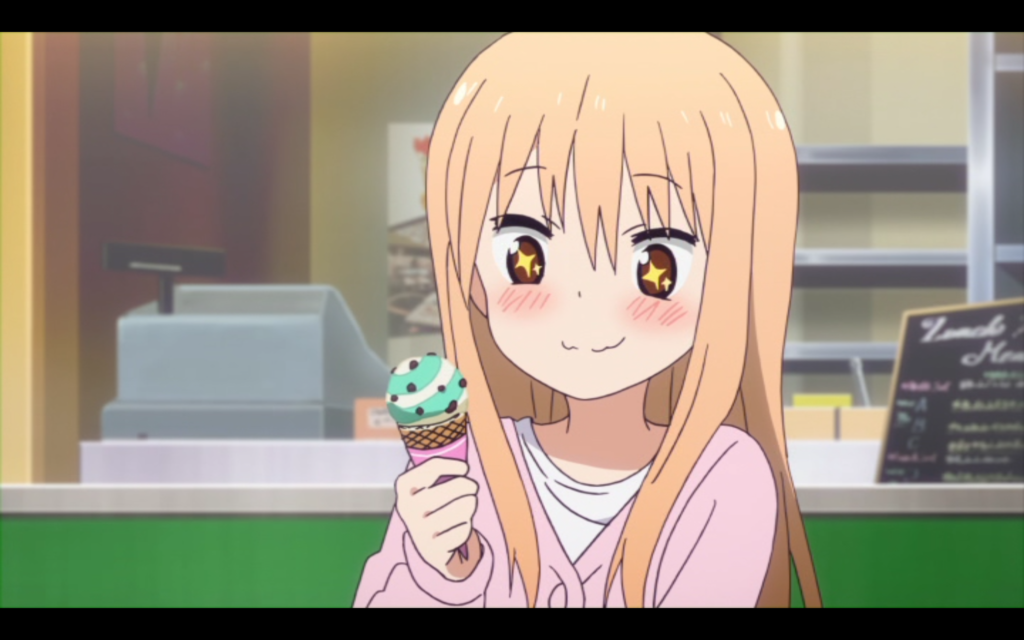 Himouto! Umaru-chan comes to the UK thanks to Animatsu as a collector's edition that includes all 12 episodes of the show on both Blu-ray and DVD. On-disc extras include trailers, clean opening and endings, song commercials and, interestingly, Japanese commentaries from the cast! This is something we don't often see and is a real treat to watch. Also included are the Himouto Umaru-Chan's Banquet Mondays "Daranama" specials that were on the Blu-ray releases in Japan. There is a lot on offer here and it's a solid release for the UK.

Overall I leave Himouto! Umaru-chan pleasantly surprised with what I found. It's a solid comedy with some fantastic use of references to beloved franchises. With a second season of the show airing in the autumn, now is a perfect time to get caught up with one of the best comedies of the year!