Autumn Streaming Preview 2017
It's hard to believe that a year has passed since we were speculating at Anime UK News as to how a new and refreshingly different autumn series set in the world of competitive ice skating would pan out…
How will the 2017 Autumn Season compare with 2016? Well, for starters, there are more distributors/streaming sites offering us an amazing range of new titles and follow-up series (a special shout-out for HIDIVE here for coming to the rescue with a very attractive range of classic shows as well as brand-new fare). And that can only be good for the UK fans who have been the poor relations for so long.
So, faced with what looks – at first glance – an overflowing autumnal cornucopia  of anime goodness, what series have caught the eyes of our AUKN writers?
Demelza:

Yes – it's hard to believe that a year has already passed since we were in the season that presented Yuri!!! on Ice to the world.  I always find that the Autumn season brings with it some of the better shows for me, so this year I'm once again excited to see a collection of new and sequel shows.
First up I have to mention Himouto! Umaru-chan R, Food Wars! The Third Plate and Blood Blockade Battlefront & Beyond. All three have so far been shown to be capable follow-ups to three shows I'm immensely fond of. It's also really nice to see that a change in director hasn't harmed Blood Blockade Battlefront's second season as much as many of us had feared. All come highly recommend if you liked their prior outings.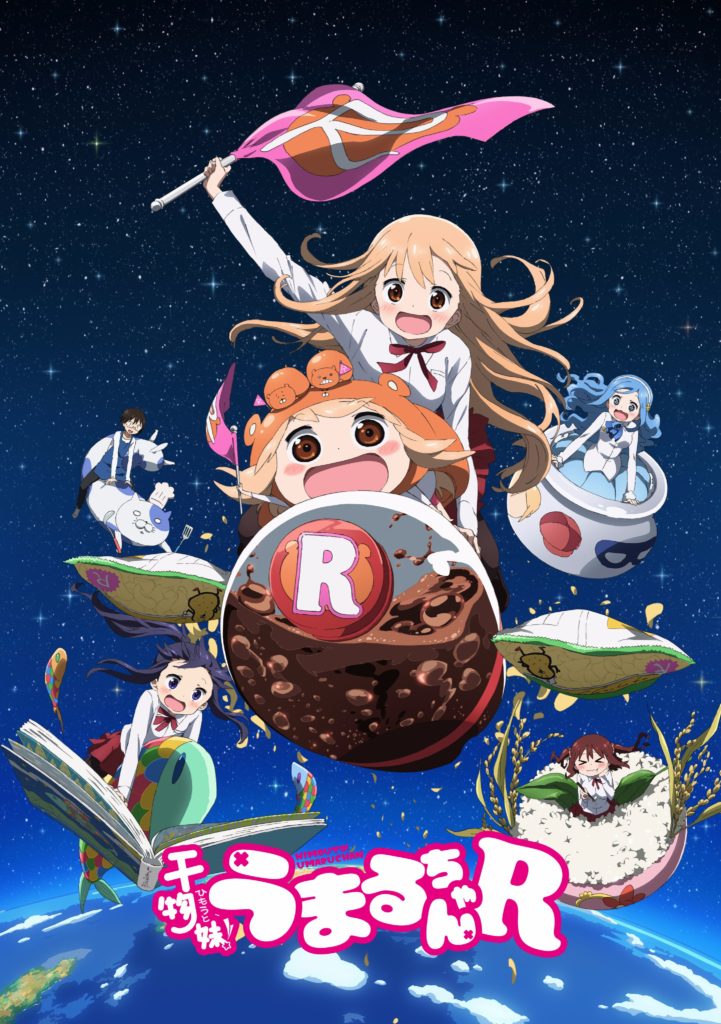 As far as new shows go, I'd first like to talk about Just Because! which is an anime original project from studio Pine Jam and written by the author of Pet Girl of Sakurasou (a personal favourite of mine). The story features a group of high school students as they're reunited with an old friend who has transferred into their school for his final year. Now that the friends are together again it seems their fate is about to change, but will it be for better or worse?
The show so far looks to be a sensitive and deep look at high school life and although there are some animation issues, given that it's one of Pine Jam's first major projects, I'm happy to let it pass. Don't let the fact the studio previously handled Gamers! put you off because Just Because! looks set to be one of the best of the season.
Just Because! is streaming to the UK thanks to HIDIVE.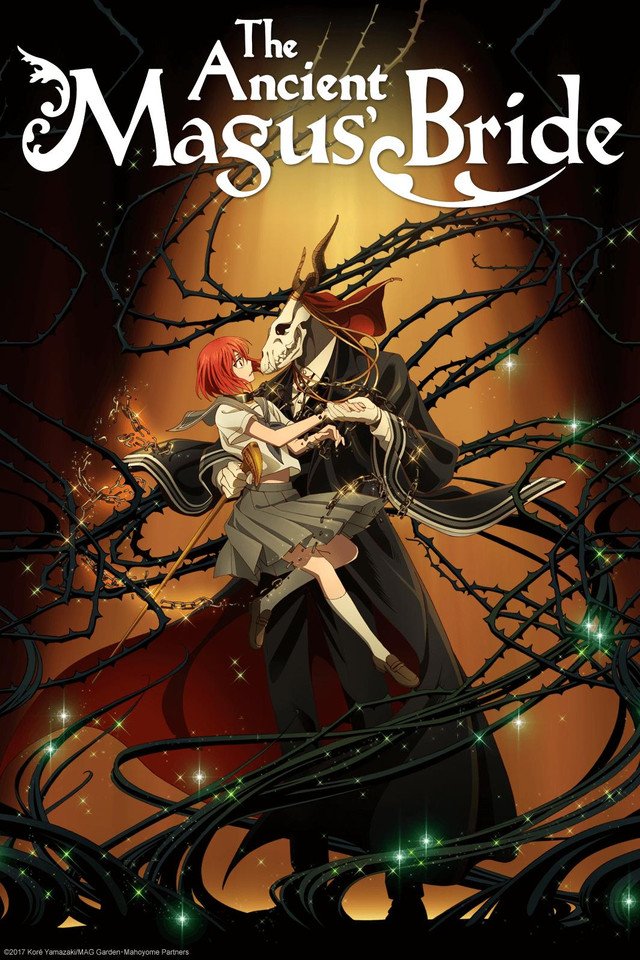 Of course a season doesn't go by in which I don't find myself watching a new fantasy anime and this time around we have a wonderful offering in the form of The Ancient Magus' Bride. Our story follows Chise Hatori who has always had an ability to see things that others can't and thus has endured years of neglect and abuse for being 'different'. Eventually Chise sells herself through a slave auction in the hopes of finally finding a place to belong and this brings her a chance encounter with Elias Ainsworth. Elias buys Chise with the intent of making her his mage apprentice and future bride and so begins a life where a dull moment can never be found.
The series is being adapted by Wit Studio who also created a special three part OVA story which, like the show, is available on Crunchyroll. The first two episodes are absolutely beautiful works of animation and leave me satisfied that The Ancient Magus' Bride could not be in better hands. If you like down-to- earth fantasy adventures set in England, then you'd be a fool to let this one slip by. Definitely well worth everyone checking out.
The Ancient Magus' Bride is streaming to the UK thanks to Crunchyroll.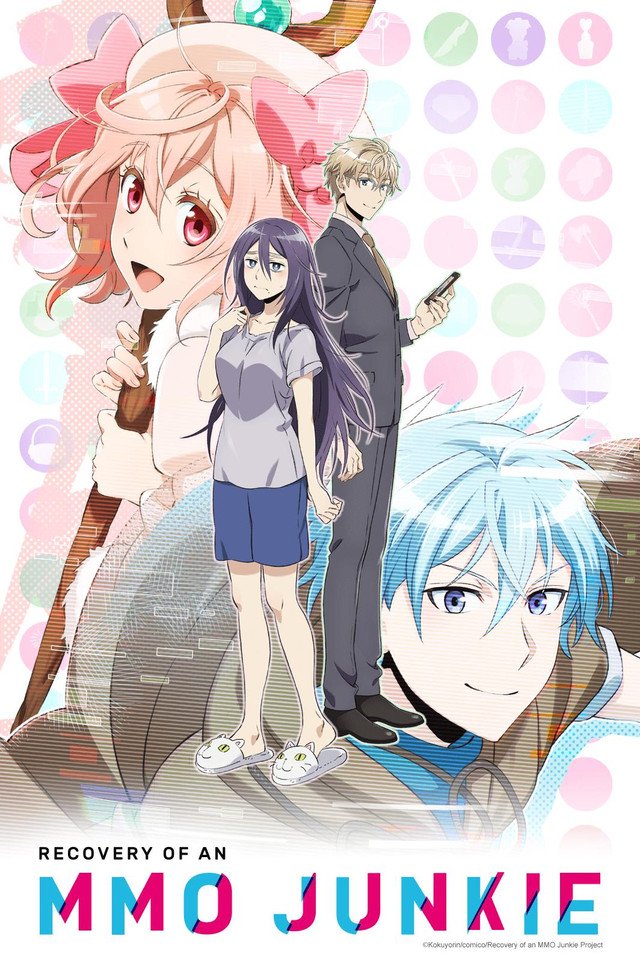 Finally we come to the series I think could be the biggest surprise, Recovery of an MMO Junkie. The show tells the story of Morioka Moriko, a 30-year-old, single, NEET who has left her job and now lives out her days playing a MMO. In this world she chooses to play as a male character and quickly falls flat to the first challenge to come her way. Saved by a mysterious girl known as Lily, just how is Morioka's world about to change as she makes new friends in this virtual world?
Ultimately the show is a comedy and definitely doesn't take itself that seriously, but I think there is an important message buried somewhere within. There is obviously a serious reason why Moriko quit her job and as we get closer to the answer I think Recovery of an MMO Junkie is going to become a fascinating watch. However, even if you're just looking for a new comedy to give you a fill of fantasy worlds then you won't be disappointed here as so far the humour has been pretty good. If you like this kind of thing then definitely give it a try.
Recovery of an MMO Junkie is streaming to the UK thanks to Crunchyroll.
Cold Cobra:
The Autumn season is here, and once again it brings with it a great mix of genres to pick and choose from. This season has seen a possible record in shows I'm interested in, and indeed now watch weekly. Blood Blockade Battlefront & Beyond is once again a great mix of properly funny surreal comedy and over-the-top action, and The Ancient Magus' Bride is a really interesting character piece, and a beautiful mix of fantasy and drama.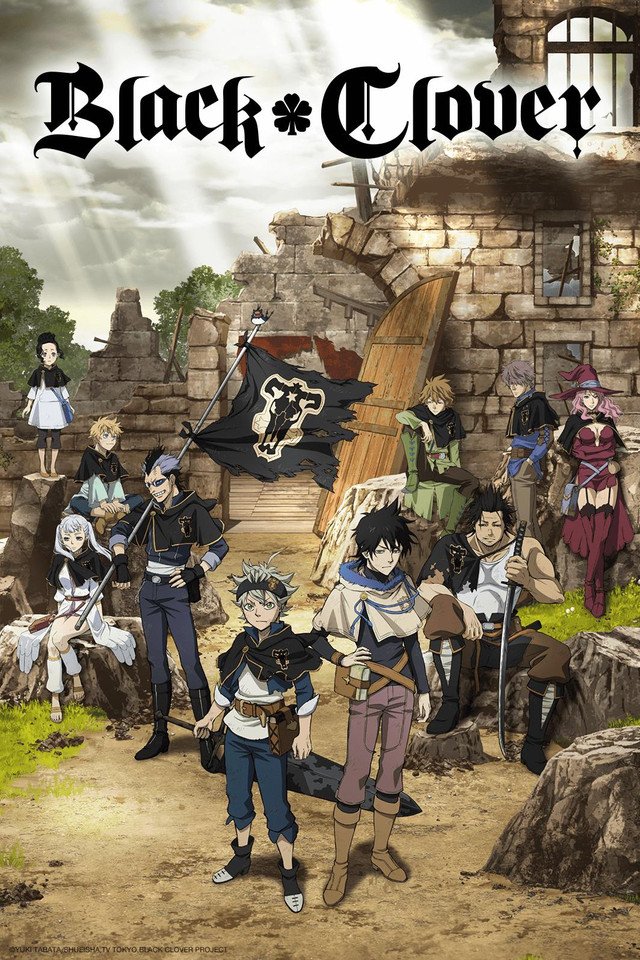 Probably what most people who follow the site will be the least surprised to see me talking about is Black Clover. The latest Shonen Jump franchise to get the anime treatment, it features a loser who could never create magic overcome his shortcomings and gaining great power in order to help him achieve his goal of becoming the Wizard King… So, it's pretty lacking in originality, to say the least! For the most part I'm very forgiving when it comes to Shonen shows, normally focusing on one or more slightly different things, like a character or the setting, to get me past any genre clichés, but I'm struggling here. The setting just reminds me of Fairy Tail, the lead couldn't be any less original if he tried (and has a really aggravating voice and needs to stop shouting!) and his goal to become the Wizard King is too… dull, it's "I'm going to become the King of the Pirates!" or "I'm going to become the Hokage!" all over again, especially the latter, given his lack of talent. His best friend is super talented but far more stoic, and together they're going to join a group of Magic Knights, no doubt also full of rather uninspired characters, but I don't know because Episode 3 was filler… filler! IN EPISODE 3. Really slow and dull filler… already (so much so it was obvious what it was, despite me never having read the manga to compare). I will keep an eye on Black Clover to hear if it picks up down the line, but for now it's not something I'll be watching as soon as I can. If this is among your first Shonen anime then I'm sure you'll love it, and for the record it does look great, visually, but it just offers me nothing in a really packed season.
Black Clover is streaming to the UK thanks to Crunchyroll.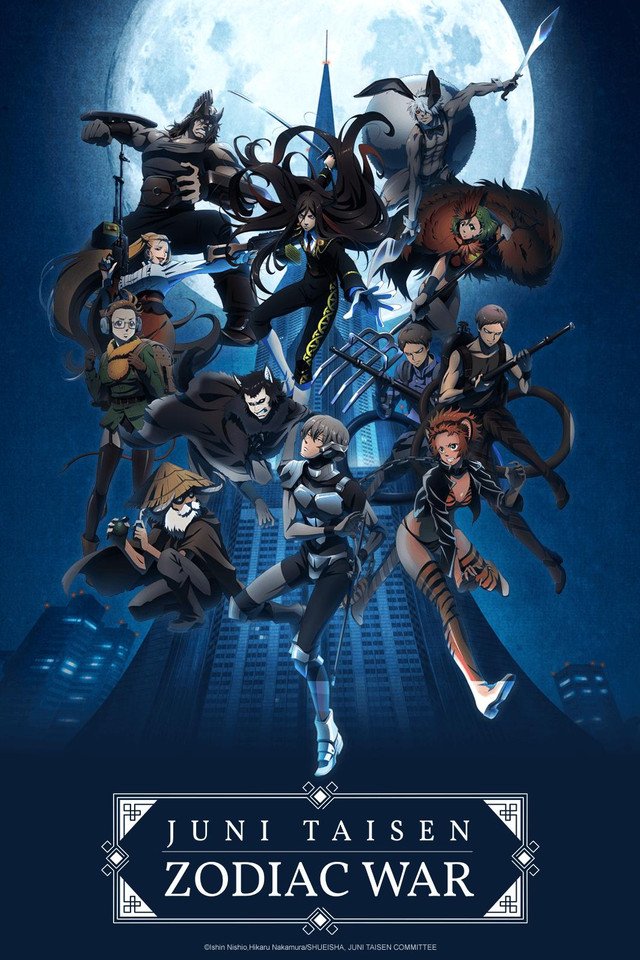 As a second thing to mention, I thought I'd talk briefly about Juni Taisen: Zodiac War, which I picked along with Dies Irae as mindless appetisers to watch when I binge the majority of the weekly shows (both old and new) on Sunday evenings. They serve no purpose other than being a bit of mindless action before I settle into the long stretch, and boy, Juni Taisen accomplishes this with flare. Its story is literally 12 weirdly-designed people, each based on one of the signs of the zodiac, are plonked down in a deserted city to fight to the death… and that's about it! I like the designs, the action is satisfying, and most importantly, it doesn't take itself seriously. It knows it's a bit bollocks, and runs with it. I'll always respect that more than something that is trying to be taken seriously when it really can't. As for Dies Irae, it's early days but it looks like it's taken the simple premise of 'plucky young hero has to fight a large group of powerful villains' and made sure the villains are over-the-top crazy and the visuals are great… It's simple, mindless fun.
Juni Taisen: Zodiac War is streaming to the UK thanks to Crunchyroll.
So it's a busy season, much more than usual for me (especially when Dragon Ball Super and Boruto are also still on weekly), but it's a fun time. Some shows are action-heavy, others are comedy-heavy, and Magus' Bride seems to be the more stable and interesting of the bunch story-wise, but it all adds up to a good season ahead.
IncendiaryLemon:
As of the time of writing this, I have yet to look at the choices of my fellow writers for this round-up, however, I can only assume that someone has already gushed about The Ancient Magus' Bride, which is my favourite anime of this season, and indeed, is the favourite amongst most anime fans. Although I would love to do some gushing of my own, instead I am opting to highlight some overlooked gems this season that you might have missed.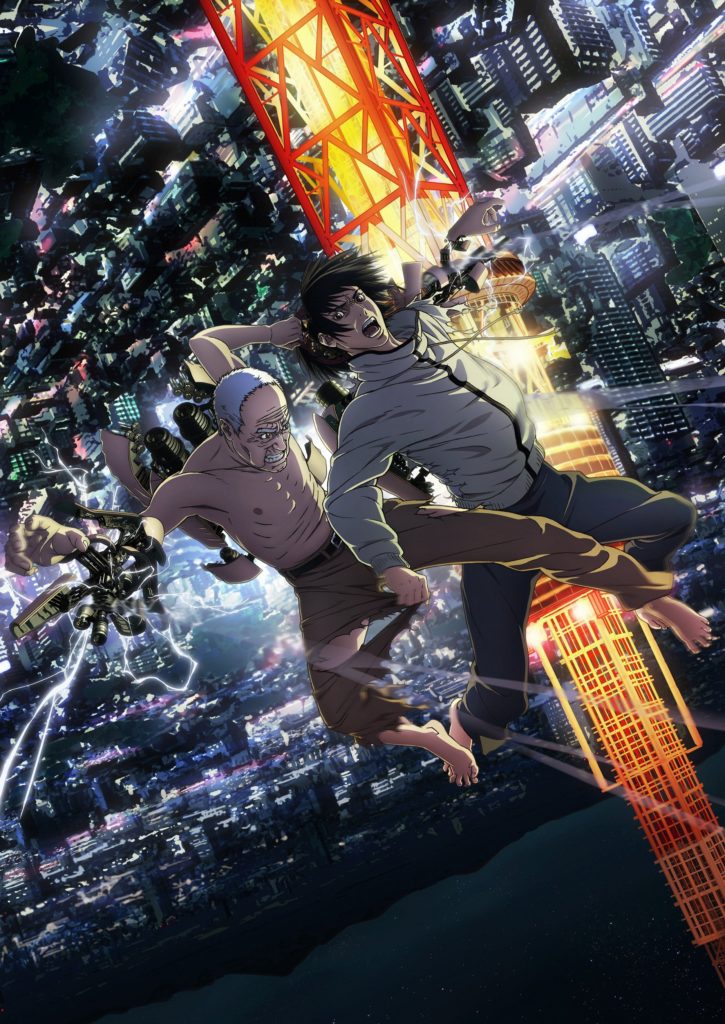 For my first pick of the season, we have to venture to the uncharted territory of Amazon Prime Video (gasp!), where you can currently find the rather excellent Inuyashiki. Based upon a manga series by Hiroya Oku, Inuyashiki is about an elderly family man who is given only 3 months left to live when he is found to have cancer. Shortly after finding out the news, he is killed in a freak accident when an alien spaceship crash lands right on top of him, with the aliens rebuilding the man as a robot with all of his memories and personality intact. He then chooses to use his newfound powers to become a hero of justice. The manga this show is based upon has been on my radar for quite some time, but I never got around to checking it out, so I was quite excited to learn about the anime adaptation, and so far it hasn't let me down. Whilst the first episode wasn't anything spectacular, barring some pretty great animation on behalf of MAPPA, doing a great job blending CGI with traditional animation, it was the brutal and bloody second episode where we see the antagonist introduced that has established this as a seasonal highlight for me. The episode's unrelenting, cold and unemotional displays of violence came across as genuinely shocking in a way that not many anime have before, and I could easily see it having a strong impact on some people, for better or worse. Only rarely can a show set up a villain so succinctly and make you detest him so quickly, but Inuyashiki managed it flawlessly, and I anticipate seeing more in the coming weeks.
Inuyashiki is streaming to the UK thanks to Amazon Prime Video.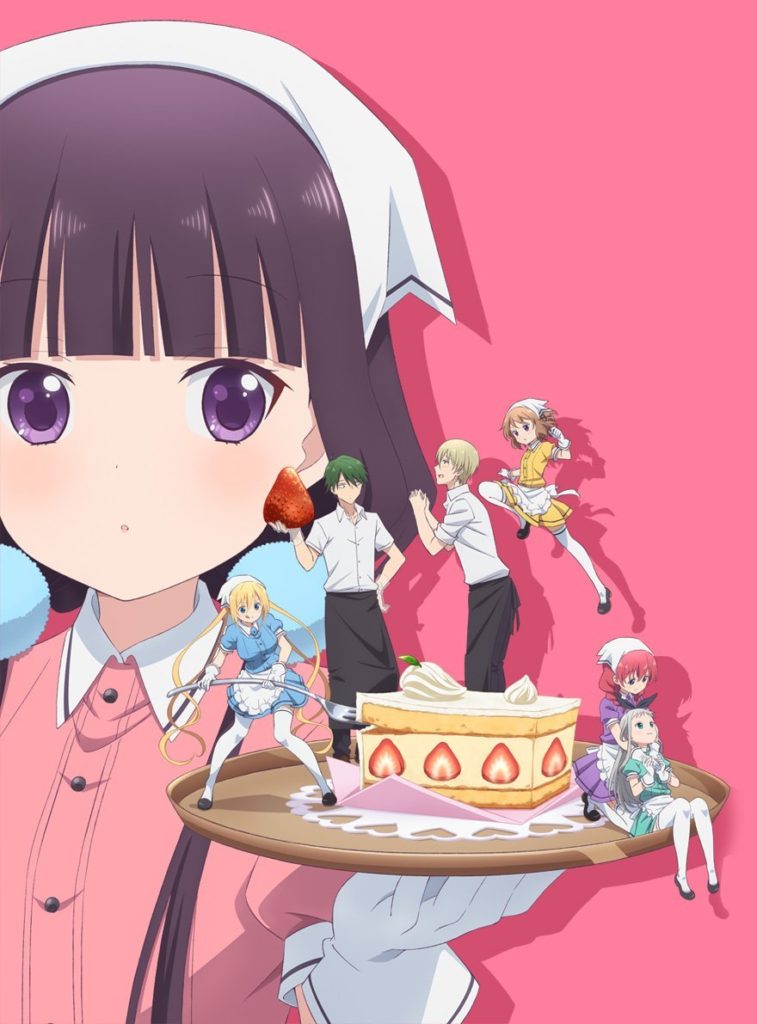 On a lighter note, the second anime I find to be criminally underrated this season is the slice-of-life comedy Blend-S. Set within a maid cafe where each of the waitresses inhabits a different personality to suit the whims of the customers, Blend S sees Maika Sakuranomiya get her first job as the waitress with the masochist attribute, being hired due to her unintentionally evil looks. There isn't really a ton to say about Blend S, as being a slice-of-life, it doesn't lend itself to any story, but I personally just thought it was really funny. A lot of the gags come from how the waitresses' actual personalities totally contrast with their workplace personas, such as the unemotional and deadpan Mafuyu suddenly transforming into an adoring imouto at the drop of a hat, or Maika's attempts at being nice accidentally coming across as masochistic, much to the joy of the customers. If you're looking for a good comedy this Autumn, Blend S would certainly be my pick.
Blend-S is streaming to the UK thanks to Crunchyroll.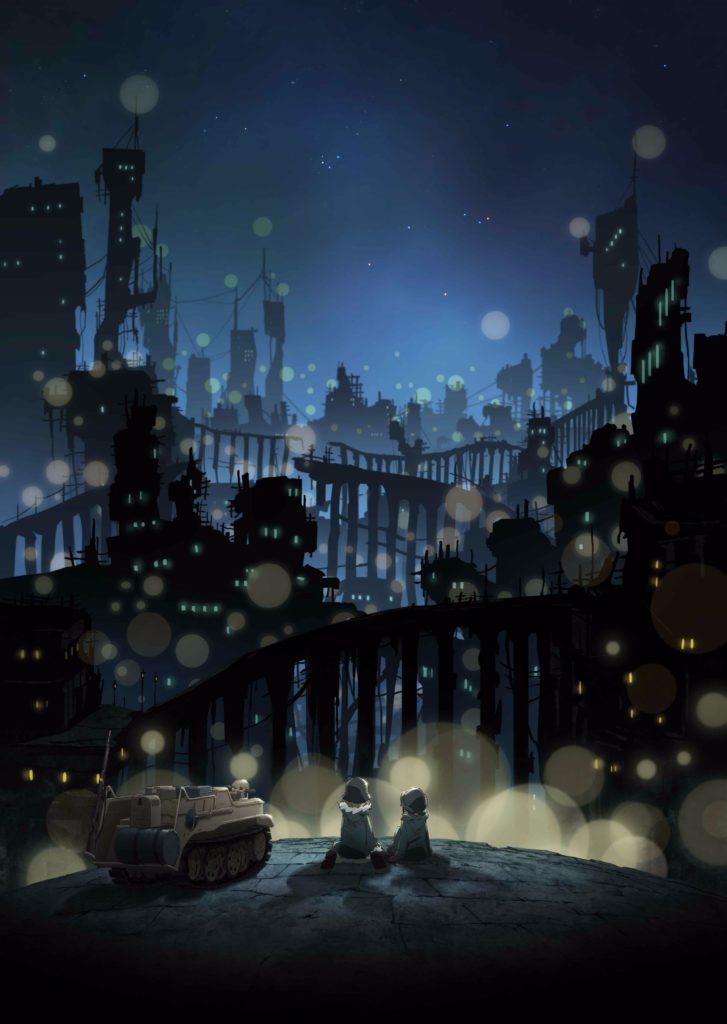 Last but by no means least, I'd like to talk about Girls' Last Tour, which is streaming in the UK on HIDIVE. Set in a gloomy post-apocalypse where humanity has been eradicated by war, two girls, Chito and Yuuri, are the sole remaining survivors of the human race. Aimlessly wandering on their beloved motorbike, they continue day after day, hunting for their next meal and fuel for their bike. As gloomy as Girls' Last Tour may seem on paper, it's actually an anime all about hope. Despite their dire circumstances, the pair of girls are always trying to make the best out of a bad situation, trying to find the joy in the small moments of happiness in their bleak lives. Although not directly comparable, the first couple of episodes remind me in a way of Made in Abyss from last season, only flipped on its head. Abyss is a show that is mostly quite happy and upbeat, at least initially, which is underpinned by a lot of dark moments, whereas Girls' Last Tour is all about the girls trying to find tiny pockets of happiness amongst their impending doom. It is quite a slow-paced show, and there isn't really a lot that happens, yet it still makes for a very entertaining watch in my opinion, and the stellar animation from White Fox, the studio that brought us Steins;Gate and Re:Zero, certainly helps with the world-building elements. I don't think it'll be a show for everyone, but I'd definitely recommend people giving it a watch if they have a HIDIVE subscription this season.
Girls' Last Tour is streaming to the UK thanks to HIDIVE.
Rui:
This season is proving brutal for keeping up already, with no fewer than nine highly anticipated sequels to shows I was already following stuffed into my weekly schedule. I've also finally subscribed to HIDIVE which makes things much harder than usual, since they don't support any of the platforms I usually use for streaming. Having to watch the second season of Hozuki's Coolheadedness (Hoozuki No Reitetsu) on my computer isn't very relaxing, but at least we have access to almost everything the new season has to offer here in the UK. The only glaring omission for me is the new GARO series, which I can probably live without under the circumstances. Grudgingly.
Sequels aside, the new title which has left the greatest impression on me so far is Inuyashiki. It also has one of the best opening sequences I've seen in a long time. IncendiaryLemon already wrote everything I would have said about the show itself but if you have access to Amazon Prime Video it's definitely worth a look; it reminded me a little of the old The Guyver anime series in some respects, only with a dash of Platinum End added to the mix. Inuyashiki promises an interesting story to add some welcome darkness to my weekly viewings.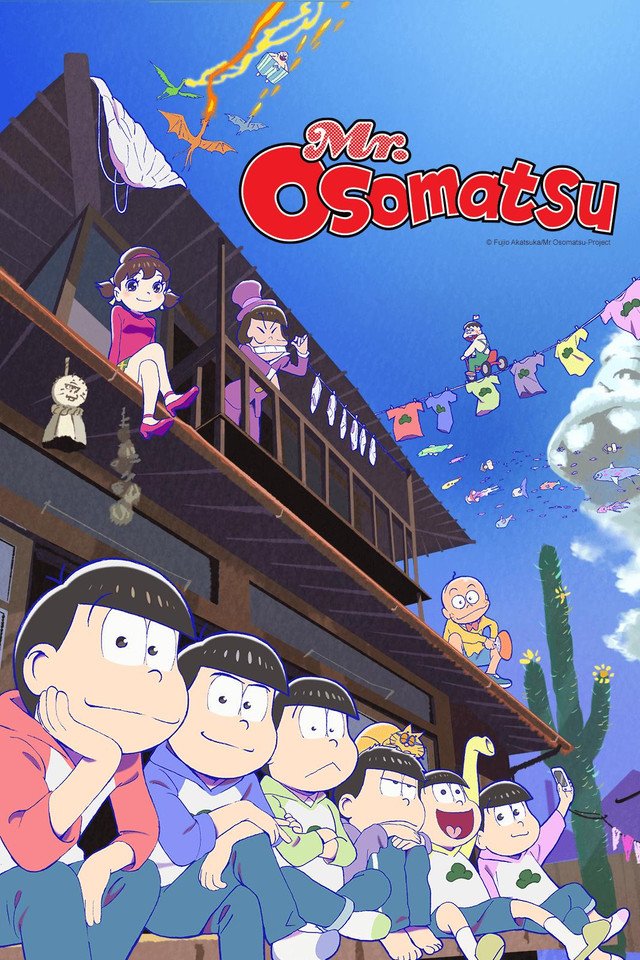 The most exciting new title for me is, of course, the return of Osomatsu-san (Mr. Osomatsu), the quirky comedy spin-off about a group of deadbeat sextuplets based on the classic Osomatsu-kun series. Osomatsu-san did incredible things to anime and merchandise sales when it became an unlikely smash hit back in 2015, which has clearly put an awful lot of pressure on the staff to make this long-awaited sequel a similar success. Naturally, the staff reacted by spending the whole first episode of the new season poking fun at the series' unexpected popularity with the female audience and making light of the dangers of delaying the sequel for so long. I had some concerns that it would be impossible to recapture the humour of the original after so long but those fears were swiftly dispelled; this new series effortlessly combines the cocktail of puerile gags and scathing social commentary that made the previous season so fun to watch. Definitely my comedy of the season, which is especially high praise when Gintama has also returned to its comedy roots this Autumn.
Osomatsu-san is streaming to the UK thanks to Crunchyroll.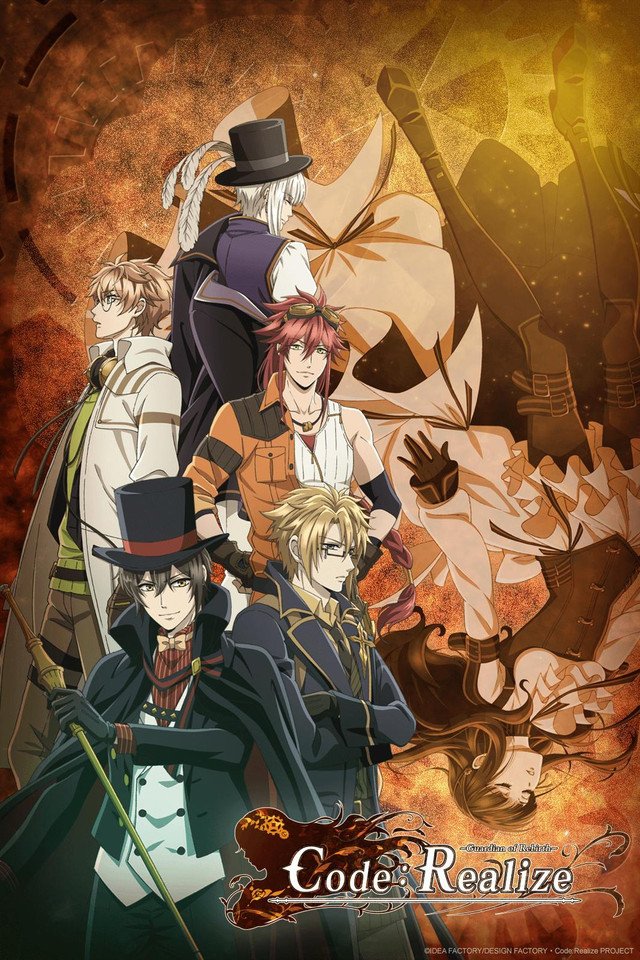 My second pick follows my usual pattern of wanting to write about a different kind of show, and I've chosen Code: Realize ~Guardian of Rebirth~. Based on a successful otome game for PlayStation Vita, it's one of the rare cases of a visual novel adaptation where the source material is readily available in English already, since Aksys Games localised the game a couple of years ago when it was still relatively new on the scene. I enjoyed the game and was looking forward to this anime adaptation even with the knowledge that it could never hope to approach the lovely artwork of its source material. What makes Code: Realize ~Guardian of Rebirth~ stand out in its genre is that it has a strong focus on telling a story, rather than parading a bunch of impossibly pretty guys around while a female lead with no personality follows them helplessly (I'm looking at you, Sengoku Night Blood). Furthermore, most of the characters are based on famous literary figures, so if you have ever been curious about what would happen if Arsène Lupin met Abraham Van Helsing in a steampunk alternative Victorian London, this might be a great opportunity to find out. And it's early days yet (and sadly the story isn't focusing on my favourite character!) but so far, I've been reasonably satisfied with how well the plot has made it through to the television series. If they manage to keep up the momentum I think this could be an otome game adaptation that anyone can enjoy like Hakuouki, rather than fan service which never reaches beyond its original target audience.
Code: Realize ~Guardian of Rebirth~ is streaming to the UK thanks to Crunchyroll.
Sarah:
With so many series to choose from, I'm quite happy to stay with continuing shows: Elegant Yokai Apartment Life and Welcome to the Ballroom, both of which have remained enjoyably watchable and, in the case of Welcome to the Ballroom, actually improving, especially when it comes to the new OP and actually using a waltz in the soundtrack when the competitors are dancing a waltz !
So what stands out?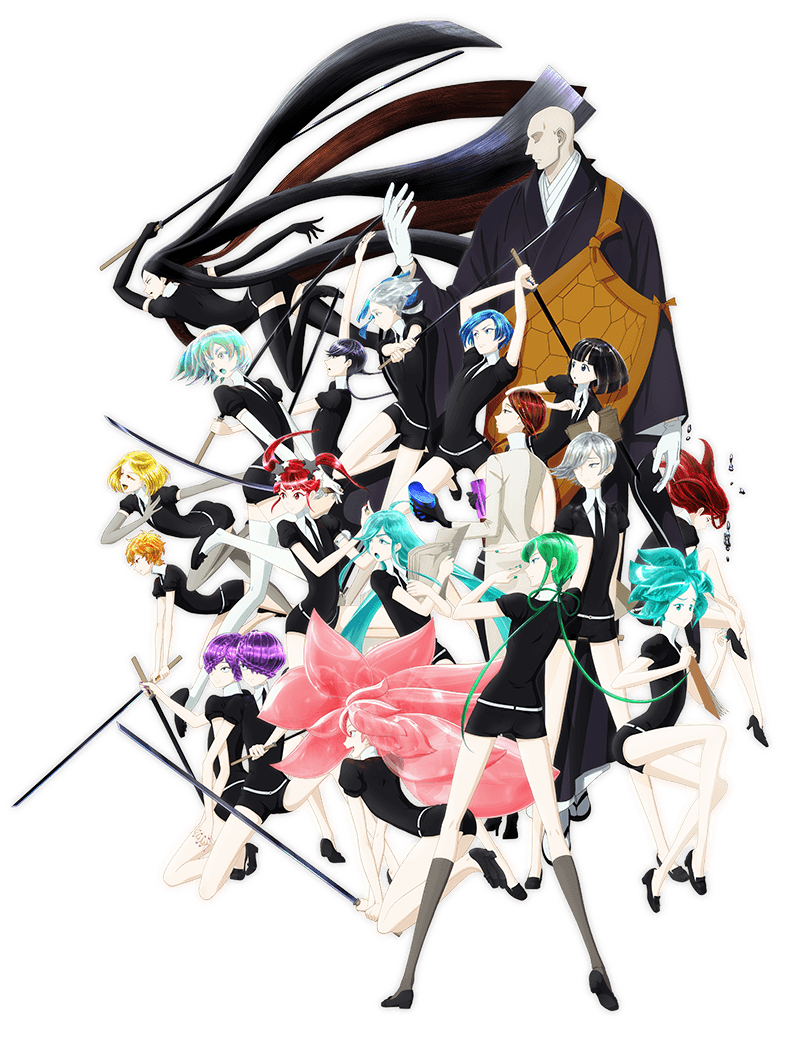 After reading Ian Wolf's review of the first volume of Haruko Ichigawa's  Land of the Lustrous (HIDIVE) I was intrigued to see how the manga would be transformed into anime. This unusual sci-fi/fantasy story tells of the conflict between The Lustrous, gems with human form, and the Lunarians who try to capture them and turn them into ornaments. Phos (Phosphophyllite, the most brittle of the gems) wants to help in the fight but is too fragile – and is given the task of compiling an encyclopedia by their Sensei; a job that Phos singularly ill-suited to. This is a strikingly beautiful anime with CGI used to make the slender  Lustrous sparkle and to deliver dazzlingly different fights with the predatory Lunarians. The OP (YURiKO 'Kyomen no Nami') and ED (Yuiko Ōhara 'Kirameku Hamabe') are just right with imaginatively scored music matched with innovative animation. But it's Phos's quirky character that makes you keep watching to see what will become of the obtuse yet vulnerable young gem. If you're looking for something beguilingly strange to watch amidst the slew of action-heavy or idol group autumn offerings, this comes highly recommended.
Land of the Lustrous is streaming to the UK thanks to HIDIVE.
"The world is not beautiful, therefore it is." A story about Kino, who travels around the world with nothing but guns for protection and a talking motorcycle, Hermes. (Crunchyroll)
Perhaps my expectations were unrealistically high for Kino's Journey: the Beautiful World, the new TV series based on the light novels by Keiichi Sigsawa from which the cult favourite anime was taken back in 2003. This time, it seems, that fans in Japan voted for the stories they wished to see adapted to anime, so there is some crossover. Each country Kino visits presents the viewer – and the young traveller – with some kind of moral dilemma, such as Episode 1: "The Country Where People Can Kill Others", resulting in a story that is closer to a fable or even a parable. Kino's reliance on guns and sharp-shooting skills to survive make rather uncomfortable viewing. I'm not entirely sure that the new version lives up to the first – but is that because several years have passed, or because this new version is just not as good as the original? This jury is still out.
Kino's Journey: the Beautiful World is streaming to the UK thanks to Crunchyroll.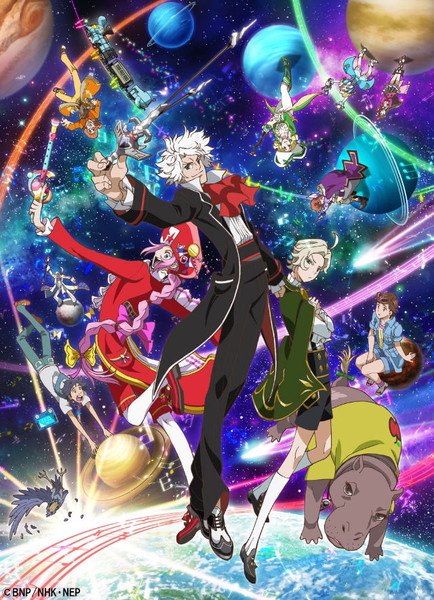 I can't not mention the Second Season of ClassicaLoid (also on HIDIVE) which opens with an extended madcap chase sequence that just has to be a homage to the comic cartoon chases from the Golden Age of Warner Bros; worth watching for this alone, even if you're not familiar with the musical madness of the first season. Imagine Beethoven, Mozart, Liszt, Chopin and Schubert recreated as Classicaloids and living together in the house belonging to their (absent) creator and looked after by his fed-up high school student daughter Kanae. Imagine that these 'new' versions of the originals can wield the power of 'Mujik' in which, through their compositions, they can change the world…or something like that. Imagine Kanae's surprise and joy when her long-lost younger brother Wataru, that she never knew existed, suddenly turns up with his 'pet' pygmy hippo, looking for a place to stay… And we're off again. ClassicaLoid is a Marmite series which I happen to love, even though its approach to classical music is far from reverent. Sometimes the surreal craziness is off-key in more ways than the obvious one. But the characterization is endearing and when the creative team get it right, it's very funny.
ClassicaLoid 2 is streaming to the UK thanks to HIDIVE.
At Anime UK News we've just brushed the surface of all the shows, new and returning, simulcast this autumn. What are your favourites so far? Let us know!