Amazon Prime to Exclusively Stream Animeism title Beatless this January

NormanicGrav
•
Another title joins the Animeism programming block for the Winter 2018 anime season.
Recently it had been announced that the upcoming anime adaptation of the Beatless novel will now be broadcasting on the Animeism programming block for MBS in Japan. This will mean that the title is going to launch exclusively to Amazon's Prime Video service for digital streaming worldwide, joining Killing Bites as well as the NoitaminA title Koi wa Ameagari no You ni and the other new title Kokkoku: Moment by Moment. The series will begin broadcast on January 12th & 13th in Japan via the MBS, TBS & BS-TBS stations, which is during the Winter 2018 anime season.
Amazon made an exclusive deal with MBS to simulcast & stream titles from Animeism programming block exclusively through Prime's video service (and under AnimeStrike for North America) a couple seasons ago. So far only a couple titles have appeared on the service under the banner like Altair: A Record of Battles, Rage of Bahamut: Virgin Soul and Yuki Yuna is a Hero: The Washio Sumi & Hero Chapter.
UPDATE 13th January 2018: The series is now available to stream on the service, you can view the show page here for Amazon UK, Amazon US, and Amazon Canada (which requires a Prime subscription to view the page itself).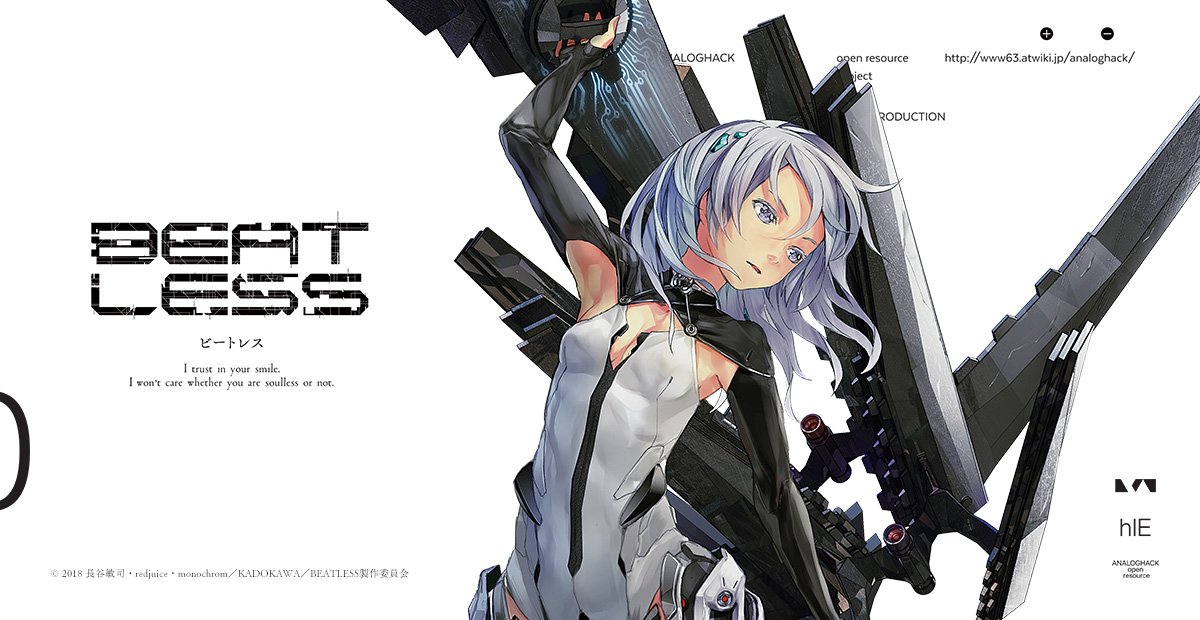 ABOUT THE STAFF/CAST
Beatless will be adapted by studio Diomedea (KanColle, Squid Girl) and helmed by director Seiji Mizushima (Concrete Revolutio, Fullmetal Alchemist). Both Tatsuya Takahashi (Eromanga Sensei, Rewrite) and Go Zappa (Blend-S, Koihime Musou) will be writing the script composition while Hiroko Yaguchi (Aikatsu!, Un-Go) will be designing the characters. Musicians GARNiDELiA and ClariS will provide the opening and ending theme songs. The anime is based on the light novel of the same name written by Satoshi Hase and artist redjuice (Guilty Crown, Project Itoh Movie Trilogy).
The voice-cast for the anime adaptation features Nao Touyama (The Asterisk War) as Lacia, Takuto Yoshinaga (Princess and the Pilot) as Arato Endou, Saki Ono (Kemono Friends) as Yuka Endou, Misako Tomioka (Aikatsu!) as Kouka, Sora Amamiya (Akame ga Kill!) as Methode, Shino Shimoji (Aikatsu!) as Saturnus, and Hiromi Igarashi (The iDOLM@STER Cinderella Girls) as Snowdrop.
Most of the world's needs are fulfilled by humanoid robots called hIE's. One day, 17-year-old Arato Endo meets the android Lacia and becomes her owner. She is one of five androids with advanced AI. Each of the five units have their own motivations, and fight to gain each other's abilities. What will the relationship between man and machine be moving forward? That is something Arato must find.
PROMO MATERIAL
Two preview trailers have been released for the anime adaptation from Kadokawa:
Tokyo Otaku Mode have translated the original novel.
Source: Beatless Anime Official Site