Anime Limited Reveal 'Genius Party' Collection Details for UK Home Video

NormanicGrav
•
The two collection of shorts series is heading to the UK on Blu-ray. Details on the release revealed!
Throughout the past couple of months Anime Limited have been planning a home video release for the Genius Party & Genius Party Beyond collection before the end of the year. Back at MCM London Comic Con last October, fans were able to acquire the standard edition Blu-ray early thanks to stock being completed ahead of schedule. Today, the distributor have unveiled new details for their special shop exclusive collector's edition release for the Genius Party franchise.
This slideshow requires JavaScript.
The Genius Party & Genius Party Beyond collection will include all 12 short films (averaging around 14-15 minutes each) on Blu-ray for the first time in any English territory. This will also mark the first time that it has been released for the United Kingdom & Ireland. The collection does not have an English dub so it will be released in Japanese audio with English subtitles only.
The short films have a unique director for each one:
Atsuko Fukushima
(Key Animator for Akira & Original Character Designer for Giovanni's Island)
Short Film: Genius Party
Shoji Kawamori
(Director for Macross & The Vision of Escaflowne)
Short Film: Shanghai Dragon
Shinji Kimura
(Art Director for Blood Blockade Battlefront & Project A-Ko)
Short Film: Deathtic 4
Yoji Fukuyama
(Manga author of The Day of the Wolf & Gamurakan)
Short Film: Doorbell
Hideki Futamura
(Director for The Animatrix & Halo Legends)
Short Film: Limit Cycle
Masaaki Yuasa
(Director for Lu Over the Wall & The Tatami Galaxy)
Short Film: Happy Machine
Shinichiro Watanabe
(Director for Cowboy Bebop & Space Dandy)
Short Film: Baby Blue
Mahiro Maeda
(Director for Evangelion: 3.0 You Can (Not) Redo & Gankutsuou)
Short Film: Gala
Koji Morimoto
(Director for Memories & Art Director for Mind Game)
Short Film: Dimension Bomb
Kazuto Nakazawa
(Director for B: The Beginning & Character Designer for Samurai Champloo)
Short Film: Moondrive
Shinya Ohira
(Key Animator for Ghost in the Shell 2: Innocence & Redline)
Short Film: 'Wanwa' the Doggy
Tatsuyuki Tanaka
(Key Animator for Riding Bean & Storyboard and Layout for Roujin Z)
Short Film: Toujin Kit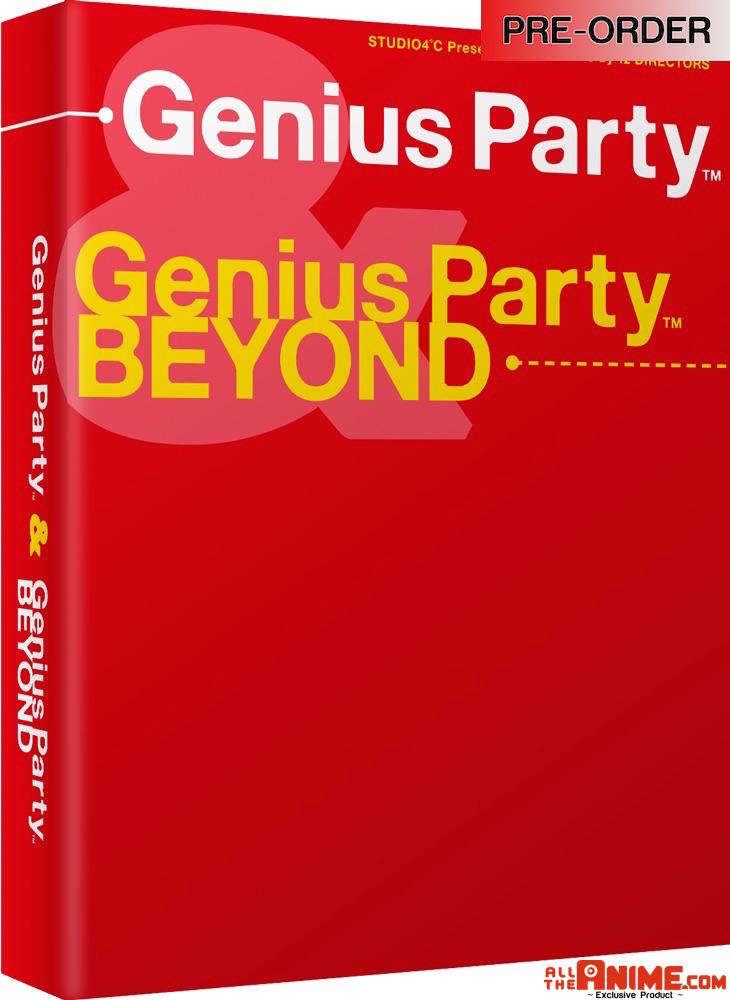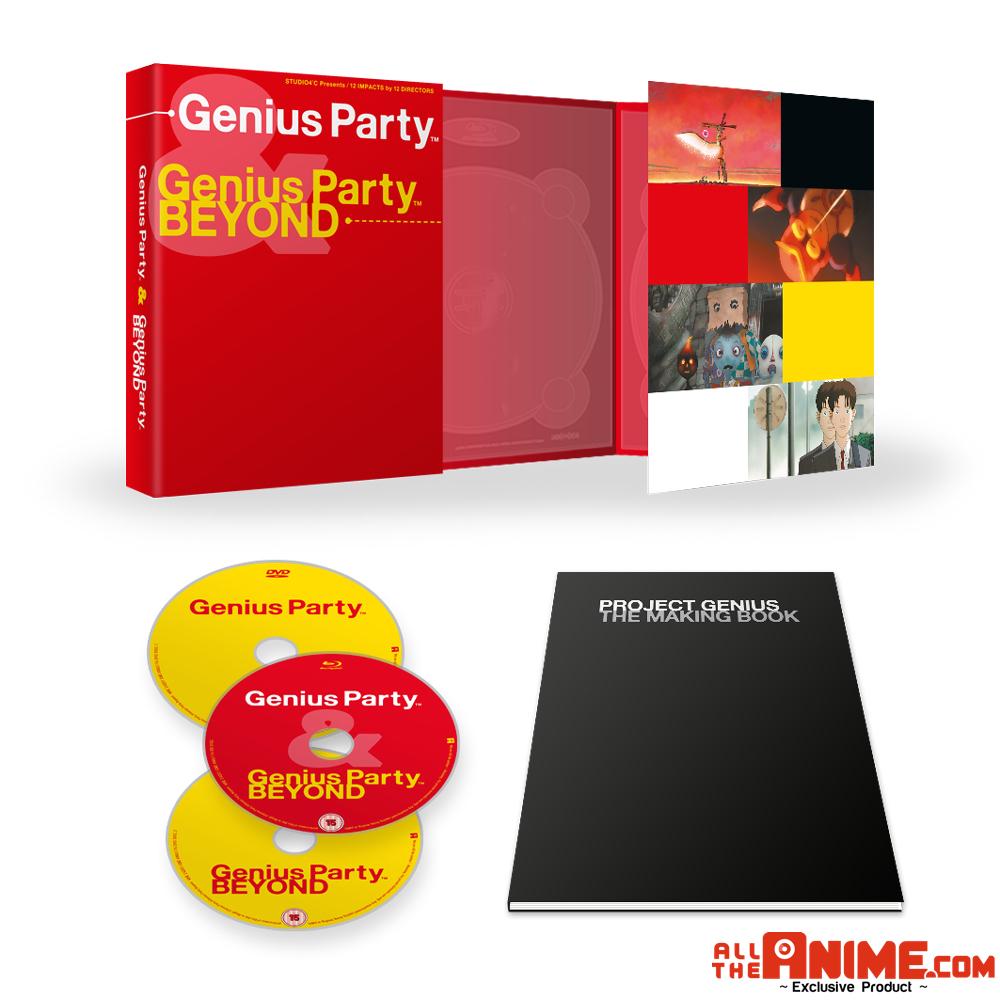 The collector's edition release will be exclusive to the AllTheAnime Shop and is available to pre-order right now, with a Christmas Shop exclusive offer of £24.99 available for the United Kingdom & Ireland zone (for 3rd December 2017 only, after that it will be available for pre-order internationally at MSRP £34.99). The collector's edition set offers the compilation film series on both Blu-ray and DVD (with the latter split across 2 discs) housed inside a rigid clean box, digipack and also a 144 page Book.
The 144 page Book is called the "Project Genius: The Making Book" which includes a ton of content about how the compilation films were made during its production. This has never been released translated in English before. The contents are split into three catagories; Pre-Production, Production, and Post-Production.
Genius Party & Genius Party Beyond were both animated by Studio 4°C, whom also animated other anime works including Amazing Nuts!, Berserk Golden Age Trilogy, Mind Game, Princess Arete, and Project Itoh: Harmony. Genius Party was released on 7th July 2007 followed by Genius Party Beyond on 11th October 2008. Music composer Yoko Kanno also provided voicework for the short film Dimension Bomb as well as composing the music for short film Baby Blue.
Genius Party & Genius Party Beyond will be available on standard edition Blu-ray and collector's edition combo pack on 11th December 2017 from Anime Limited.