Anime Limited's Blu-ray Mystery Box Items Revealed [SPOILERS]

NormanicGrav
•
Distributor Anime Limited were able to ship out the mystery box items in time for the Christmas 2017 season, and now the items included in the package have been fully revealed. Just to clarify we will be covering the Blu-ray version as the DVD version has yet to dispatch at the time of this article from our understanding (the AL staff are hard at work sorting this out).
We're going to remind folks that we are aware that a fair amount are saving their mystery boxes as Christmas presents so this is a spoiler warning over the contents.
…….
……
…..
….
…
..
.
Without further ado, here are the items: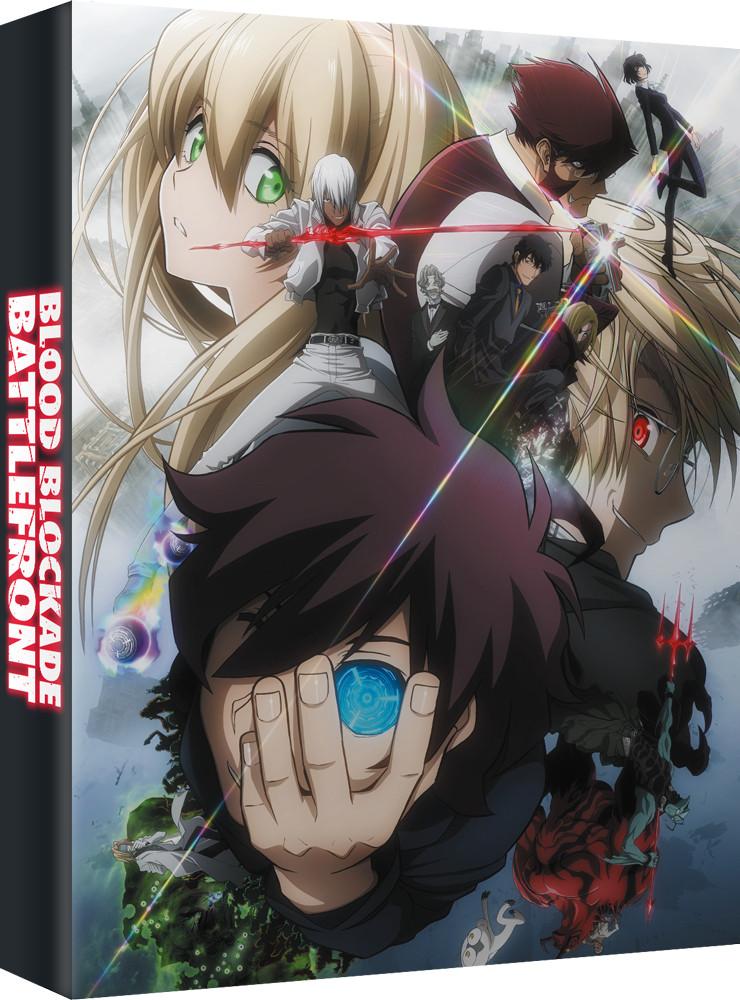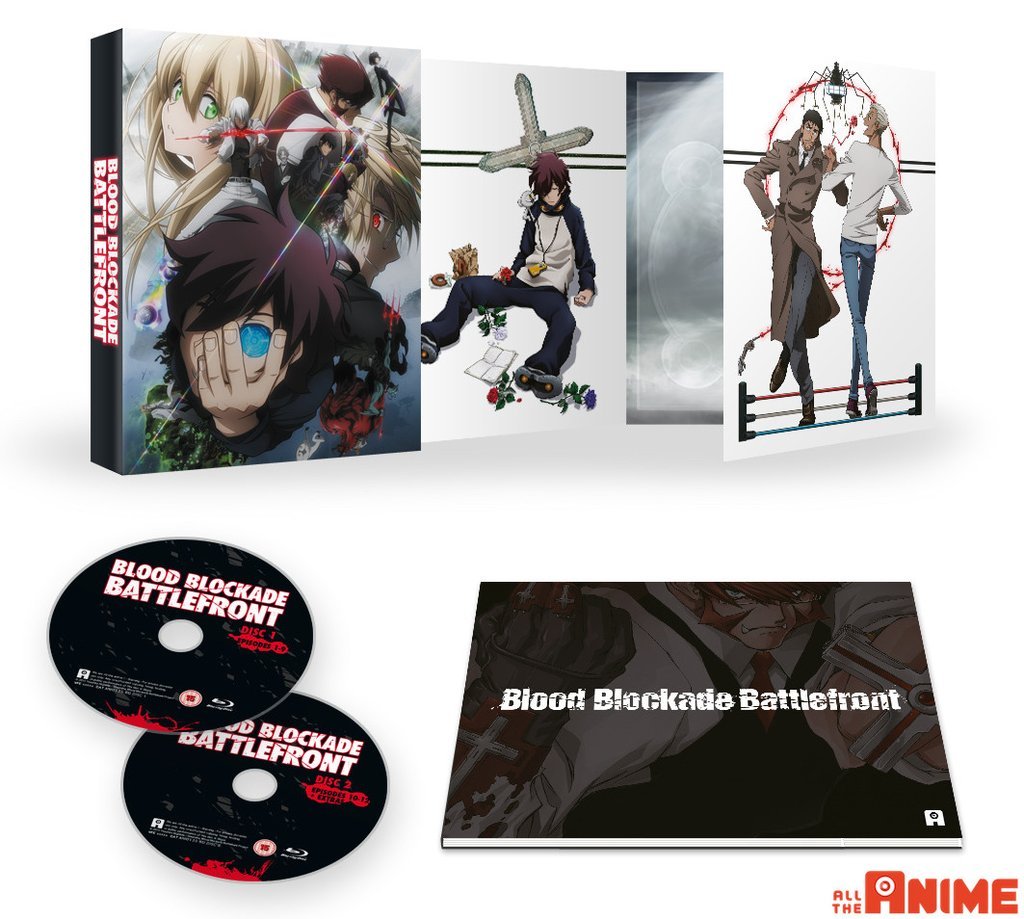 Released: 24th October 2016
Audio: English & Japanese with English subtitles
After a breach between Earth and the netherworld opens up over New York, humans and creatures from other dimensions become trapped in an impenetrable bubble that surrounds the city. Forced to coexist in a new city known as Hellsalem's Lot, the shaky peace between humanity and the netherworld creatures is protected by an underground group of super humans known as Libra.

When a case of mistaken identity brings not-so-ordinary delivery boy Leonardo Watch face-to-face with this group, he joins their ranks hoping to help prevent the destruction of the world by a group of monsters and madmen lead by a powerful being known as the King of Despair.
The first item of the mystery box, which many of us had figured out thanks to the Shop AllTheAnime website selling out on the stock, is the popular first season of Blood Blockade Battlefront. This 12 episode series collector's edition offers a rigid box, digipack packaging and a nice detailed booklet.
Worth noting that this set is now officially out of print so if you want this set you'll have to find whatever is left from other retailers.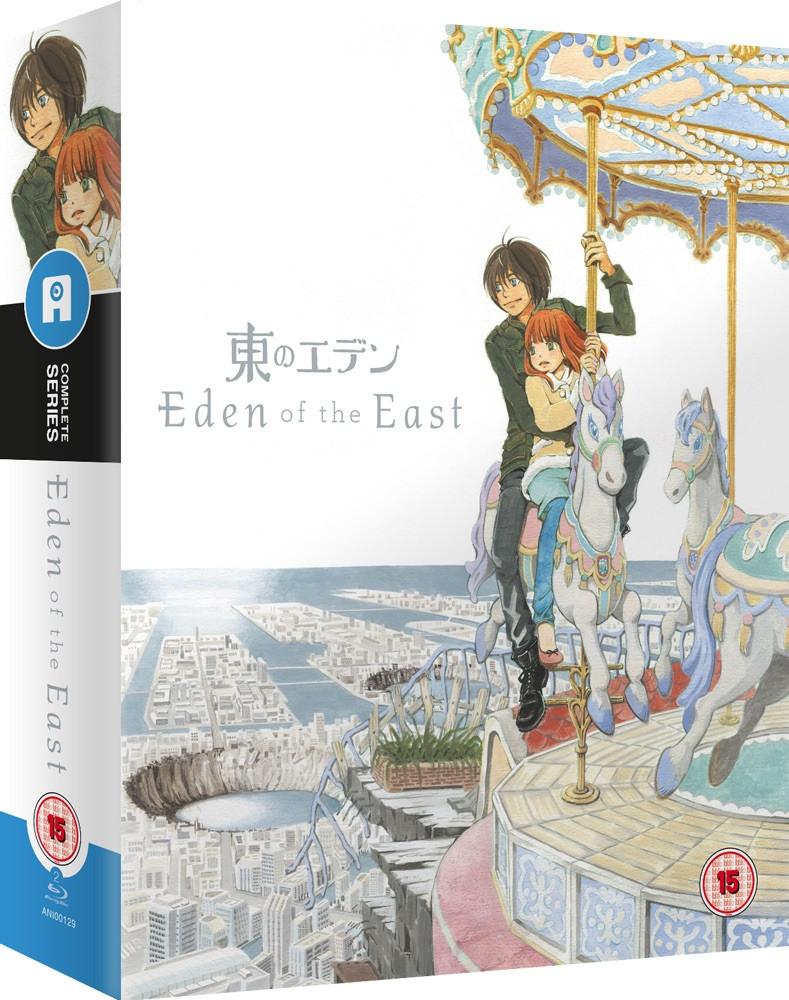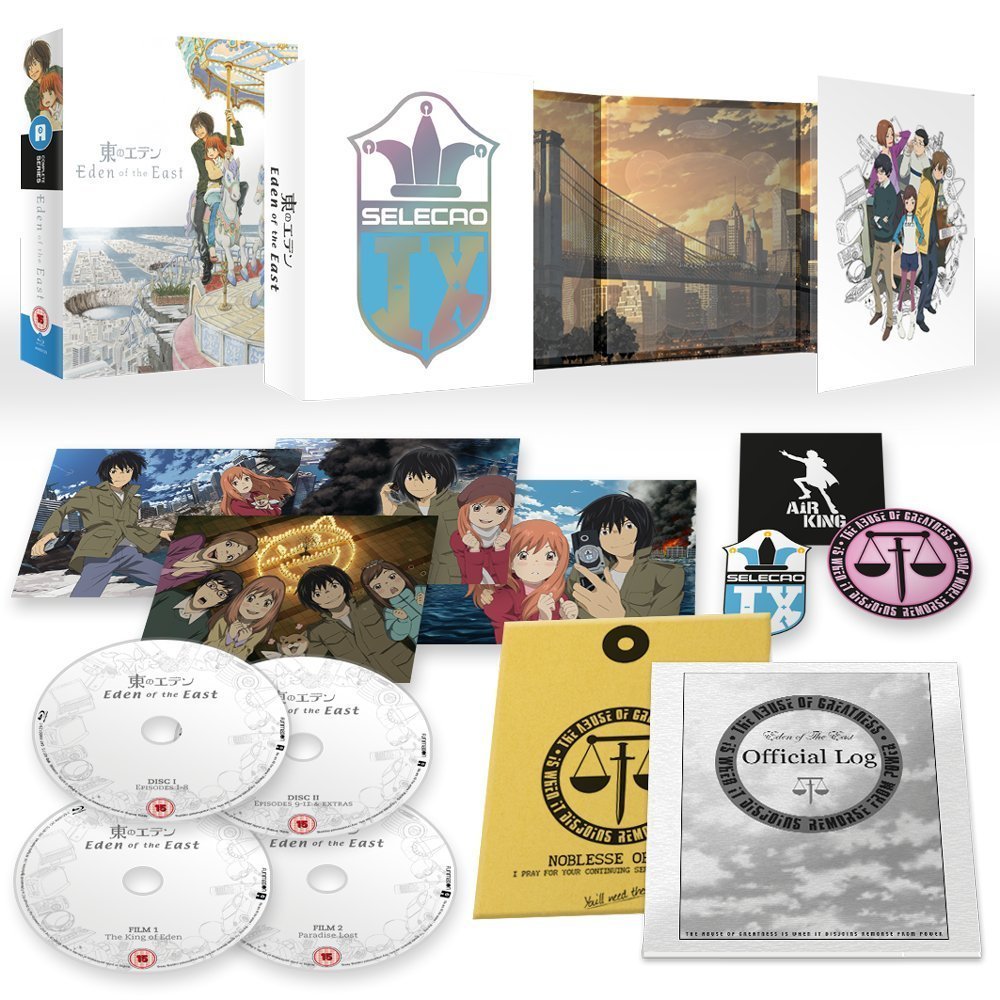 Released: 20th February 2017
Audio: English & Japanese with English subtitles
Akira Takizawa wakes up naked outside the White House with no memories. He's got a gun in one hand, a cell phone in the other, and doesn't know if he's a good guy or one of the worst. He doesn't remember the phone gives him instant access to ten billion yen and a woman who can make his most outlandish requests a reality. He doesn't recall his connection to the ongoing missile attacks terrorizing the Japanese people. Or the part he played in the sudden disappearance of 20,000 shut-ins. He doesn't even remember he's supposed to save Japan and will be murdered if he fails. Whatever it is he's tangled up in, Takizawa's definitely in deep and thats not even scratching the surface.
The second item in the box is the well-received complete collection of the entire Eden of the East franchise. This collector's edition release is an extended 'AL style' cut of the Funimation premium edition (rigid box, digipack packaging, artcards, stickers) with an added booklet to accompany the set at a better reduced price. This set offer all 12 episodes, the compilation movie Air Communication, and the two films The King of Eden and Paradise Lost.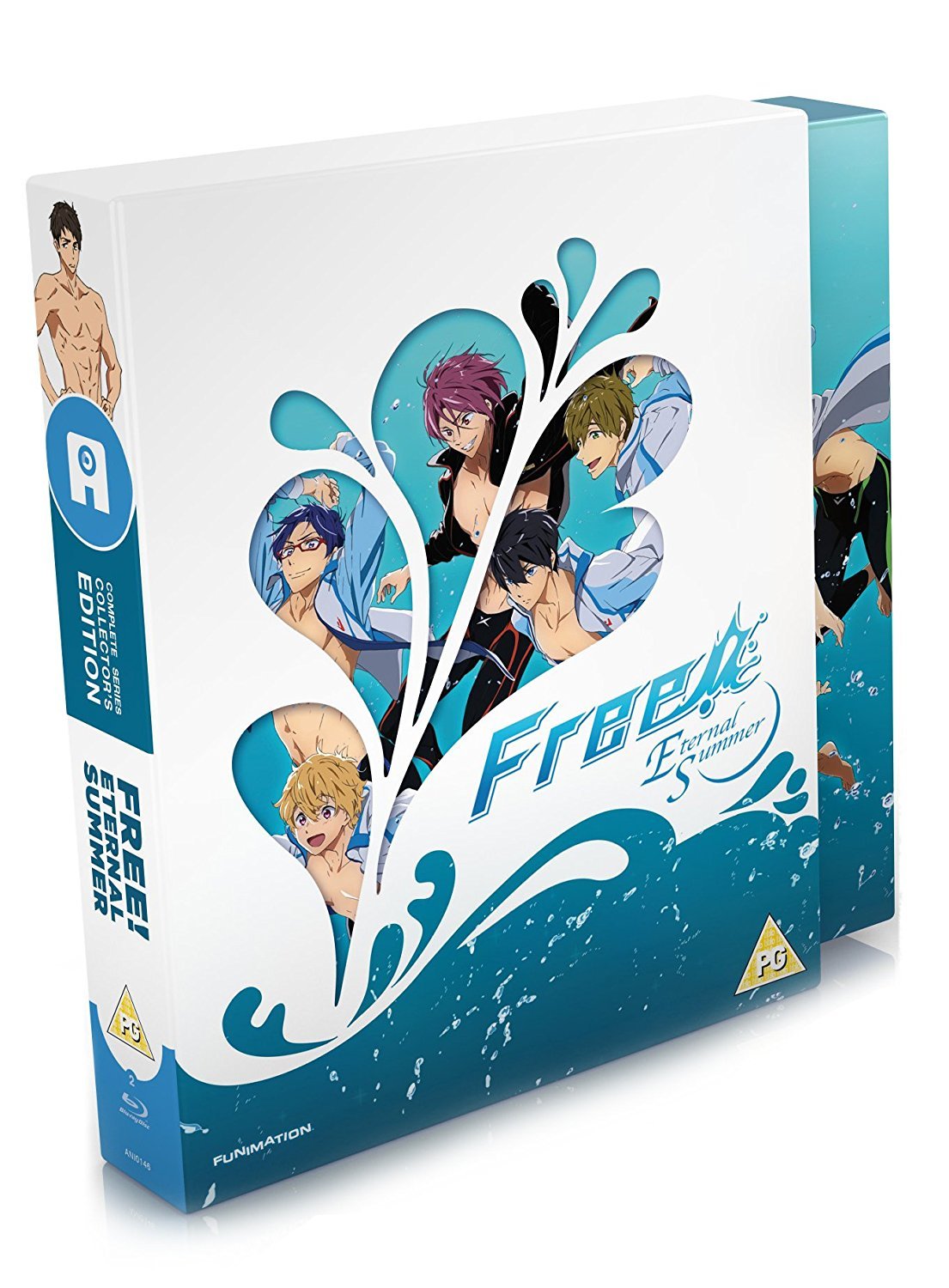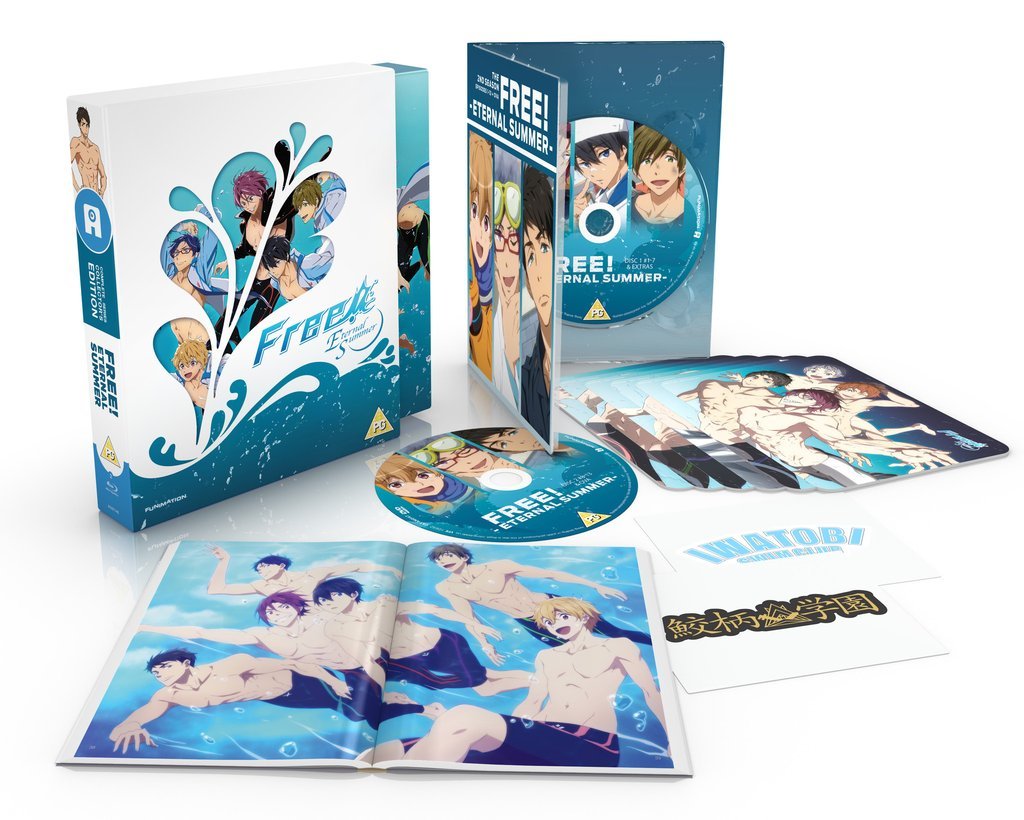 Released: 3rd October 2016
Audio: English & Japanese with English subtitles
The boys of summer are back! Haru, Makoto, Nagisa, Rei, and Rin are reunited in Free! Eternal Synopsis: Summer. After the last swimming meet, the bonds of friendship have only gotten stronger, and with each passing day these boys continue to grow. This season brings new rivals and new challenges. So get ready, the competition is about to get fierce!
The third item in the box is the second season of Free! which is one of Kyoto Animation's most popular franchises. The collector's edition set offers all 12 episodes plus OVA as well as a rigid box, digipack packaging and a nice booklet full of artwork.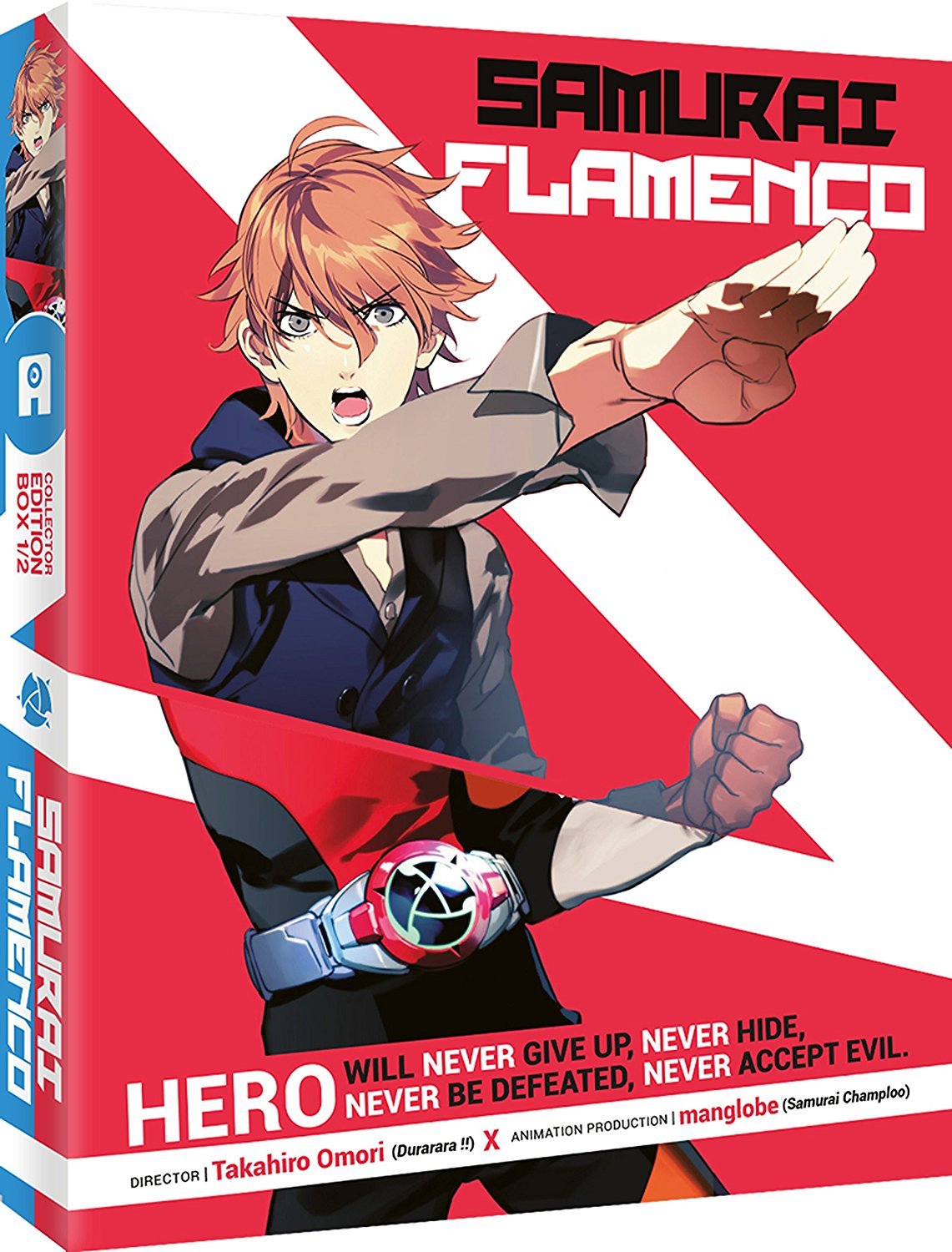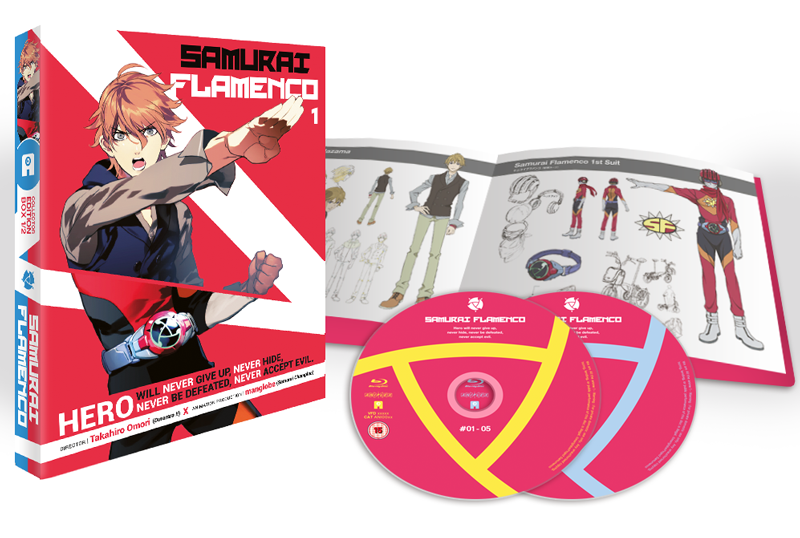 Released: 21st December 2015
Audio: Japanese with English subtitles
Masayoshi Hazama: a man who has become a superhero "by himself" with no superhuman powers or any sort of high-tech conversions, NONE! Hidenori Goto: a cop who found out the true identity of "the superhero" by a strange twist of fate and thus constantly gets in trouble thanks to Hazama, the superhero.

This is the story of the birth of a true hero featuring these two young men with a touch of comedy and serious drama, while they come face to face with hardships as they search for the true meaning of becoming a hero of justice in this world!
The fourth item from the box is the under-rated Samurai Flamenco with the first half of the series (episodes 1-11). The show never took off unlike Kill la Kill during the Autumn 2013 season but it is still worth visiting for its bizarre twists and love for the whole Super Sentai genre. The collector's edition Blu-ray set offers a rigid box, digipack packaging and a booklet. This is also the only English-friendly Blu-ray release across all English-speaking regions!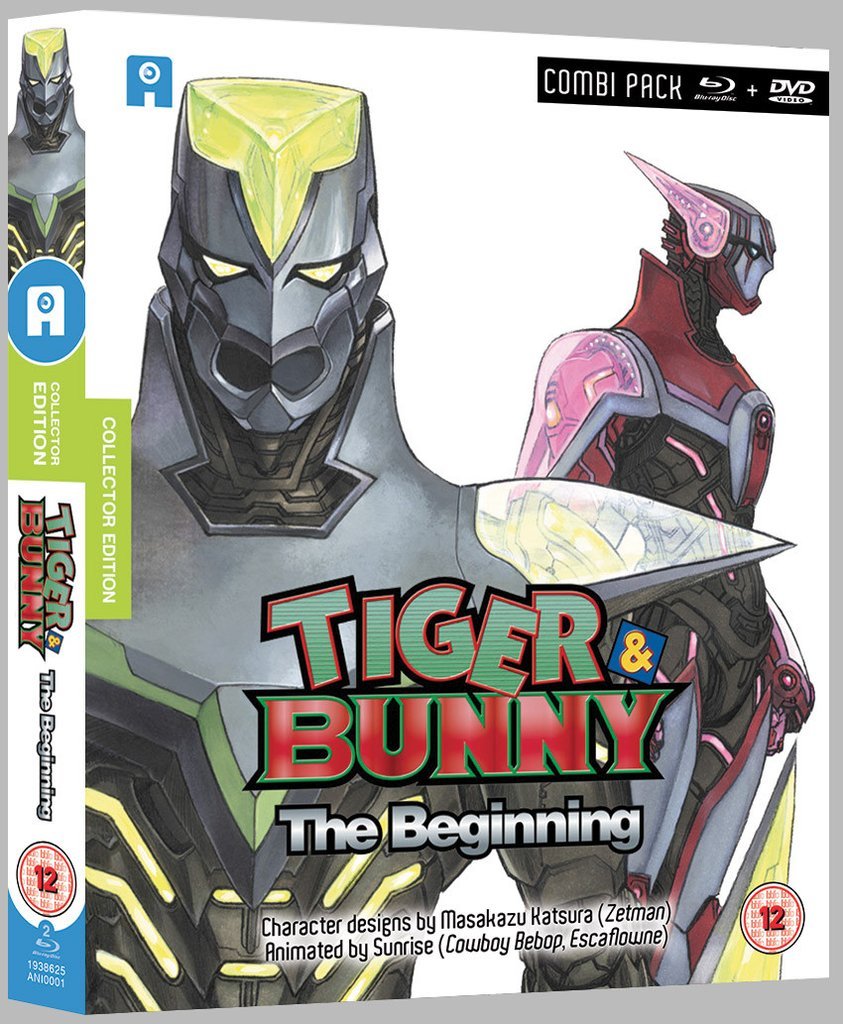 Released: 24th March 2014
Audio: English & Japanese with English subtitles
The metropolis of Sternbild is protected by a range of superheroes, competing on live TV for the title of King of Heroes. The oldest and least cool of them is the middle-aged widower Wild Tiger, who leads his non-hero life as Kotetsu Kaburagi. During a battle with gangsters, a new hero shows up; this is the handsome Barnaby Brooks, who has the same powers as Kotetsu but far more star presence.

To Kotetsu's dismay, his commercial sponsor is bought out and his new boss insists he becomes Barnaby's sidekick. Burning with resentment, Kotetsu gives Barnaby the unflattering nickname of Bunny. Can this quarrelling pair work together to fight crime?
The fifth item is one of Anime Limited's first licenses with the first movie of the Tiger & Bunny franchise. Tiger & Bunny is one of the most well-received anime shows out there and while it never kicked off as much as it should it's still relatively high up in the charts for 'most requested for a continuation' in Japan. Tiger & Bunny: The Beginning is a compilation of the first couple episodes of the TV series but with a twist, offering a different ending this time around. Regardless it is still worth checking out with a very well-handled English dub and a cool premise. The collector's edition set offers a rigid box, digipack packaging, and a booklet with detailed info & contents.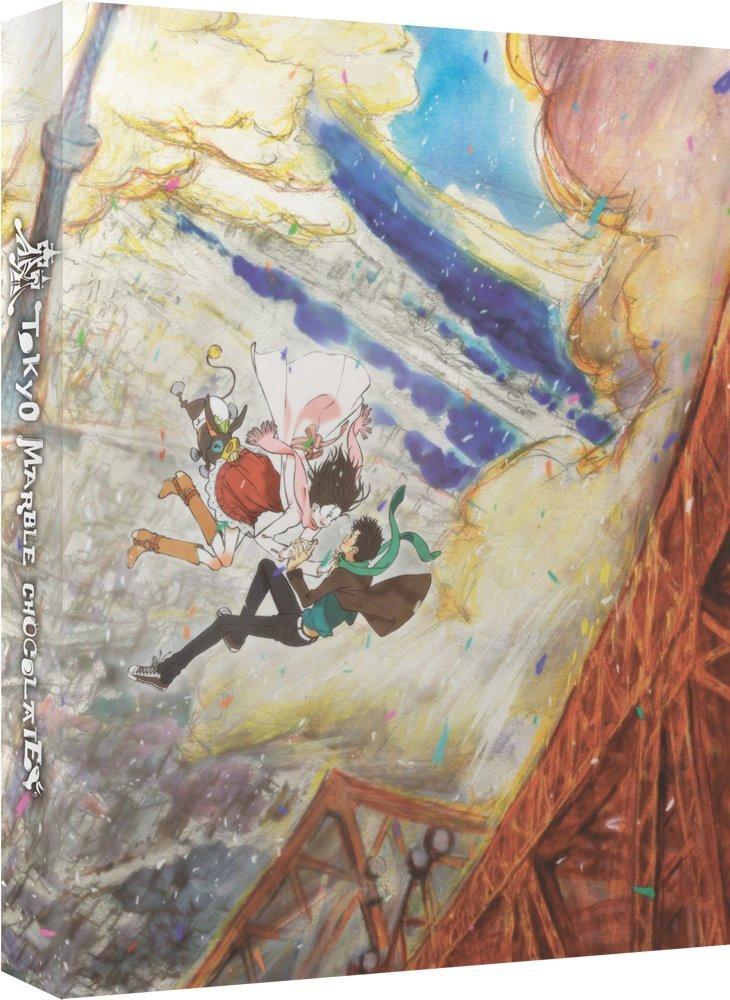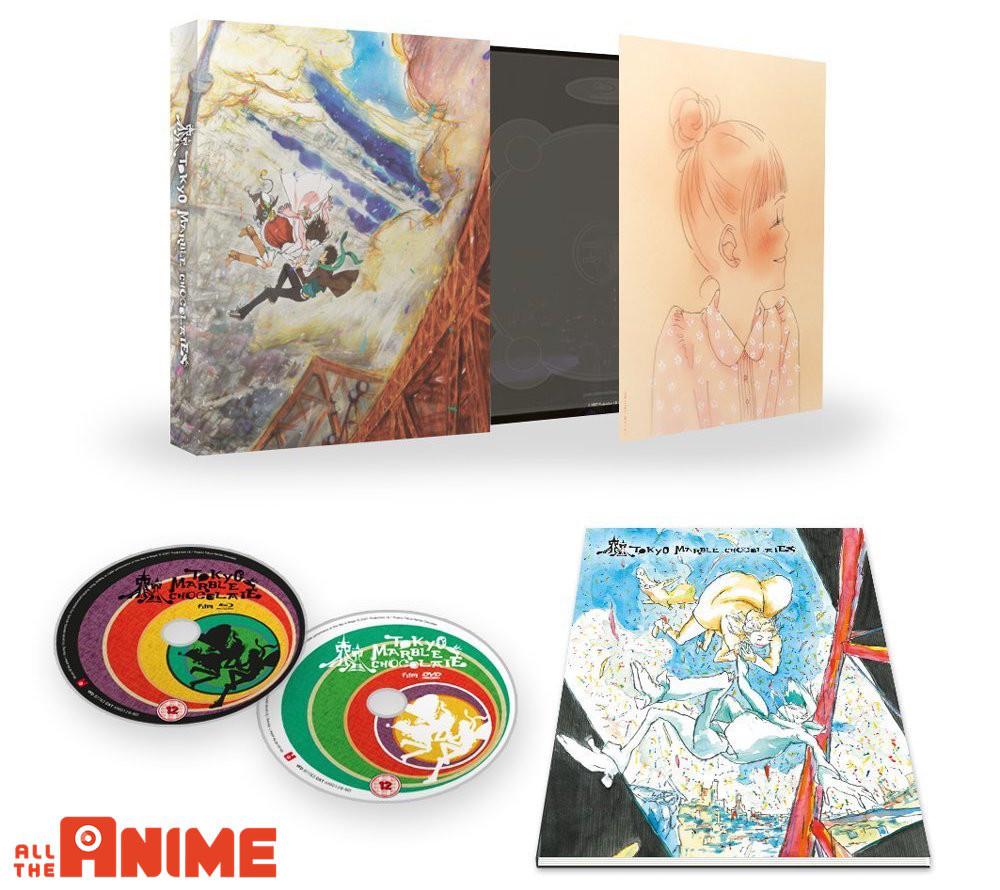 Released: 29th May 2017
Audio: Japanese with English subtitles
Yuudai has difficulty expressing his feelings and his girlfriend, Chizuru, has trouble maintaining relationships. Trapped by their insecurities in a relationship thats going nowhere, they drift further and further apart. While Chizuru thinks this is the end of the road, Yuudai struggles desperately to overcome his cowardly nature before he loses what is most important to him.

There are two stories to every relationship, but can love survive if they don't meet halfway?
The sixth mystery box item is the two episode original video animation from Production I.G and the director Naoyoshi Shiotani of Psycho-Pass fame. A lovely tale for folks who wanted a slice of life romantic comedy which works pretty well in just two episodes. The OVA has never seen a proper English release before so once again Anime Limited offer it first-hand before the other territories. The collector's edition set offers a rigid box, digipack packaging and a booklet.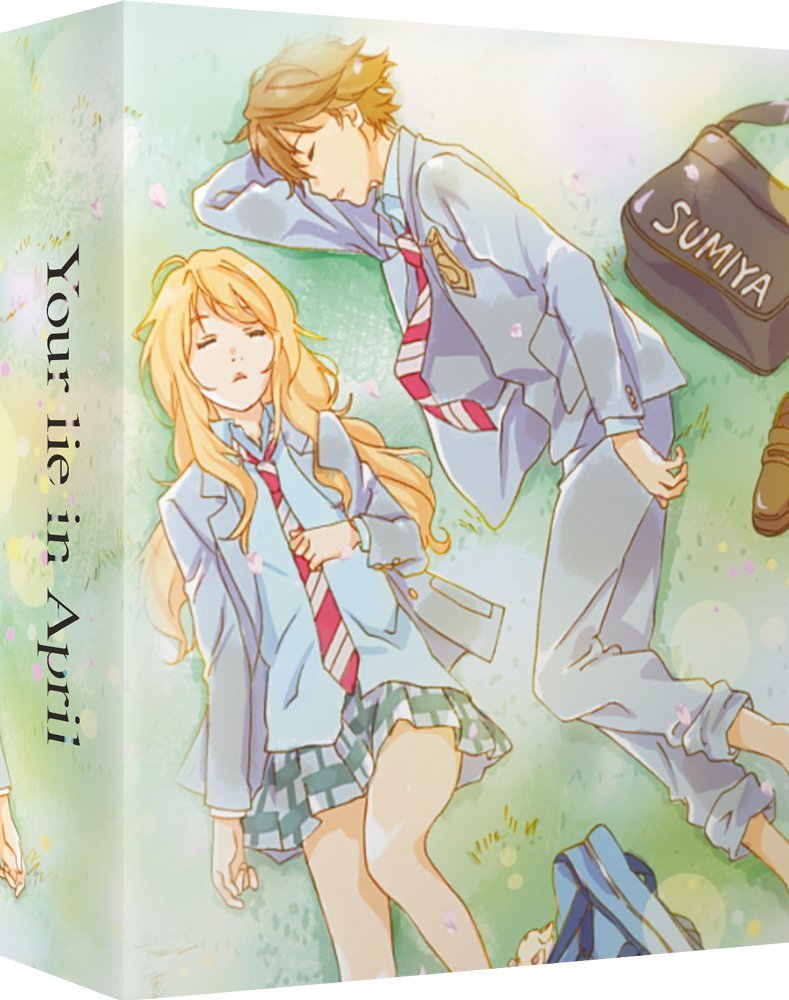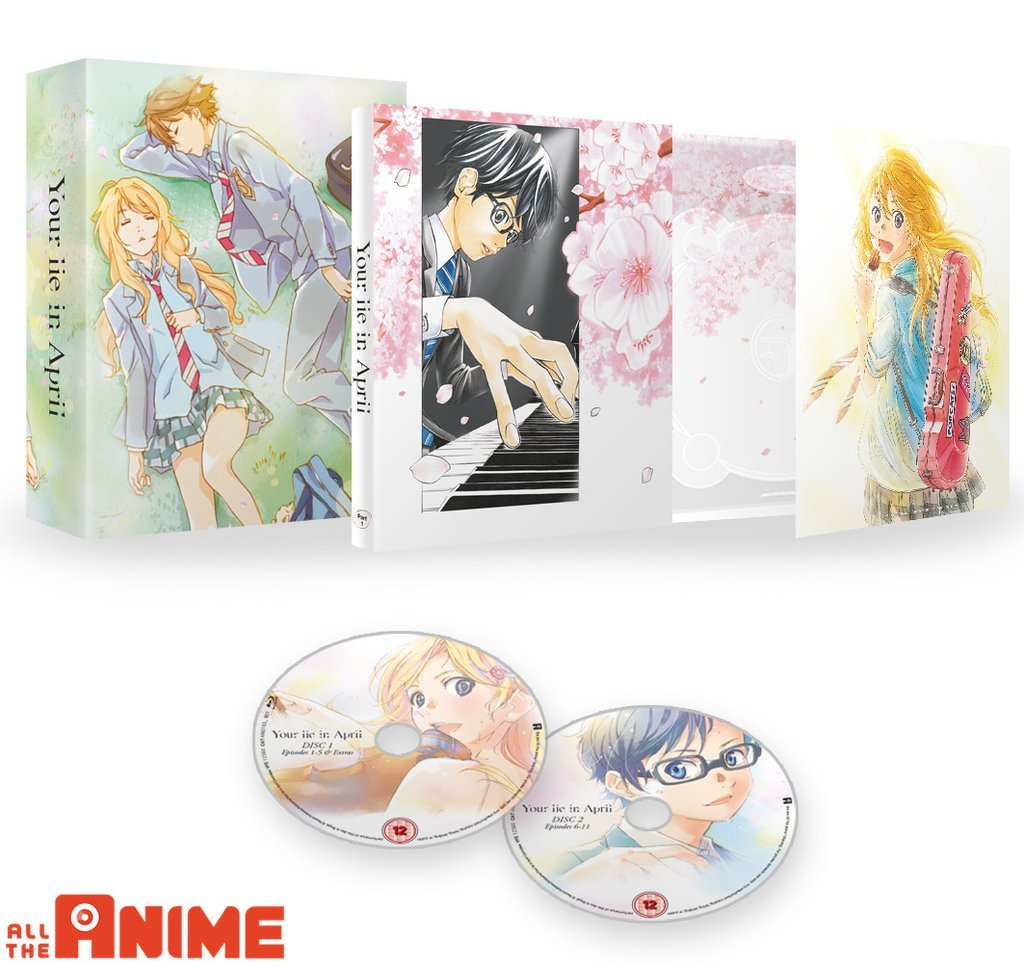 Released: 14th November 2016
Audio: English & Japanese with English subtitles
Kousei Arima was a genius pianist until his mother's sudden death took away his ability to play.

Each day was dull for Kousei. But, then he meets one violinist by the name of Kaori Miyazono. This care-free, independent, and sometimes short-tempered girl has an eccentric playing style that immediately fascinated Kousei. His once monotonous life was about to change forever.

Winner of the 37th Kodansha Manga Award! "A story of youth, music, and romance!"
The seventh and last item in the mystery box is the well-loved Your Lie in April series with the first half of the show (episodes 1-11). Embrace yourself with the excellent music and bring some tissues if you can. This collector's edition set offers a rigid box, digipack packaging and an outer box to hold both parts of the show. This will be the fixed second print version that resolves the issue with the set not getting out of the packaging properly.
And that is all seven items included in the bundle. Remember if you already own them or don't like them you could always gift them to a friend or family member!