Crunchyroll adds more Manga Simulpub titles for their Catalogue

NormanicGrav
•
Not long ago we reported that Crunchyroll had provided some new changes for their Crunchyroll Manga service, with various titles now going into the vault as they have finished serialisation while newer titles would be made simulpub only (i.e. older chapters head to the vault after a certain amount of time).
Today, Crunchyroll have announced their next step for the service with a special announcement. They have once again partnered with Kodansha Comics to offer a whole new set of manga titles for the platform that will be available to read soon for worldwide outside Asia territories. The titles announced are as follows: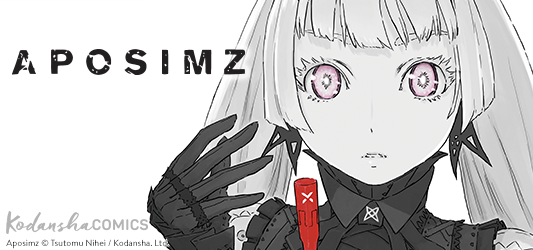 Japanese title: Ningyou no Kuni
Started Publishing: 25th February 2017
Author & Artist: Tsutomu Nihei (BLAME!)
The 200,000 KM diameter artificial celestial body of APOSIMZ. Most of its volume is its core space, which is covered by a superstructural shell. Fifty centuries ago, the people who lost a war against the core lost their right to reside legitimately in APOSIMZ, and were left behind on the extremely cold surface. They face the spreading Frame disease. And aggressive automatons which appear frequently on the ruins level. Yet even so, somehow people survive.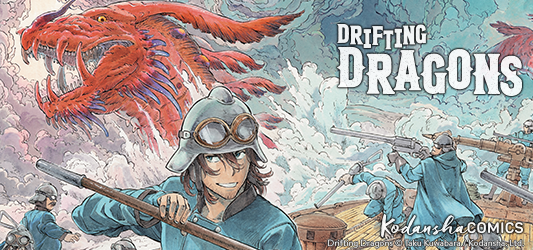 Japanese title: Kuutei Dragons
Started Publishing: 7th June 2016
Author & Artist: Taku Kuwabara (Tokkabu)
The draking vessel Quin Zaza soars through the skies, hunting dragons that hide in the clouds. A single big catch means full coffers and all the meat they can eat, while failure means an empty wallet and an even emptier stomach. Join us as we log the crew's grand adventures, chasing dreams of the sky, dragons, and gourmet cooking!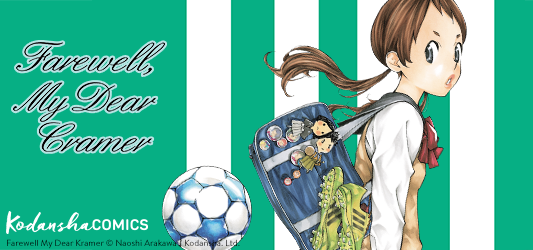 Japanese title: Sayonara Watashi no Cramer
Started Publishing: 6th May 2016
Author & Artist: Naoshi Arakawa (Your Lie in April)
Sumire Suō is 15 years old. She has passion for soccer, but can't seem to grasp victory… After having a gloomy life as a middle school student, will a single moment as a high school student make her heart dance!?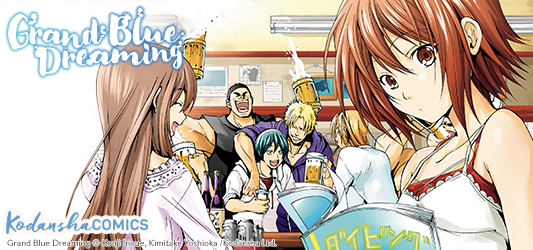 Japanese title: Grand Blue
Started Publishing: 7th April 2014
Author: Kenji Inoue (Baka & Test)
Artist: Kimitake Yoshioka
After moving out on his own to a seaside town, Iori Kitahara makes a college debut he never anticipated. A new chapter of his life unfolds, full of diving with beautiful girls and shenanigans with a gaggle of lovable bastards!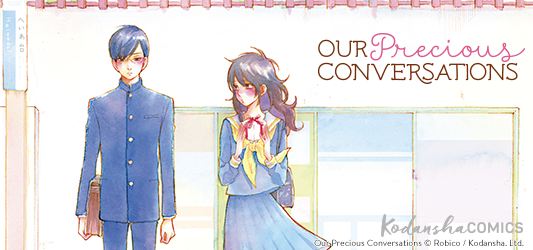 Japanese title: Boku to Kimi no Taisetsu na Hanashi
Started Publishing: 24th August 2015
Author & Artist: Robico (My Little Monster)
Nozomi Aizawa has has kept her feelings for her schoolmate Azuma-kun a secret for quite a while, but the time has come for her to finally confess. His response, though, is far from ordinary! Led in circles by his hilarious tangents, these two awkward teenagers find themselves growing ever closer while muddling through misunderstandings and off-topic rants. When the airheaded stalker Aizawa-san finally connects with the petulant know-it-all Azuma-kun, the result is a romantic comedy worth talking about!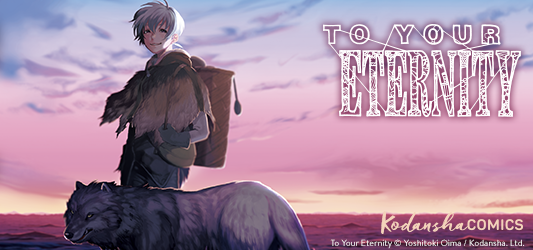 Japanese title: Fumetsu no Anata e
Started Publishing: 9th November 2016
Author & Artist: Yoshitoki Ooima (A Silent Voice)
A lonely boy wandering the Arctic regions of North America meets a wolf, and the two become fast friends, depending on each other to survive the harsh environment. But the boy has a history, and the wolf is more than meets the eye as well…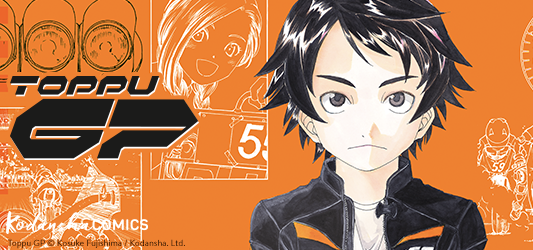 Japanese title: Toppuu GP
Started Publishing: 25th May 2016
Author & Artist: Kousuke Fujishima (Oh! My Goddess)
Toppu Uno never wanted to race motorcycles. He was perfectly content watching his sister ride—with his eagle eyes, he knew her lap times before the the stopwatch did. When he's convinced to take a ride on a minibike for the first time, his hours of observation translate into instant skill on the track. But turning a quick lap and winning a race are two very different things, and Toppu's got a long way to go before he's ready for the big leagues: MotoGP, the highest level of two-wheeled road racing.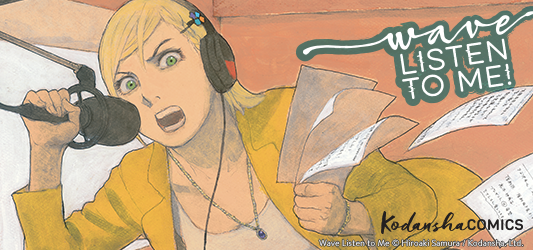 Japanese title: Nami yo Kiitekure
Started Publishing: 25th July 2014
Author & Artist: Hiroaki Samura (Blade of the Immortal)
The stage is Sapporo, Hokkaido. One night, our heroine, Minare Koda, spills her heartbroken woes to a radio station worker she meets while out drinking one night. The next day, she hears a recording of her pitiful grumbling being played live over the air. Minare storms into the station in a rage, only to then be duped by the station director into doing an impromptu talk show explaining her harsh dialogue. With just one recording, the many eccentric facets of Minare's life begin to pull every which direction as she falls ever deeper into the world of radio.
In addition Crunchyroll will also be adding older chapters (1 all the way to 257) of Fairy Tail to the service. Plus the following titles listed below will also receive some more chapters available to read:
Source: Crunchyroll