At the end of 2017 I was given the chance to review Part 1 of one of my favourite Kyoto Animation shows, Hyouka. Now I return to cover Part 2 and find out from my re-watch if this series remains a winner. I hope you're curious to find out!

For the second part of Hyouka we rejoin our four lovable characters as they begin the Kan'ya Festival. As part of the festival, the Classic Literature Club have put together an anthology to sell, but when they discover that Mayaka has accidentally ordered 200 copies instead of 30 they must work out how to shift the excess copies. During this time a mysterious thief known only as Jumonji is stealing items from clubs across the school. Can the group solve the mystery while also trying to sell their abundance of anthologies?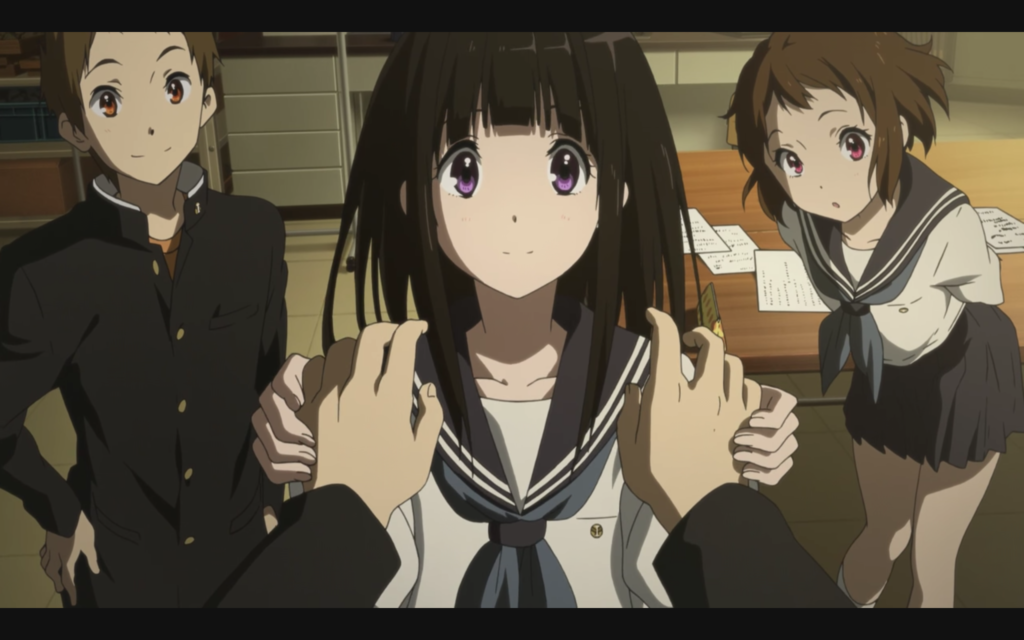 This story takes up the majority of the second half of Hyouka, running from Episode 12 through to Episode 17 (of 22). It's an incredibly long story for something that is meant to be set over two or three days but the story is also one of the best in the series. While Hotaro chooses to stay behind in the clubroom to sell the books, Chitanda runs about the school hoping to advertise the anthology. Satoshi also takes on this job as he gets involved with various activities throughout the school – like a quiz and cooking contest. Separating Chitanda from Hotaro gives us the chance to see some development for Chitanda, who is usually quite reserved and overshadowed by her friendship with Hotaro.

The other interesting thing about this festival arc is a side story following Mayaka, who spends most of her time working with the manga club she's a part of. The manga club is trying to sell books composed of manga reviews but some of the club members don't see the point in it – saying that impressions are subjective and a masterpiece among manga does not exist. Mayaka disagrees and sets out to prove her hostile club members wrong. Like with Chitanda, this situation lets us see a different side to Mayaka, and I think that's incredibly important for Hyouka, given how much of its charm depends on its cast.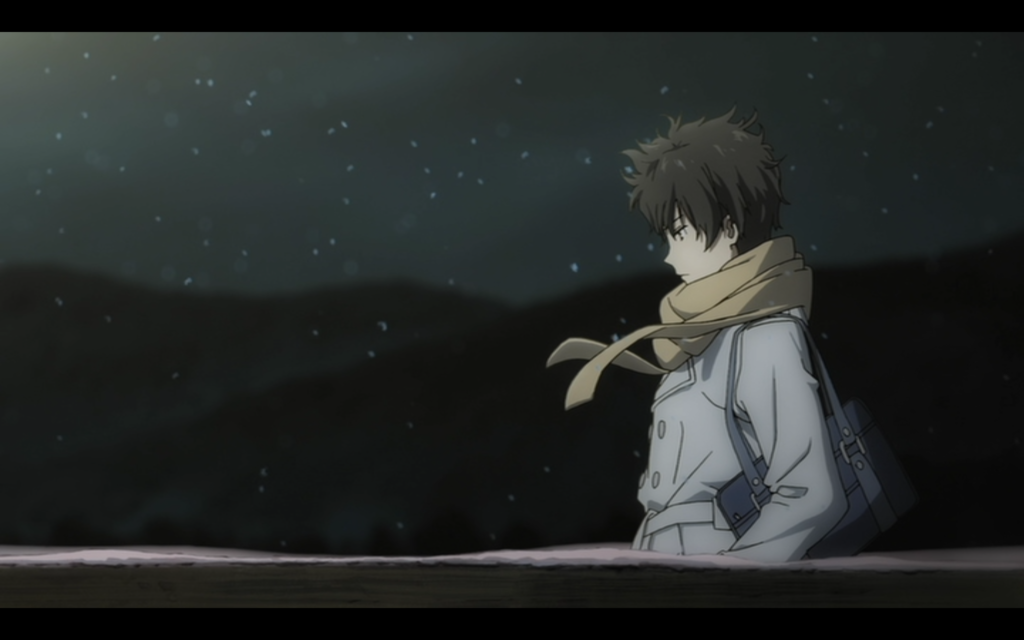 After the school festival arc, the series moves into what feels like episodic stories. This is a result of Kyoto Animation adapting a collection of short stories for the end (all the content that existed at the time), which I know some people aren't a fan of but I really liked – especially the second-to-last episode. Episode 21 takes place on Valentine's Day and, without giving too much away, it deals with romantic feelings between two of the characters. This finally leads to a clash between Hotaro and Satoshi, something that has been building up all series. It's so late in the show that I'll refrain from talking about it too in-depth, but let me say that the episode in question is incredibly satisfying to watch.
In certain ways I like the beginning of Hyouka more than the second half but it's incredibly hard to compare them. The latter half of the show lives up to the high quality of the first part and gives us some solid development for everyone involved, as well as presenting interesting mysteries and situations. It's entertaining, and I think that's what matters most here. Never once was I bored or uninterested in what was happening because Hyouka draws you in and refuses to let go until it's done – much like the relationship between Hotaro and Chitanda when she's curious about something!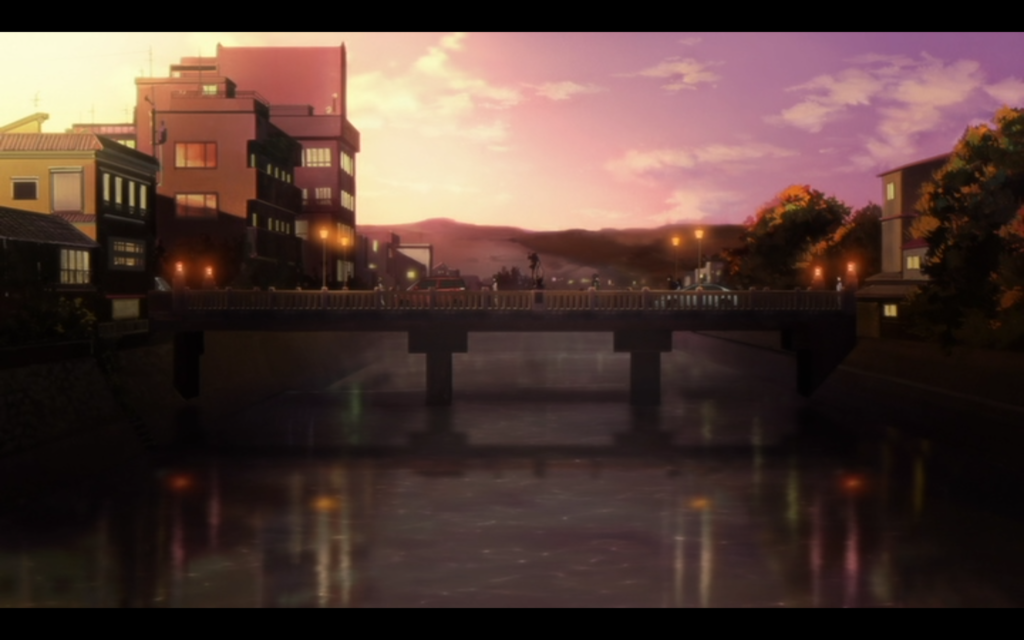 Animation for this half of Hyouka has continued to be handled by Kyoto Animation and offers vibrant, inviting colours in an effort to draw you in. All of the characters are well drawn and move fluidly, with a big emphasis on capturing the tiniest of details. Animation sequences where the cast are debating mysteries also continue the trend of being unique episode to episode, depending on who's directing the episode. Overall the studio did a great job!

If you read my review of Part 1 then you may remember me commenting that there wasn't a lot of music (composed by Kohei Tanaka) on offer, and this continues into the second half. Almost all of the music has been reused from Part 1, which is a huge shame as Tanaka's work is very good. Despite this, I don't take issue with the music on offer though; it's still delightful to the ears. Episode 12 brings with it a new opening, "Mikansei Stride" by Saori Kodama, which depicts Hotaru outside of the club room looking in on his friends and wishing to join them. There is also a new ending theme, "Kimi ni Matsuwaru Mystery", performed by the voice actors for Chitanda and Mayaka. This ending depicts the girls hunting down Hotaru and Satoshi in a mock detective setting. Both songs are incredibly catchy and well suited to the show.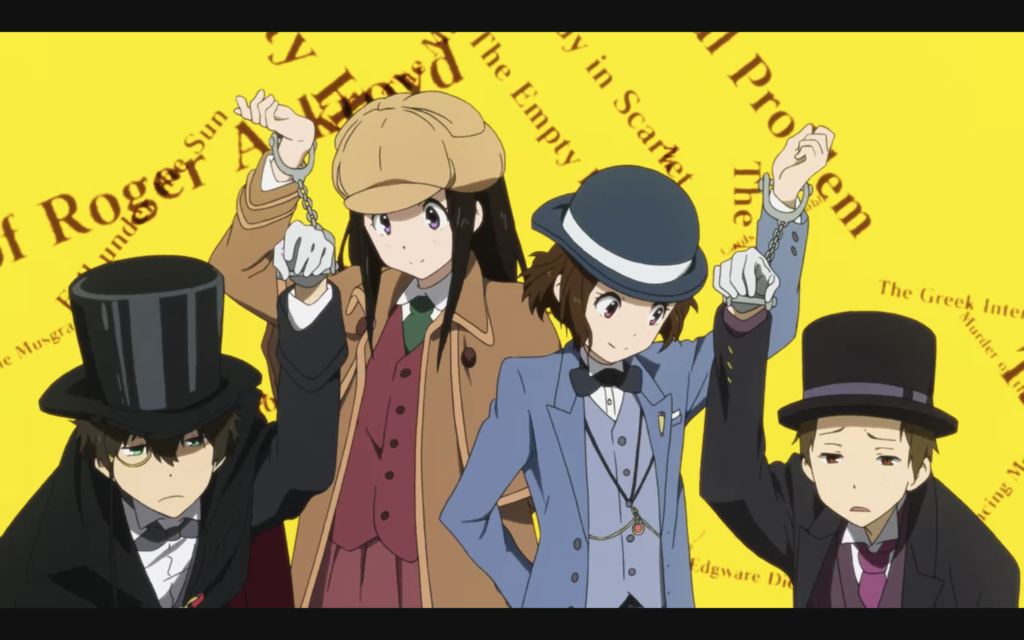 Where voice actors are concerned the Japanese team continue to offer a wonderful performance. In my last review I talked about how great a job Yuichi Nakamura (Gray Fullbuster in Fairy Tail, Kanbe in Recovery of an MMO Junkie) did as Hotaro, and so this time I thought it was only fitting to talk about Hotaro's counterpart – Satoshi. Satoshi is played by Daisuke Sakaguchi (Leonardo Watch in Blood Blockade Battlefront, Yuki Mishima in Persona 5), who interjects an enthusiastic and laid back personality into the character, which contrasts nicely with Hotaro's personality. Although Sakaguchi's somewhat high-pitched voice might get on your nerves at times, I actually find it well suited to Satoshi.

As a general note: there is also an English dub included on the set but, having not gotten on with it for Part 1, I didn't sample any more of it. You can read what I thought of the dub originally in my review of Part 1.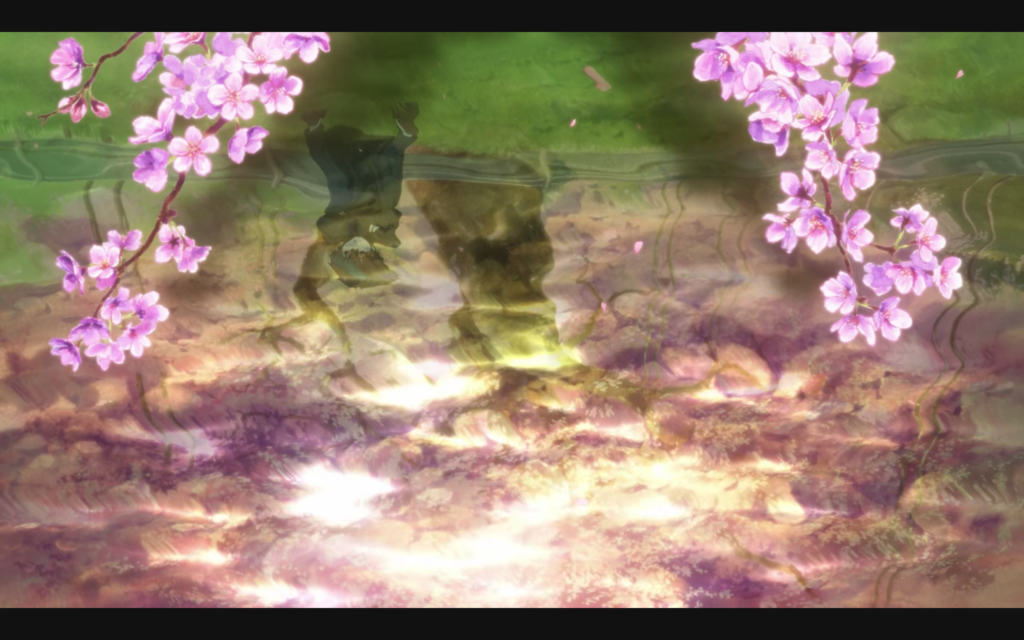 Hyouka Part 2 comes to the UK thanks to Anime Limited and is available on Blu-ray in a collector's edition and on DVD as a standard release. Both sets contain Episodes 12 to 22 with both their English and Japanese dub, but clean opening and ending videos are only on the Blu-ray. The collector's edition comes packaged with a 84-page "material archive" booklet, which is sure to be a must-have for any Hyouka fan.

Overall Hyouka Part 2 retains the quality of the first part and offers everything I could want from a series. Without putting a single foot wrong, Hyouka works to capture your heart and entertain you with a strong cast of characters and well thought-out scenarios. If you're a slice of life fan or even just a Kyoto Animation fan, this series is for you. Watch it, enjoy it, love it as much as I do.