Violet Evergarden: The Movie Collector's Edition Review
Demelza
•
Last year Anime Limited delighted fans of Violet Evergarden when they brought the original TV series and spin-off film Violet Evergarden: Eternity and the Auto-Memory Doll to home video. On top of that, they released Violet Evergarden: The Movie in cinemas (which the lovely Darkstorm reviewed at the time). Now that same film has made it to home video, allowing fans to add the conclusion to Violet's story to their collection – but is it a must-have? Let's find out!
First off I will say that this review contains spoilers for Violet Evergarden, so if you're yet to watch the TV series then I'd advise you to close this tab and come back when you've watched that or simply pick up the release.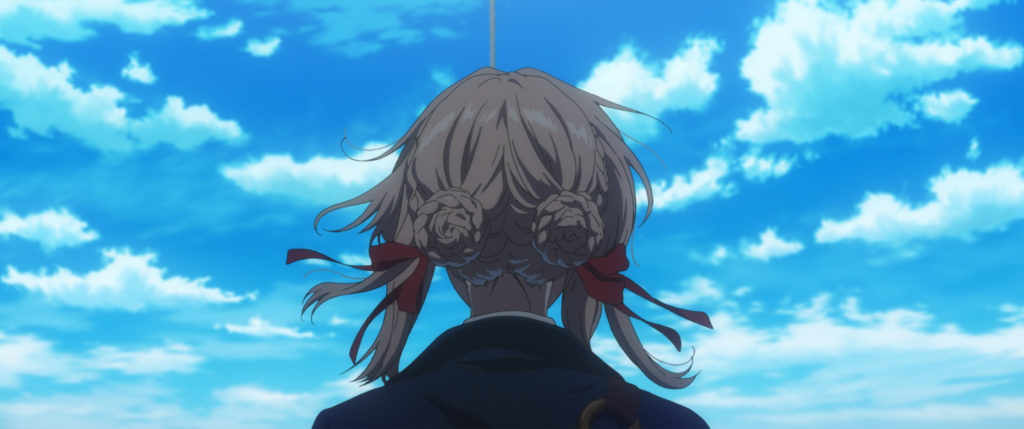 The story opens with Daisy (granddaughter of Anna Magnolia, one of Violet's clients in the TV series) finding letters that Violet wrote and had delivered to Anna every year on her birthday. This leads Daisy to go on a journey, following Violet's history and learning more about the Auto Memory Dolls who wrote letters for people. 
From there our perspective shifts to the past and to Violet, who's been working as an Auto Memory Doll for several years and has become extremely popular with clients. Violet is surrounded by people who love her and has a job she finds fulfilling, but she's still haunted by the past and the fact that Major Gilbert told her he loved her the last time she saw him. Violet knows it's unlikely Gilbert is alive after all this time, but now she understands the meaning of his words, she desperately wants to tell him her feelings. With no way to rid herself of these emotions, Violet bottles them up and is consumed by the feelings of grief and loss. 
President of Violet's workplace, the CH Postal Company, Claudia Hodgins can't bear to watch Violet continue to be eaten up by these emotions and desperately prays for her to find a way to move on and find happiness. In a way, his wish comes true when one day he day stumbles upon a letter with handwriting that looks exactly like Gilbert's. Together, Claudia and Violet set out for a remote island where the letter originated from in the hopes that their desires are granted one way or another…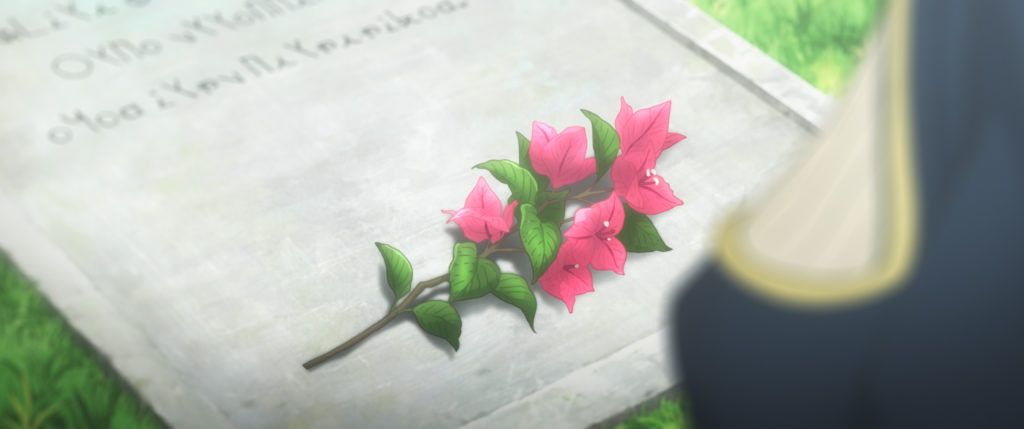 Back when the Violet Evergarden TV series aired, the fanbase was split into two camps: those who wanted Gilbert to be alive and those who didn't, the argument always being that should Gilbert be alive, it would undermine Violet's story and her ability to live without him. So depending on which side of things you come down on, this film will potentially disappoint – although I feel it does a fantastic job of justifying the route it takes. 
Ultimately, while this is a story about Violet and Gilbert, it's also about showing us why it's important not to leave our thoughts and feelings unsaid. This is particularly important for Violet's latest client, young Yurith who's terminally ill and wishes to write letters to his family for after he's gone. Yurith's story could have been a film all by itself, but instead, it flows alongside the rest of the narrative to help hammer home the message the film is trying to convey. 
I also appreciate that Claudia gets to take centre stage here as someone who has cared for Violet as a fatherly figure. He has his own grief when it comes to the possibility of Gilbert being dead since they were friends when Claudia served in the army, but what hurts him more than anything is watching Violet in so much pain. In the TV series, Claudia was always a great support for all of the cast, but the movie gives him more screen time and capitalises on the relationship he and Violet have. It's very rewarding if you're a fan of his character. 
I loved the TV series and I have to say those feelings extend to the movie as well. It's quite long at 139 minutes, but that time never feels wasted. The story draws you in and won't let go until the credits roll. It's incredibly emotional and does justice to Violet's story up to this point, bringing it to a conclusion that feels fitting for her character. Honestly, I cried a lot when I first saw this film in the cinema and even two rewatches later and knowing how it goes, I still tear up at pivotal moments – It's simply that powerful a story.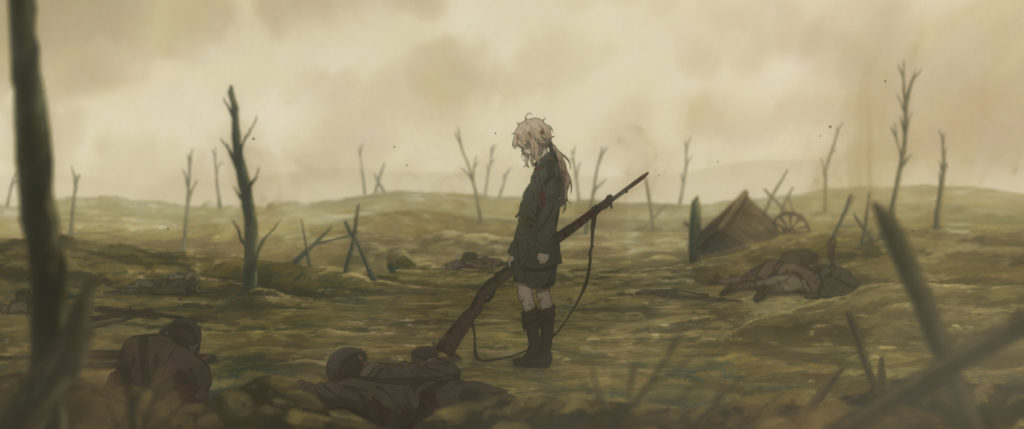 Like the original anime, Violet Evergarden: The Movie has been animated by studio Kyoto Animation and it looks absolutely fantastic. It's a vibrant film with plenty of eye-catching moments in terms of the scenery, but most of all the team has excelled in capturing the emotions of the characters as they go on this journey. You can certainly see why Anime Limited went to the effort of releasing it with a 4K Blu-ray; animation like this certainly justifies it!
Also returning for the project is the composer Evan Call, who has once more composed tracks that make use of a full orchestra and work seamlessly to convey the emotion of a given scene. There are quite a few tracks reused or slightly rearranged from the TV show, but in the grand scheme of things, there are more than enough new ones to justify having this combination of both. The soundtrack is available on streaming services in the UK and is well worth a listen, even away from the movie. The theme song for the movie is "Will" performed by Miho Karasawa and a new version of "Michishirube" by Minori Chihara. 
Where voice actors are concerned, everyone from the TV series returns once more and does a tremendous job in their roles. Yui Ishikawa (Mikasa Ackerman in Attack on Titan, Manami Yumiki in Platinum End) who plays Violet, is the standout, given how emotional her scenes are. It's also interesting to hear how her acting as Violet has changed with the character, as back in the TV series Violet struggled with expressing her feelings which is something that subtly changes over time and Ishikawa has adapted her performance to convey. This release also includes an English dub, but having not watched any of the series dubbed, I can't speak as to how good or bad it may be.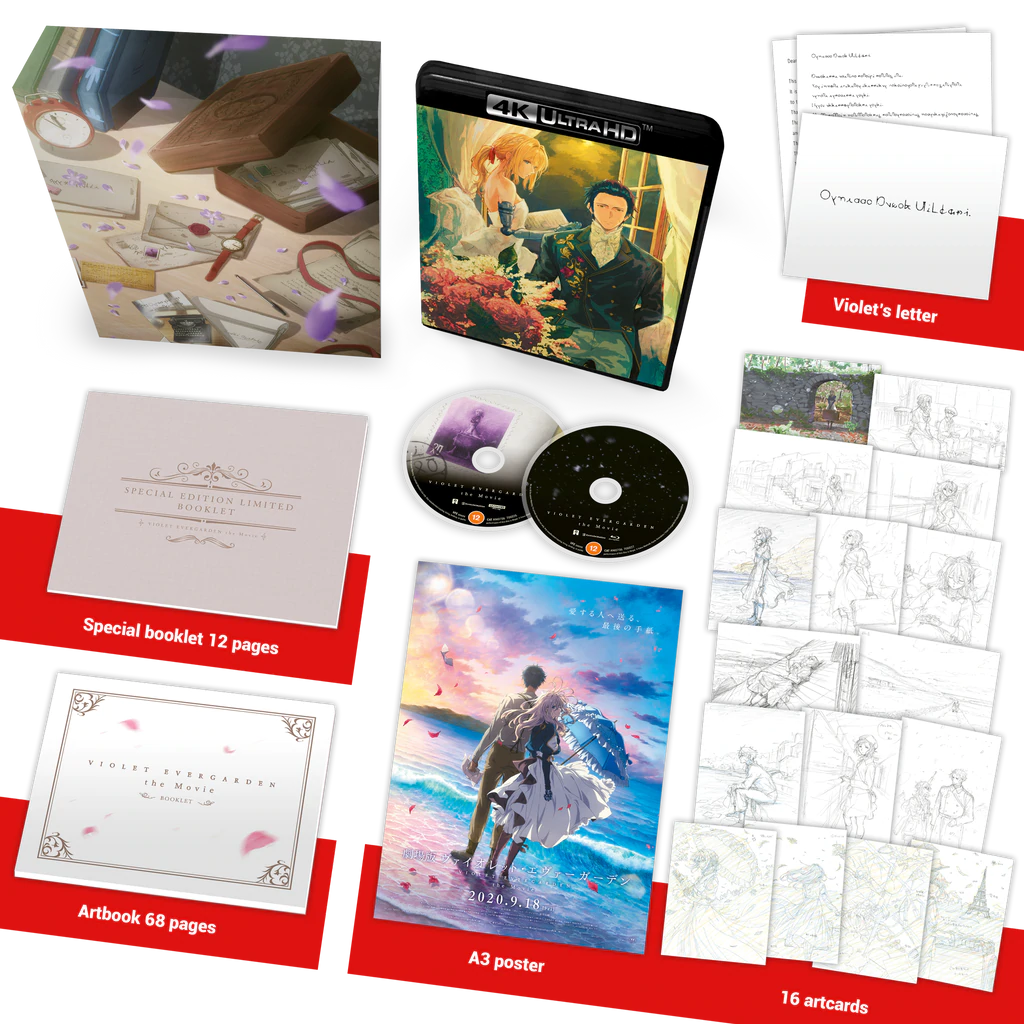 As previously mentioned, Violet Evergarden: The Movie comes to the UK thanks to Anime Limited where it has been released as a standard Blu-ray release as well as in a collector's edition. The CE includes the 4K UHD Blu-ray as well as a standard Blu-ray copy with on-disc extras amounting to trailers and TV adverts. The physical extras include a 68-page booklet filled with artwork and interviews, a 12-page "special booklet" about making the film for Doly Cinema, a poster, 16 art cards and a replica letter from the film. If you're a fan of the series then the collector's edition is certainly what you want to pick up, the amount of extras is more than worth it – although it is a very expensive set for one film at RRP £70 because of the 4K disc. 
However, given the price of the release I have to say I am very disappointed with the subtitles. When I watched the film in the cinemas and then later on Netflix, the releases had quite a few grammatical errors and missing words (they may even have been the same script, but I can't readily confirm that). Since Anime Limited went to the effort of retranslating the TV series, I had hoped we would see similar fixes for the film. Unfortunately, that isn't the case and while we don't have the same script as Netflix or the theatrical release, this one appears to come from the Asian iTunes release. 
The problem is that the script is overly literal in places, for example, in one scene saying "females who" instead of "women who" when describing the Auto Memory Dolls and there's a sentence with "very wonderful" in it, as opposed to simply "wonderful". They're not huge issues but it does pull you out of the moment when they're so obviously not well edited; given the expensive price tag of this release, I would expect better. As Anime Limited went out of its way to fix the TV series, I am disappointed that the same wasn't done here, although I suppose it's something that we haven't ended up with the Netflix script which was arguably the worst of the two.  
Overall, some issues with Anime Limited's release aside, Violet Evergarden: The Movie is a film that wonderfully brings Violet's story to its conclusion. Fans of the series will no doubt fall in love with this one as it showcases the very best of both Kyoto Animation's talents and Violet Evergarden as a series. Just be prepared to cry a lot!