J-Novel Club Add Five Manga To Their Catalogue!
Demelza
•
During J-Novel Club's panel at Anime Expo this summer the digital publisher announced plans to expand into the manga market this autumn. Today this new venture has finally launched with J-Novel Club offering five manga series to kickstart the project.
Without further ado here is what the company has licensed: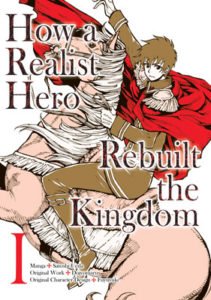 How a Realist Hero Rebuilt the Kingdom
現実主義勇者の王国再建記 (漫画)
Mangaka: Satoshi Ueda
Translator: Sean McCann
Editor: Emily Sorensen
"O, Hero!" With that cliched line, Kazuya Souma found himself summoned to another world and his adventure–did not begin. After he presents his plan to strengthen the country economically and militarily, the king cedes the throne to him and Souma finds himself saddled with ruling the nation! What's more, he's betrothed to the king's daughter now…?! In order to get the country back on its feet, Souma calls the wise, the talented, and the gifted to his side. Five people gather before the newly crowned Souma. Just what are the many talents and abilities they possess…?! What path will his outlook as a realist take Souma and the people of his country down? A revolutionary transferred-to-another-world administrative fantasy series starts here!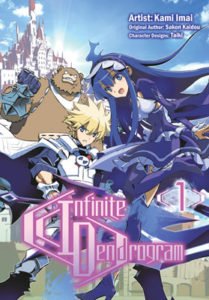 Infinite Dendrogram
<Infinite Dendrogram>-インフィニット・デンドログラム- (漫画)
Mangaka: Kami Imai
Translator: Andrew Hodgson
Editor: Emily Sorensen
In the year 2043, Infinite Dendrogram, the world's first successful full-dive VRMMO was released. In addition to its ability to perfectly simulate the five senses, along with its many other amazing features, the game promised to offer players a world full of infinite possibilities. Nearly two years later, soon-to-be college freshman, Reiji Mukudori, is finally able to buy a copy of the game and start playing. With some help from his experienced older brother, Shu, and his partner Embryo, Reiji embarks on an adventure into the world of Infinite Dendrogram. Just what will he discover and encounter in this game world known for its incredible realism and infinite possibilities?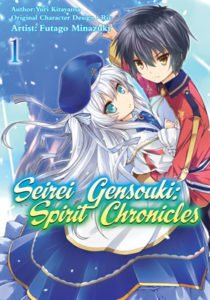 Seirei Gensouki: Spirit Chronicles
精霊幻想記
Mangaka: Futago Minazuki
Translator: Mana Z.
Editor: Joi
Meet Rio: a callous orphaned boy living in the slums. At only 7-years-old, he realizes he's actually the reincarnation of Haruto Amakawa, a Japanese university student with a tragic past. While still reeling from this shocking epiphany, Rio also comes to learn that he possesses extremely potent magical abilities and uses his new powers to solve the kidnapping case of a little girl. His good deed is acknowledged, and he's rewarded by being enrolled into… a prestigious academy for noble children…?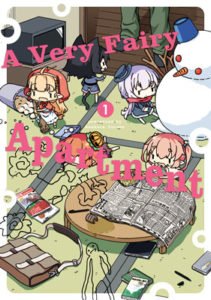 A Very Fairy Apartment
うちのアパートの妖精さん
Mangaka: Amakara Surume
Translator: Alexander Keller-Nelson
Editor: Megan Denton
What do you get when you put a down-to-earth college student in a supposedly vacant apartment that's actually full of some quirky, otherworldly creatures? A whole lot of trouble, a whole lot of cuteness, and a whole lot of fun. Sometimes cheap rent is enough to make you put up with the strangest of neighbors and roommates, but forget about sugar, spice, and everything nice; and get ready for potato chips, pranks, and everything messy!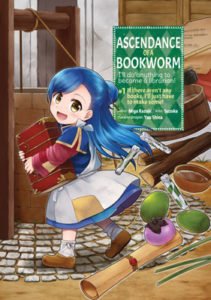 Ascendance of a Bookworm
本好きの下剋上
Mangaka: Suzuka
Translator: Quof
Editor: Aimee Zink
A certain college girl who's loved books ever since she was a little girl dies in an accident and is reborn in another world she knows nothing about. She is now Maine, the sickly five-year-old daughter of a poor soldier. To make things worse, the world she's been reborn in has a very low literacy rate and books mostly don't exist. She'd have to pay an enormous amounts of money to buy one. Maine resolves herself: If there aren't any books, she'll just have to make them! Her goal is to become a librarian. This story begins with her quest to make books so she can live surrounded by them! Dive into this biblio-fantasy written for book lovers and bookworms!
All five of the manga series have the first chapter of their first volume available and chapters will be added biweekly going forward, except for A Very Fairy Apartment which will be weekly. The manga can currently only be accessed via the J-Novel Club website and not through the mobile app, although there should be an update for this in the near future and the on-site reader does work in mobile browsers. Like their light novels, the first chapter of each series is free to read for everyone but to access future chapters you will need to be subscribed to the service.
J-Novel Club also publish the original light novel series for How a Realist Hero Rebuilt the Kingdom, Infinite Dendrogram and Seirei Gensouki: Spirit Chronicles. If you're not a manga fan then fear not! There are 3-5 new light novels to be announced and added to the service soon. There are no hints available for the titles yet, but when they go live you'll be able to find them here.
Will you be checking out any of the new additions out? Let us know!